Probably because the weather has been so forbidding this week–damn cold and unbelievably blustery–we've been delighting in indoor pursuits. The grey and the dark and the blow-the-pants-right-off-your-legs wind outside all highlight the beauty of food, conversation, warmth, shelter, reminding us how fortunate we are to have relief from the elements. Last night, hours after my afternoon exercise (during which I became a human ice sculpture that shattered into a million tiny shards whilst hoisting frozen limbs over the threshold to enter the house), I was still shivering. On my way upstairs to take a long, hot shower, I remarked to Byron, "There is much that I would record in my Gratitude Journal As Suggested and Sponsored by Oprah, if I kept a Gratitude Journal As Suggested and Sponsored by Oprah, but today, the thing I would write about is how thankful I am we're not nomads, having to set up a tent in this cold and wind and then, were we alive at the end of the process, sleep in the thing. On the flip side, if we were nomads, we might dig a pit and cook our food in it, which is always infinitely awesome, plus no one would ever invite us over to buy junk we don't need at a Pampered Chef home party because, when you're a nomad, there is no home nor chef nor pamper." Rather, there are only unrelenting cold and wind and sand embedded into your privates.
Indeed, in contrast to the hellwinds circling around outside this week, all sheltered pursuits are a delight. As the sky outside roars, I chortle happily and sit at the computer, doing my job of teaching online classes. The new semester at my college has started up, and, here during the honeymoon phase, my students and I are loving each other. I know, of course, that by week 8 of the term we'll all go seriously Brand-Perry on each other. For now, though, it's just good fun, with everyone feeling chatty and happy to meet; during this beautiful week of chipper "ain't anything possible, so long as we're together" attitudes, we're still pipping along and planning our wedding in India. Extra credit to those students who let me ride the elephant.
What's more, yoga class at the Y this week was both snug and beneficial since Slightly-Scary Teacher Lady focused on our hips, and I do so love deep lunging and trying to get my shoulder under my knee as I lay my forearms on the floor and wrap my hands around my foot. Attempting such stuff reminds me that I'm made of oft-neglected joints and cartilage and sinew and that they deserve as much attention as muscles and bones. Further, I'm crazy about the corpse pose that ends class because I actually die when I do it.
It's also been wonderful to watch Girl relaxing into winter soccer practices. She started soccer when she was four, but always participated in rec leagues. Then, this fall, she decided to try out for a competitive league that serves as a feeder to the big high school program in the city. She made the cut and is now doing a few weeks of winter practices before spring practices start up in April. Apparently, the spring and summer practices will be led by "foreign coaches," which gives me hope that she'll be marshaled through drills and scrimmages by a dental hygienist from Thunder Bay and a bus driver from Belize. This week, though, with boring old domestic coaches who merely grew up passionately playing soccer here in the U.S., it's been wonderful to walk into the massive sheltering space of the Field House at the U up the hill and watch groups of girls in shorts burn off their mid-winter energy.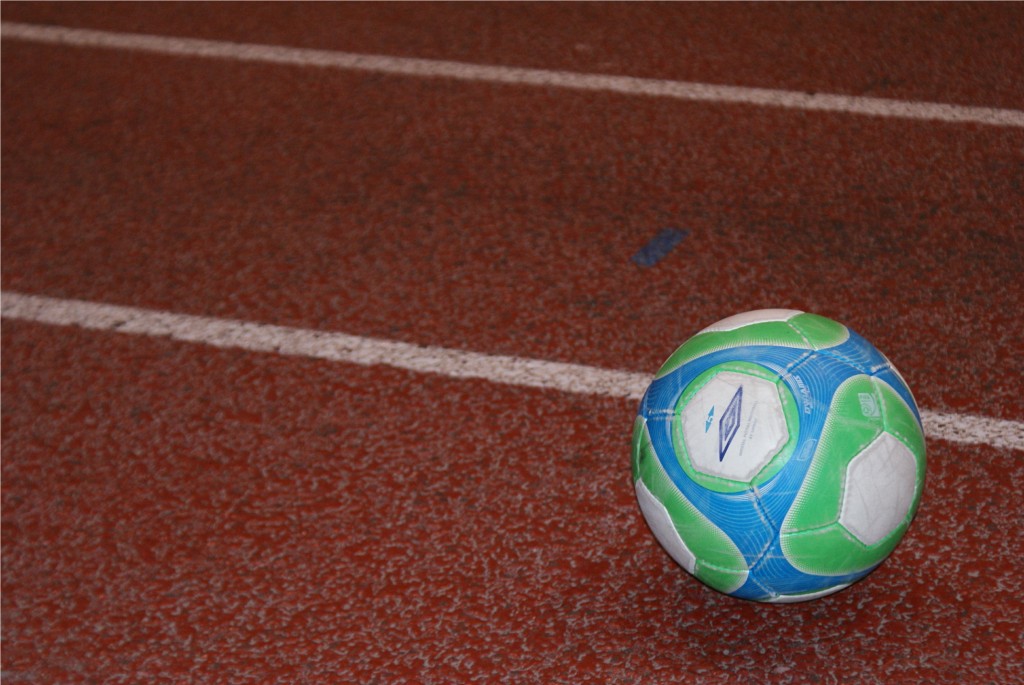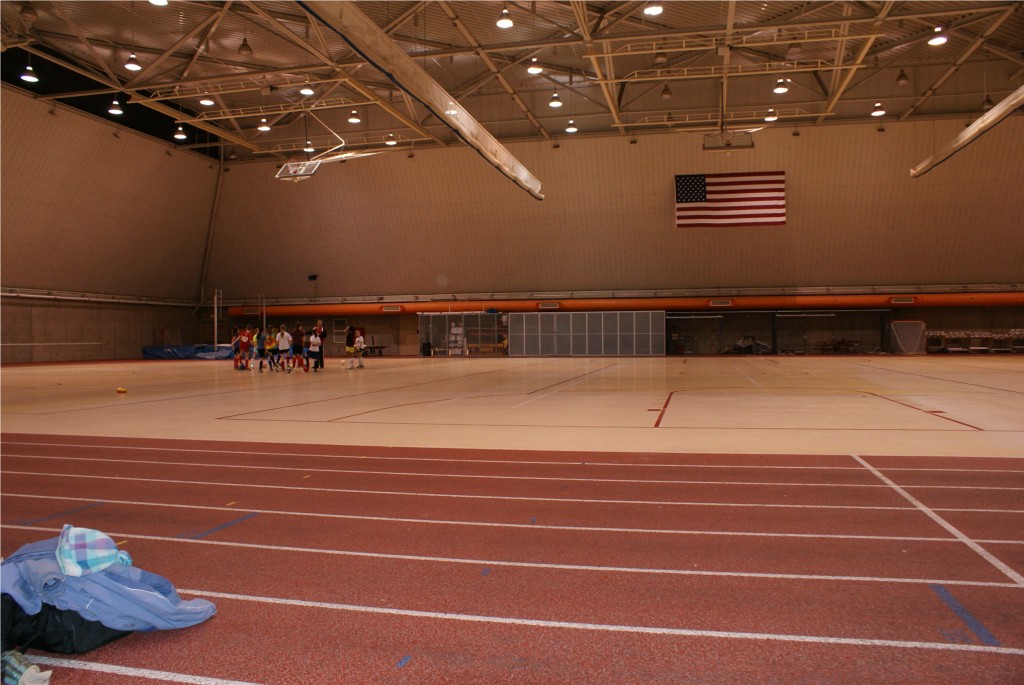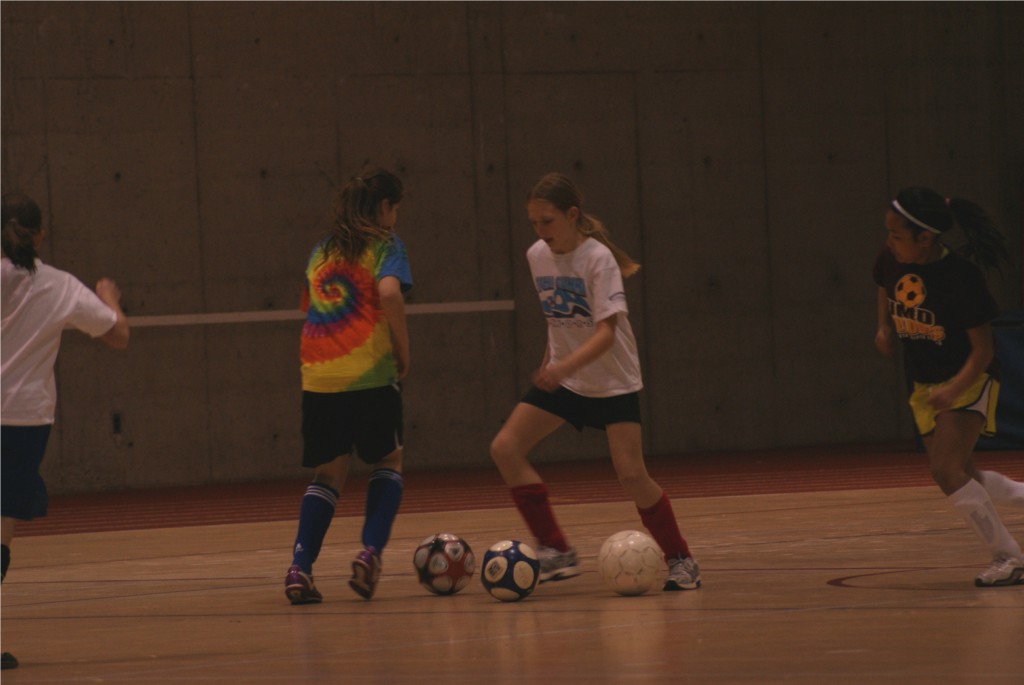 Byron kept himself out of the frigid winds this week by setting up shop in the teaching classroom at our Whole Foods Co-op. Monday night, he spent a few hours demonstrating six Turkish dishes to a full house, simultaneously playing Turkish music, projecting a slideshow, and chopping garlic. The response to his class was so enthusiastic that he'll be offering it again this Spring and has started creating a series of Turkish cooking classes to be offered in the fall and through community ed. The only downside to this explosion of ideas and popularity is that it will seriously cut into his time as my personal houseboy. Who's going to bring me my coffee if he's off teaching mezzes, and the kids are at school?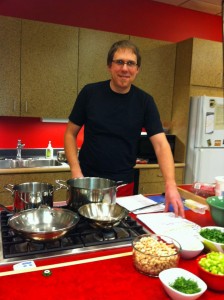 The biggest indoor warmth this week arrived on Monday, and it's heated up our hearts more and more each day: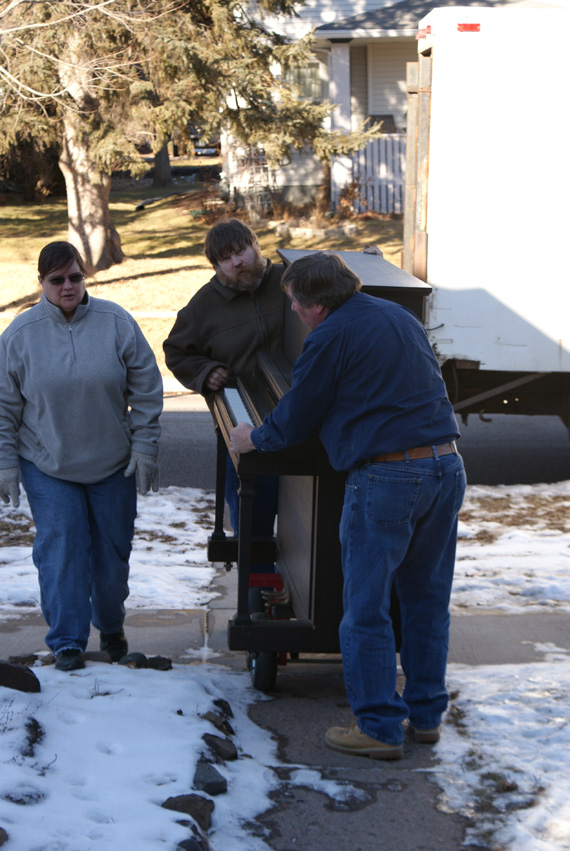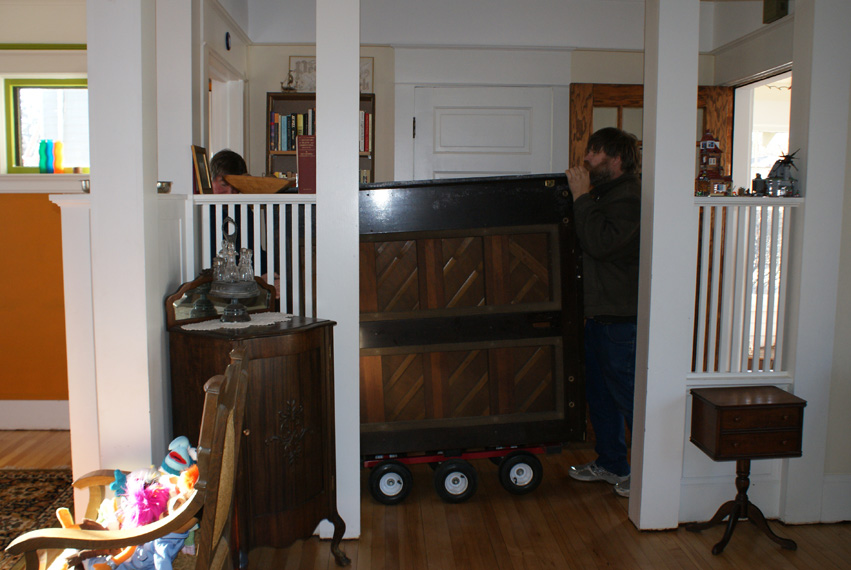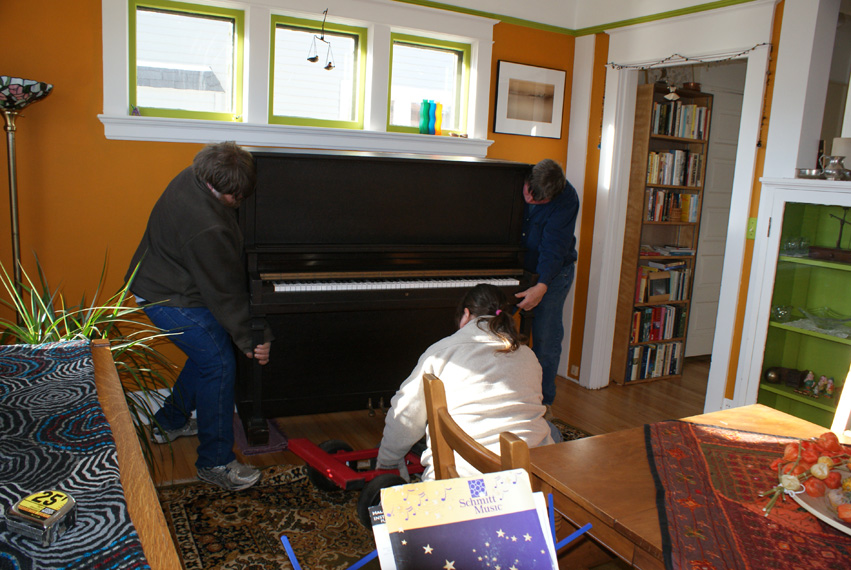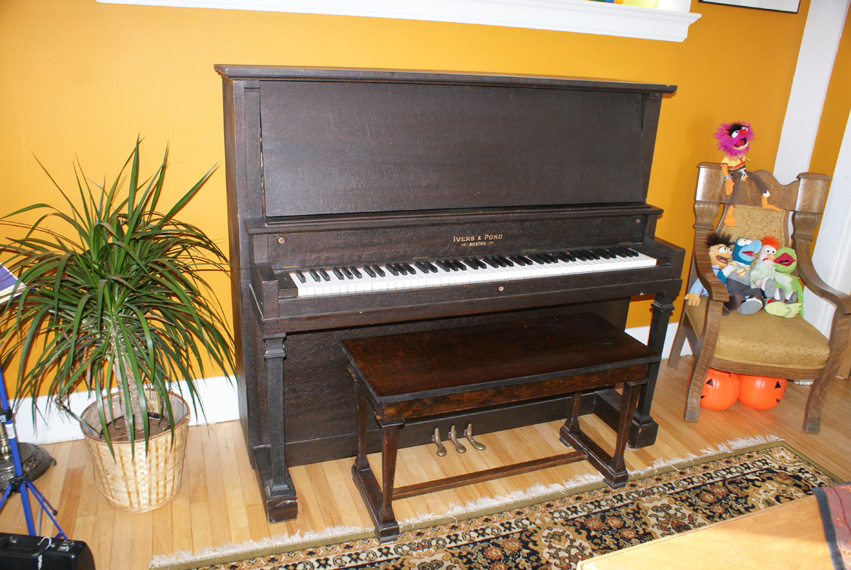 Although I'd been longing for a piano in the house for eons, I finally made some calls last week and lucked into this restored upright. Each of the four of us spends some time every day, noodling around at the ivories, trying to dredge up notes and theory from years past (in my case, it's been nearly 30 years since my last lesson, which is weird because I'm 24). Our Girl took lessons in second and third grades before having a year of viola (plus a fake year of viola in Turkey, during which she had no teacher and just had to saw out "Go Tell Aunt Rhody" on her own), and now this year, she's playing clarinet with surprising aptitude. Paco, however, moved into the school system just as musical opportunities were diminishing, and then we went to Turkey, so he–the most innately musical in the bunch–has never had a chance to learn an instrument.
The day after the piano was delivered, he had me sit down with him to explain the basics of the keys and the notes. Now, three days later, he has about six songs in his repertoire and is very proud to have memorized "Jolly Old Saint Nicholas." I'm sure a significant part of his motivation comes from the applause he receives at the end of each song from his biggest fans:
The hilarious part of having a piano in the house is that we've delved into the heretofore-untouched stacks of sheet music left over from Byron's youth, and each night, while the kids do homework or enjoy their screen time, I've been sitting down and lurching my way through "The Entertainer" and "Music Box Dancer" and–better yet–the collected hits of Billy Joel. Sometimes all that can be heard above the whistling wind outside is me thunking away. For, you see, I can give you a song. I'm the piano man. I can give you a song, tonight. Naturally, it will help if you're all in the mood for a melody. I'll get you feeling all right.
Incidentally, does anyone have the sheet music for "Nadia's Theme"?
Keeping me warm while I figure out sharps and flats is my new Lululemon Scuba Hoodie. I agonized quite a long time over buying such a spendy thing, but finally I conceded that my desire for a Hoodie of Excellence would never rest 'til I tried one out.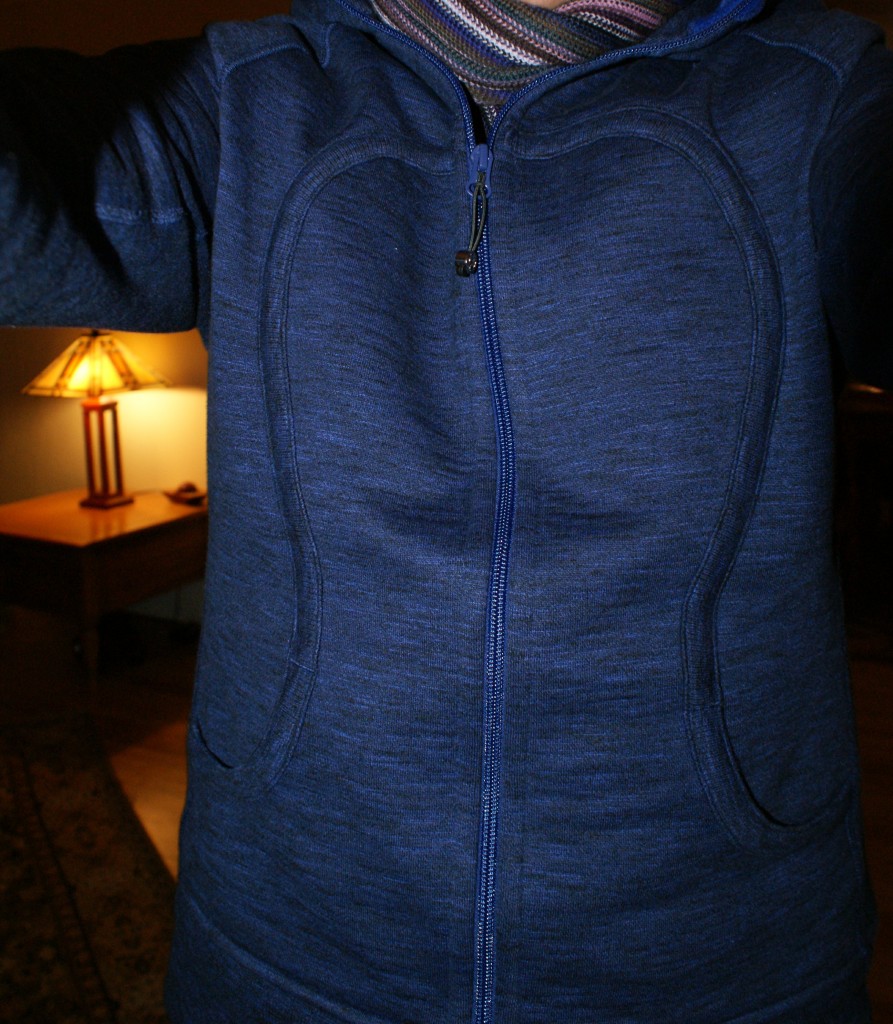 And friends? Ladies? Sole Male Who Might Have Stumbled Across This Blog While Googling Information About the Debt Crisis?
It. is. so. killer. That whole business about getting what you pay for is born out in the Scuba Hoodie. All of Lululemon's products are high quality and well made for women, but this Scuba Hoodie is so radically fabulous that I have to stop typing here in a few sentences so that I can head to the Unitarian Church, where Ms. Lululemon awaits me at the altar. Once we've exchanged liberal lesbian vows ("I promise not to get mud on your Carhartts when I our black lab out for a walk"), I will be Jocelyn Lululemon, rightful co-owner of all the Scuba Hoodies on the planet. I'm pretty sure that means I get to have one in every color. Or maybe it means I get one in half the colors, and my wife gets one in all the other colors, and then we share. Because, seriously, is not one of the greatest boons to a lesbian partnership the doubling of one's wardrobe?
Ms. Lululemon better not be a size 2, though, or my entire plan derails.
Even if I'm limited to just one Scuba Hoodie in my life, though, it's okay. I've got the piano-playing third grader and the cooking husband and the soccer star sixth grader and the yoga and the twenty-five-year-old male student whose favorite Spice Girl is Posh. My heart is full and very, very warm.
And if I still feel the wind drafting its way in through the cracks, I also have this: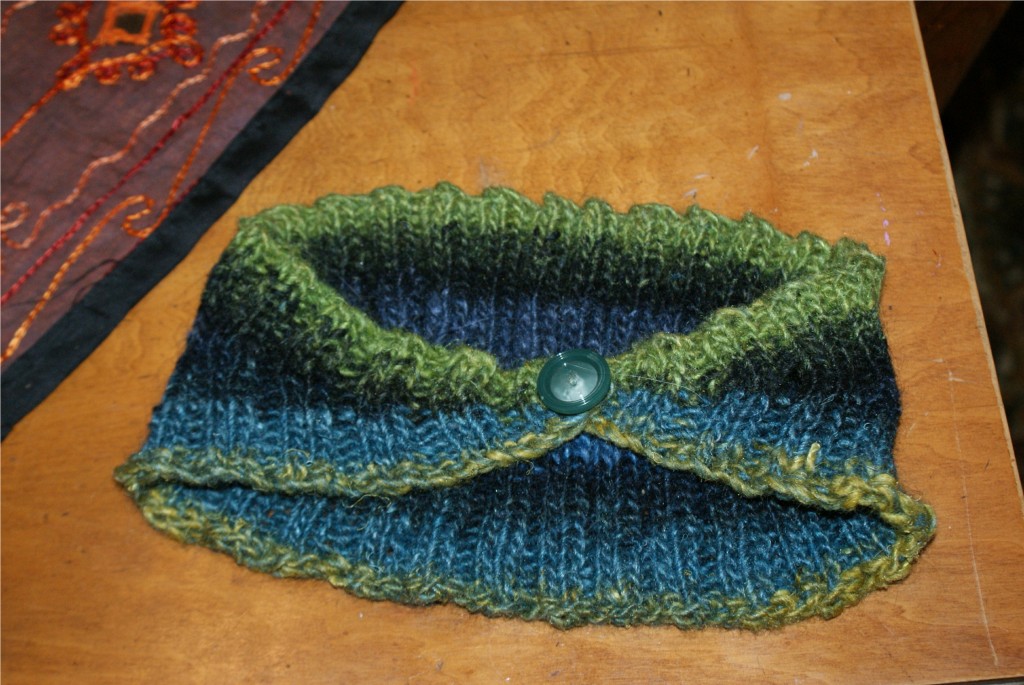 These ambrosial colors were knit together by fellow blogger Kmkat, who saw my vlog a few posts back and noted that she had just the thing to keep me less shivery in my own house. Basically, it's a knitted buff, and it showed up (dropped off by her med student son who was in town looking for housing for an upcoming residency) at a moment when my earlobes had ice crystals forming on them.
As it turns out, generosity, talent, thoughtfulness–
those are the things keeping me warmest of all this week.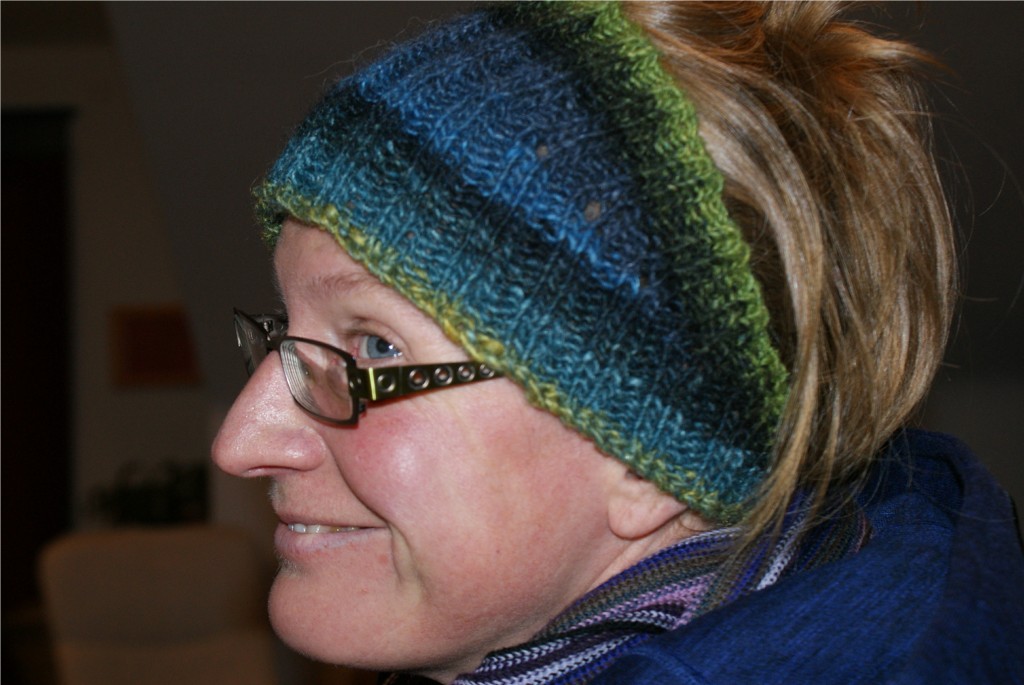 Comments
comments