I've been in Belarus more than three months now — long enough to have learned a bit of the culture and started detecting patterns, but not so long that I've stopped rubber-necking my way through each day. Three months in, I find myself teetering between easy familiarity and continued awe.
I know now that I will see charming wooden houses wherever I go in my city of Polotsk, yet I still can't believe they are always right there, in front of my eyes, so colorful, so whimsical, so rustic yet ornate. I know now that the people I meet will be kind, appreciative, and hospitable, but still I can't get over the sincerity of each and every generous welcome. I know now that Polotsk becomes a "lake region" whenever rain falls — due to the sidewalks designed without drainage in mind — yet still, I find myself stunned at the vast sheets of ice coating the walkways now that temperatures have dropped.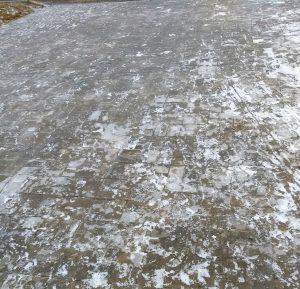 Before I tip into the unseeing acceptance that is part of being "totally accustomed," I want to make sure I remember a few of the things that have yielded "Well now, that's different" reactions since I've been here. The past months have teemed with surprises. Here, now, are eleven (+) of the WHADDYA KNOW aspects of Belarusian culture that have raised my eyebrows to hairline.
Drinking birch sap is a thing. It's a thing in a handful of northern countries, in fact, and part of me thinks it should be a thing in Northern Minnesota, where I live, because we are a birch culture, too. However, it wasn't until a student suggested I try it that I became aware of birch sap as a drink I could buy in the grocery store (even though I have it on good authority that the really good stuff is homemade). Touted for its medicinal benefits — it can help block cholesterol absorption, internet tells me — it's also a drink enjoyed just for the flavor, which is something like water with minced forest elf vigorously whisked in.
2. Cling wrap dispensation is problematic. I'm not looking to complain about a place, and this may be the worst thing I can say about Belarus, but they seriously gotta get with 2018 and start loading them cling wrap tubes into cardboard boxes with serrated cutters. I AM IN CLING WRAP HELL HERE.
3. There is a remarkable lack of facial respiration in public places. After a couple months here, I started to notice something that is radically different from the United States: in Belarus, no one on the street sneezes or coughs. People don't blow their noses while waiting for the bus, nor have I caught a glimpse of even one person digging finger into nostril. It's as though there's a line in the social contract that reads, "We shall keep our germs to ourselves."
At the end of that line, however, there needs to be an asterisk for which the associated small print reads, "…except it's okay to hock loogies all over the place, creating dried dots of phlegm on paving stones throughout the land."
4. University students take all their classes — for five years (although this model is imminently changing to four) — with the same small group of peers. The entire university experience in Belarus is intense, with M-F schedules, on average, of five-six hours of class per day. At the university where I teach, each class session lasts 80 minutes. For an American, it would be unimaginable to sit next to the same, say, ten classmates all day, five days a week, for five years.
On the positive side, these small cohorts end up feeling like families; they know what to expect from each other and are well acquainted with the quirks, strengths, and the intricacies of the group dynamic. On the negative side, these small cohorts end up feeling like families; they know each other so well a kind of stagnation, even dysfunction, can set in as the years pass. Put another way: when a group is good, it's really good. But when it's a mess, there's wet spaghetti slipping down the walls.
5. The light switches are often located outside the rooms they control. In the past three months, I've spent a whole lot of time standing in darkened spaces, running my hands along walls, trying to feel my way to illumination. Had I dedicated this time in the dark to self-improvement, I'd be Michelle Obama by now.
6. It is the custom to drink a variety of hot beverages through plastic straws. For Americans in Belarus, there is an actual moment of recoil when we see the straw in or with the hot drink — so alert are we to the dangers of polypropylene and chemical migration from straw to food. Still, coffee, cocoa, even mulled wine…all are served and sipped through straws in Belarus. There must be some rationale for this practice, but my brain can't crack it. What I do know is that, while I love the feeling of lips to cup, I have occasionally found myself sucking a latte through a straw and musing, "I don't even know who I am anymore."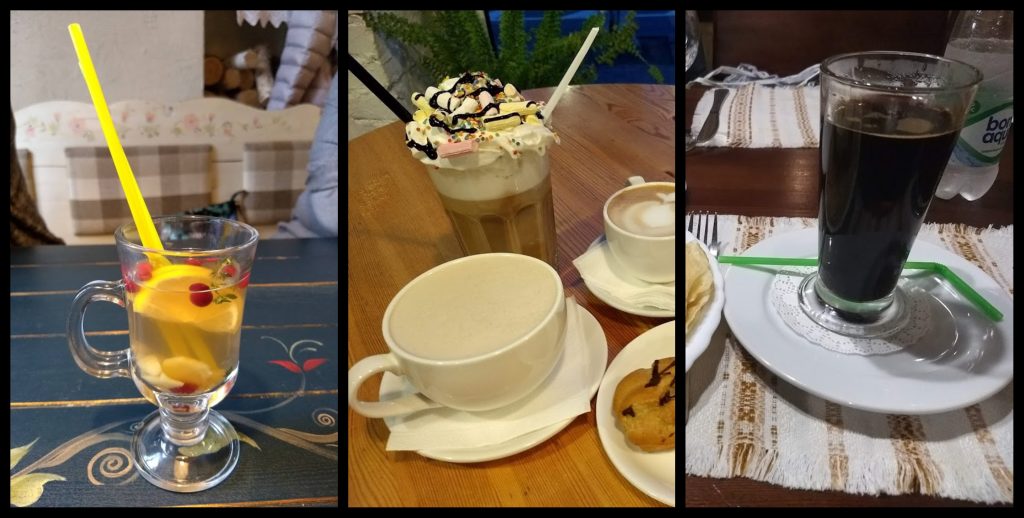 7. The transfer of money from hand-to-hand is minimized. Most shops have a tray near the cash register where patrons are to deposit their rubles or debit cards. When the cashier is ready to receive payment, she grabs the money from the tray. Any change is similarly laid onto that tray and subsequently picked up by the patron.
While I am surely over-analyzing this practice, I've decided it is a reflection of a cultural mentality — one that's more gentle, even genteel, compared to the relatively more aggressive American habit of direct hand-offs, of "See me taking your money now" and "See me giving you money now."
Alternately, perhaps this system in Belarus has been set up because it leaves hands free to do the work of punching buttons and packing bags until the hands are ready for payment. Either way, I hope some industrious worker is paid nicely to squirt cleaner onto that tray at the end of each day because Belarusian rubles may be pretty, but money is filthy the world 'round.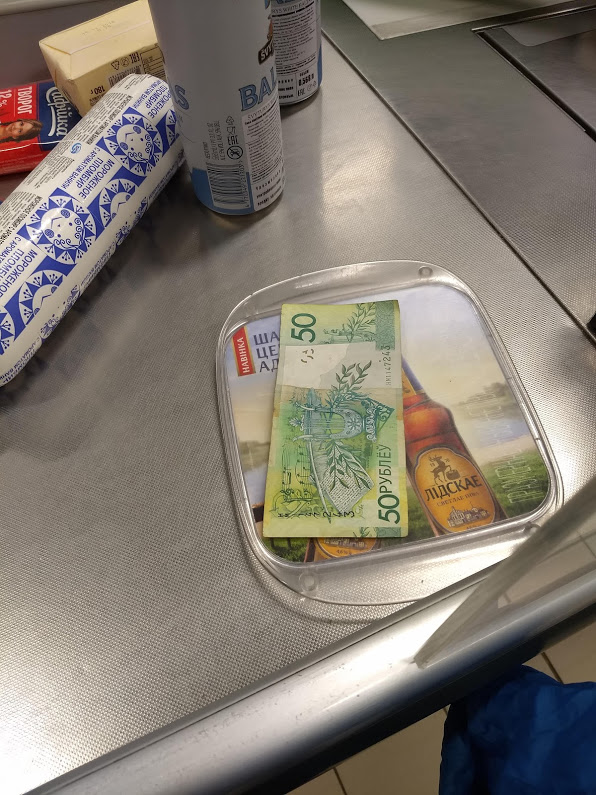 8. Speaking of ice cream packaged in logs (but tasting like clouds), the dairy in Belarus is off the hook. I'm not so much a milk drinker in the States, and I usually hate cottage cheese and sour cream, but here, I understand all of these products in a new way — because they are done right…mmmm, creamy like if Dita von Teese were melted and then pasteurized. Also surprising has been the butter, which comes in differing percentages of fat; the cooks I've quizzed tell me to go with the higher fat percentage for baking. Even more, I have been witnessing the nostalgia for Soviet-era ice cream, apparently the best thing anyone has ever tasted. Fortunately, there are modern versions of it available still, a fact which saw me stopping midway through a run to purchase a log of this "plombir" ice cream [see: previous photo] and jogging home with it in my arms, despite frigid winds off the forest steppes. I AM AN ICE CREAM CHAMPION
And then there's the culture of condensed milk. I mean, we Americans use the stuff occasionally for baking. That's it. But in Belarus, condensed milk is an item of widespread usage. "Put it on toast," they tell me. "Mix a few spoonfuls in hot water," they tell me. "Make the cheese pancakes called syrniki and drizzle it on top," they tell me. A couple months ago, I was taken on a tour of a condensed milk factory, at the end of which we were taken to a tasting party where no fewer than 8 kinds of condensed milk were on offer.
I am left wondering if Americans who suffer from lactose issues might experience the dairy in Belarus more easily, due to the differences in processing. This nation's motto should be "Come for the potatoes; stay for the dairy!"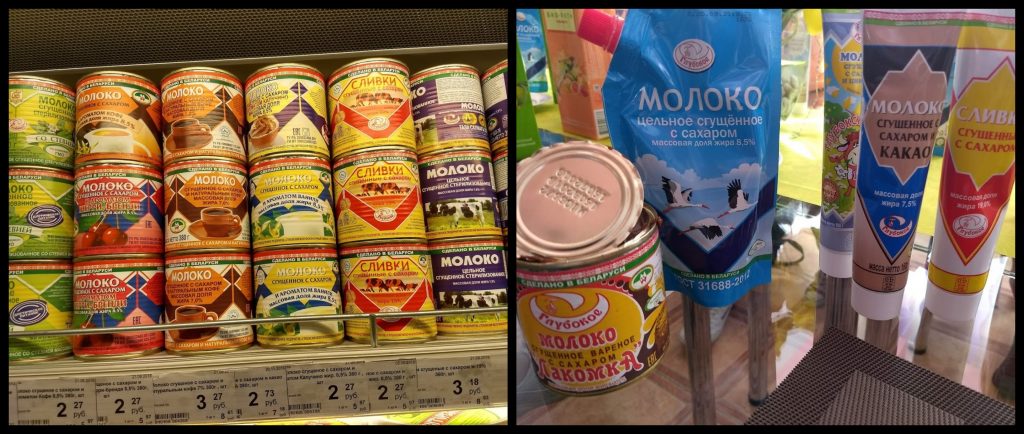 9. Fitness classes are held at night. This has been a big adjustment for me, as 8 p.m. traditionally means "bra-less and nursing a beer" in my life in the U.S. But in Belarus, where people work and work and work all day, fitness classes are held much later than I, a noon-time exerciser, am used to. Many evenings, particularly when I've been walked home after a circuit class by women wanting to practice their English, it's 9:30 before I get through the door, 10:30 or 11:00 by the time I eat dinner. And yet. I love these classes, these women, this teacher.
10. Squat toilets are not uncommon. Many a university and public bathroom greets visitors with smells of urine and lost hopes. Rounding out the experience is the fact that there is no toilet paper provided, nor are there paper towels or hand dryers. I actually like this reminder that we Americans often go overboard with hygiene fears. What's more, there is empirical evidence that Western toilets do us no favors (NPR reports that half of Americans over the age of 50 have
hemorrhoids). So thank you, Belarus, for keeping bowels aimed right.
Seriously. If you are shuddering: don't be a goose. Drop trou and lean in to them quads. Better yet: do it in heels.
11. Grocery stores allow customers to choose the amount of frozen vegetables they want to buy, and that's genius, no commentary needed. WHY DO WE NOT DO THIS IN THE UNITED STATES? IS IT BECAUSE WE FEAR GREEN BEAN SNEEZIES?
The list of surprises in this charming country is infinite, to be honest, but I will stop at eleven, as I'm sure more than one reader is itching by now for a trip to the squatty potty. And if I continue, I'll wax so lyrical about the students, my colleagues, the innocence, the earnestness, the pride of place, the remnant trauma of war…that it'll be another 20,000 words before you can break free and run for the bathroom.
Damn it. That reminds me. Now I have to add another:
12. Sometimes paper towels in Belarus are packaged and shelved in a way that makes them appear, to a distracted American shopper, to be toilet paper. So if you've decided you're intrigued by this country and want to visit, yes, you are welcome to stay at my apartment.
But you'll be wiping with rectangles, not squares.
—————————————–
Comments
comments