May 5th
During one pose in yoga tonight, Ellen told us about a book she has read several times before and is now listening to: The Art of Possibility by Rosamund Stone Zander and Benjamin Zander. I love it when she tells us stuff while we are letting our fascia relax; if my brain is listening to a story or anecdote, my body forgets to tense. The chapter Ellen summarized pertains to the achievements that can happen when people are freed of the fear of judgments, for example grades. Benjamin Zander, a teacher, apparently told a class once, on the first day, that they all were getting As – that he'd already filed their As, in fact, so no matter what, they were assured of that grade. Then, at the end of the semester, Zander gave students an assignment to write up an explanation to him of how they'd earned their A. For the high-achieving, driven students in his music performance course, the liberty from worry-based motivation allowed them to unlock all sorts of amazing results. As I listened to Ellen recap this, two things went through my mind:
I can't believe that she is 100% one of my favorite friends and that I love her as a top-tier human being — because I have zero interest in books like this
…unless I'm holding a yoga pose for four minutes, in which case I'll apparently listen to anything with willing ears
…which means she could pretty much talk about anything, especially if we're in Dragon Pose, which is so tough I'd tune in to a tale of toe fungus
…so I'm super glad she's not interested in talking about timeshares
If I told my students the first day of class they already had As on file with the registrar, I would never see at least half of them again.
May 6th
Texted the kids a photo of dirty dishes on the kitchen counter, left a half hour after I'd finished washing dishes and cleaning the kitchen. I don't see much merit in authoritarianism, so I merely pointed out that taking care of their own dirties not only improves my temper, it's the right thing to do.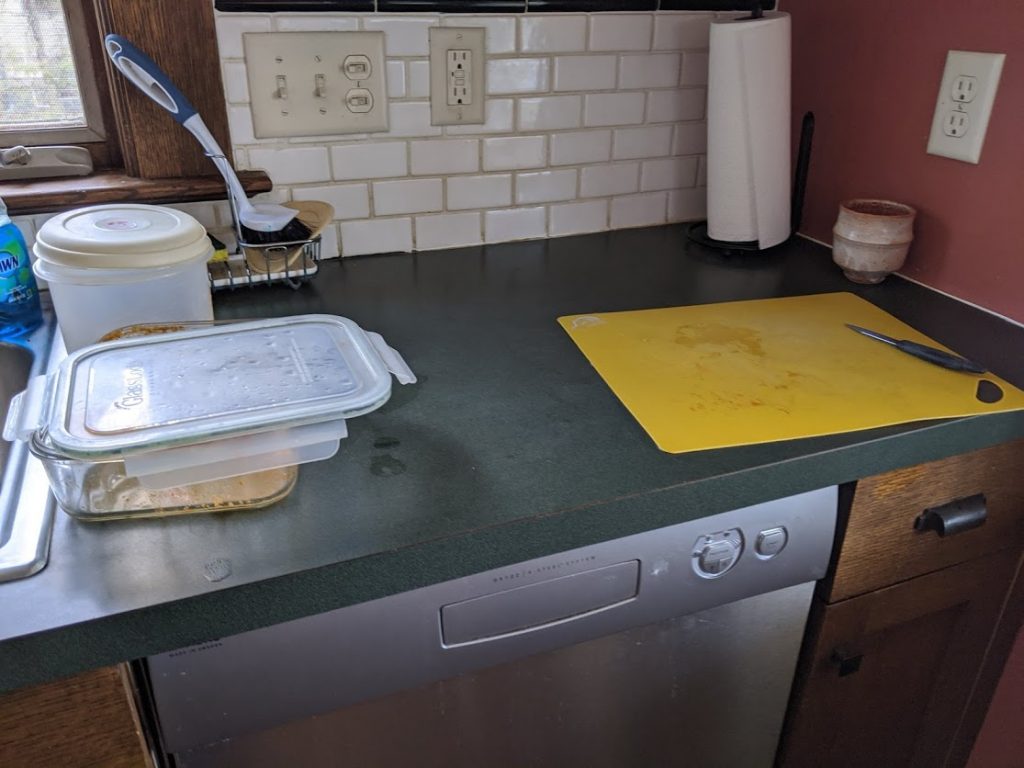 May 6th
Chuckle every time I remember something from a student's research paper about safety changes in hockey in recent years: as new types of helmet padding and chin straps are developed, they are first tried out on rats.
1) I feel for the person whose job it is to put the helmets on the rats, especially as they snug up the chin strap
2) I might need to reread Beverly Cleary's The Mouse and the Motorcycle because I keep picturing Ralph S. Mouse.
May 6th
Less than a minute after Byron comments from his yoga mat that we need to use, frequently, Ellen's phrase "fleshy compression," I hear him start to snore. He sleeps as he holds the last pose before savasana, wakes up to move into savasana, and then starts snoring again before she suggests, "See if you can start to slow your breathing…" I know work is exhausting right now, and he's always ready for an afternoon nap, but still. As someone for whom the divide between wakefulness and sleep is the door of a bank vault, I cannot fathom what it would be like to have the two separated by a gossamer veil.
May 7th
Reading aloud bits of a research paper on Gen Z to Paco.
Me: "Apparently half of Gen Z respondents in a survey said they'd like to one day own their own business."
Paco: "Sounds like a lot of work."
Me: "Apparently a defining trait of your generation is its passion."
Paco: "Mm."
May 7th
Research papers are coming in. As much as I feel swamped by the deluge, their submission also marks a slowing to the intensive, tiring hand-holding I've been doing with a few students. I'm ready to have my hands back by my own sides.
May 8th
Maggi and one of her colleagues had "intake convo #1" with Allegra about this summer's internship with Maggi's company. The generosity of this friend toward my girl makes me push thumb and forefinger into eyebrows and close moist eyes. Mags and her team have brainstormed a few ideas of what Leggy can do for/with them. My favorites are an archiving challenge called The Prince Project (completely unrelated to the company but completely Maggi, Maggi, Maggi) and a brand identity envisioning they're calling The Lichen Manifesto.
May 9th
I've written a "found poem," excising a representative cross-section of lines from emails I've received in the past couple weeks.
Instructor Inbox, Week 16 of the Semester
I am very sorry but I did not end up doing the peer review for my classmates papers
Much to my startled dismay, I realized I had completely forgotten about the quiz that was due on Tuesday
I am very sorry for missing these past assignments, and I very much hope you can help me to get them done
If you could give me this extension that would be amazing
You see
Time got away from me and I missed the window by 10 minutes
I just noticed we had a quiz, I am literally crying
I'm not sure how to fix fragments or how to find them
I just wanted to double check what outline you were referring to?
The only reason it was a minute late was because i was about to submit it and my computer had a huge fit
I apologize for being late it was my sisters wedding yesterday
So
I have some concerns for my semester!
I was wondering if it would be okay if I turned in tonights assignment in by Tuesday
I believe I am missing two assignments and one quiz
Please let me know how I can attain a higher grade
Here is the paper in case you do allow me to turn it in this way for this circumstance
Any advice would be appreciated
Also
I was wondering if there was a way you would be able to re-open the quiz
I did not know I was doing that bad
I need validation that I am not rambling
Thank you again for the second chance!
You can trust
I will be doing everything I can to raise that sucker up to a passable grade
If there's anything I can do to get back at least some of the points, I will
I gotta balance my work better
If you could just give me one more day I will deliver a better essay
I only need another 200 words
But here's the thing
I have a slight problem
I was gonna reach out to you sooner to possibly ask for a small extension
I have alot of 0s on assignments
I need to have a B or higher in your class
I hope you are able to work with me
Because, well
My other classes are kind of messy and crammed so I feel like I'm getting lost
I had so many due dates
It has been a crazy, not-so-great week
I had bills to pay
I don't know how to post it as a doc
Therefore, I was wondering
If you have time do you think you could take a quick look through it to see if everything is ok?
Is there any way we could post our discussion questions later tomorrow
If there is any way that I could turn in my missing assignments and get some credit if not full credit?
If there is any chance I could redo anything or if there is any extra credit work I could do that would be nice
If extra credit or something would be an option
If there would be something I could do to better the grade
Is there something I can do to fix that?
If I get 100 points on the essay and a good score on the test that would leave me at a C right?
Why cant things be easy
I was wondering if there is any way that I could turn in my missing assignments and get some credit? What can I do to resubmit this and resolve that problem?
Is there anything I could do so that I won't need to redo my whole paper?
Is there any chance that I can redo any assignments or do any extra credit type of things
If you offer extra credit or if I could write a paper or something
Can I have a couple more days for the assignments?
The culpa, she is mea
I'm so sorry I didn't get back to you in a timely manner!
Thought I would apologize for that
I'm terribly sorry I was not able to turn in the paper on time
Sorry for the late email but I cannot seem to find how many points that quiz I missed was worth
I am sorry for breaking the promise I made before about the quiz
I apologize for not getting this in on time I honestly feel like I'm losing my head
Truly
I bet there are a lot of other stressed students flooding your email too
If there is anything I can do to try to make up any points that would be great
I will definitely turn those reviews in soon
Is there anything I can do to improve the score or do extra credit by chance?
I was confused but then I realized what I had done
I really need to pass this class
I apologize sincerely and hope you will show me mercy
I appreciate that you believe in me!
May 10th
Leggy came down, open laptop in hand, a smile in her eyes. She wanted to talk to both B and me. She'd received notification that she's been accepted into a winter domestic off-campus study program called Public Health in Practice. The plan is for coursework the second half of fall term followed by two experiential weeks in Minneapolis and Washington DC in early December, all capped off by more coursework and a library presentation during the subsequent winter term. While we all know that unless a Covid vaccine is developed by then, this program as likely to be canceled and become yet another "Zoom interview" for "a thing I almost did in college" as it is to actually happen, something about the forward thinking – the sense of hopefulness – feels a balm.
May 11th
It's a good thing I bought a new mattress for Leggy's bed in February because she's currently spending 22.5 hours a day on the thing.
May 11th
"Whenever I watch you guys pack up a box of bottles and cans, sliding in cardboard dividers with precision, I think liquor store employees should enter competitive puzzling competitions. You have skills," I told the guy behind the counter.
"It all comes from playing Tetris," he shrugged. "I spent my entire youth playing Tetris. It made my mom crazy – she'd yell at me for wasting all those hours. But look at me now!" He stopped speaking, and we looked at him now, mask over face, body behind plexiglass. Yes, he'd sure shown her.
Because I'd loaded up so hard, maximizing the public trip, the box of bottles was heavy. Rotating my aching shoulder, I told Tetris, "Yeah, that would be great if you'd carry it out to the car."
It wasn't far, but as soon as he dropped the weight into the trunk, he yanked his jeans fast and high. "My damn belt broke this morning, and now my pants keep falling down." Had I realized his conundrum, I wouldn't have been able to stop myself: I'd have violated his right to distance, grabbed his loops, and hoiked them back up 'round his hips. Fortunately, we'd been too busy talking about the wind off the lake for me to notice his lurching gait.
May 11th
I learned from reading Bill Bryson's The Body: A Guide for Occupants that, as many have long suspected, a high percentage of people who appear unconscious and who are uncommunicative are actually hearing and registering everything going on around them. Thus, during yoga tonight, I started laying some groundwork in case I'm ever alert but unable to speak. As we did Sphinx pose, I told Byron, "I'm best able to relax in this position if my legs are spread apart a bit and not too close together." So now he knows, should there be a reason for me to be ragdoll propped through coma yoga.
May 12th
Student N – perhaps it is relevant that she's a lesbian — and I are laughing as we DM about an expectation she had when reading Chaim Potok's The Chosen. After a little back and forth, I tell her to take it to the class and see what everyone else thinks. When I checked this morning, she had a lengthy, well supported post in place for her classmates to consider. Subject line: Am I the only one who thought The Chosen was just one giant gay love story?
---
Comments
comments