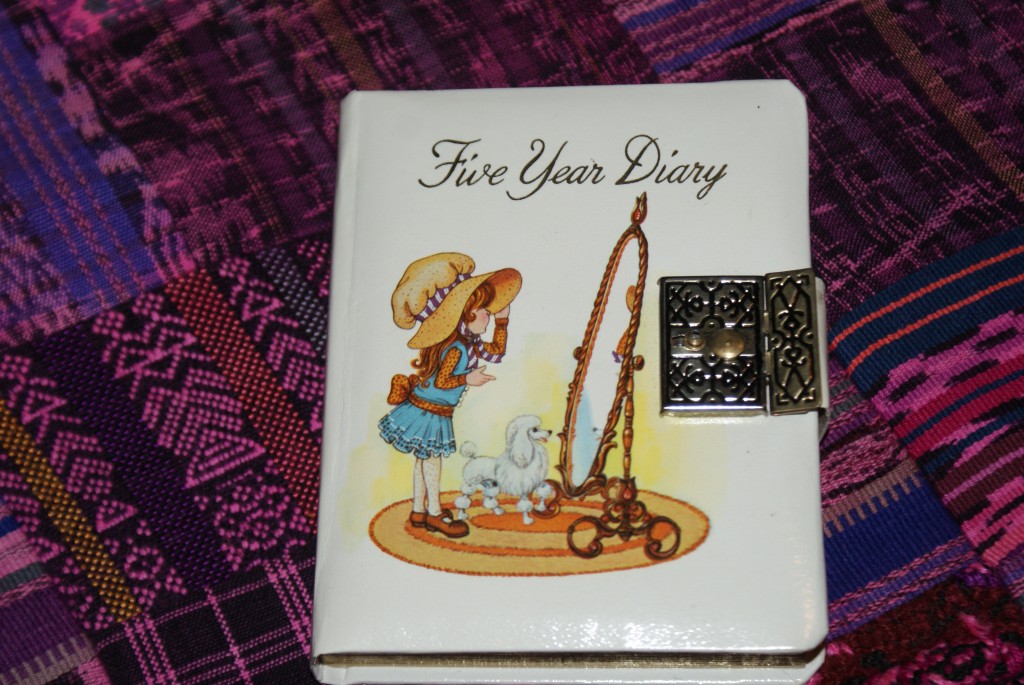 Dear Diary:
I've scrubbed the pressure cooker, eaten some delicious ham-and-white-bean soup, and have a few minutes now to finish up this entry about that Saturday last month when nothing much happened. You know me: it's not a "nothing much happened" kind of day until I've written 5,000 words about it. No wonder you're always bulging at the binding.
When last I left you, I'd just loaded up on coffee and Trader Joe's–both providing respite after the sequined-t-shirt-storm that was Macy's clearance.
As I pulled onto I-35 and pointed the nose of the rental car northwards, I eyeballed the radio and rued the lack of an iPod port. Not only had I found a piece of dog food rolling around the floor of the car when I picked it up from Hertz, the upholstery reeked of stale cigarette smoke. I daresay the Hertz people didn't truly respect the $13/day I was throwing at them.
I could deal with the dog food (ate it!) and get past the smoke smell (lit a cigar!), but being limited to the radio for three hours on a Saturday afternoon in Minnesota qualified as genuine hardship. Most of my state-mates would be delighted at the prospect, as Minnesota Public Radio offers up some fine fare–all the car talk, thoughtful interviews, dinner-party downloading, ironic wits, and "used to be called Speaking of Faith but now called On Being" shows that white people with incomes over $50,000/year could want.
And, of course: there is that Garrison Keillor show.
You know the one.
Where all the children are above average.
With the sound effects.
Fiddles.
Rhubarb pie.
Folksy shit.
It's a household eye-rolling joke between Byron and me that we can't turn on MPR during the weekend without being assaulted by (all you rabid fans, please read assaulted by as allowed the pleasure of) the signature tickling of the ivories that opens A Prairie Home Companion. We actually compete to see who can slap the change-station button first, to find relief  in whatever inane pop tripe Iggy Azalea is currently shilling. It's the closest to violence my beau and I have ever come: knocking fists as we scramble for the dial in an effort to escape "It's been a quiet week on Lake Woebegon…"
You know how it went, then, don't you, Clever Diary? It was actually okay for the first hour of my drive north, when I was still within range of the Twin Cities. There were urban-ish choices (men's voices yelling "Concrete! Factories! Graffiti!" punctuated by the sound of breaking bottles) which allowed me to avoid the Garrison.
But then, there's a halfway point, right around a town called Hinckley, and in that sad, rural technological Bermuda Triangle, radio waves go in, but they don't come out.
Static, static, and fuzz, only interrupted by eerily crystalline sound bytes of "It's been a quiet week in Lake Woebegon…"
For twenty miles, I slammed "Seek," hoping not to hear a fake ad from the Catchup Advisory Board (the name is spelled that way as a compromise between the two common words, ketchup and catsup) each time the blur of numbers on the dashboard halted. No such luck. It was all "catchup," all fiddles, all Guy Noir, all Powdermilk Biscuits, every time I hit the button. There were five stations playing the same drive-me-up-a-frickin'-wall show.
Now I know that Prairie Home Companion is the creator of many treasured moments for the upper-middle-class pasty people, Diary. Fans find nostalgia and comfort in that program, the same way you provide those things for me. They love Keillor's homey storytelling and the whimsy of clip-clop hoof strikes like radio programs used in Ye Olde Depression Era radio showes. Abstractly, I see how all the predictable beats of that program constitute companionship for multitudes of listeners.
The problem is that Keillor's predictable beats don't align with the ones drumming inside my head. Oh, Diary, as you know from years of observing it, my interior is not set in Lake Woebegon, nor does it care to take a pontoon ride to that burg's shores. The sounds inside my head are staccato; the landscapes of my mind are riddled with well-worn ruts and dangerous divots; the people who live inside my skull scrawl the word COZY in blood on a piece of cardboard, let the blood dry, and then chase Garrison Keillor around Main Street with it, bashing his shoulder blades while screeching "NO. MORE. STORIES. ABOUT. THE. 4TH. OF. JULY. AND. THE. CHATTERBOX. CAFE." In my milder moments, I'm a softie cornball, but still not the right kind for "the little town time forgot, and the decades cannot improve." My softie cornball moments involve a desire to see Rick Astley wearing a trench coat and singing "Never Gonna Give You Up" as I trim my bangs in front of the mirror at midnight while contemplating how a re-boot of television's Full House might not be a bad idea. Then I check the pantry for Twizzlers.
Obviously, my gripe about PHC doesn't stem from some sort of superior taste. I have terrible taste. I was genuinely worried when Marie Osmond fainted on Dancing with the Stars. I swear by Arby's roast beef sandwiches, and do not get me started on the glory of their potato cakes. On more than one occasion, I've worn a plum-colored top with a purple skirt. Just the other day, I put on striped capri pajama pants (and I realize this example could stop here, as it's made its point) and then was possessed by a Spring Cleaning bug that made me empty a huge drawer in the kitchen and tote it out to the back yard, where I spent five minutes wiping the crap and crumbs out of it with a heap of wet paper towels. There I squatted, a spectacle for the neighborhood, scrubbing away remnant cumin, wondering if maybe I should've put on underwear beneath my clown pants.
So it's not that I'm better than A Prairie Home Companion. Just different. My beats are pounded on a drumline 6,945 miles from Lake Woebegon.
My beats did stick twirls when, after hitting the radio's "Seek" button one more time, the airwaves finally provided a bonanza: the classics station.
Diary? Remember how we went and saw Barry Manilow? Remember how Rush's Geddy Lee took our elbow and saved us in Macy's clearance? Remember all those other ecstatic entries I scribbled in you in the '80s–about seeing Black Sabbath and Loverboy and Blue Oyster Cult and Quarterflash? 'Member?
The classics station is friends with all those people. And all those people, from Loverboy's Mike Reno to Black Sabbath's Ronnie James Dio, would not deign to toss Garrison Keillor the scarves from their microphone stands. They are a very exclusive club, the artists on the classics station, snobbish in the best possible way. They have two rules: 1) No brown M & Ms; 2) No Garrison Keillor.
By landing on the classics station, my internal beats found a home. I cranked the volume until the tinny speakers in that $13/day rental car shook the smoke right out of the upholstery. I felt my ears pin back against my head when The Cars sang "I guess you're just what I needed." I lost my mind when the Steve Miller Band's "Space Cowboy" came on because it was a damned gift to be reminded that I'm a picker, a grinner, a lover, and a sinner– except not when cars passed on the left, at which point I had to act overly casual and like my mouth was moving because it was chewing gum and not because it was whistling "WHIT-WHOO" along with Mr. Steven Miller.
By the way, Diary, I really love your peaches and eversomuch want to shake your tree. Guard your bloomers!
Free from Woebegon, in the full flush of rocking out to tunes from my formative years, I took a happy moment to raise my face to the sky and tell God I wish she existed so I could praise her for the sunshine. Pleased by the sentiment, Non-Existent God whispered back, "I wish I existed, too. If I did, I could have stopped millions of senseless deaths carried out in my name. What a bunch of dumb fucks, trying to ride on my coat tails."
Driving the next 50 miles, I sorted through mental images of God's coats (my favorite: the one made out of chicken wire, cling wrap, and Jesus' beard clippings) while my voice strained to keep up with Messieurs Crosby, Stills, and Nash.
And then, Diary, I was home. As I parked behind the house, the back door opened, and out came Byron, his jeans stuffed into Wellingtons in an act of righteous cuteness, ready to help me carry in bags of groceries and weekend-away luggage.
You know how you have about 70 pages devoted to youthful heartache and wishing for some yummy boy to like me?
I won't be adding to them. All that mournful nonsense ended when Byron came along. I found the yummy boy, and he likes me.
Once everything had been toted inside, we set to unpacking the groceries from TJ's–pumpkin seeds and trail mix promise brain health, so I'm stuffing some between your pages now, Diary. At the same time, I needed to catch up with what I'd missed in my absence, notably Allegra's having been put into a race at a track meet earlier that morning. Her high school is big, and the talent on its team runs deep; thus, we didn't expect that she'd be running at any of the "competitive" meets. However, through a confluence of events and missing runners, the coach decided to have her run the 1600. That's a mile, Diary. I know math has never been your strong suit. Remember all those times you still thought it was 1982 when we were well into 1983? Duh.
Because I love my daughter, and I love watching running, and I love teenagers being strong, I had requested that Byron and Paco record Allegra's race. Holding a bag of trailmix in one hand, I squinted at the little screen on Byron's phone and watched my baby girl–tall now for a baby–turn in a 6:43 mile. Only in a select young people's meet would a 6:43 mile put her at the back of the pack. Fortunately, all the rest of us, those not in high school, know that a 6:43 mile shines all the mirrors with vinegar and a loud squeak. Leaning over her shoulder, staring at the video on phone, talking through her form on each of the eight laps of the tiny track, I grinned like dancer in "stand battle" on the riveting cable program Bring It.
When the video was over, Allegra admitted, "I wish I could do it again. Because now I know I could have been running faster from the start." Fortunately, I was able to put her performance in context and tell her that if someone offered me $10,000 to run one 6:43 mile, ever, I would have to respond with "Could I please have another challenge? One that's feasible? Something like eating 643 snickerdoodles in 6:43?"
Patting my tall, strong, fast girl on the back, congratulating her one more time, I snagged eyes with Byron and asked, "Naturally, because I've been home for five minutes, it's time to head out again, right? We need to go get Paco from his pal's birthday party at the water park and then head to the Kia dealership to pick up our half-repaired car there [parts had been ordered] before caravaning to the Hertz store to drop off the rental car?"
Yup. Down the road we drove, pulling over to grab a soft, moist Paco from the water park and shout a prayer to the Tiki god that dumps a massive bucket of water on 30-pound preschoolers every three minutes: "Please, god of this scummy water park, protect our son from staph infections and pink eye. And may none of his toenails fall off in the next six months."
While Byron sacrificed a snack stand chicken patty sandwich on the Tiki God's altar, I drove next door to fill the tank on the rental car.
Diary. You know me and cars.
I not so smart.
After four minutes of attempting to find a button to push or pull–something that would pop open the gas tank cover, I gave up. Damn rental.
Instead, we drove to the Kia dealership and retrieved our car. Now in two vehicles, we pulled over at a different gas station, so Byron could help me find the gas tank button.
He walked up to the rear of the rental car, touched the flap covering the hole to the gas tank, and pulled it open. Manually. 'Cause he a man.
As I watched him handle the car's gassing up for me, I took a lace fan out of the glove compartment and fluttered it around my face. My, my. I do declare.
In quick order, we returned the rental car, returned home in our so-so Kia, and listened to our stomachs growl. Mine was actually growling for a beer I'd brought home from The Big City, a place where workers in breweries yelled "Concrete! Factories! Graffiti!" while breaking bottles. First, though, I wanted to unpack the dirty clothes from my bag. Checking on the laundry situation after a few days away, my suspicion was confirmed: no one had touched the stuff in my absence. Retributively, I tossed all their whites and reds into a hot water load and pushed the button reading "Mix these suckers HARD."
An hour later, the kids had eaten, and I managed to be passively supportive of Byron and Allegra as they headed out in search of Northern Lights. Settling into the rocking chair, sighing loudly as I pulled a fleece blanket over my legs, I told Paco that, of course, he could stay up late and finish his Pokemon battle. I mean, what if Clefairy was about to triumph over Charizard, at long last? Who am I to get in the way of long-simmering Pokemon grudge matches? Just as I got comfortable, I realized that we adults still needed to eat once Team Borealis returned from its mission and that the pot of water in which to boil cauliflower still needed to be turned on. Oh, Diary, my problems ran deep. I was very nearly woebegone. Except no–Keillor! Ptui!
Eventually, the unsuccessful Lights Hunters came back, the boy finished his Pokemon battle and went to bed, and my favorite time of day arrived: dinner plus drink plus watching a show with my beau. We settled on the Turkish couch, hip-to-hip, dug into our cauliflower, and laughed at Tina Fey's impersonation of Marcia Clarke in Unbreakable Kimmy Schmidt. Dear Diary, both Byron and I would like to lick the make-up off Tina Fey, no matter the costume, so it was a rollicking half hour for us, only made better when I realized I still had ice cream cake left over from my birthday and that it might be wise to pour a glass of wine to help me mull over when eating that cake would be advisable.
It was 10 p.m. My yummy husband was yawning. My soft, moist, pink-eye-free boy was snoring. His strong-legged sister was checking her Instagram. The kitchen was full of fun treats. I'd sung with Steve Miller. It had been a phenomenal day.
As I opened the fridge and pulled out a bottle of white, I thought of you, Diary, and all the memories you've recorded for me, preserving the minute details of a half-formed life on your pages. And, Diary? You know I love you, even though you embarrass me in public, but I have to admit I had an epiphany there, that Saturday night in front of the fridge:
as much as I treasure the time capsule of my adolescence that you represent, particularly when you provide nuggets like this one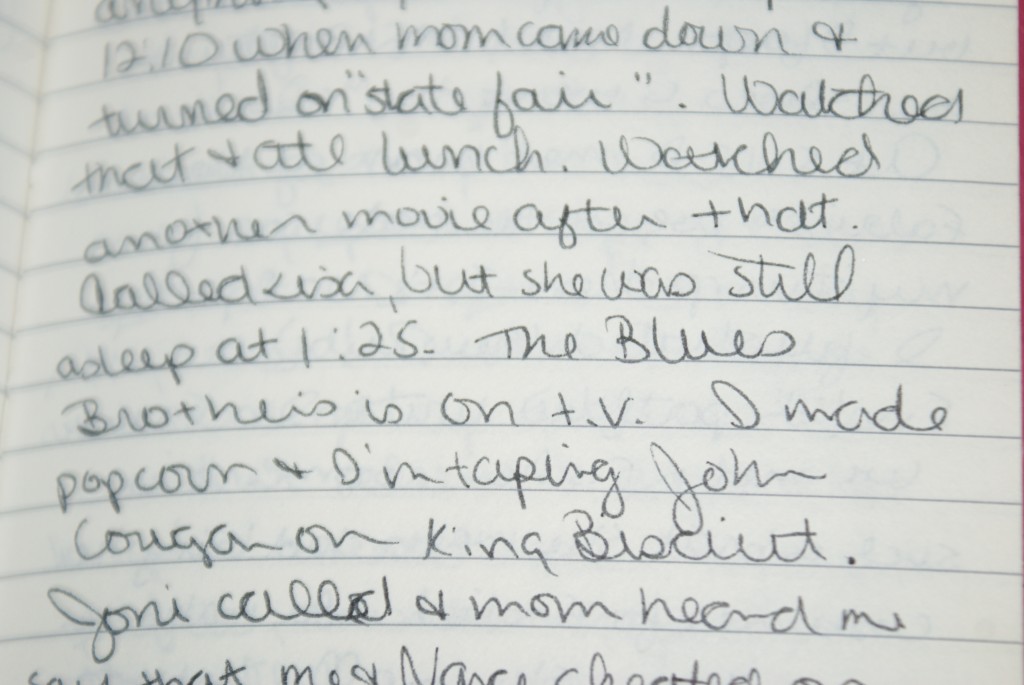 –there's no time like the present.
Comments
comments