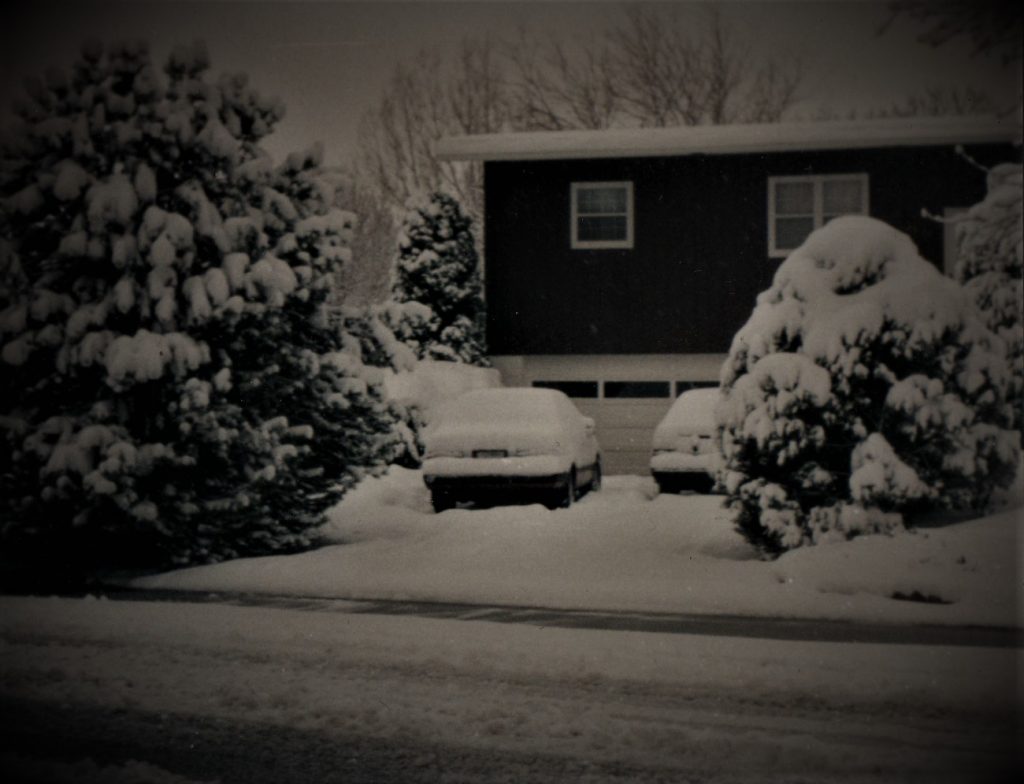 It's the darkness that distinguishes it.
Playing outside during daylight was so commonplace as to blur, in the faint murmurs of memory, into nothingness. Being out of the house under radiant sun just meant another Saturday, another round of mud patties slapped together while perched on the curb, leaning over the gutter. If it was 3 p.m., and I was eleven, then shape-shifting swells of neighborhood kids were likely on our bikes chasing each other down as Cops 'n Robbers, finger guns drawn and ready to shoot.
But after dark.
To be outside past dinner time sent a slither of excitement up my nape. After dinner, televisions were turned on, projects were completed, phone calls were made. To play outside with the moon as lamp, shadows murking every corner, bats flapping overhead — cutting through the Bergendahl's side yard, whizzing up to the horse pasture, frantically outpacing "It" to kick the can and claim safety — romping after dark held tenebrous charm.
I don't know what lured me outside that evening. There was no gang gathering in front of the Bakers' house, no planned meeting with Lisa next door, no reason I wanted to escape the house.
Teetering as I was between youth and adolescence, the idea of play had been fading, crushes on boys filling the spaces that had previously been filled with Lincoln Logs and tag. Perhaps darkness offered protection from ridicule; by myself, outside, with no one to mock a girl in a bra still wanting to yip and roll and pretend, I could just be.
Hardly ever could I just be.
Without announcing my intentions — my sister watching a show in the den while Dad dozed in his armchair; my brother in the basement in front of a different tv, my mom cleaning up the kitchen after dinner — I went to the coat closet. My snow pants and winter coat weren't a matched set, but, hand-me-downs, slid on easily. My boots rustled as I pushed my cotton-socked feet into the bread bags lining the cheap plastic. Tugging on hat and mittens, I slipped out the front door.
Down the cement stairs to the driveway.
Over to the mounds of snow, heaped high from shoveling after a recent storm.
All of Forsythia Boulevard was silent; the entire Wilshire Heights subdivision felt muffled by a blanket of white and dark.
It was just me. Free to be.
First, I jammed my feet into the sides of the mounds, creating a staircase. Then I stomped a wide plain into the section nearest to the Foleys' house. To ring the plain — ooh, make them high! — I packed mountains in a variety of elevations and — wait! look! — I humped my rear end down the edge of the plain again and again, climbing back up, plopping my weight back down until I'd carved a high-speed chute. Oh, boy, but what about this: that bit in the middle of it all seemed hard and icy; what if I hacked an opening?
Earnest, intent, completely focused on the world I was creating, the minutes flew. Hey, a castle tower over there, and I think I can make a second hole, like a donut to climb through, so this is a Medieval ice land where baked goods dot the landscape. And I'm the seal queen — they call me The Glissade because I glide from village to village on my belly, really fast and sleek, and I visit everyone to make sure their croissants are fluffy enough, and if they need help, I can reverse my glide and push backwards to the Plain of Yeast and get them more butter and eggs, but no matter what I'm always the best slider, and everyone is always happy to see me because I zip into town on my belly carrying jams and toothpicks for the big festival ––
As I played, protected by snow and darkness, the cold press of the ice against my stomach was reassuring as I careened down the chute; when I stood up on my hind seal flipper, I dominated my landscape, a looming giant of a ruler. My snow pants hurtled me from high to low as I crawled and slid, headfirst, feetfirst, down the mountain, across the Plain of Yeast, over to the frosting river. Covered in polyester seal skin, my widening woman's hips whizzed easily through the donut hole, the softness of my breasts providing added cushion as I stalked a pretzel deer made of sticks.
Rolling, whirling, twirling, heaping, crashing, shimmying, jumping, creeping, leaping under the glint of a moonslice — I was inviolate.
My period had ended a few days before. I was pretty sure my English teacher hated me. At a recent slumber party when we did "Slam Books," everyone wrote, when forced to acknowledge my strengths, that I was "tall" and had "pretty hair." No matter how hard I tried, I could never stop myself from eating ten spoonfuls of the raw chocolate chip cookie dough.
Ah, but then, for that unexpectedly hallowed hour, that out-of-nowhere gift of joy, I was The Glissade, unflinching and unencumbered.
Eventually, I couldn't feel my toes. It was time to go in. I had homework — needed to finish reading A Separate Peace. But did I maybe want to call through the front door and see if anyone wanted a tour of my work? If showed someone, they'd praise it, and that would mean I was good.
Nah. If I showed someone, then it wouldn't be just mine any more, and the beauty was in the secret.
Sitting on the Plain of Yeast, wriggling my toes, panting a little, I glanced towards the house. There. In the kitchen. I could see my mom's head above the kitchen sink as she scrubbed a pan. Backlit by a warm glow, she looked up, spotted the shadow of my figure outside. Leaning towards the window, she raised her eyebrows in surprise and jokingly wagged her soapy finger at me.
Scooting down a mound of snow — just a mound of snow now — I stepped onto the driveway, raised my arms, and gave her an exaggerated shrug.
Then, turning to face the cement steps, I inhaled deeply before starting the climb.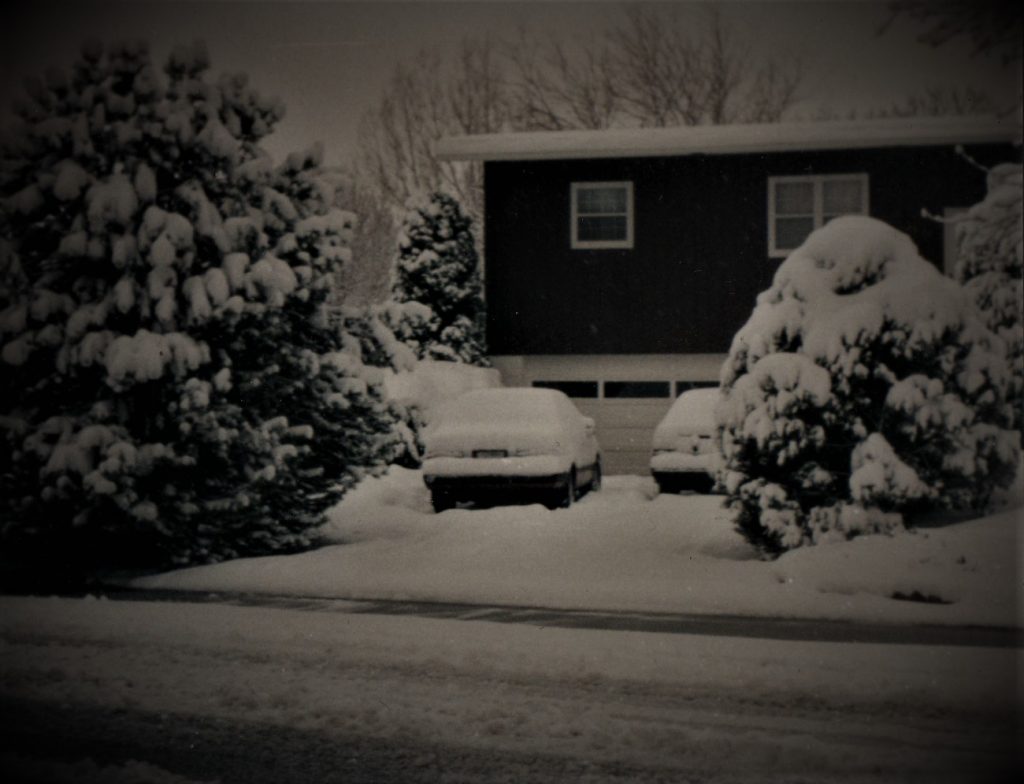 ---
Writing time: 37 years?
Editing time: 7:30
Comments
comments