And so today was lovely, a day full of hours with my daughter, a day when we laughed and were in sync, and it was all so much of everything good. There was no question I would write tonight about this day, even in limited fashion, because I want to remember it.
But to write about today fully and as it deserves, I need 10-15 hours of typing and deleting and thinking. From past experience, I know that.
If I want to dig in and hold it all up to the light, that takes time.
The threat of time being taken would keep me from the keyboard.
I will write what I can now, and maybe it will serve as an incubator for One Day. For when there are hours.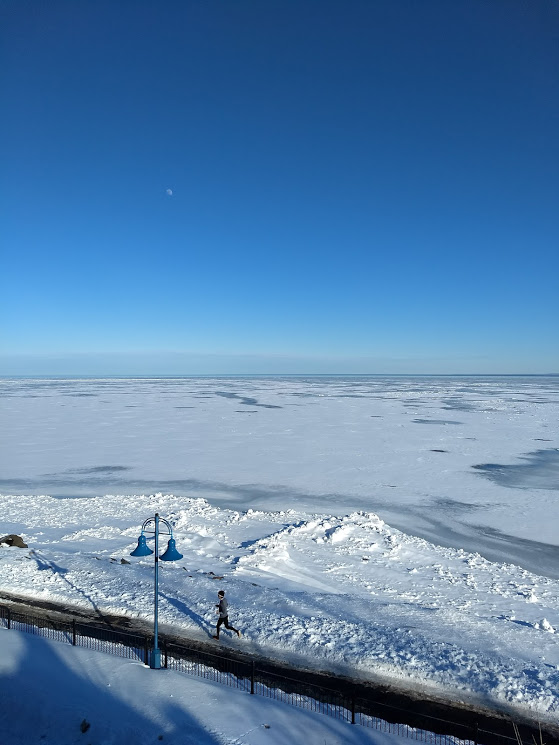 And so the thing about today is that it's a great story of loving a teenager who is about to launch herself, and it's a great story of pipping through various environments in tandem and with happiness, and it's a great story of seeing the ways that my daughter and I may find our way in the world together even after we no longer share a house.
If we can always remember the ease, the joy, the boondoggle of driving around and hitting destinations together, then maybe in twenty years, it can still be this good.
Right now, as I envision a future where she's grown and gone, being her own self, gaining perspectives that give her permission to chafe against who we've been to her, as I look at the detritus of some relationships in my own life that have pummeled deep into my gut the reality that the center does not necessarily hold, I can't be so naive as to trust that we all will always be okay.
We should be okay.
But I will never trust it.
Then, now, as you're reading and wondering about relationships in my life and either identifying with my fears or wanting to assure me it will all be okay, there is the fact that this is more than a story of a great day with my dear, dear, dear daughter.
I need another 10-15 hours to write the story of the first time I bought a backpack, a good chunk of time to unpack the weight of that experience — at the time merely a lovely day in a store with a boyfriend with whom I planned travels. It was important to get professionally fit for our packs; we would camp in Ireland, roughing it to prove to ourselves how real we were.
We went to Ireland. We took our packs. We never camped.
I would always say to him, "I love you," so he could reply, "I don't think I love you."
See, these stories take time.
I'm trying to write fast, daily, out of impulse, in the hopes of capturing moments that might otherwise fade into grey, the foggy horizon of disputed recounting.
And so today's fast story is about backpacks. And my daughter. Not about the man I loved who didn't love me for 12% of my life.
Allegra is 17, and perhaps it is boring for you to read again about her glories, but I will tell you again: she graduated high school early, after last semester of doing all college work at the local university, and she works two jobs to save money for three months of travel before she starts college in the fall. She handles her own business, loves color-coding, and, at the same time, doesn't know how to answer questions about a potential college major because everything is still too unknown. She makes me laugh; she has questions; she will spot your weakness in under an hour.
To celebrate her graduation, we told her we'd buy her a bag.
She wants a backpack — something we can bring to her, already packed, when we meet up with her during her travels. Alone, to Turkey and Montenegro, she will carry a different bag. For Bosnia, Croatia, and Slovenia, we will be with her. When we see her, we will hand her a prepared backpack —
a bag for when we fly home and she takes off to hike in Scotland with friends, then to Iceland to meet another friend.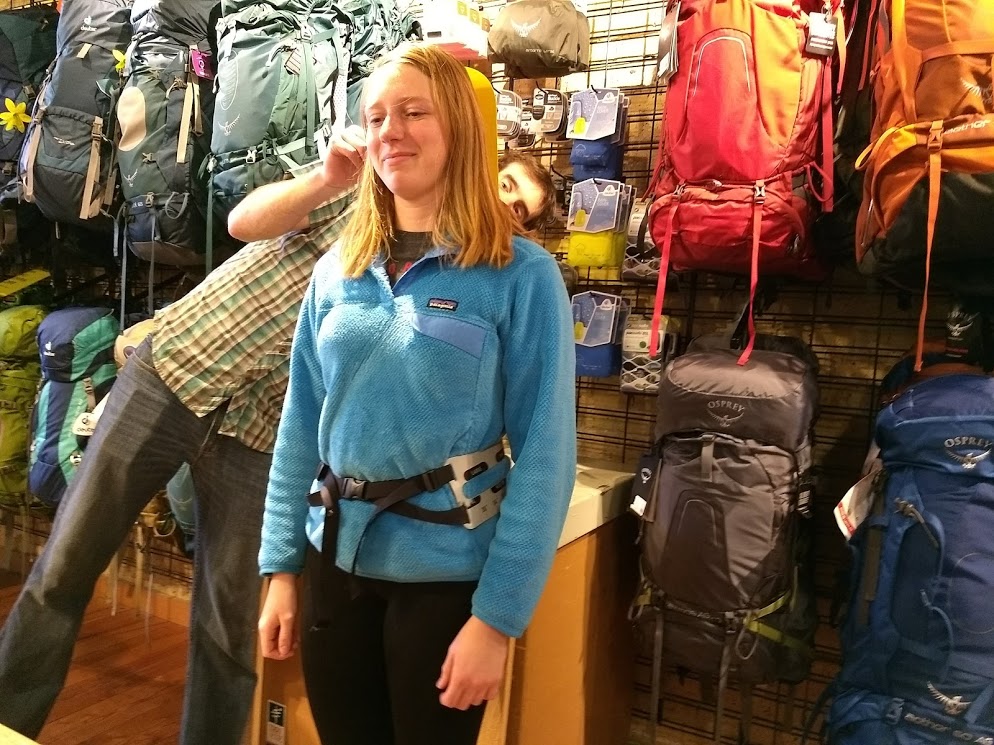 And so we are gifting her with a backpack, which feels so right for who she is and where she's going.
Today was backpack day. Byron had to work, but Allegra and I had some rare open hours together. Naturally, she had done her research, knew what she wanted, and realized it would be best to actually try packs on rather than ordering blindly online. It's also nice to hand money to a real person in the place where you live.
We went to the store. Talked to the guy. His name was Pat. He grew up in western Wisconsin. His street hasn't been plowed yet since the latest 8″ fell. He likes trekking poles.
With great competence, Pat outfitted Allegra in several Osprey packs (I have an Osprey backpack. I bought it during the 12% of my life when I wasn't loved but wanted to camp to prove how real we were.). He weighted them, adjusted them, helped her tighten the straps, explained the trampoline mesh against her back.
And so, patiently, and with an acceptance I never experienced during six years with that man in my twenties, Pat allowed — urged — Allegra to try, consider, step back, re-try, walk around, read her own reactions. Refusing apology for taking so much of his time, he exclaimed, "This is the fun part!"
I'm shifting verb tenses now. I'm not putting 10 hours into this thing, but I am taking time to make that choice.
The store is hot. I'm just standing there, leaning on a counter, asking questions, but I'm sweating. With a counter between us, I can see what's going on with Allegra better. So we have space, and I am sweating. Is this a harbinger of the rest of life for us?
Is maybe all of life about sweating and space? Is that how it will always be for us, whoever the "us" in question is?
And so I'm leaning onto my elbows on a glass counter that creaks like it's splintering every time I shift, and Pat is in it with us for the long haul, and Allegra's trying on her fourth pack. We've moved away from the initial idea of Osprey packs, which are the best-selling brand in the U.S., and now she's trying Deuter packs, which are the best-selling backpacks in the rest of the world. Yup, fit is good. Yup, feels good. But.
She puts on the previous pack again, walks around for a bit. Switches again to the other. Walks some more. This one? That one? Hmmmm. How to know which one is best?
Eventually, it becomes clear: THIS one feels the most right. This is the right one.
So we buy a Deuter, the newest model, and I don't cry even though this purchase feels like an exclamation point at the end of a sentence that starts "I got unexpectedly pregnant after I'd camped in Iceland — because my body had been exposed to around-the-clock light, and even though it seemed impossible for me to get pregnant because my period had ended two days before, I did get pregnant the night your dad, the right one, proposed, and when we found out you were coming, we changed the date of our wedding, and then right before the wedding, I had a miscarriage, and we cried for days, and then we went to the hospital and found out there was still a YOU in there even though your twin was gone, and then my water broke during a Creation vs. Evolution debate, and bam you came, and I cried in the garage when we brought you home from the hospital — my mom, standing by us out there next to the car, wondered why I was crying — and then you had colic, and I held your dad's hand in the living room and cried some more and wailed 'I don't know how I can make it six more weeks,' and ten months later I shoveled the driveway with you strapped into a pack on my back, and the whole time I sweated and threw snow to create space, I could feel your tiny, gentle hands pulling at strands of my hair as we sang 'The Wheels on the Bus' together, and now today I was shoveling by myself, trying to get my car in from the alley after the snowplow went through, and you looked out the bathroom window and saw me, and then I heard your voice calling 'Do you need some help?', and suddenly you were next to me, halving the task, humming happily even when we had to take off our coats because carving space is sweaty work…"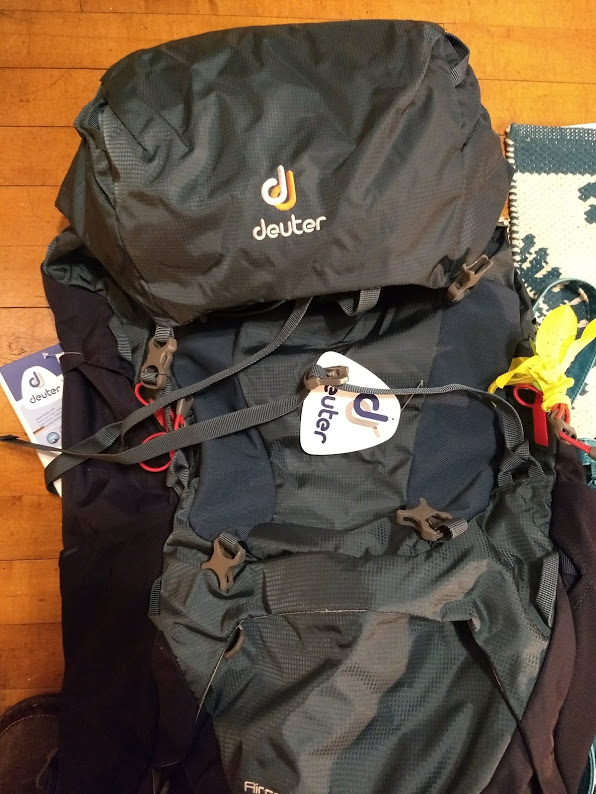 I'm shifting person now. It takes time to keep "you" as the audience when I've decided I want "you" to be my daughter.
And so we checked out today after Pat helped us for so long, buying you a backpack as a graduation gift to help launch you into the world. You went with a Deuter pack, so now you are the Deuter Daughter.
This summer, I will bring this backpack to you before you fly to Scotland to meet friends, and I won't cry because I am so happy for who you are.
But when we part, after hugging you at the airport, as I watch you head one direction while I head another, I will reach for your dad's hand — he's not the man I bought an Osprey pack with during 12% of my life when I wasn't loved; no, he's the right one — and we will hang onto each other as we watch you walk away from us, down a long corridor, all on your own.
And really, honestly, I promise you: I'll try not to cry.
But there will never be a day for the rest of my life when I don't feel the shadow memory of your tiny hands pulling at the strands of my hair.
——————————————-
Comments
comments