Lawsy, it was hot.
We'd weathered a memorable ride on a mini-bus (dolmus) to get there, a ride packed full of sweating bodies overlapping each other, a ride reeking of body odor, a ride without moving air to calm the overheated brain. Once we got off the mini-bus, we then had to walk down a long road to reach the attraction: the ruins at Efes.
Sweet Stinky Jehoshaphat in a Sauna, but it was hot.
Efes, the Turkish name for the ancient Greek city of Ephesus (Have I spouted lately about how there are more Greek ruins in Turkey than in Greece?), is a place rich with history. The Temple at Artemis, one of the Seven Wonders of the Ancient World, was there. The Gospel of John is rumored to have been written there. Pliny the Elder hung out there. At one point, before the Roman Empire fell, it was second in importance and size only to Rome itself. And guess at whom Paul's Letter to the Ephesians was aimed?
Visiting Efes, for a ruins maven like myself, was a kind of heaven.
If heaven is ninety kajillion hell-like unrelenting degrees.
The thing about Efes is that it's crazy awesome–but it's not as though ruins, as a rule, offer up a lot of shade because hello no roofs. By the time we reached the amazing reconstructed library (how do I get a card?)
we needed to stop and recover in the shade behind a wall: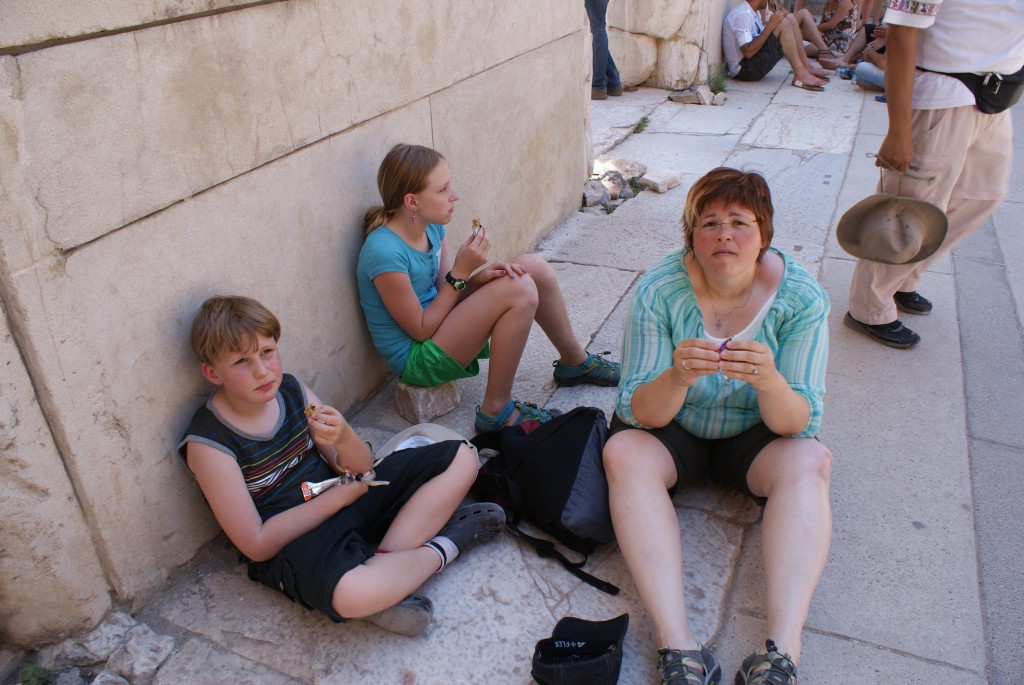 Despite the heat, it felt like magic to walk upon such worn stones, and we all (Byron, Allegra, Paco, friend Kirsten, and me) milled around and stared at ancient toilets and brothels for a few hours. Eventually, everyone was ready to retire to the area of restaurants and shops for bartering, ayran (foamed yogurt and water with a pinch of salt) and gozleme (sort of like a Turkish quesadilla).
Actually, I wasn't.
Before calling it a day, I had an itch to scratch. There was an archaeological project going on at Efes; for an extra fee, visitors could walk through the covered, enclosed area and view the excavations of terraced Roman houses. Normally, we aren't ones to pay an extra fee, but my gut kept saying, "Do it. Go look at those things." Since the kids were nearing heat exhaustion, Byron and Kirsten took them off to shadier places while I…
had one of the best–unexpectedly sacred–hours of my entire year in Turkey.
It didn't hurt that the excavation was covered, of course, and it didn't hurt that very few other tourists were willing to pay the extra fee. When I walked into the cool hush of the work site, I watched the only other visitors, both of them, working their way toward the exit.
Suddenly, it was shady and quiet and calm, and I was in the presence of something that felt like greatness.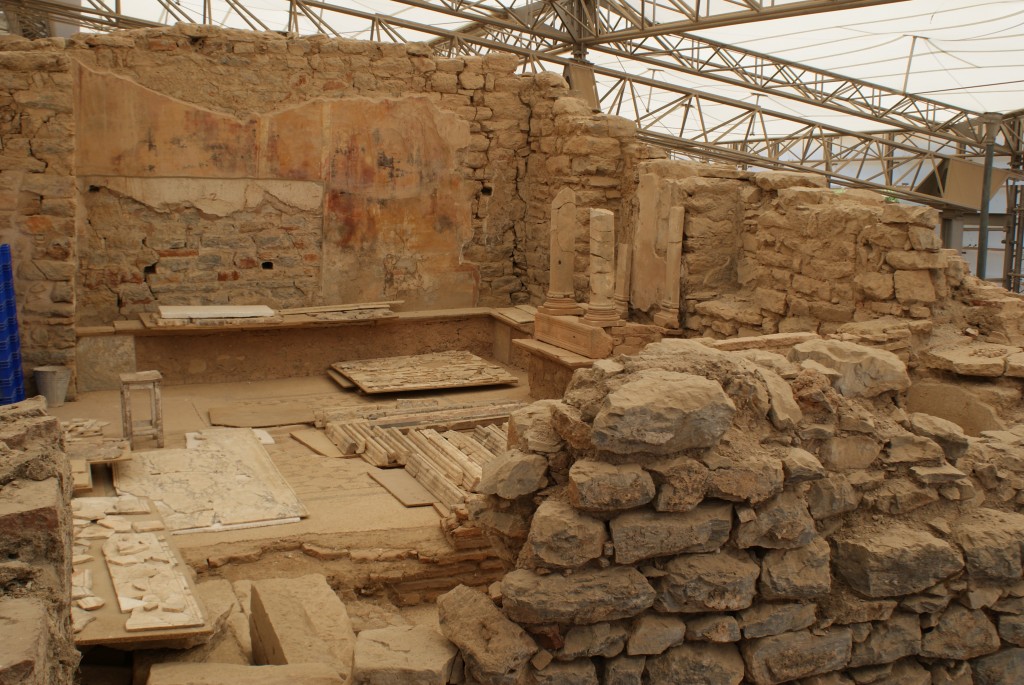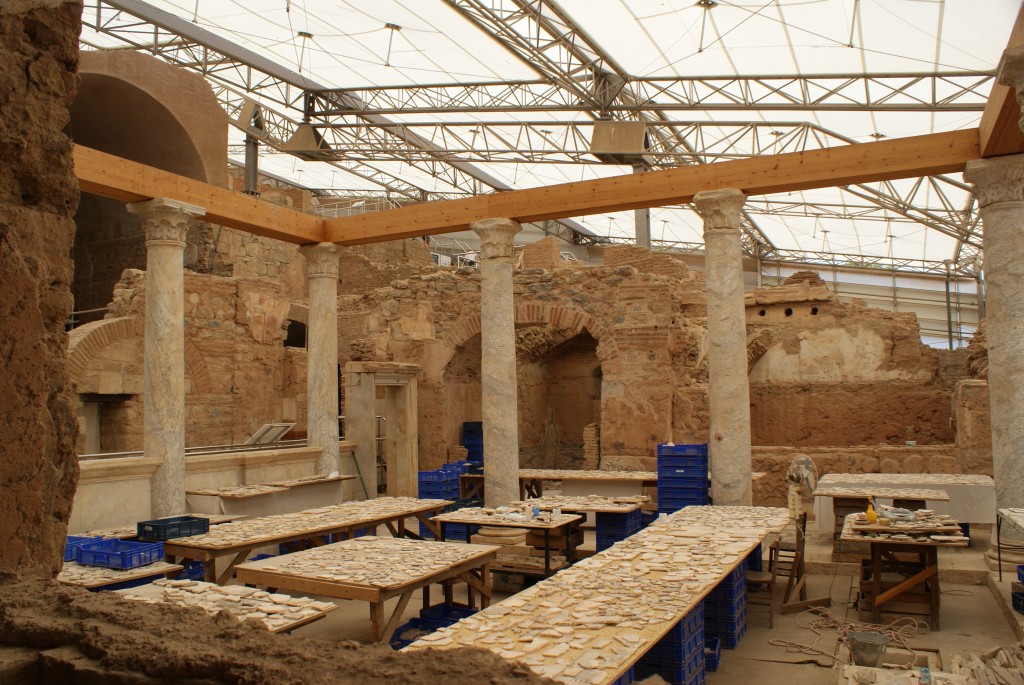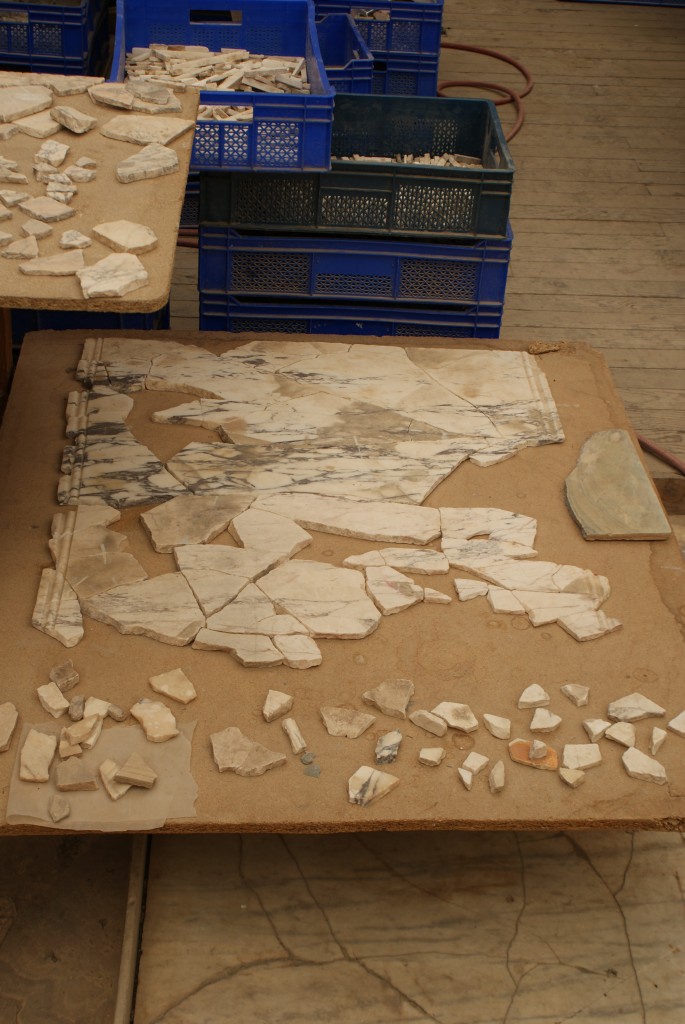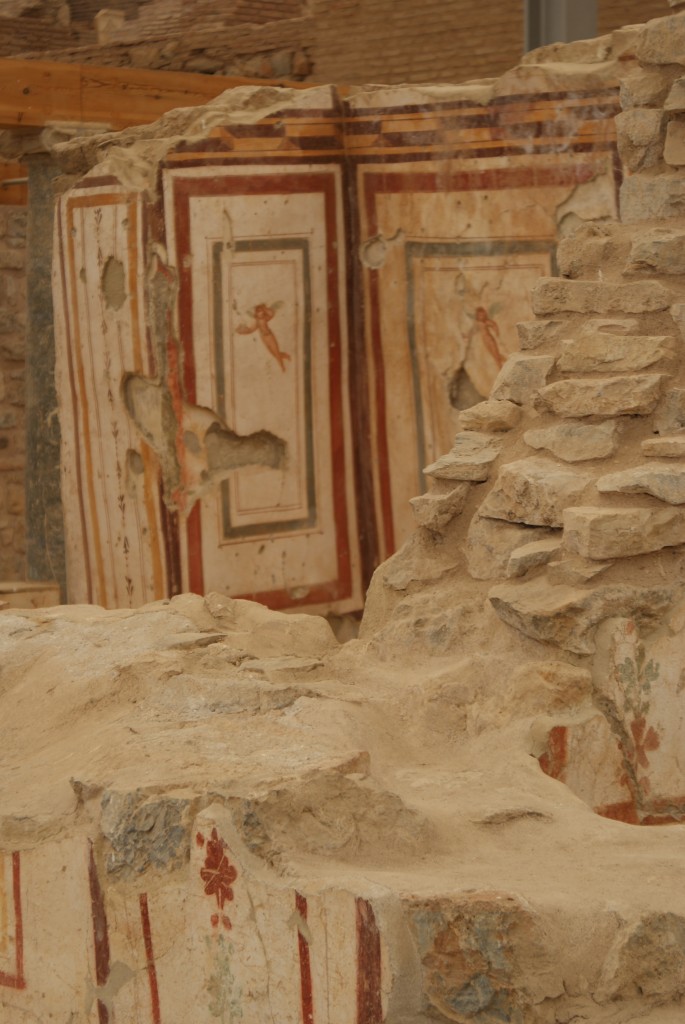 I stayed on the marked boards and paths, craning my head, using my long camera lens to try to view and capture some of the mosaics and details that were well removed from the walkways. Even more than loving a ruin, I do love a mosaic.
And then my reverie was interrupted by a voice, a man who was talking quickly to me in Turkish, taxing my brain to track his intent by applying the 100 words of vocabulary I'd acquired over time. Some sort of greeting and then some strident-sounding verb thingies. Was I not on the path? Was I in trouble? I hadn't touched anything, and anyhow, it's habit in Turkey for museum attendees to pet, hug, sit on, and kiss items on display. To the best of my recollection, I hadn't petted a thing since parting from Paco. So what was he telling me? Were they closing? Had I paid my extra fee for only six minutes of bliss? Was this place the ruins version of a money-grabbing whorehouse?
Ah, but then he used the international gesture for "Come on!" and motioned that I should step off and over and under so as to join him. Holding a finger up to his lips, he looked around at the empty place, a glint of mischief in his eyes, as he said something about lunchtime. Or food. Or eating. Or maybe bears. Gesturing again, and using one of the Turkish words I did know, he bid me "Come!"
So I followed him. Off road. To experience rooms and walls and mosaics and paintings that couldn't be seen unless one was on a personal, semi-illicit guided tour.
He walked quickly, but I trotted along behind him, stopping to snap as many pictures as I could without making him impatient. When we'd get to a particularly wonderful bit of something, he'd stop and point, waiting for me to get the photo.
Rather than make this post seventy-two feet long by embedding each photo, I've put some of the best ones into this slideshow. The first pictures are of Efes itself, so you can get a sense of the ruined city before heading into the terrace houses. Any photo that is up close of a painting or mosaic is something I look during my once-in-a-lifetime walk through ancient homes.
When, finally, my guide deposited me back where we'd began, I used all three of the thank yous I knew in Turkish and clutched, meaningfully, at my heart. Then I meandered through the upper levels of the terraces, carefully staying on the marked paths, before stumbling back out into the searing sunlight, feeling more than a little bit changed.
I wandered back to find my crew, breathlessly telling Byron he just had to go back and see those houses. But, alas, everyone was more than done, more than ready to make the dusty walk back out to the main road, more than ready to stand, unprotected from the heat, next to the black asphalt highway until the next dolmus came by.
Fortunately, our plan for the tail end of the day was to hop off the dolmus as it re-entered the city of Kusadasi and take a refreshing plunge in the cooling waters of the Aegean–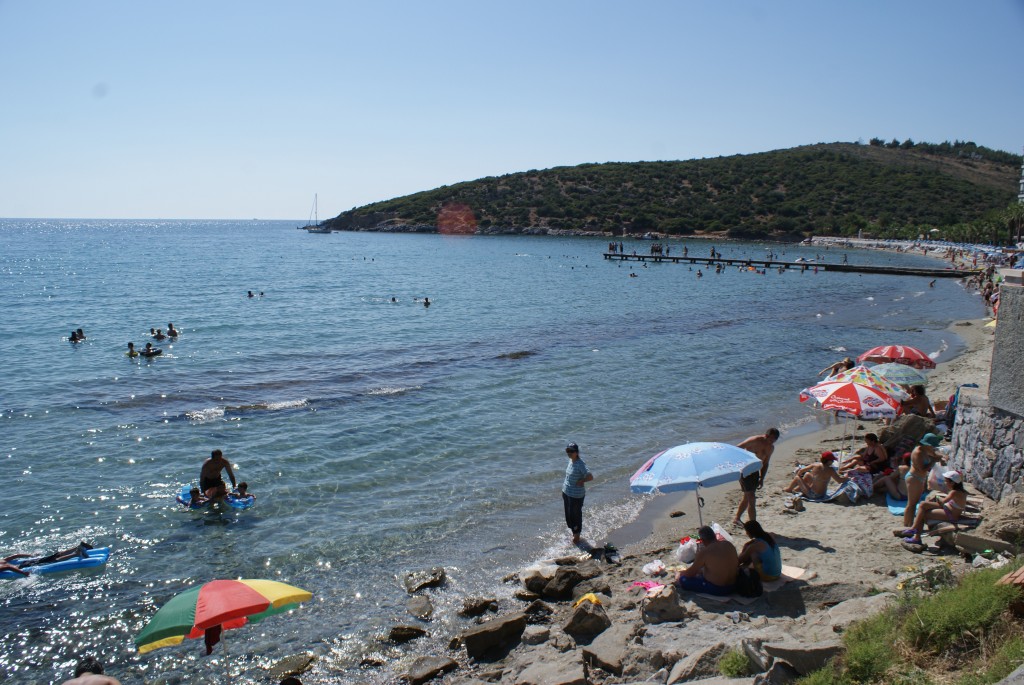 –the same waters touched by Paul, John, Pliny the Elder, waves of marauders, scores of settlers, and a few Roman families in search of relief from the heat.
Comments
comments