If you ever see an ad for "Wanted: Person to Post Picture of the Day," do not let me apply.
That is a job at which I would fail miserably. However, I might make a go of "Wanted: Person to Toodle Around and Occasionally Share Moments of Her Toodles Digitally." Whatever the wage per hour, I'd still be overpaid, of course.
So here I am, in a frame of mind to do some digital toodle-sharing. Truth be told, I'd like to post about thirty pictures, but I'm working on the elusive art of restraint–something that is anathema to all I am–and so I'm only allowing four pictures. We've been on the road for four days, after all, so it makes sense.
What doesn't make sense is that we've been on the road for four days, and I have four photos to share…yet I have no photo from Day One or Day Four.
As I tell my children, "Maybe don't get too analytical about what I say versus what I do. Maybe just view me as a full-throttle lesson in Going with the Flow."
As part of my Restraint Program, I shall stop the blather and get down to it.
We departed Duluth on August 4th, leaving our house in the care of a gun-toting trainer of rabid pitbulls, so don't even think about a break-in. My picture of the day would have been of Byron sipping his first-ever cup of Dunkin' Donuts coffee; sometimes, in the middle of Wisconsin, there are few coffee choices, so we were forced to try out the Dunkin' Donuts coffee that has sooooo many people raving about it.
It was–how you say?–fine. Considering.
Day Two had us visiting the science museum in Chicago (after which we went out for a nice Turkish dinner with my college roomie and eternal great galpal, Colleen, and her partner, Tim). You know what I realized at the science museum, a place I recall being wildly excited about when I visited it as a kid?
I realized I can't even fake being a science person. These places are billed as "interactive" and full of learning, and most of the time that I'm in them, I wish to be sitting on a bench, people watching, or else left alone to read a book for a few hours. On some level, I lack the natural curiosity of a scientist. So, um, sometimes there's air and some moisture and an updraft, and something like a "vortex" happens. Okay. Now can I go read?
Fortunately, others in my family got more out of it: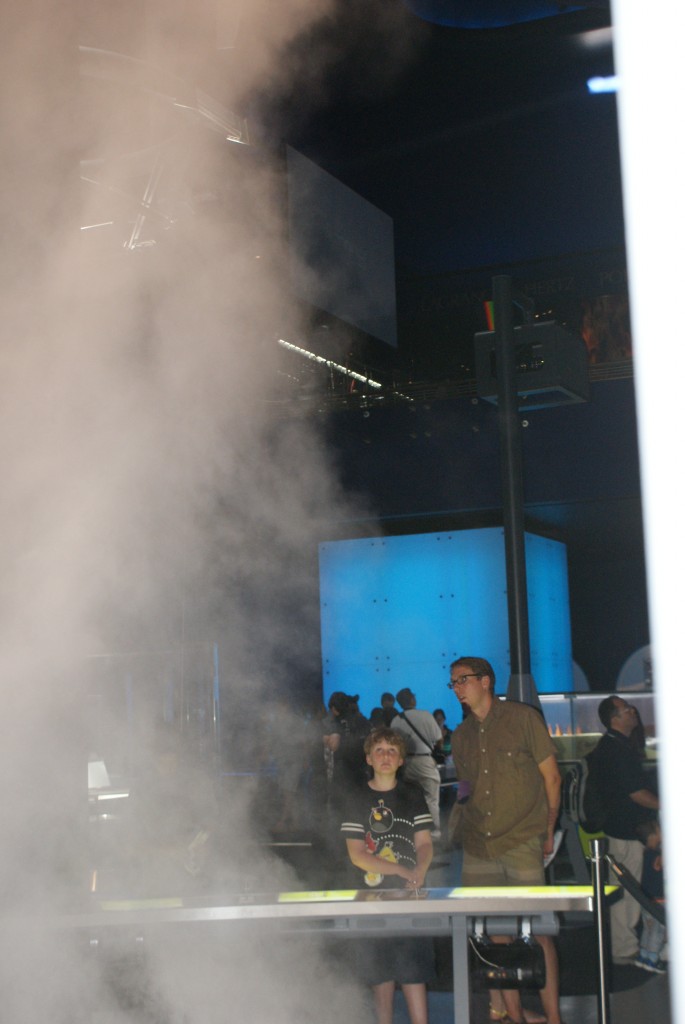 While the fellas made tornadoes, Allegra and I quite liked the miniature diorama skyline of the city, complete with teeeeensy figures enjoying an afternoon on Lake Michigan: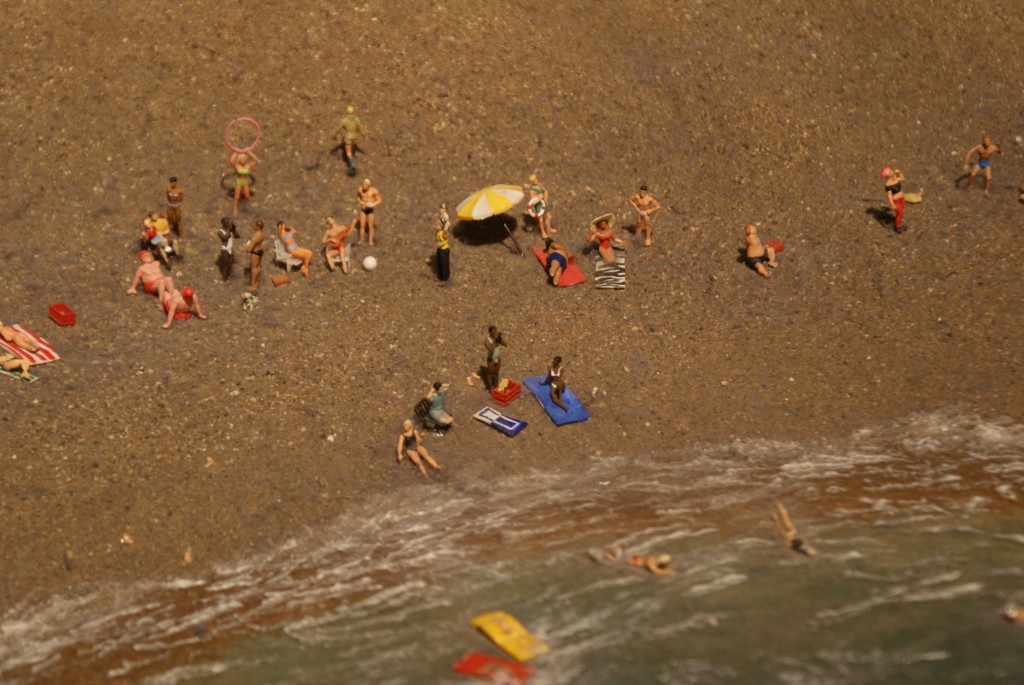 Interestingly, one day later, when we'd gone to Navy Pier (tourist hell, really), I experienced miniature once again, this time from my vantage point high up on the Ferris Wheel. I was adamant that I wanted to ride the wheel, having read Erik Larson's The Devil in White City and gotten the back story on the creation of the Ferris Wheel for the world's fair of 1893 in Chicago. To ride a wheel that is a direct tribute to that invention was very, very cool. Being able to look down and pretend I was seeing the entire world as a miniature diorama was just as exciting.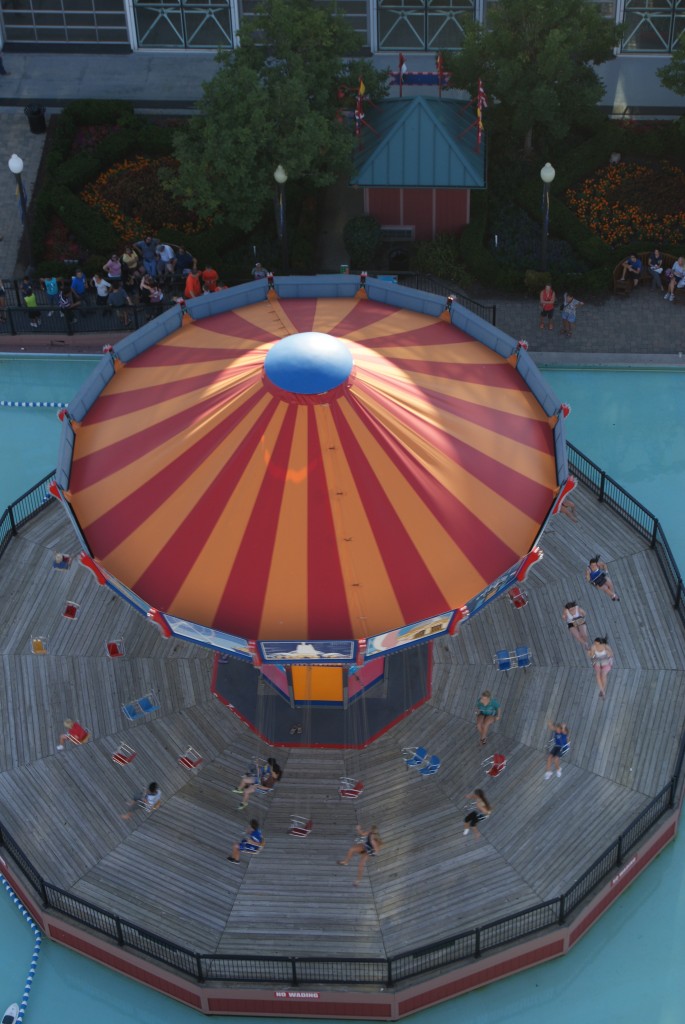 My biggest thrill of the last four days has been the art deco, intricate, ever-changing-yet-very-harmonious skyline of Chicago. We took the train into the city from our hotel, and then we took water taxi and trolley to get around the downtown area. Thus far, I'd say the late afternoon water taxi ride, just as the light was hitting its best slant, has been my biggest highlight.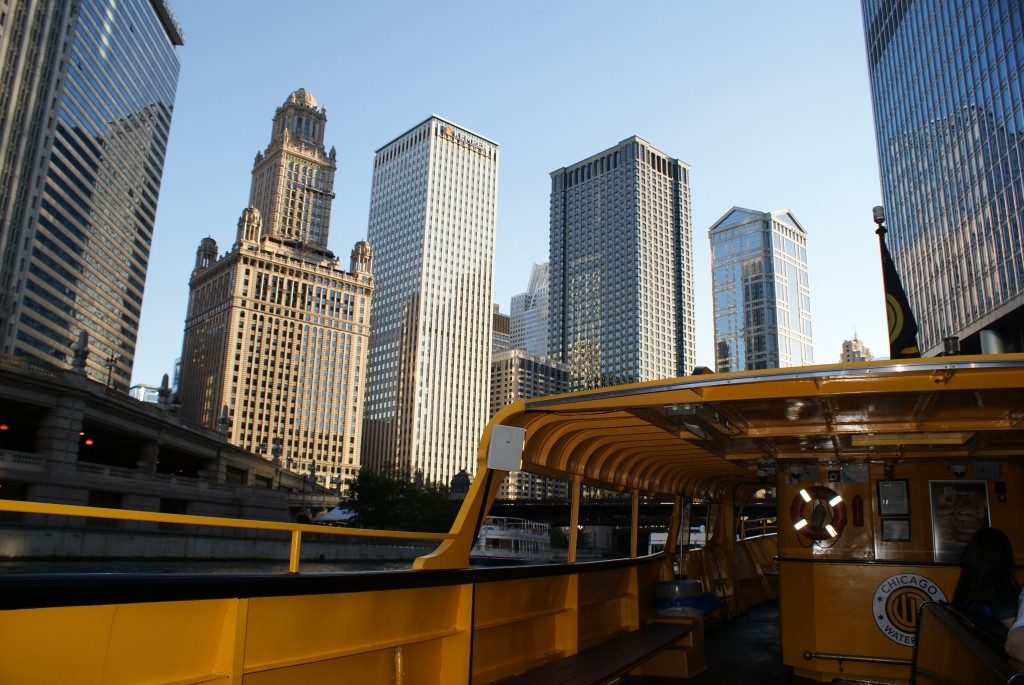 Today, my picture of the day, had I taken one, would have been of the line of semi-trucks parked at a rest stop in the middle of Indiana. Due to the hoards of trucks toting goods around the country, I had some white-knuckle driving on the interstate. With construction narrowing the lanes, and being hemmed in by trucks from all directions, I was glad to hand over the wheel to Byron. He glided us into Columbus, Ohio, where we sleep tonight.
Tomorrow, we go to the much-recommended Columbus market and then drive six more hours to Harrisburg, Pennsylvania, where we'll spend a night readying ourselves to tour
the Hershey's Factory in Hershey, PA, the next day.
If I don't post for a few days, it'll be because I'm still slowly reviving from the sugar coma.
Comments
comments