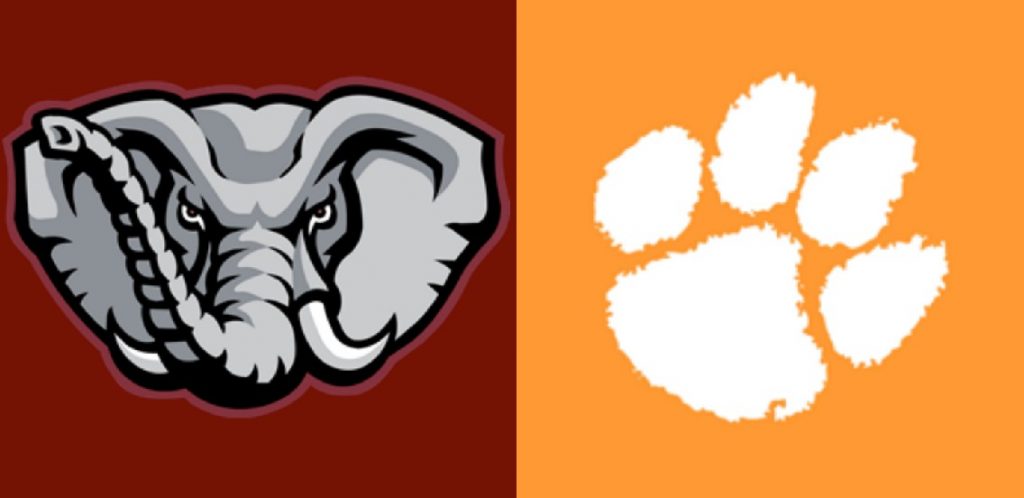 Chin merging into neck, the guy sharing our table is persistently friendly, hail-fellow-well-met-ing his way through the world. In what feels like a bold wardrobe choice for a white suburban middle-ager, he's wearing orange — but then again so were clusters of people around us during the long wait to get into the Parkway Tavern, home of Louisiana's best po'boys.
I understand the business of hustling towards and milling in a queue for a good sandwich, but the masses of orange confuse me. Has Pantone declared Goldfish Orange the Color of the Year for 2018, and I missed the announcement? It is January 1st, after all, and maybe a deep bow to Pantone's proclamations is New Orleans' tradition when the calendar changes.
But then — aha! — I remember: there's a sportsing happening in The Big Easy on this first day of the new year, and one of the wide-shouldered teams brands its skills with orange. So all these hungry sandwich-seekers are fanpeople, lining their stomachs with gravy and fried pickles before the chest painting.
It's fortunate my brain catches up, for the friendly man sharing our table unthinkingly trusts that everyone is dialed into his channel. As we all wait for our food, he floats a few chatty queries, notable for being more ice- than ground-breaking, before nodding at the man sitting across the table and divulging overly casually, "This is my dad. He played for Clemson. I travel with him to all the games."
I don't know what a Clemson is, but the sentence structure clues: a Clemson must be a school. Or a team. Or a delicious orange fruit. Even more, the broadcast of his father's past indicates we should be impressed. Across the table, the eighty-something-year-old man is smiling and nodding as though he expects an enthusiastic acknowledgment, and since he seems sweet as a dented helmet, I try to convey something like "WOW, IS THAT SO?" without using actual words — because I don't know which ones to use with regards to having done something that sounds vaguely notable for a school or a team or a fruit named Clemson.
In moments like this, where I feel pinned against grimy vinyl upholstery by someone's assumption that we share language and values, I am tempted to respond in my own tongue: "Isn't it affirming that Jesmyn Ward not only won the National Book Award for Sing, Unburied, Sing but also scored a MacArthur 'genius grant'? Helluva year for a worthy author, right?"
It is not a fair bet in this country, however, to assume that a stranger would be a book reader and literary fanperson. Rather, all we can presume of the strangers among us is that they are conversant in Ball Sports, able to reel off scores and jersey numbers in between bites of sandwiches that could be tucked into armpits for a sprint to the end zone.
Such presumptions have, on more than one occasion, caused my husband — an honorary woman — to groan, "I don't like men; they sidle up and think we're going to connect by comparing notes on our favorite teams, but when I tell them I'm not into football or baseball or basketball, they do a kind of physical recoil and stutter a little bit. Then it gets quiet because they can't think of anything else to talk about. MEN. UGH."
Thus, it is shortly after the guy sharing our table has asked, "So if you're from Minnesota, you guys must follow the Gophers?" that silence falls. I consider unleashing some tit-for-tat on him, thinking this would be a great moment to quiz him on his feelings about Jesmyn Ward, but the Parkway is a mad crush, and I worry that in the din he'll hear "Quandon Christian" by mistake, and then I'll end up paralyzing my facial muscles from "WOW, IS THAT SO?" overuse as our tablemate holds forth about linebackers.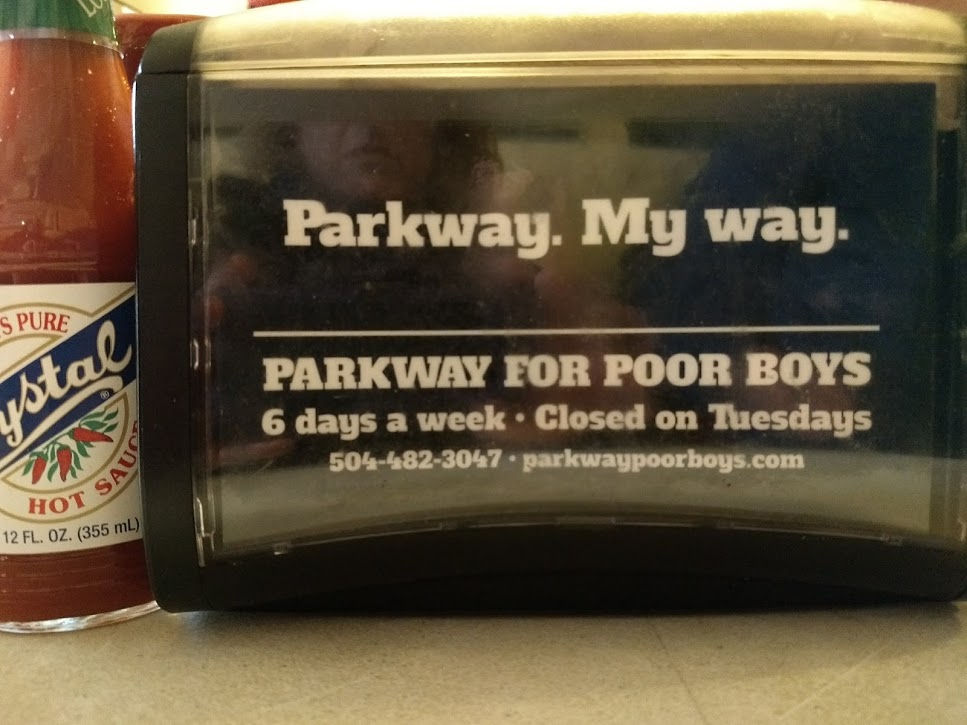 I opt, instead, to lean into Byron's shoulder, put my mouth close to his head, and murmur: "So I don't actually have anything to say, but to spare you from these painful conversational attempts while we wait for our food, I'm just going to keep talking intently and intensely into your ear here, okay? That way this nice guy won't feel like he has to engage with us, and we can relax."
Scratching his chin, Byron nods thoughtfully and responds loudly, "That's a really good point. Tell me more."
Patting his shoulder as though I'm talking him through a crisis, which, in a sense, I am, I continue. "So I'm super excited to have a big ole roast beef po' boy with gravy on it, and the reviews said the fries are amazing, so I can't wait to tuck into those, and isn't it weird how we have to keep all those ceiling fans running in our Airbnb in order to keep the heat from rising, and I'm so glad we scored seats in this hopping joint. I thought we were going to end up outside in the cold, snarfing down our lunches. Also, I keep thinking our new friend here has a faux leather sectional couch in his rec room at home." Making my eyes wide and sighing dramatically so as to communicate Important Words Being Said Over Here, I add, "I like how well organized this place is; they are very efficient in terms of getting people in, feeding them well, and then getting them out. I also really like that they use a microphone to call out the orders that are ready rather than just hollering, don't you?"
Tipping his head from side to side to indicate "weighing a thought," Byron slowly responds, "Yes, microphones are nice."
Fortunately, the friendly guy sharing our table has managed to snag eyes with a couple passersby and, in this fashion, create for himself the feeling of community that our family is unable to provide. As nonsense waterfalls out of my mouth into my husband's ear, we hear the guy in orange excitedly ally with other customers, using words like "game" and "ball" and "game" plus "game." But for the grace of tight space, we would be watching an exchange of high fives.
In the midst of my murmuring, it occurs to me I have an actual thing to say to Byron. "Okay, so about the Gophers. I mean, when he asked us, it genuinely took me a second to realize he didn't mean burrowing rodents. But when I realized people usually don't talk about vermin while in a restaurant, I did cop to 'Hey, this is sports talk,' but even then I realized I didn't know what he was talking about. Soooo. The Gophers. Is that what all the UMD teams are called? I can't remember."
Here's a beautiful thing: after 19 years together, I can still surprise my husband.
He knows I'm often six steps behind public knowledge, but still. He would have guessed I would know who the Gophers are.
I meant to know. My ears had heard of sportsing Gophers. But they hadn't seen any reason to file the information into the brain, so one ear let it in, and the other ear ushered it out, thus leaving more memory storage available for details about what Rhianna wore to the Met Gala.
Smiling, Byron explains, "No, the Gophers are the U of M in the Cities. The UMD teams are the Bulldogs."
Clearly, one of us reads the newspaper, and it's not me.
"Oh, hey, that's right! I might have known that, actually. We know so many people who go to hockey, um, hockey clashes — derbies? — that I do get an image in my head of toothless men on skates when I hear the word 'bulldog.' Well, anyhow, I had no idea what Dude Over There was talking about when he asked us about the Gophers. I was so glad you were able to tell him we don't follow ball rodeos because I had no idea how to answer him."
As we chuckle over my sports aphasia, I lean into his shoulder. He squeezes my thigh.
Our moment of quiet communion provides opportunity; the friendly guy in orange can't keep himself from small talk. It's an impulse, this search for quick moments of compatibility. If we have something in common, we establish ourselves as together and somehow stronger. For a sports fan like the man in orange, this means we at the table have an opportunity to come together as a team, if only he can coach the right moves out of us. So he tries again. "Have y'all eaten here before? We haven't. Are you first-timers, too?"
And even though this poor, lovely man was unfortunate to have plopped down at the table of standpat individualists, we let him score.
Squaring my shoulders, facing the challenge, I enter the field. "No, we've never been here before. Did you read about it in a guide book? That's where we learned about it — said it's the best place in New Orleans to get a po'boy, so we figured we better give it a try. How'd you hear about it?"
The question makes him happy. It gets lonely with just Dad sometimes. But now we all have each other. It's a relief.
As is the moment when the harried cook behind the counter pulls down the microphone and calls out, "Order for John."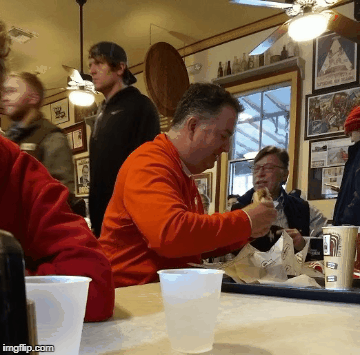 Comments
comments