The day we left Albuquerque, we headed towards the town of Taos–a place known as an "artists' colony" and as the location of actress Julia Roberts' ranch. Mostly, it's a town of stores hoping to sell tourists wind chimes, junk to put in their gardens for decoration (should the garden itself fall short of appeal), and cedar-scented soaps.
Little-known fact: if you say "cedar-scented soaps" ten times, really fast, your lips end up feeling loose and blubbery.
Our main aim in Taos was to visit the pueblo: "Taos Pueblo is the only living Native American community designated both a World Heritage Site by UNESCO and a National Historic Landmark. The multi-storied adobe buildings have been continuously inhabited for over 1000 years."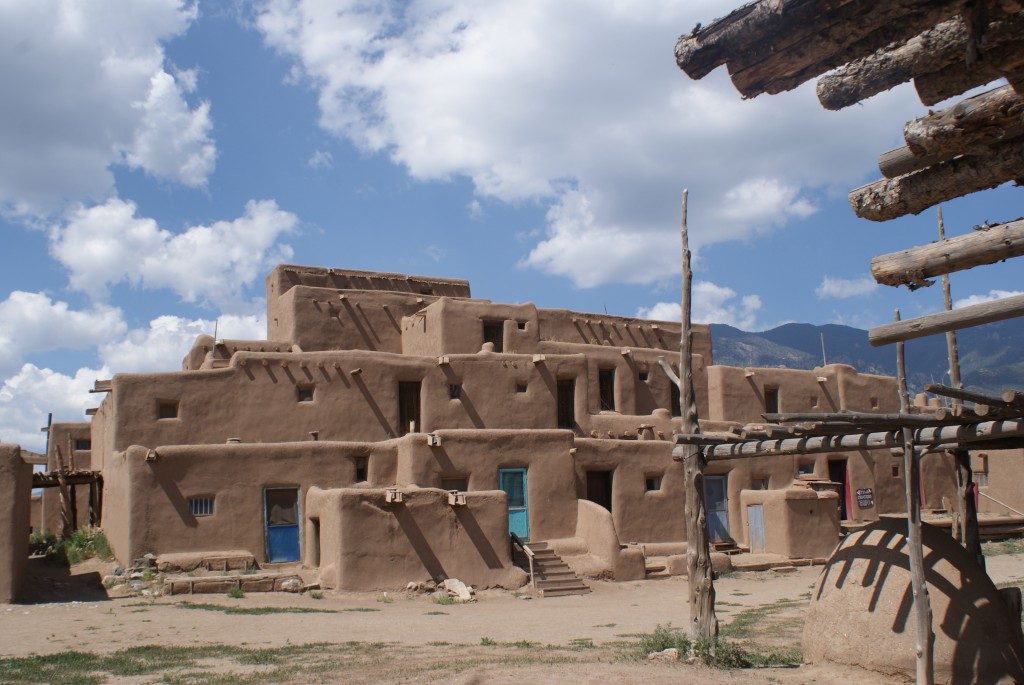 The Red Willow people still inhabit these buildings and are, as one might guess, open for business.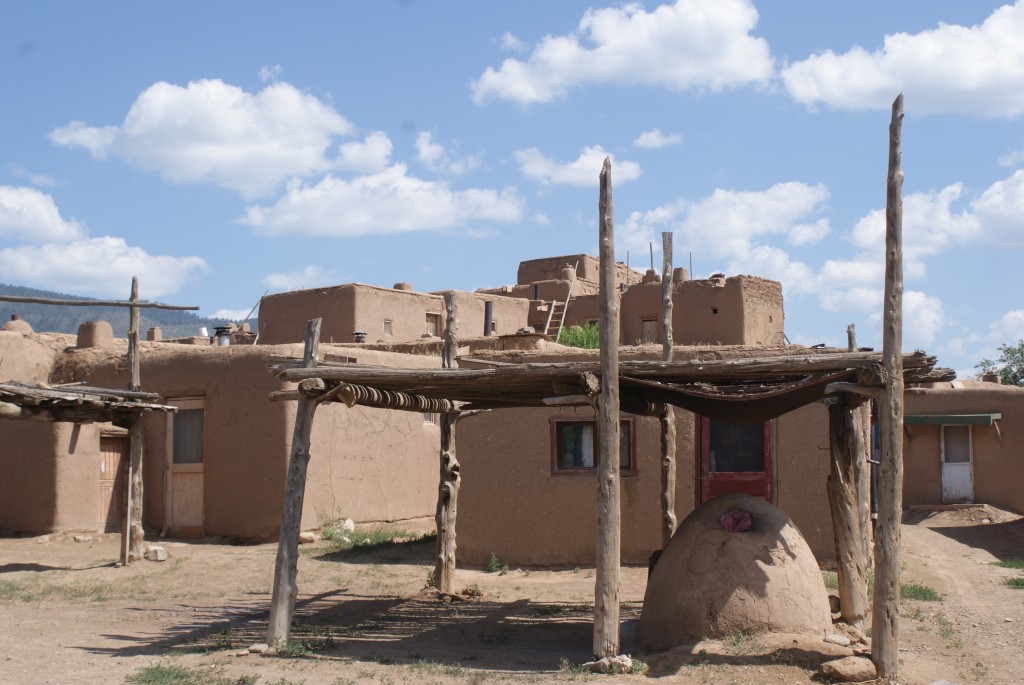 Fortunately, the commerce that takes place in the pueblo feels very intimate and personal, as members of the tribe run shops in their homes, and everything they sell is handmade by that individual.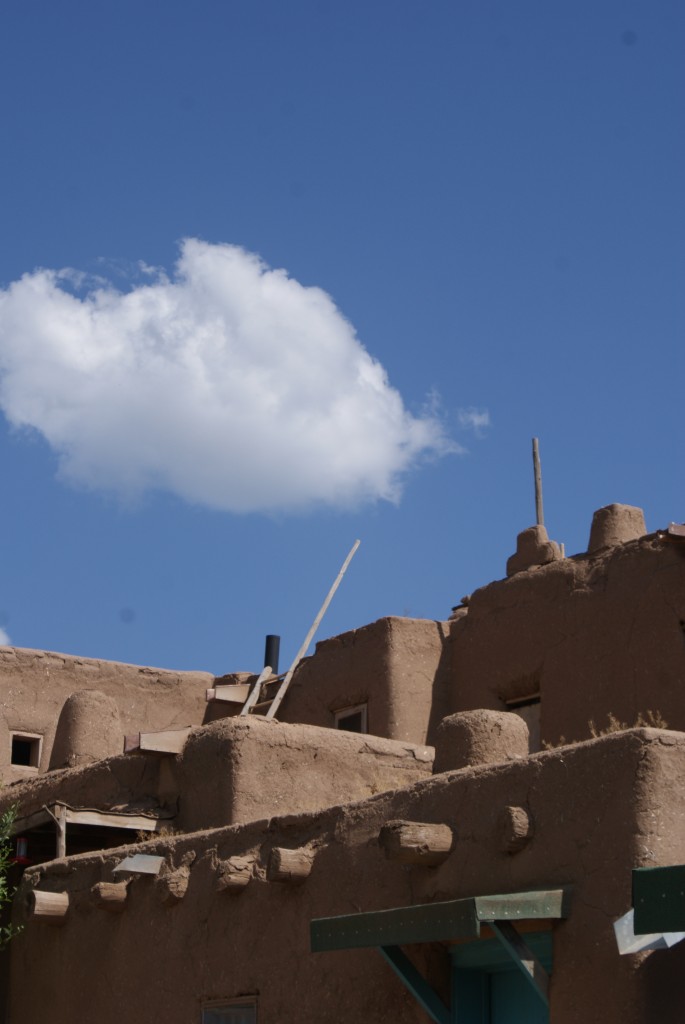 Each store/home we ducked into felt quiet and cool, and the inhabitant was sitting, usually at work, ready to answer questions and explain both items and culture. To a person, the Red Willow people were impressively without artifice or agenda.
That evening, to the Facebook Nation, I reported a vignette of an interaction that had particularly moved me:
The Pueblo woman sat in a storefront in her home, her hand and voice steady as she painted a piece of pottery. Full of peace, she told us, "My son Jeremy–the one in the picture there–was the easiest of my three kids. All he wanted to do was make pictures out of little dots with his pen and ink. He would make a painting, and I'd hang it in the store, and it would sell the next day. People would come back to buy more of his drawings, his paintings. He never wanted to go to college; he just wanted to make pictures. Now his sister? When I see her coming, I duck under the table. She is all waa-waa-waa. She was on the road that night, heading to the same event. But Jeremy didn't make it. He was 23."
We left the store with some of his work in hand.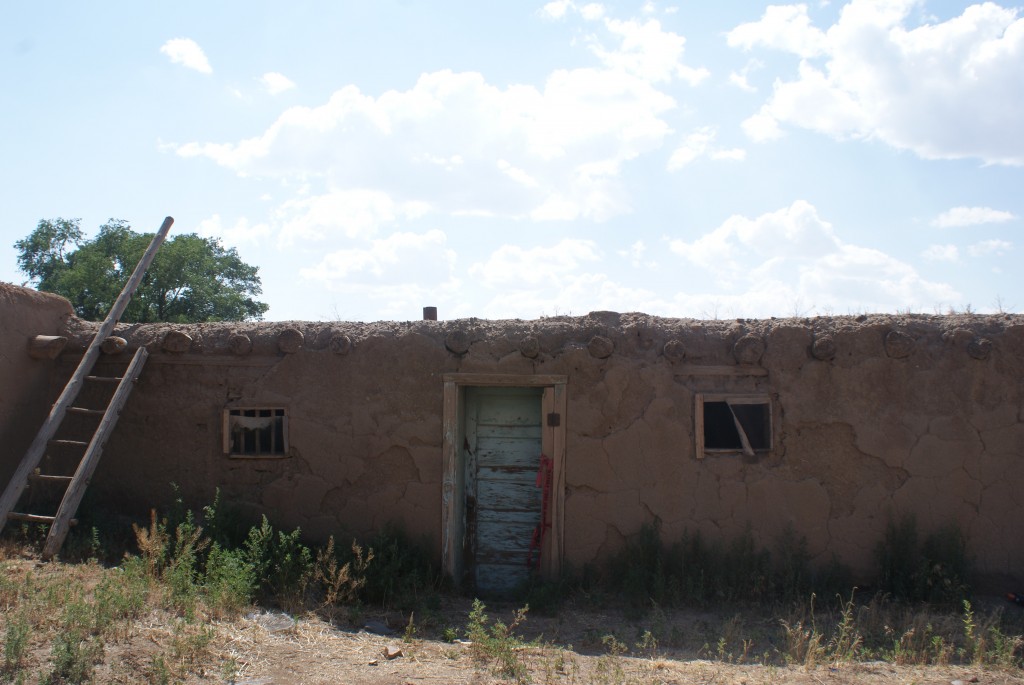 That night, we camped in Taos, nestled, as is our way, amongst the RV campers. One last time, I enjoyed a sunset run, this time up and around country roads and residential areas, moving through areas of rundown trailer living to areas of upscale homes, conjuring, as I panted, the lives held within. At one point, as I passed a particularly hard-scrabble estate, I imagined a man named Marty who had lost his job at the gas station some years back and who has never gotten back on his feet; it is only his three pitbulls and the promise of a new tattoo that bring him joy these days.
The next day, we headed towards Colorado, but along the way, we stopped a couple more times in New Mexico. First, we pulled over at the bridge that crosses the Rio Grande gorge. A man with an offensive voice and negligible guitar-playing ability spends his days there, busking, eking out a living–as do a crew of people hawking their wares. So we (but not Paco!) stared at the gorge, and then I bought a chunk of lapis lazuli for a necklace.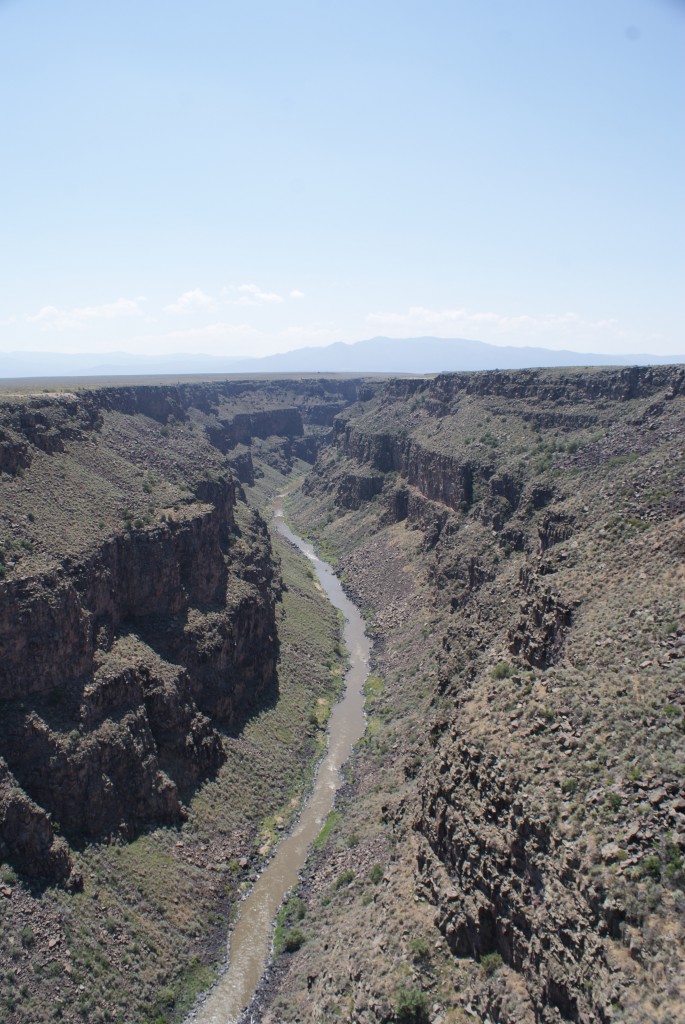 Our last stop in New Mexico wasn't planned. But how does one simply drive past houses like these?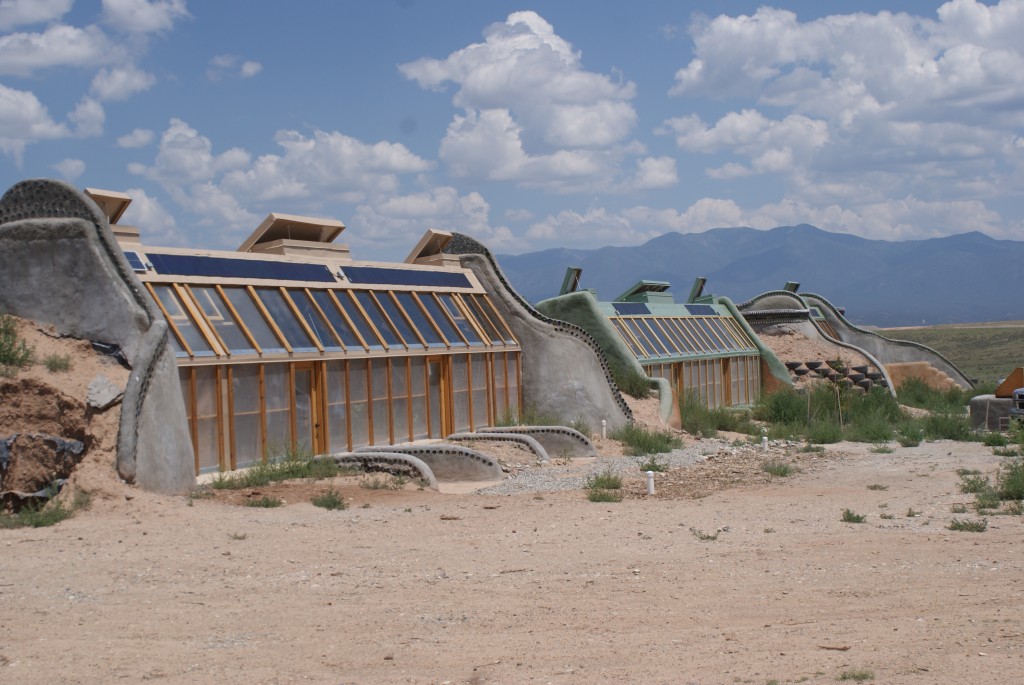 As we whizzed by, I spluttered, "Wait, what was that? What were those houses? HUH? Was there a sign up for it? Is it something we can stop and see?"
They are called Earthships, and yes, we could stop and–for a small fee–watch a movie about their construction and benefits.
Earthships are billed as "radically sustainable buildings," for inside the adobe walls are stacks of old tires, rammed full of dirt. As you can see from the photos, the use of empty bottles and aluminum cans plays a prominent role, too, as those cultural discards function as "bricks" to build interior walls that allow light through.
An un-trumpeted side benefit of living in an Earthship is that one's house looks like the dwelling place of hobbits.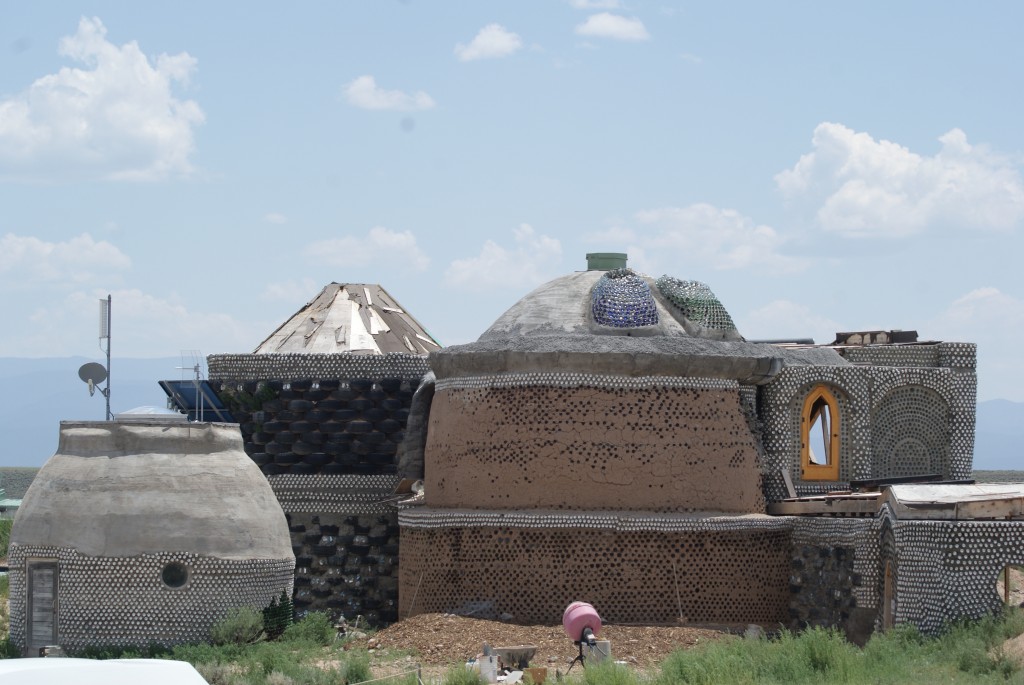 To be honest, there's a vague feeling at the Earthship headquarters of "cult," but that's mostly because it's a group of passion-driven young people who are strongly in favor of choices that reject the mainstream. Cult away, Young Earthshippers. If I ever find the money and drive for it, I would absolutely, unquestionably build an Earthship. In an Earthship, there are no utility bills, and the things have been built all around the world, so they are not location specific. In a northern climate, the exterior walls are covered with cement rather than adobe, but it still provides all the benefits of warmth and sustainability.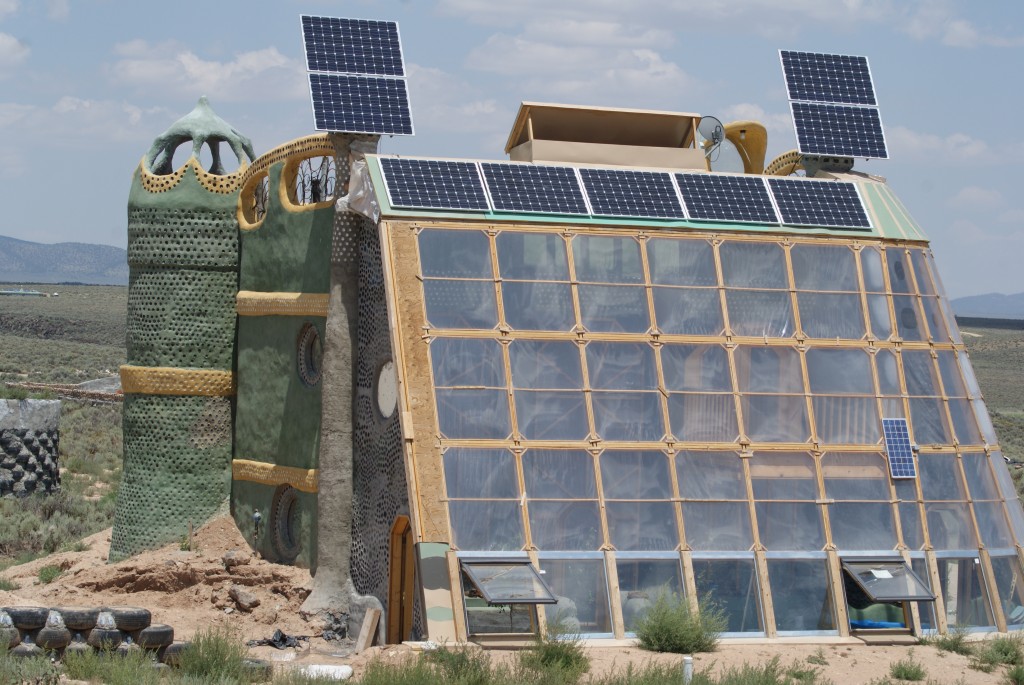 What recommends Earthships even more is this: Paco–our kid who is not an easy sell–LOVED this place and these homes. He was transported.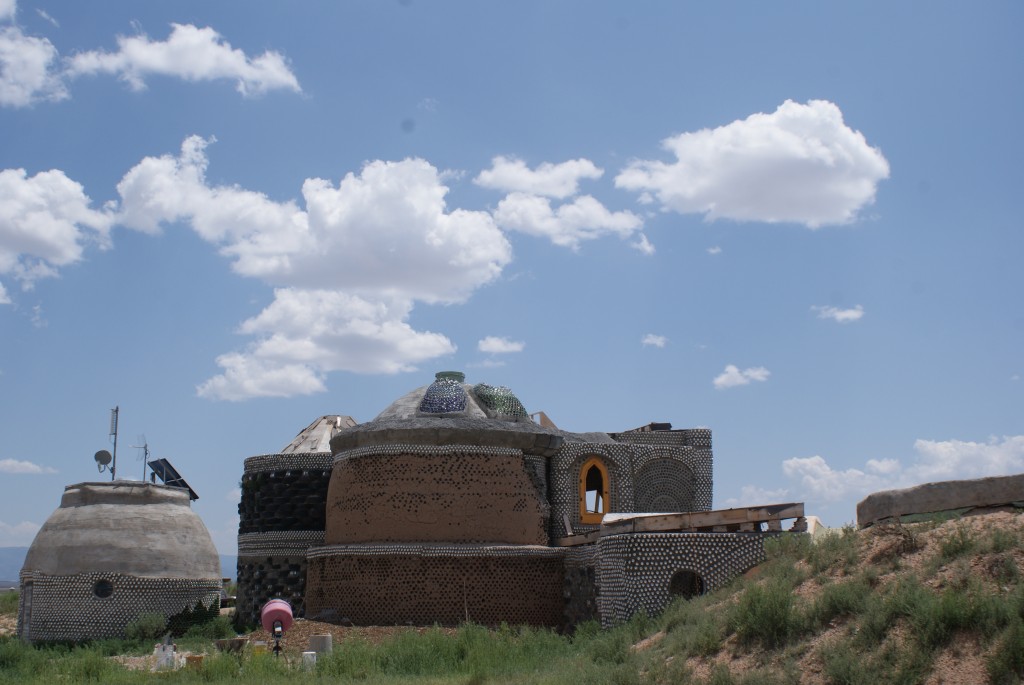 I managed to refrain from buying a t-shirt in the gift shop, however.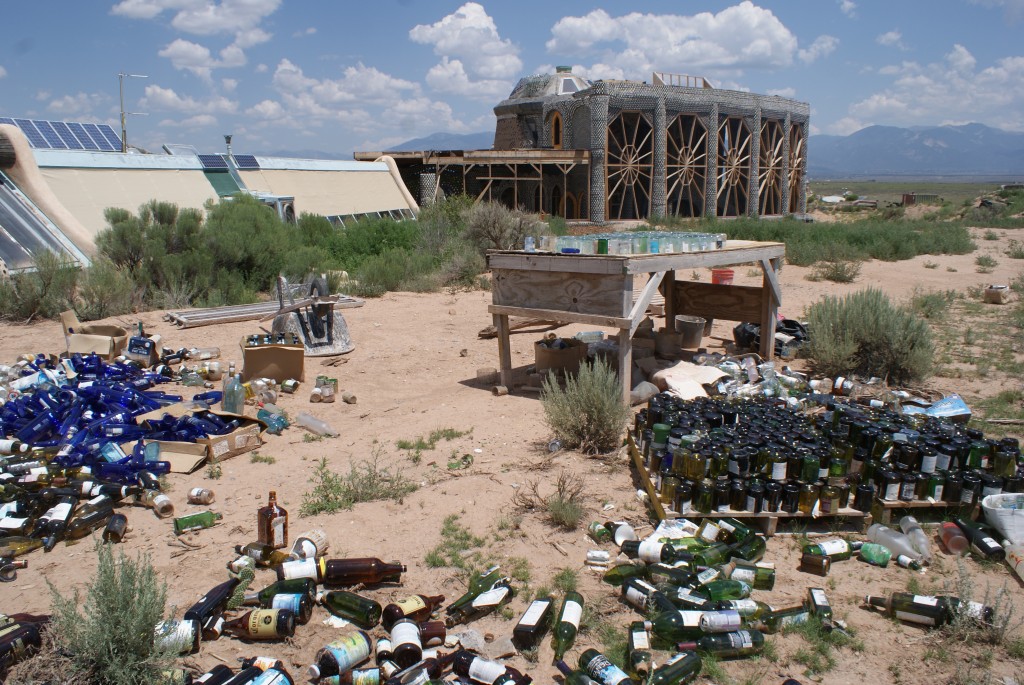 Clever water-use systems within each Earthship home make it smart and easy to grow plants and vegetables. Paco had to get out his little camera and take lots of pictures of this ingenious system, in fact.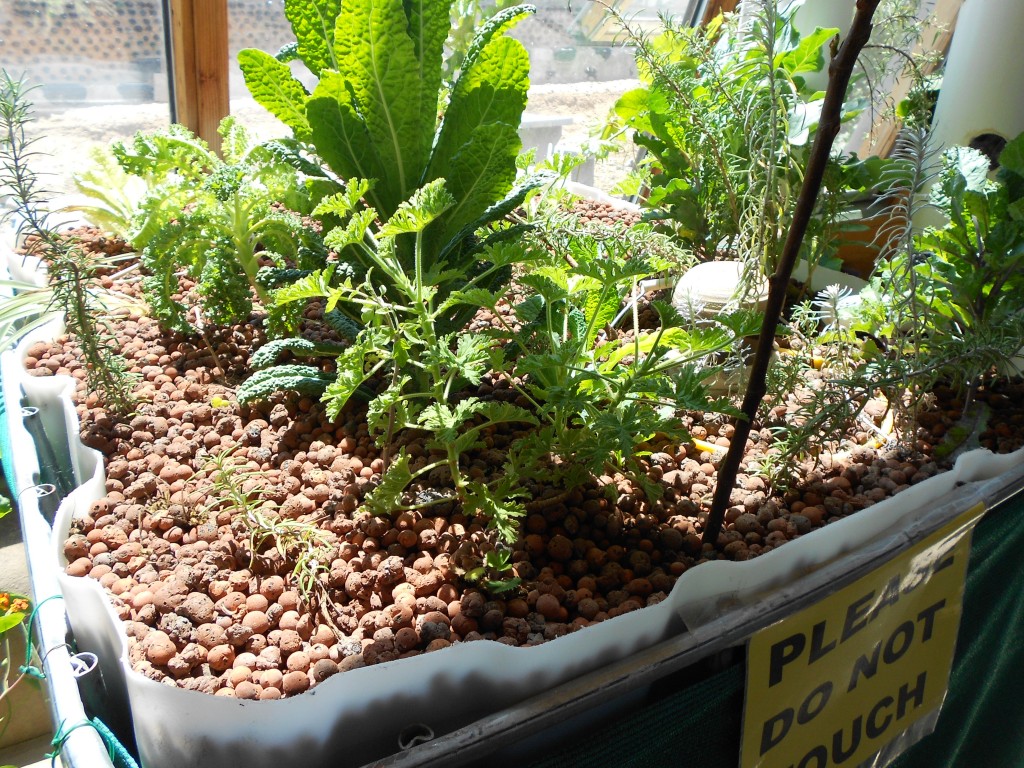 Get this: Allegra, who is generally a "yes to everything" kind of person, sat in the car. She was profoundly uninterested. There are so many moments when I can look at one or the other of my kids and think, "Wow. What a weirdo."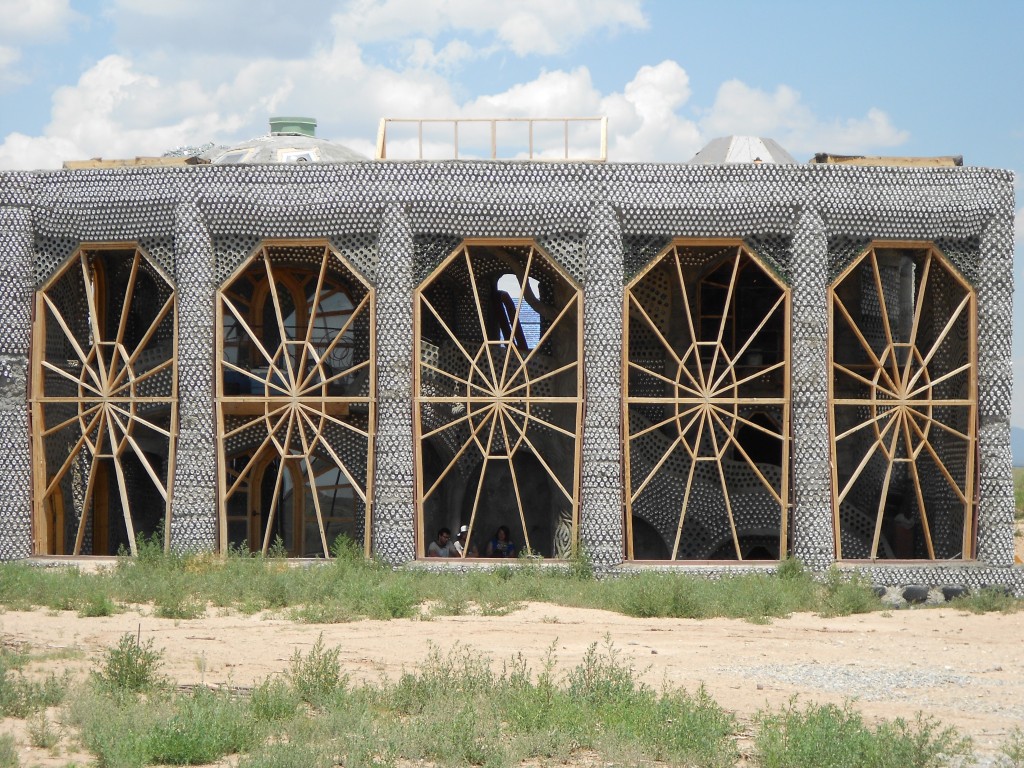 Eventually, we bid the Earthships a fond "Catch you on the flip side, Cool Cats!" before heading into Colorado. As I drove, Byron carried on with his special road-trip project: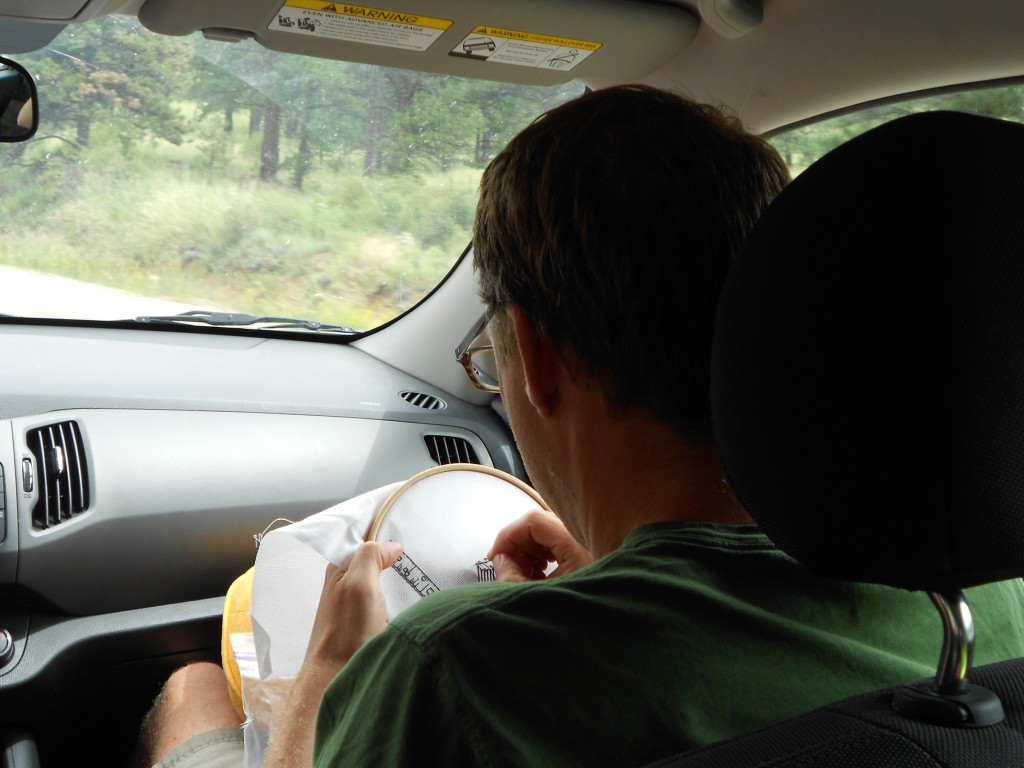 Because the car is too bumpy for him to draw in, he decided to try out "blackwork," which is a style of embroidery that uses–DUH–black thread. He passed hours in the car making up his own designs and picture, and he didn't even bleed or poke his eye out.
The Universal Laws of Road Tripping use exactly those criteria, in fact, to measure the success of a venture.
Put another way: Byron won the Road Trip.
————————————
Next up: a visit to one of my favorite places I've even been in the U.S.–perhaps the world.
Comments
comments