After our first few days in Albuquerque, my sister returned to Denver, and my brother returned to work. Fortunately, our niece Sofia got to stay at my brother's place for most of our visit, which meant we lucked into a bonus third child for our final few days in New Mexico. Because Sofia rarely has a thought that goes unexpressed, and because her thoughts are a trip, our family hooted, gasped, and looked at each other with expressions of "Whaaaaa?" at Sofia's continual flow of observations.
When a person is very talkative and very random, that can either go really wrong or really right. With Sofia, it goes very right; she is a perfectly charming loon, really. One might think she resonated with me in particular, as she filled up all the silences, thus giving me a break from that duty (It was a few days into our visit that Sofia noted, "Isn't it interesting, Aunt Joce, that Uncle Byron is pretty quiet, and Allegra hardly talks, and Paco doesn't talk much, but you talk all the time?"). However, the entire family found her to be a perfect peach.
On our first day with Sofia as Bonus Child (this was Day 10 of our road trip), we drove 20 minutes outside Albuquerque to a museum of folk art called Tinkertown, a place that bills itself as "an eccentric collection of Americana."

The Tinkertown website tells the story of its founder and creator like this:
"Ross Ward was born to paint, carve and tinker. As a boy growing up in the Midwest, he was captivated by the tiny villages, farms and circuses created by 'spare time carvers.' His own miniature world began with circus figures carved while in junior high school – now on display at the museum. He began carving the first figures for the turn-of-the-century general store in 1962.
Ross carved and built his folk art environment as a hobby for most of his adult life but he was even more prolific in his artistic endeavors of painting, etching, drawing and sculpture. A self taught artist, he was a show painter for carnivals for over 30 years, traveling the country painting on all the major carnival shows and in winter quarters from Texas to Florida."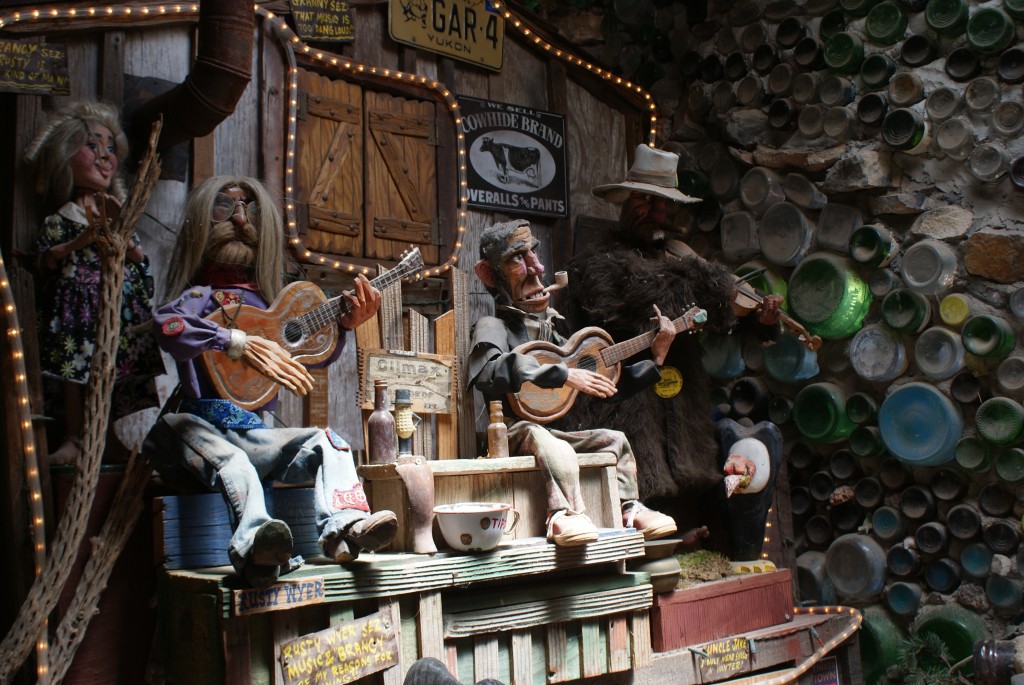 Pretty much, I could revisit Tinkertown every week and see something new every time. The place isn't big–it's essentially a wooden house–but it's so packed full of junk and stuff and explosions of nostalgia that it felt impossible to absorb all the details. It goes on my all-time list of Great Things I Have Seen.
In addition to the carvings and scenes that fill the house, there also are Ye Old Fashioned games and machines that allow visitors to spend their quarters.
And who doesn't love a miniature freak show?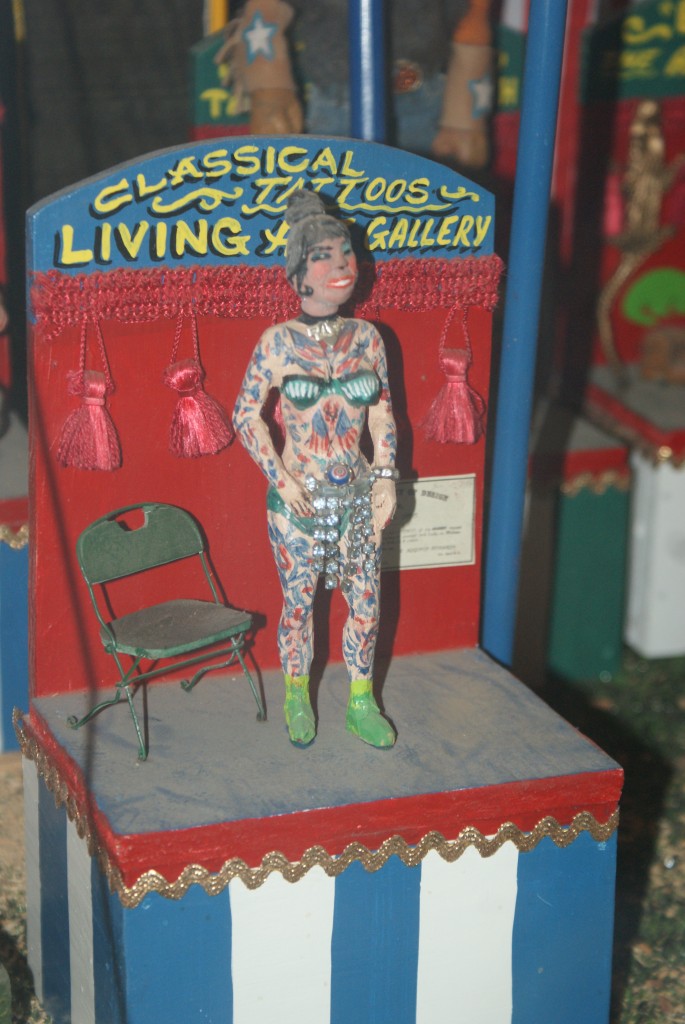 When we got to the room containing the sprawling circus scene, I took one glance at the colors, lights, sub-scenes, stories within stories, textures, and layers and turned to Sofia to tell her, "This is exactly what I imagine the inside of your brain looks like."
"Oh, THANK YOU," she squealed in response.
While I could include another hundred photos of Tinkertown, I'll spare the time-pressed reader and move on to the next fabulous part of our Monday: when we hit the Ranch Market, a place that specifically caters to the Hispanic population in Albuquerque and, for us, felt like a quick side-trip to Mexico. Our aim at the market was to grab a few boxes of sopapilla mix, some bags of hominy for posole, and a round of agua frescas to for the group. Agua frescas are refreshing fruit drinks poured over ice, basically made up of muddled fruit, water, and sugar. There also is a flavor called "Jamaica," which is made with hibiscus tea, and our very favorite, the Horchata (rice, almond, cinnamon, very much like a melted Snickerdoodle cookie in flavor).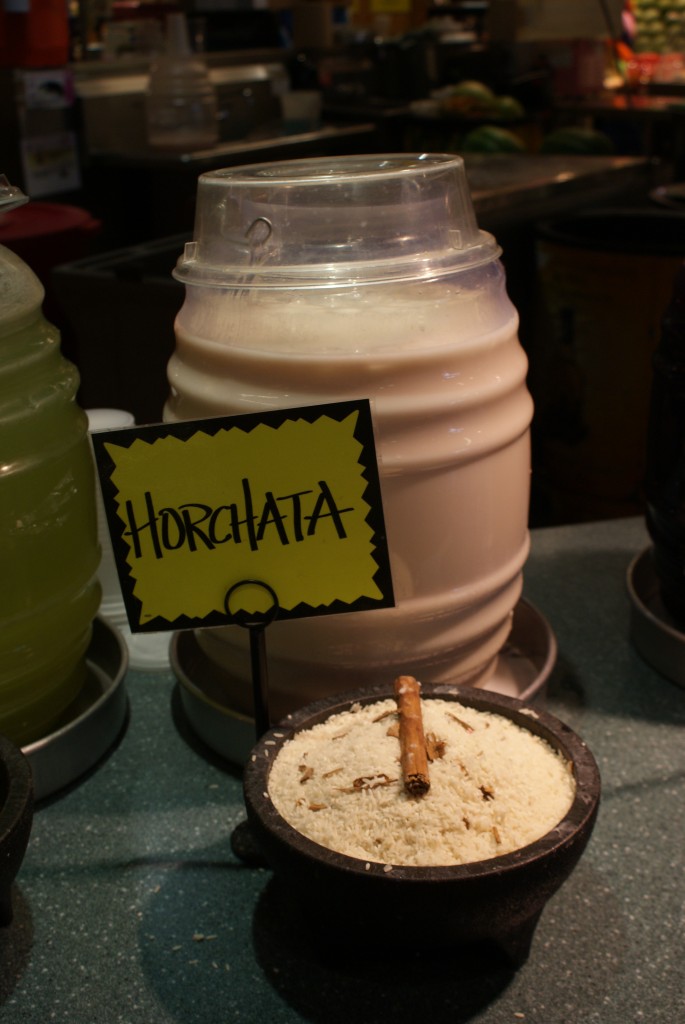 At the end of Day 10, I drove up to trails at the foot of the Sandia Mountains and had a gorgeous run. To end such a wonderful day under such a wonderful sunset was a gift.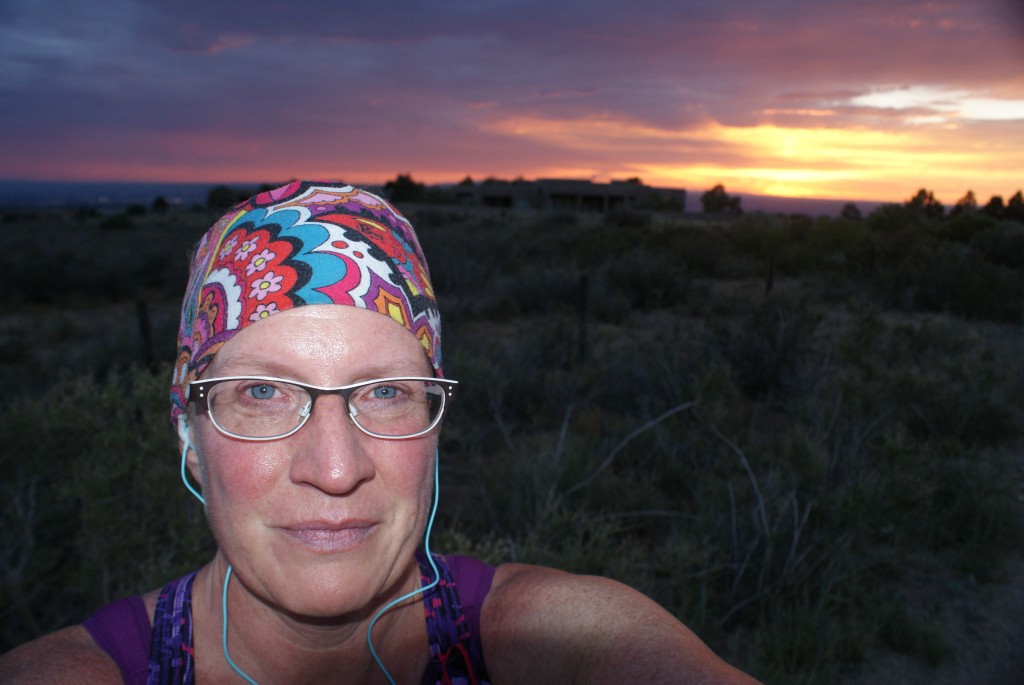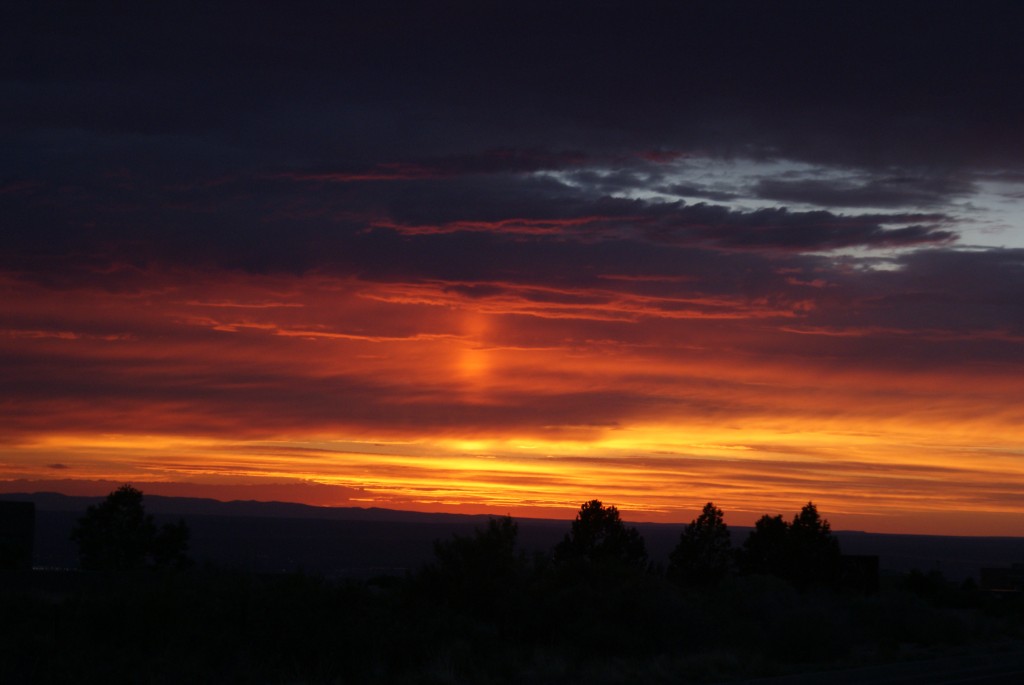 Our second day of having Sofia has Bonus Child was Day 11 of our trip. We hung out at my brother's place for much of the morning, letting everyone relax. The girls attempted back bends, something Sofia was able to achieve but which is already a childhood memory for Allegra.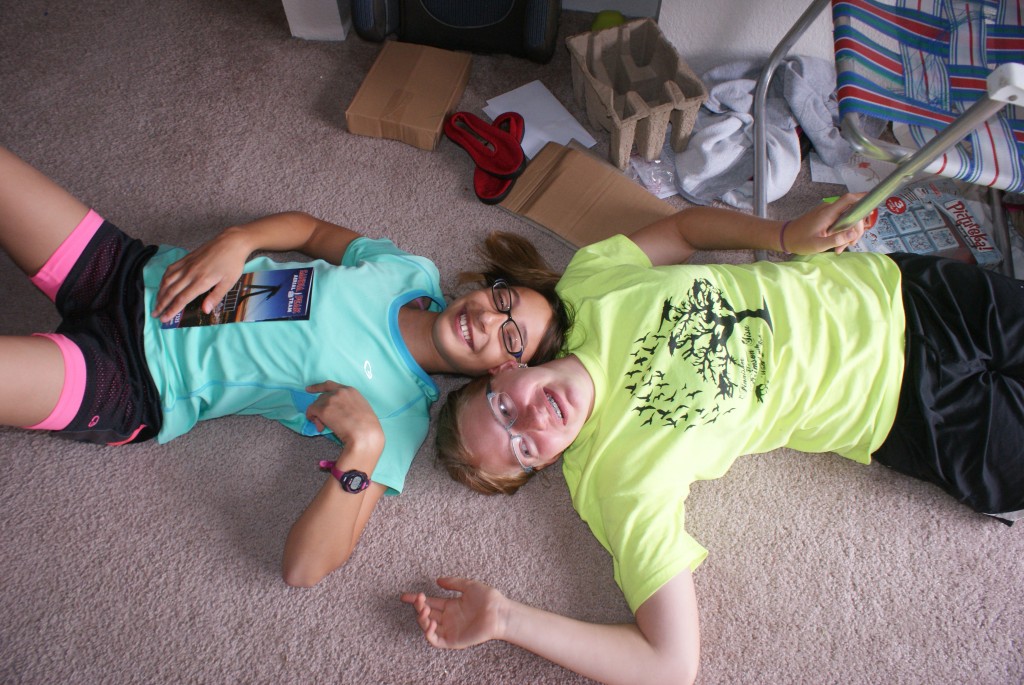 After lunch, we headed to the Sandia Tram and crammed ourselves into a hanging car with 20 strangers. Then we swayed gently as it toted us up to the peak.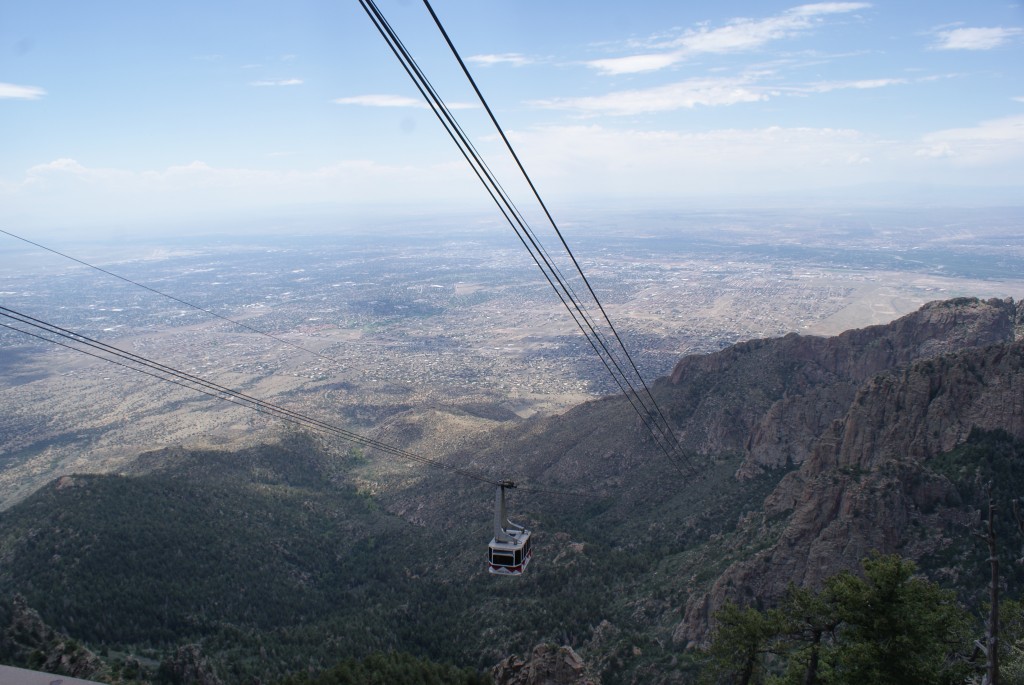 On the peak, the goofy girls were put into a human stockade.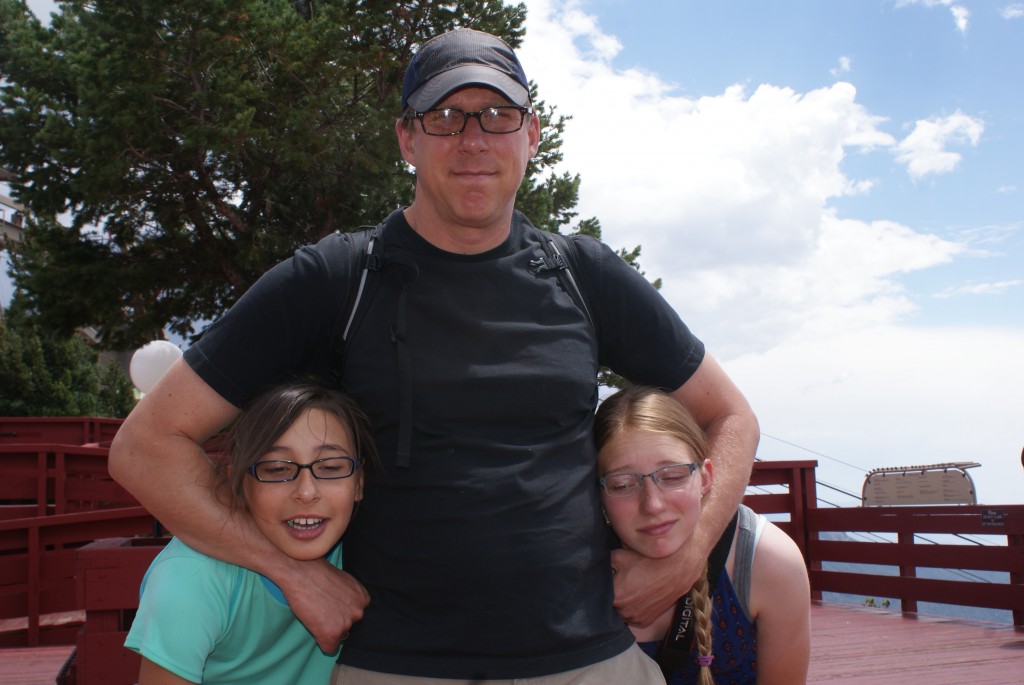 And we took some time to hike around and admire how thin the air was.
We also had some time to wonder where Allegra and Sofia get their tendency towards goofiness.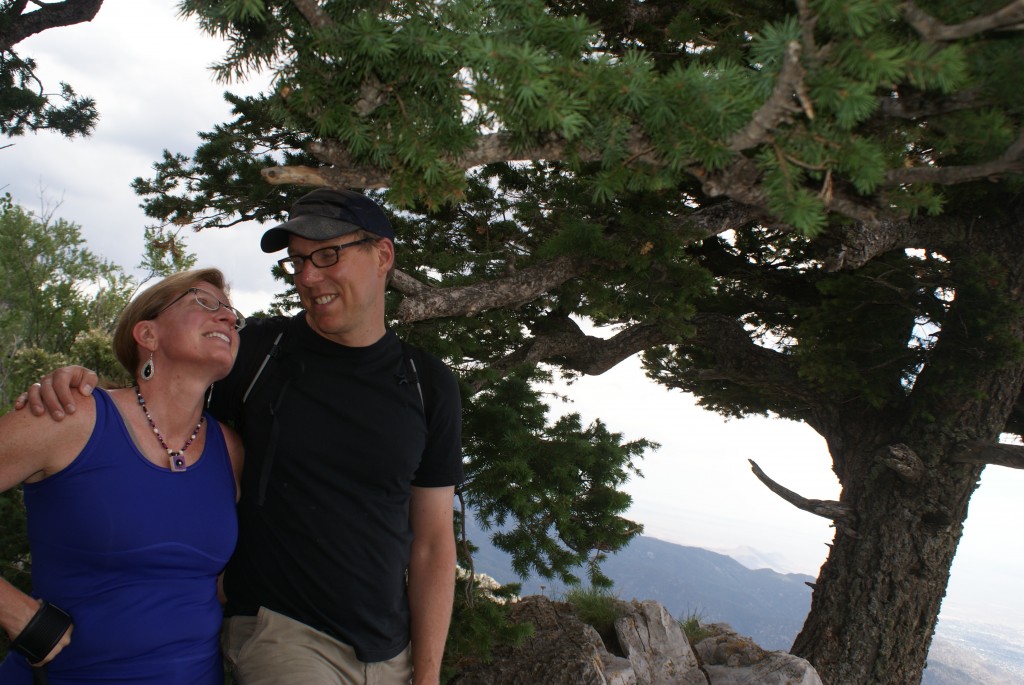 Paco, as is his way, represented the sensitive-natured souls of the world. He really hates heights, as did his father until he got a job in his twenties requiring that he teach a ropes course and, as part of that, demonstrate a fall and how to recover from one. Since then, Byron does okay with hanging high above the ground. Paco, though? Not so much. He was full of nerves during the tram ride and reported at the top, "My hands and feet were wet with sweat. My feet were sliding around in my Crocs." As the rest of us teetered towards the overlooks on the top of the mountain, Paco shied away and stuck his head into his book. 'At's my boy.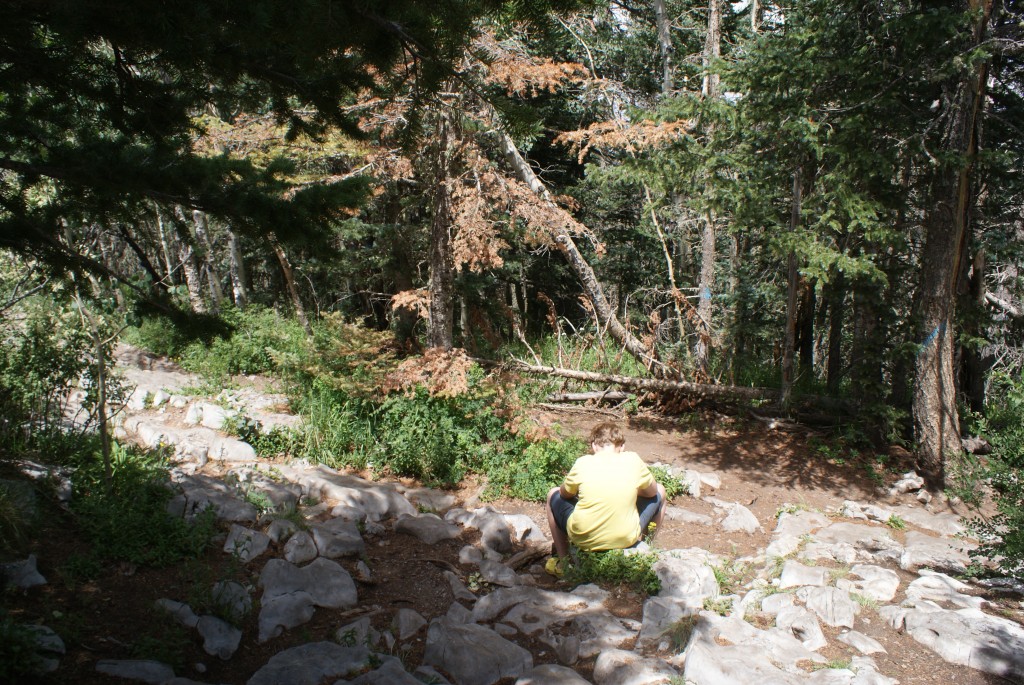 He also managed his nerves on the ride down the mountain by transporting his brain elsewhere so that he could ignore the altitude, the vistas, the sway of the car. If nothing else, we've forced him to develop a few coping skills in life, so, um, there's that.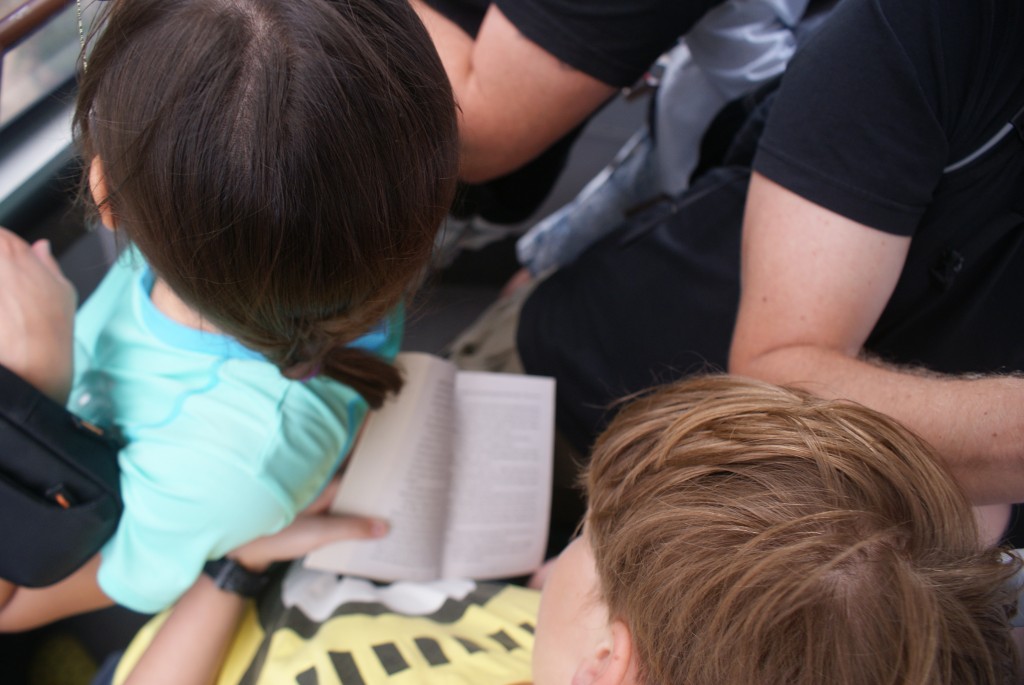 On our final day in Albuquerque, we four plus our Bonus Child headed to a locally famed shop called Rebel Donut. As was also the case with Tinkertown and the Ranch Market, Rebel Donut was a place Sofia had never been. It was a delight to drag her around her own city and show her worlds she never knew existed.
Because Albuquerque is where the cult-favorite television show Breaking Bad was set and filmed, there are all sorts of Breaking Bad sights scattered throughout the city and all sorts of shout-outs to the program. Rebel Donuts does its Breaking Bad tribute in the form of a "Blue Sky" donut since the methamphetamine cooked and sold by the main character, Walter White, was renowned for its purity and blue color. Sofia knew none of this, having never seen the show, when she ordered a Blue Sky donut. She just liked the look of the thing. It only seemed like fair auntly duty to explain blue meth to my niece, so I gave her the back story on what she was eating.
A few bites in, her lips coated with sugar and blue, Sofia announced, "I never knew meth could taste so good!"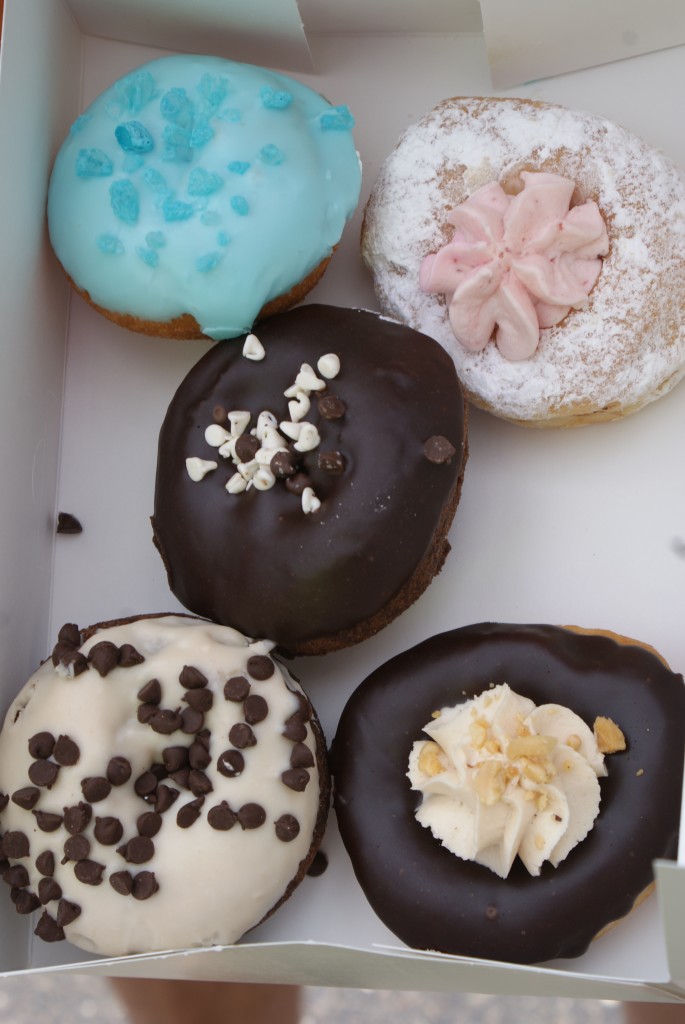 After our carbo-loading, we headed to Albuquerque's biopark, a place featuring local flora, an aquarium, and a very cool butterfly enclosure. I could have spent hours watching the butterflies, particularly the huge blue morphos that feel like bats on the wing as they swoop by. It's hard not to flinch, in fact, when they brush past a person while on a tear.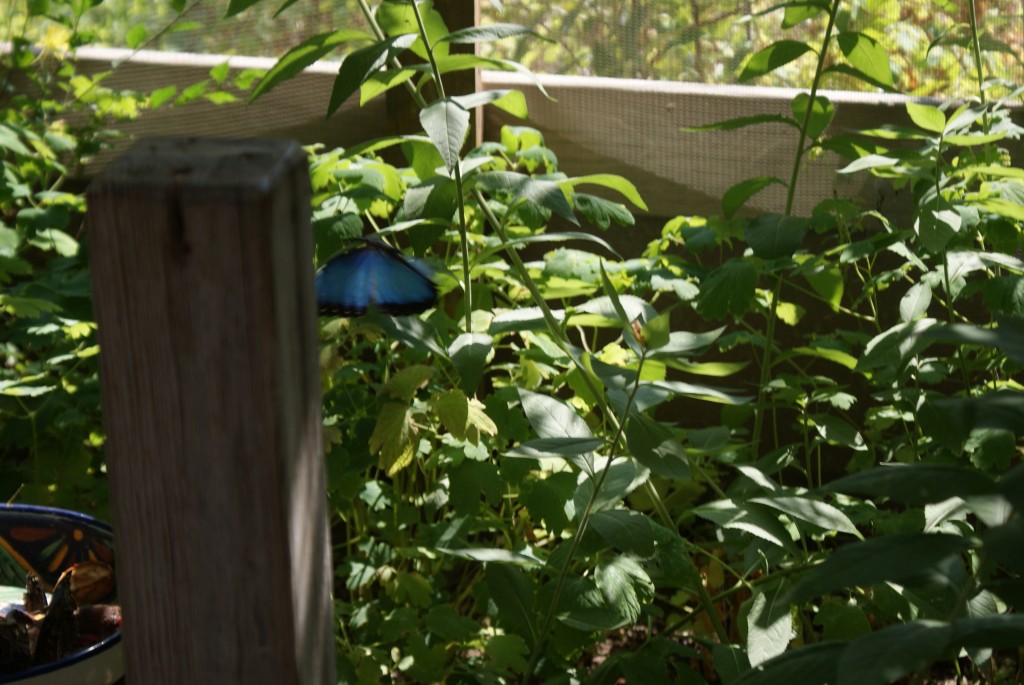 Here, two blue morphos, one with an injured wing, hang out on a rotting banana.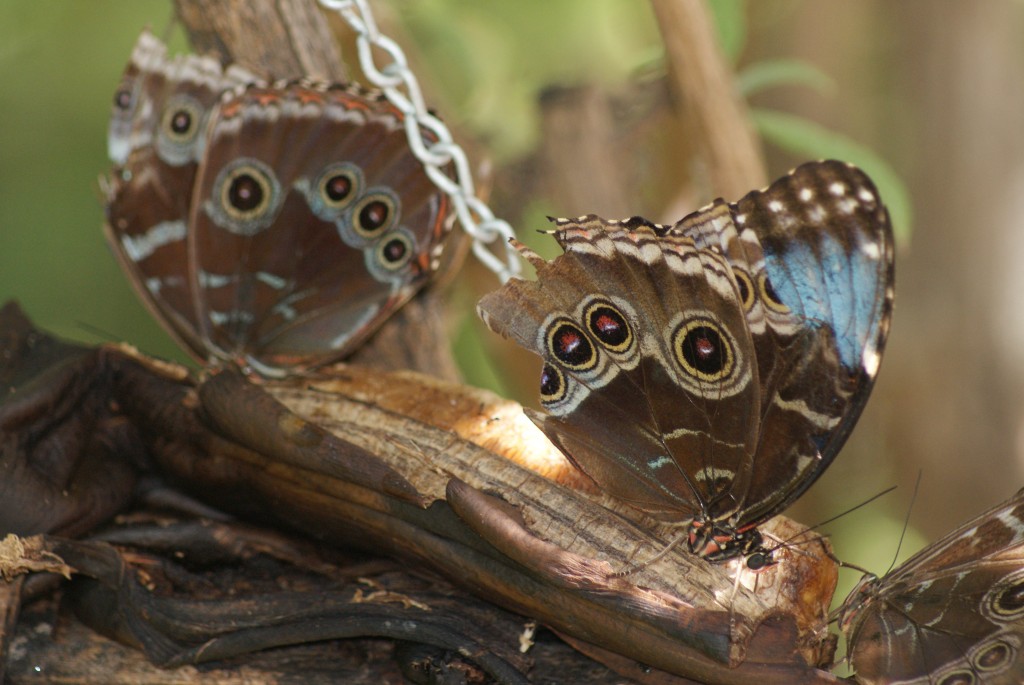 Another highlight of the biopark was the children's area, a place with imaginative play spaces, including a very cool slide.
It had been such a fantastic visit to Albuquerque, not only in terms of seeing local attractions but, more importantly, in terms of the hours of laughing at Sofia's observations, appreciating her sister Cres' self-possession and maturity, having dinner at their mother's house and reconnecting with my sister-in-law's life, and talking into the wee hours with my gracious, thoughtful brother, that our entire family drove out of the city the next day with a happy sense of "Wheeeeee!" helping to power the car on its northward return.
—————————–
In the next post, a look at various houses of the American Southwest.
Comments
comments