One of the greatest gifts my parents passed to me was a love of travel. With some time, money, and will, a person can hop in the car, on a train, into a plane–and go see stuff. When I was growing up, due to having aunts, uncles, and grandparents spread across some northern states, our summers were full of drives across South Dakota from Montana to Minnesota and back again. Then, because my dad was a professor, he would often take classes or study with other voice professors during his summer break, so one summer we spent some time in California, another year we were in Denver, and then there were some weeks in Manhattan when I was two, plus a memorable entire summer spent in Charlottesville, Virginia. So many of my memories are littered with trips to Oregon, where many of my mom's cousins lived, or stopping in Oxon Hill, Maryland, or tootling up to Victoria, B.C., in Canada–'cause, heck, that way we could visit Butchart Gardens! In addition to all that, there were trips around my home state of Montana so that we could buy cherries near Flathead Lake and drive the Going-to-the-Sun highway in Glacier Park. With these values of "go see as much stuff as you can" defining our family, it was an easy choice for me to go live in Denmark the summer before my senior year of high school, and it felt like a logical choice for me to drop out of high school (I'll get that GED one of these days) so as to go on tour with my dad's college choir when he took them around Europe at the end of my senior year of high school. Because my parents supported the notion that seeing the world is crucial to being a well-developed person, I was on a bus that went through Checkpoint Charlie in 1985, mere years before the Wall fell. I still remember the tension and nerves we all felt as men with guns boarded our bus and demanded to see our papers while their colleagues ran mirrors on sticks underneath the body of the bus.
Exploring new places is so much more than "Ooh, look, a pretty cathedral." In my childhood household, the lessons gleaned from travel were worth going into debt for. My parents didn't make heaps of money, but they knew how to take out a loan and stretch a dollar.
When I left home and went to college, I embraced the lessons about travel's importance and folded them into my heart, as did my siblings. My sister did multiple semesters in Mexico while she was in college, becoming fluent in Spanish and, ultimately, a bilingual teacher. She served two assignments in the Peace Corps (in Belize and Moldova–thus providing me with even more memorable travel adventures when I visited her), along with teaching for two years in Guatemala after the climate of No Child Left Behind diminished a teacher's ability to respond to her student's needs. My brother's career as an officer in the Air Force took him to Japan and Portugal and on remote assignments to Turkey, South Korea, Honduras.
We three kids grew up with parents who weren't afraid to toss us, no seat belts required, into the back of the blue VW so that we could chug away from the house for a few weeks. All the better if there was a ghost town to visit along the way.
It is no surprise, then, that I love to go see stuff. I love to break out of the normal, to disrupt usual daily routines, to explore all the subtleties of my man Mark Twain's words: "Travel is fatal to prejudice, bigotry, and narrow-mindedness, and many of our people need it sorely on these accounts. Broad, wholesome, charitable views of men and things cannot be acquired by vegetating in one little corner of the earth all one's lifetime."
Even more, it is now hugely important to me that my kids see stuff. Being able to drag them around and make them stare at things is a joy in my life–even when they are moody, broody, reluctant, or sullen. I've become the unfeeling mother who hollers, "Suck it up, my dear chicks. It's good for you." Long-term readers may recall this photo from our year of living in Turkey and traveling to Europe from there, a photo in which the kids manage to make the Louvre look like it's nothing more than an empty room that's been whitewashed with Boring: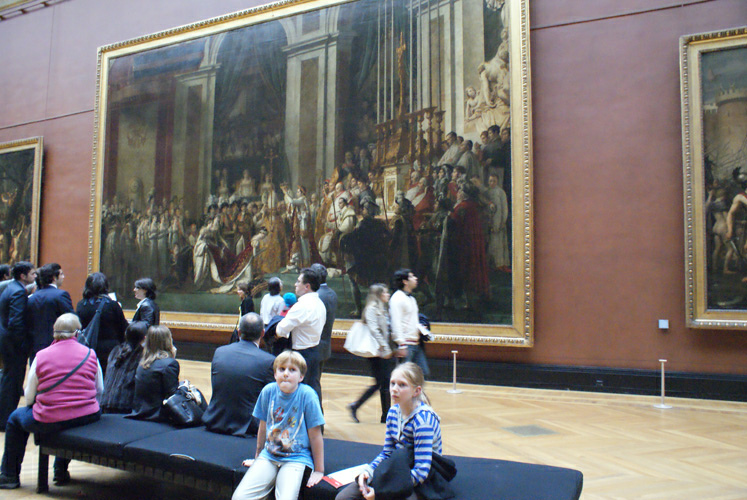 Forcing my woebegone children into the Louvre was worth it, simply for the years of giggles I've gotten from this photo.
In short, I'm all about appreciating the glory of taking a trip. Thus, the fact that our family managed to swing a recent road trip has been one of this year's delights.
Know this: It takes a deep love of travel to get a person to leave her house smack dab when the garden's strawberry patch was just starting to yield its fleeting annual bounty.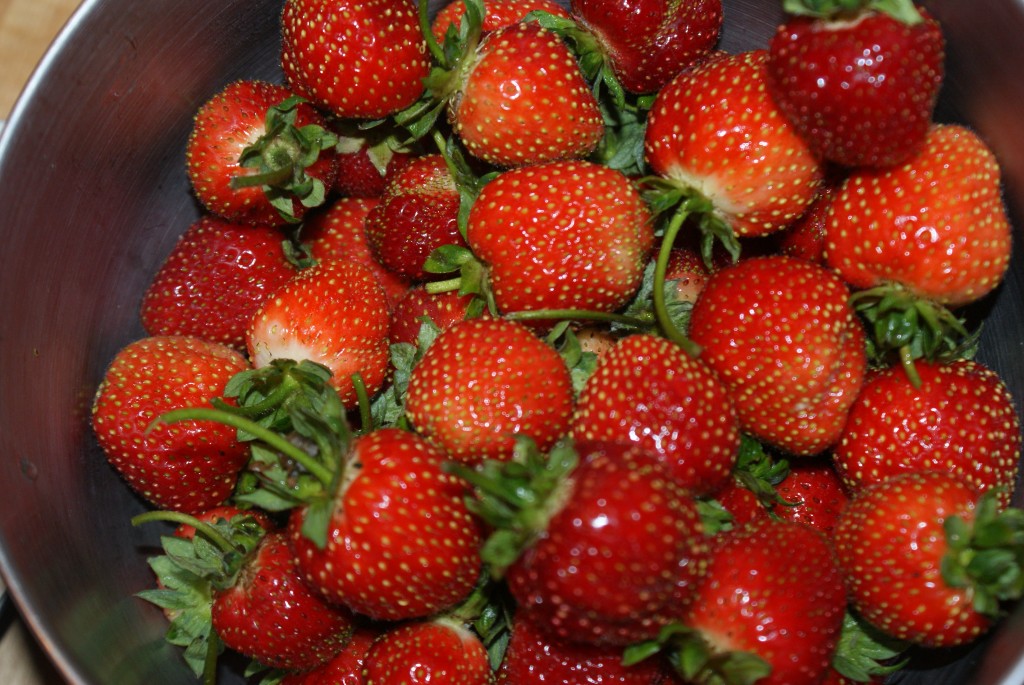 A mere two days into strawberry harvesting, we turned the patch over to the care of neighbors and turned the nose of our trust Kia southward. Our goal? To spend two-and-a-half weeks road tripping through America's West, with our farthest point being Albuquerque, New Mexico.
I only took 1,500 photos or so (sometimes three or four of the exact same rock!). The next few posts on this blog will contain highlights. When I'm eighty, I hope to return to these posts and get misty over Good Times, back when I was still able to clamber around rocks and sand.
———————
When we left Duluth, we drove four hours south, to the home of our great friends Virginia and Kirsten. Although Kirsten was off having some days of vacation with a friend, Virginia was very much in residence. After hugs all around and admiration of each other's general good health (all things being relative, as Virginia is on chemotherapy for the cancerous tumors in her pelvis; despite this, her hair looks lovely, as does her garden, both of which are signs of vigor), we accompanied her to the local dog park, the creation of which she was instrumental in. She also took us out to dinner at Culver's–famed home of The Butter Burger–and delighted every last one of us with her quirks and wit. You see, the Culver's dining room was recently re-designed, and Virginia has Notes. Each time she eats at Culver's, which is fairly often, she digs in her purse for her stash of various pens and pencils to fill out comment cards about the ways that the new design could be improved. For example, partitions were put up, so now there are sight line issues, which is a problem because everyone in Smalltown, MN, goes to the Culver's to check out everyone else ("We old folks are here to spy on each other…"). So Virginia writes out her suggestions under a slew of aliases, using all sorts of different inks and handwritings. When she leaves the Culver's, however, the jig is up, for she carries the entire stack of comment cards up to the counter and hands them over to whichever acne-ridden teenager happens to be working the register.
On the evening of our visit, she handed her comment cards to a fifteen-year-old lad whose naturally curly hair was being forced into submission by both his hairbrush at home and the paper hat perched upon his head. His name tag read "Calvin."
As she exited the restaurant, Virginia leaned in, confidentially, and announced to us, "Clearly, Calvin is in love with me–so tongue-tied whenever I approach."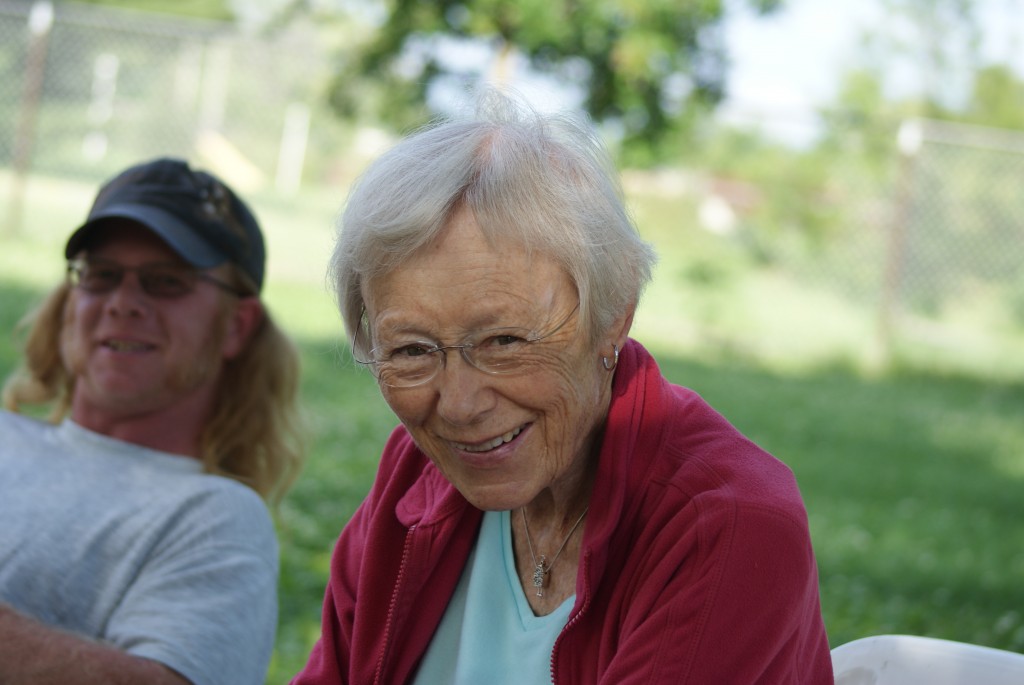 On Day 2 of our road trip, after Virginia's formerly abused rescue dog, Nadoo, had a chance to take a shine to Paco (although she generally stays away from people, Nadoo spent our evening there leaning nervously against Paco's arm, ultimately putting her chin on his leg), we drove through Iowa and into Nebraska. The highlight of our time in Iowa was a stop at a Verizon store, where we invested in a mobile hotspot so that I could use the hours in the car each day to teach and grade my summer online classes. The highlight of Nebraska, and highlights were few and far between, was some time spent wandering around Omaha's Old Market area.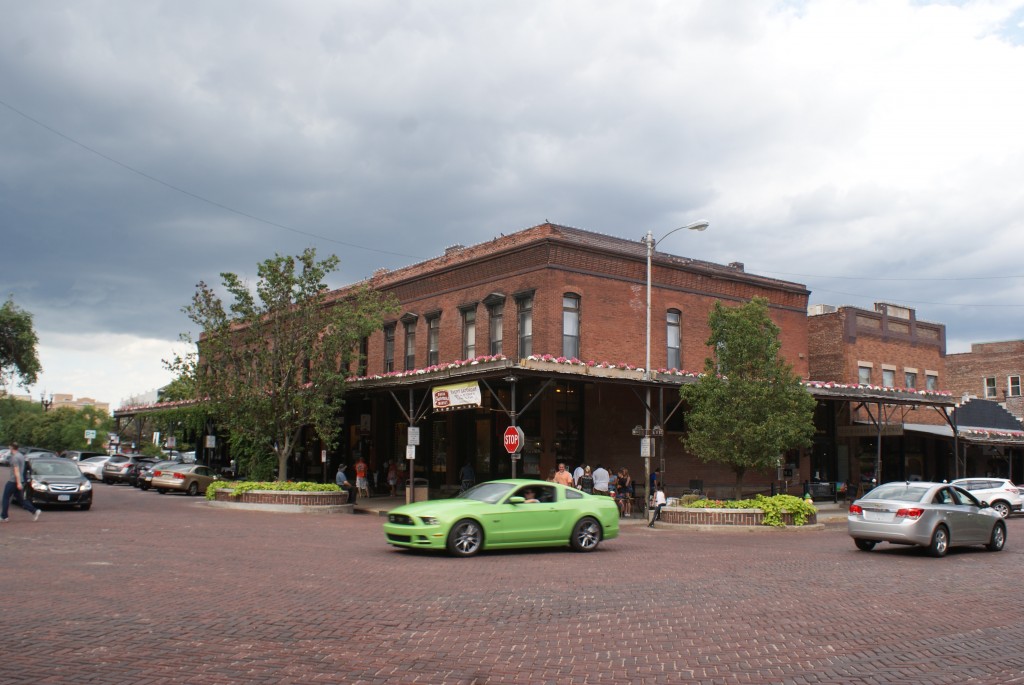 That evening, still in Nebraska, we found a family-friendly campground near Grand Island. Although several of us (Pick me; pick me!) are reluctant campers, it's dramatically cheaper for a family of four to rent a campsite for a night, so I listen to my own advice about travel and suck it up. Unfortunately, my poor camping attitude was not improved when huge lightning storms moved in during the night and forced us all to huddle in the campground bathrooms from 4:00-6:00 a.m.
When we took down our "bug tent" (not our sleeping tent but, rather, a structure that allows us to be made less crazy by insects before bedtime) the next morning, this is what the ground beneath it looked like: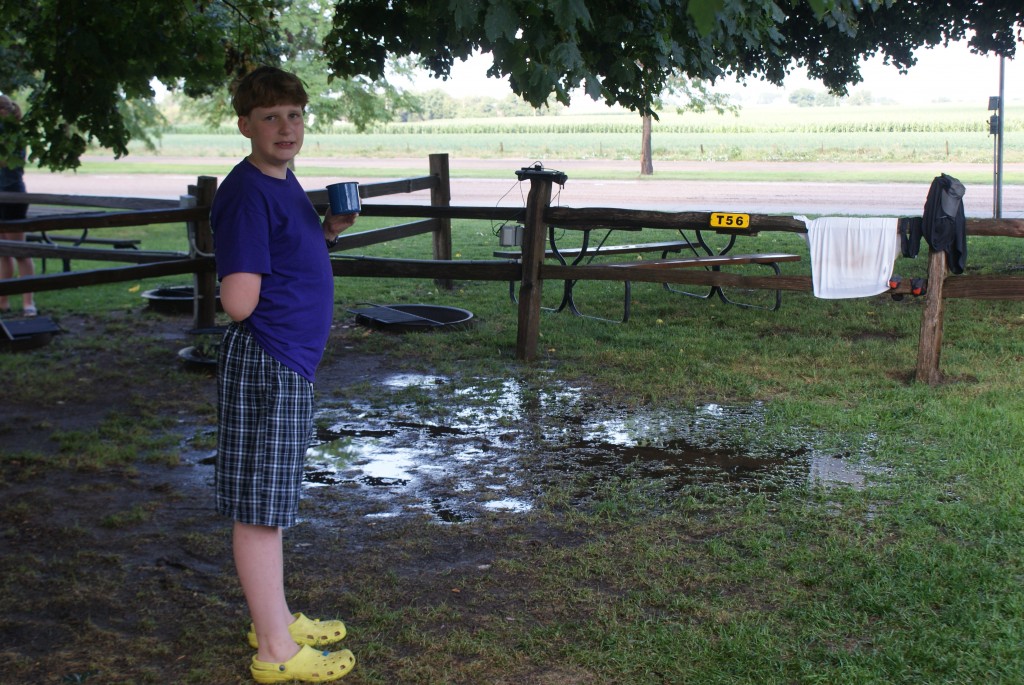 Day 3 was spent getting the hell through endless Nebraska and, finally, hitting Colorado. Our plan had been to camp in the yard of one of my college friends, but she had come down with a stomach bug the day before and warned us of the public health hazard that was her household, so we decided to stay healthy and camp elsewhere. It was a good choice for several reasons. First, her area was hammered with rain and hail all that night, and second, we ended up driving into the mountains and finding a site at the state park outside of Nederland, Colorado. This location scratched our "mountain" itch and, fortuitously, was one area that didn't experience torrential rains that night.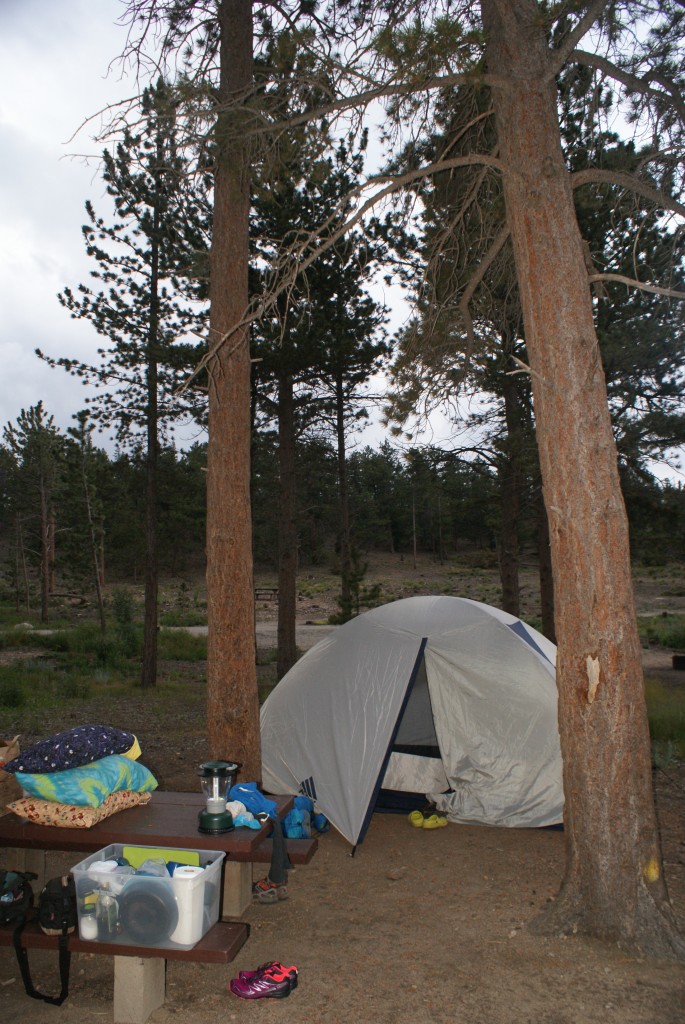 Then again, we hadn't planned on camping at altitude, so we were ill-equipped for the cold. Each of us had a single bed sheet in which to sleep, and then we had two light blankets along. The towels we packed were used as blankets, too, but still, I was freezing. So this hardy camper slept in the slightly warmer car, sitting up in the front passenger seat.
When the sun finally arose, gloriously, Allegra stumbled out of the tent, her body realizing that it had gone from Nebraska-flat to 9,000 feet in under 15 hours. She was dizzy and lurching and had to spend some time just sitting at the picnic table as she acclimated.
Later, though: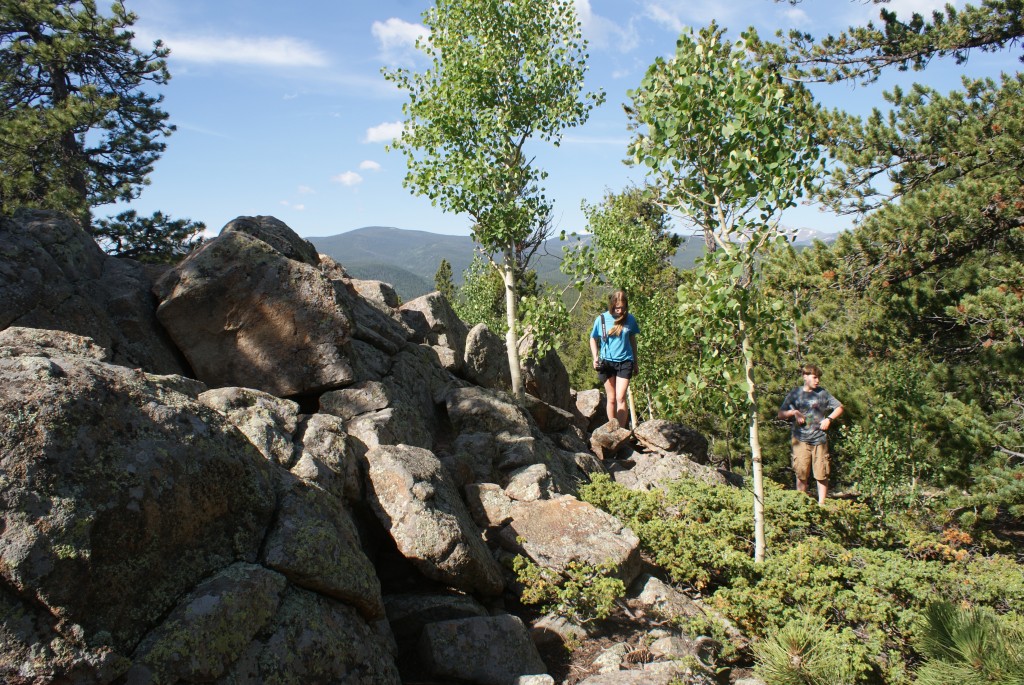 Day 4 of the trip saw us driving down and out of the moutains into Denver, where we had a campsite booked at Cherry Creek State Park which is, amazingly, a lovely oasis of green acres (and a reservoir) smack dab in the midst of urban Denver. Byron had signed up for an aquathon in the park that evening–speaking of challenges at altitude.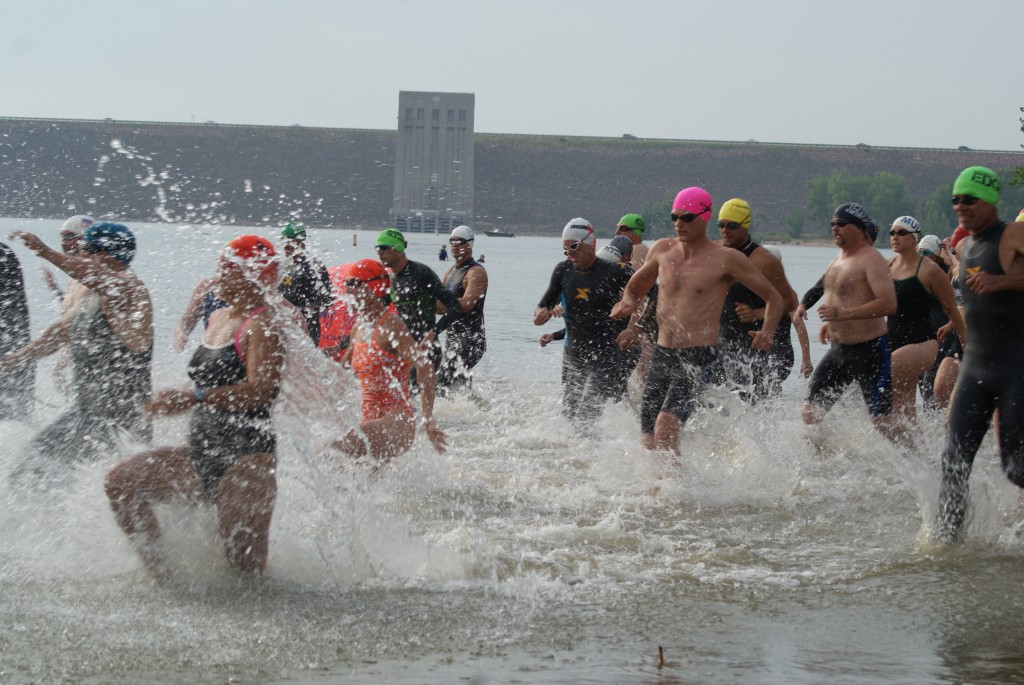 The aquathon consisted of a one mile swim followed by a 5K run. The genetic freak that is my husband came in fifth overall. I was winded just watching him.
My sister lives in Denver, so we spent the afternoon with her. Here she is, watching the aquathon. She's also gifted at cheering for strangers.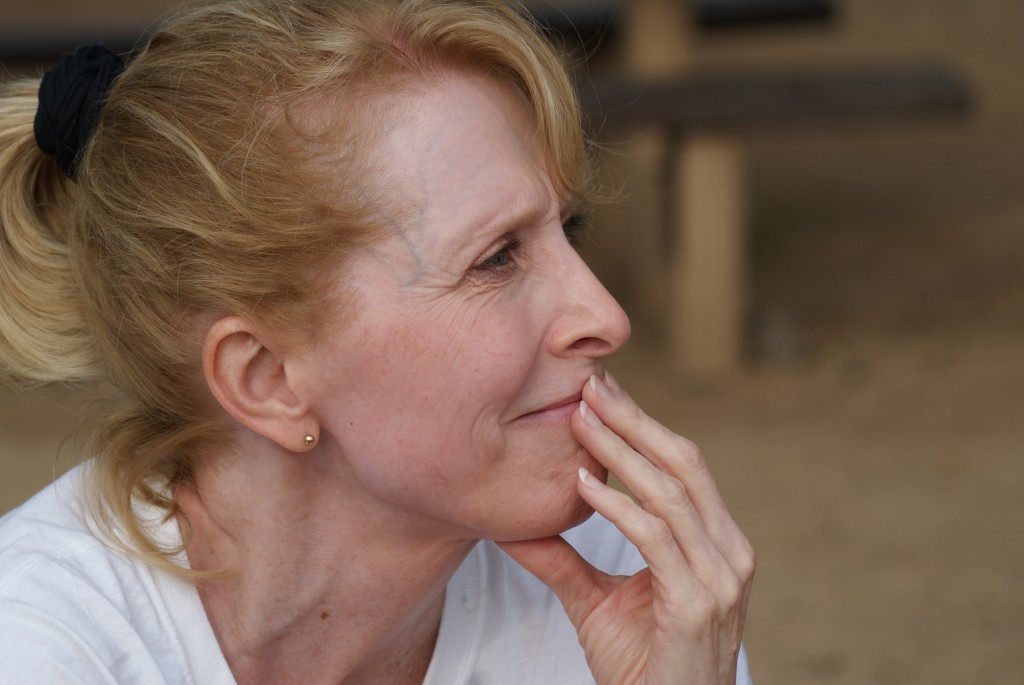 Byron runs the 5K: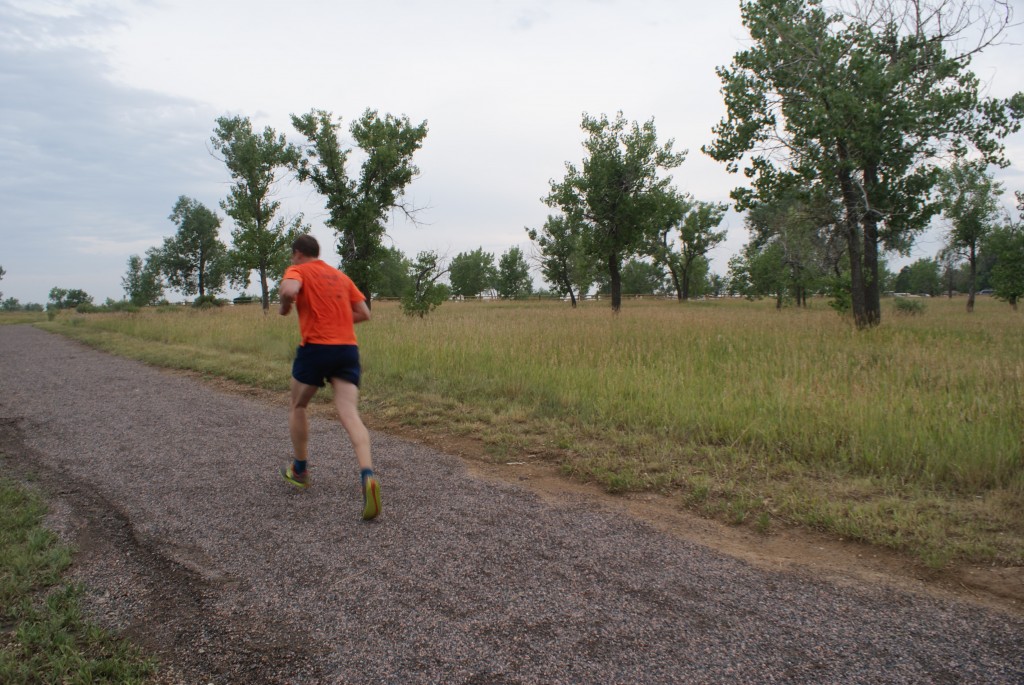 Earlier that day, before the aquathon, Kirsten had taken us to her favorite Denver bookstore, The Bookies. I've been to this place before and loved it, but this was the rest of the family's first time. The store is staffed by retired teachers who want nothing more than to share their passion for knowledge and books. By the time a very dramatic salesman (I suspect he used to teach theater) had summarized and brought life to all the books in the young adult section, Paco had two new reads clutched under his arm. I got my head turned in the adult fiction section, and even though I didn't buy a book right then, I am now plowing my way through the most-excellent recommendations I received there. The Bookies RULES.
We finished out Day 4 by meeting up with my brother and his two daughters. They had been visiting our great-aunt up in Cody, Wyoming, and were headed back down to Albuquerque, so they stopped to spend the night in Denver before our family and his would caravan our way down to New Mexico in tandem.
Before the evening of Day 4, when we all went out to dinner together, we hadn't seen my brother or his family in almost eleven years. There will be a separate blog post, shared elsewhere, telling the story behind that. What's important to know here, however, is that I've always loved my brother and gotten along with him swimmingly. To have this time with him, and to get to know his smart, charming daughters, brought gladness to my heart.
At any rate, on Day 5 of our road trip, my sister had a school training she had to attend, but my brother, his girls, and our family all did a tour of the University of Colorado-Boulder, just to give Cres, my brother's older girl, a taste of the campus since she'll be a senior this next year.
Can you all feel my heart flip around as I look at this photo of Cres and her first cousin, Allegra, walking side-by-side?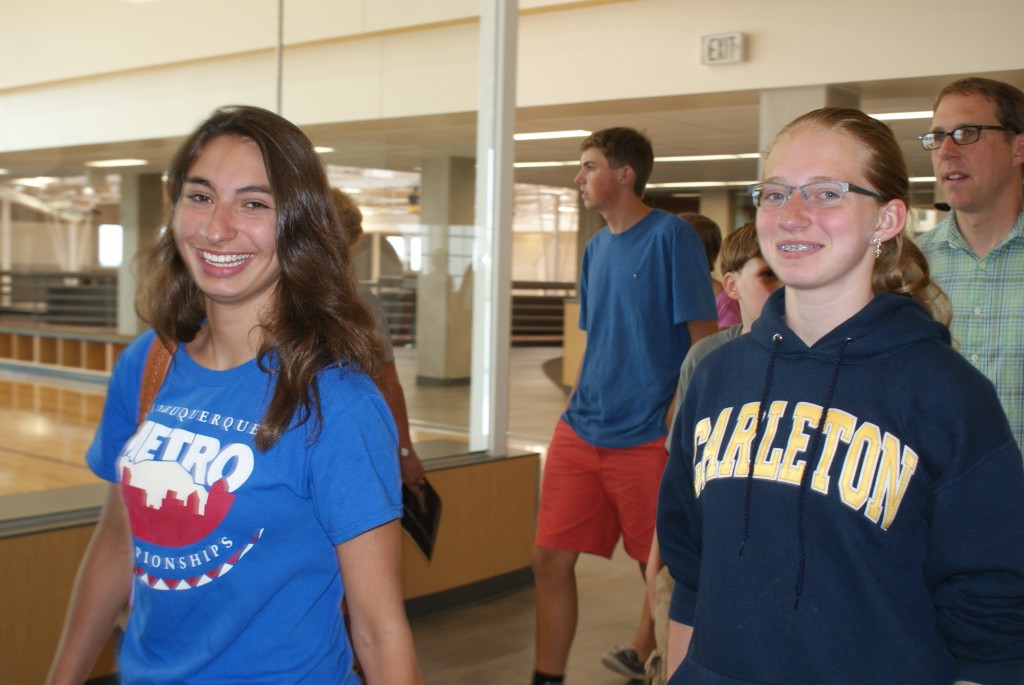 Random factoid: the University of Colorado-Boulder (the football team is The Buffaloes) recently spent some millions to build a buffalo-shaped swimming pool. I am totally the wrong audience for this factoid, as I stand and look at it thinking about hungry children around the world.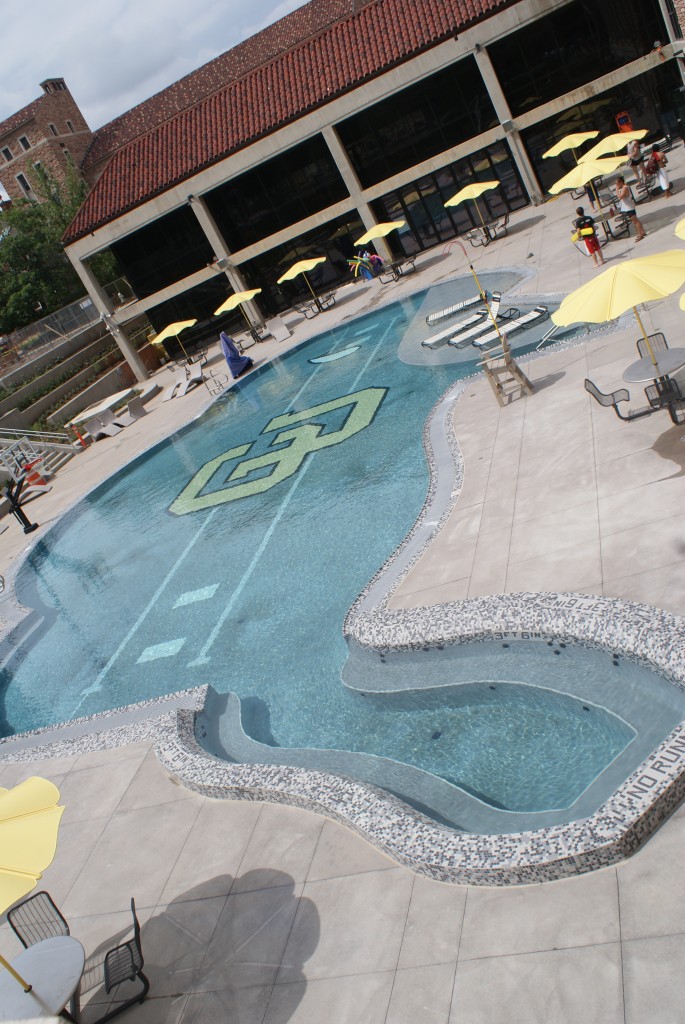 Here are my brother, Geoff, and his younger daughter, Sofia. There is a separate post coming about Sofia, too. She deserves her own space.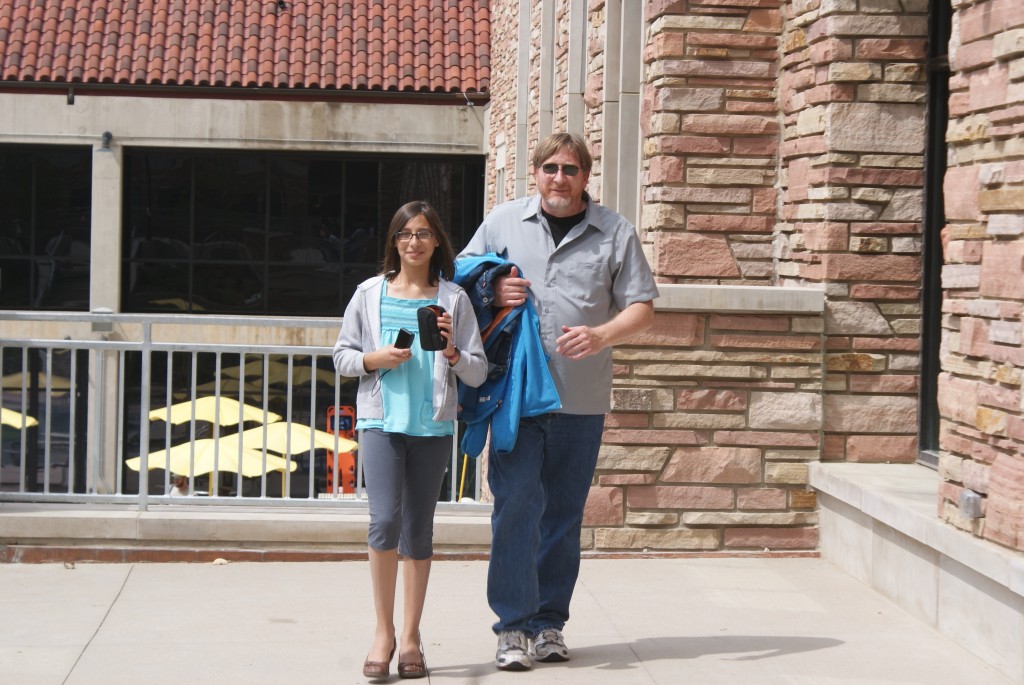 After our tour of the university, we all piled into our cars and drove a few hours south, to Pueblo, Colorado, where we stayed in a hotel. There were flash-flood warnings in the Pueblo area that night, so I'm amazed we hadn't planned to camp.
As the first handful of days had already proven: wherever we went, we were Rainmakers.
————————-
Stay tuned for my next post, wherein we will experience ladders, roadrunners, and good beer.
Comments
comments