Things Farmers Like About February

My sister-in-law, Erin, her husband, Ben, and their daughter, Allia, live on and run an organic farm in central Minnesota — selling Community Supported Agriculture shares to people in their community, providing vegetables to local colleges and Twin Cities' school districts, and committing their values to their daily work.
And it's hard work, this business of raising food with a brave spirit of entrepreneurship. The rhythms of their lives are dictated by the seasons, with heartbreak as likely as success.
As they visit us this weekend, I asked if they could articulate the best things about being farmers when it comes to a month like February, a time of year that can feel dark, dull, and eternal.
They love having more time — for things like yoga, reading, and playing. Time to just BE with each other is golden.
Erin really appreciates having psychic and emotional space from deadlines.
Allia likes that since they have land, they have some small hills that were really fun for sledding this time of year when she was younger. Now that she's 7, though, they need go go off the farm to find hills that are exciting.
Ben loves February for skiing and chickadees and super-warm sun.
Erin enjoys this time of year because it's when she can actually reach the end of her to-do lists. Allia comments, "You always have lists, Mama."
The whole family appreciates this time of year because, as Allia notes, "Papa is around more," and she loves doing bed tricks and tickle time games where she lays down on top of her dad, and together they create lifts and postures — sometimes he does her hair while she dangles upside down from his feet.
And finally, both Ben and Erin acknowledge that February is the time of year when they are rejuvenated enough to get ambitious. For vegetable growers, no matter how busy or crazy the year has been, by February they have a new idea that they would have said "NO!" to in November. For them this year, that means they've just decided to go ahead and grow 4,000 more pounds of cantaloupes this year.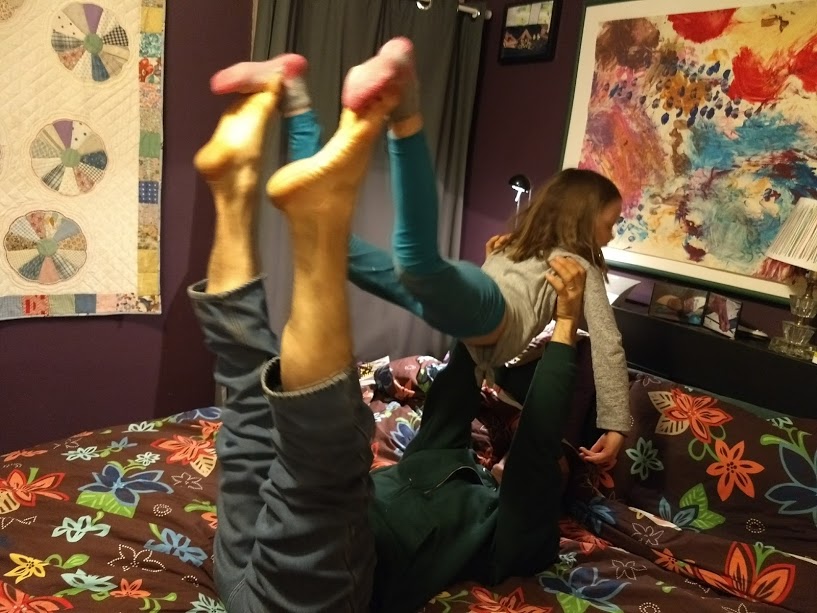 ---
Comments
comments