I don't mean to co-opt his story.
Then again, no story — even if its cast is a single character — can be told without rubbing up against someone else's story.
Indeed, even when there is only one character in a narrative, the way that person behaves, the choices he or she makes — those things reveal a great deal about everyone else whose lives have ever converged with that solitary protagonist.
The nature of stories is that they're intersectional, always a swirl of cause and effect, always a matter of "this thing happened to this one guy, but then ripples from that guy's thing rolled outwards and bounced other people around, too."
So I don't mean to co-opt his story.
But even I, someone who hasn't seen Dave Mackey in a few years, someone who married into friendship with him, am feeling ripples.
Before I read his announcement on Facebook the other day, I was at a point of disgust with social media — exhausted by both liberals and conservatives, depleted by everyone's revelations of their truest selves. When it comes to politics, people not only discuss ideologies, they also discover that although they love many of their friends and family, they don't actually like them. In fact, many are agonizing through internal debates within themselves, asking questions like: "If my uncle can look at footage of Donald Trump mocking a person with disabilities, if he can hear the audio of Trump boasting about predatory behavior towards women, if he can see all the reports of women coming forward and recounting how Trump pushed them against walls and jammed his tongue down their throats while grabbing their 'pussies,' if he can hear the racism in the rhetoric, yet he, my uncle, can still decide to vote for Trump, is that not an indication of my uncle's character that I cannot ignore?" On the other side, there are people who despair, "If my son can support that woman who is essentially a corporate creation, a candidate with decades-long history of scandals, a person whose campaign is riddled with cynicism, corruption, and cover-ups — if my son still supports Clinton, does that not indicate something to me about my son that I cannot ignore?"
It's all making me sick inside. In recent days, a fog of sadness clouds my head and my heart. My brain keeps returning to a few articles that have stuck with me — reading that I hoped would offer some clarity, some support, some shared sense that others are heartsore, too. Months ago, I read an article, "I Lost My Dad to Fox News," and still, every day, I think about it (and the extended comment section after it, in which person after person relates similar sorrow). Then my brain wanders back to the writer's points in "Dear Dad, Please Don't Vote for Donald Trump," an essay in which the tone is almost woebegone as a son contemplates the disconnect between the father who raised him and his father as a person who could vote for Donald Trump: "The choice is simple because it's hard for me to think of a single person who violates more of what you taught me as a child . . . It was from you that I learned to respect just how hard Latino, Asian, and Middle Eastern immigrants worked to make a life for themselves here. You told me what it was like picking fruit in the California heat, and explained how they took jobs that other people weren't willing to do — because they wanted to support their families just like everyone else." And I keep thinking of the betrayal a Latina daughter feels from her Trump-supporting father: "Donald Trump, you may argue to me, is making women strong again by forcing them to suffer insult after insult and grin and bear it. You may think, Dad, that the reason both of your daughters spent time in the hospital with eating disorders 15 years apart has nothing at all to do with insecurity or issues with lack of control in our lives because of our gender and the amount of pressure placed on a young woman from birth until the very end."
My head hurts too much. My heart hurts too much.
Too often, when social media gives me insights into the values of friends and family, I flinch. I flounder. I wonder if I should stuff my disappointment into a shoebox and shove it to the back of the closet, pretending that careful containment of dismay will allow me to forget we are fundamentally divided. I wonder if those shoeboxes will fill my closet to bursting, if I'll trip over them as I cling to flimsy shams of relationships.
I'm trying to breathe, yet I can't fill my lungs.
But then the other day, just when I sat staring at Facebook and thinking, "I reallllly have to shut this tab and focus on creating a quiz for my class because I officially hate everybody," a particularly shocking post showed up in my feed.
For at least five minutes, I sat in front of the monitor, reading, rereading, gasping, putting my hand over my heart, gasping more, feeling sick, wanting to drop my head to the desk and leave it there as I dabbed away tears.
I was looking at a post from Dave Mackey, and I couldn't believe what I was seeing.
Dave is a long-time friend of Byron's. They were interns together in the early '90s at an environmental learning center in Northern Minnesota. Living in an isolated place, driven by a common passion, linked through communal living, the interns became each other's People for Life.
After his time as an intern, Dave moved to Colorado and started to unpack the potential of his genetic and hard-earned talents. Specifically, Dave can run long, he can run hard, and he can run fast. Wikipedia sums up his largest career accomplishments thusly:
In 2011, Mackey won the Montrail Cup, which he also won in 2004. He won the Ultrarunning Magazine North American Ultrarunner of the Year in 2011, and was runner-up in 2004. He won the USA Track and Field Ultrarunner of the Year in 2004 and in 2005, and also has won several USATF national trail running titles at three different distances: 50K, 50 mile, and 100 kilometers. In running from one side of the Grand Canyon and back, also known as the rim-to-rim-to-rim (R2R2R), Mackey holds the former record of 6:59:57, which has since been lowered by Rob Krar.

Mackey also holds speed climbing records in the Boulder, CO, area, including the fastest round-trip time climbing and descending the Third Flatiron from Chautauqua Park in Boulder.
In 2012, Dave set the master's course record for the Western States 100 trail race, covering the 100 miles in 15:53:36, finishing fourth overall. The first time Dave ran the Western States, in 2004, he and Scott Jurek pushed each other beautifully — with Jurek setting a new course record, thanks to the threat of Dave, who finished second. As that race unfolded, Byron and I, far away in Northern Minnesota, frantically refreshed our browser every few minutes as we tracked Dave's progress through live streaming. Running on a mountain trail for 100 miles? Now that's a sport we in our house can geek out on.
When Byron and I got married, Dave was there. When Dave and his phenomenal wife, Ellen, got married, we drove out to Colorado to celebrate with them. Whenever we've been in Colorado and able to make it happen, we've had a few hours together, falling easily into shared company. Life carries on, and he's become a dad and a physician's assistant. Always, with every step he's ever taken, Dave has been gracious, sweet, even, goofy, and full of thousand-watt smiles.
Then, last year, Dave had an accident — one of those quick nanosecond blips that change everything.
After the initial shock and worry, we fell back into normal life patterns, shrugged, and figured Dave would mend and be back to fighting form in no time.
However, those of us who figured Dave was invincible were too cavalier.
This is what thousands of fans and friends discovered a few days ago as we sat in front of Facebook, gasping:
It's been a long 16 months since I fell off Bear Peak above my house, sustaining an open tibial/fibula fracture to my left leg. The long rescue followed, 13 surgeries, including skin, muscle and bone grafting, washouts of the open-fracture contaminated surgical sites, being in an external-fixator (think "iron lung", only on the outside of the leg) for three months, and bone infection (which still resides). I have achieved a degree of success in mobility and some improvement. I went from not walking at all, to walking with a cane until this past July, to walking cane-free now. Running has not been an option in the least just yet. Riding a mountain bike most every day now is almost real freedom. But there is still pain whenever I walk and throbbing at night, and now intramedullary nail (a rod) is wobbling and the bone grafting at the middle if the fracture sight is not dense.


So I am at a cross roads. Do I continue with more surgeries with very high likelihood of failure? More time in a hellish external fixator? And even then there would always be pain.


But there is another solution, the definite, non-reversible one, to be 100% to where I was before the accident and almost completely pain-free. There is a way to get here and I've decided to go this route. This would mean the freedom, if I choose it, to walk the kids to school without a thought, ski, run in 6-8 weeks, compete in races again, even take down Mike Wardian's treadmill world record (okay, this will NOT happen). So the big news is that next week I will have my left leg amputated below the left knee here in Boulder.


I've spoken extensively with orthopedic surgeons and other healthcare professionals and co-workers about my options. And there are other surgical options than amputation, but the chances of success are slim, and it feels time to move on. Being below the knee, this is "good" amputation to have. The technology of prosthetics is incredible these days, and improving, so I will be out in the mountains as before with my family and friends, to completing or competing in events again, having the ability to run any distance.

Dave posted this announcement a week ago, and the response was immediate and unified: if this is what Dave needed to do, then all love on him, and may his decision result in greater quality of life and a return to him feeling like his full self again.
There were no trolls. There were no naysayers. There was no outrage. There was no disappointment.
In a rare and beautiful moment, thousands of people poured out unadulterated support. If a man who can run a hundred miles without complaining announces "I can't live like this any more," then that's all anyone needs to know.
After a party on Halloween night — a gathering of loved ones and running luminaries — Dave had the amputation surgery the next day. Yesterday, he posted:
Finally an update here on the big surgery yesterday. First of all thank you for all your voices of support, thoughts, prayers, and good energy. Once again, as it was last summer when the accident occurred, I am so blessed to have such good friends. The party two nights ago at Flatirons Running company was a complete blast. It was worth busting up my leg just to see some of the folks who came out I hadn't seen in years. Thank you to Real Athlete Diets, Avery Brewing, and Southern Sun for the delicious food and beer, and to Hoka and Suffer Better. Generous funds were collected for the Challenged Athletes Foundation.


So medically speaking yesterday was a huge day, as well as today. The procedure was scheduled for 2 1/2 hours and took five hours. It's a pretty involved process as amputation, many nerves, blood vessels, muscle, skin and bone need to be excised and moved around. Much of the surgical procedure is creating an effective interface to work well with a prosthetic in a few weeks, and I am fortunate to work with one of the best lower limb surgeons, Dr. Rob Leland.


I am in a full leg/stump cast now, which I will have for up to two weeks, then be fitted for a prosthetic. Another ortho pod buddy of mine, Mike Hewitt, says I will be running in six weeks and running Leadville or Leadman next summer. For my part I plan on taking it literally one step at a time and not screw up all the work that's been done on my leg!


Billy Yang has been around and documenting much of the process over the last few days and will probably be putting out a cool documentary. I hope he edits out some of the graphic stuff though!


Sorry I have not replied to many posts. I did read them though and appreciate the good feelings. Thank you so much. Now that I'll be out and about more I look forward to connecting.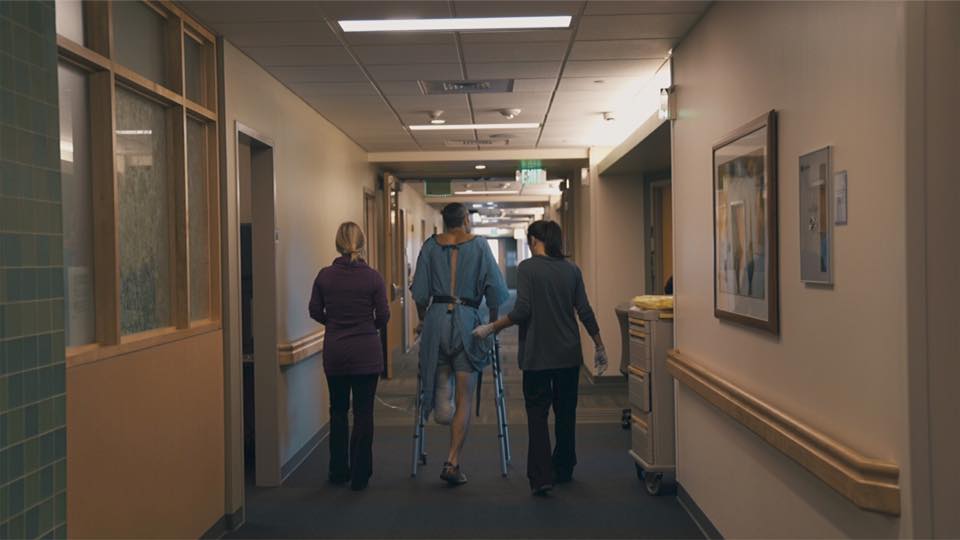 So.
I don't mean to co-opt Dave's story. He is living it. It is his journey.
But.
I find that this week, this year, last year, next year, I need Dave's story. I can't stop thinking about him. He is all the things my hurting heart has been wishing for during this election season: a dignified, genuine person who is humble, intelligent, heroic.
In these days of being overwhelmed, disappointed, disillusioned, of feeling like the shoeboxes of dismay are threatening to spill out of my overstuffed closet, I find something sustaining in Dave's thoughtful approach to his days.
In the midst of all the clamor and mud-slinging, Dave's courage has reminded me that every important choice can be distilled into two questions.
"How do I want to live?" and "How can I make that happen?"
Trump and Clinton be damned.
I vote for Dave.
---
Comments
comments