"By seeing London, I have seen as much of life as the world can show." –Samuel Johnson
Personally, I think Samuel Johnson might have gotten a little something out of Thailand or Uzbekistan, too, but his point is taken.
London is full of awesome. Usually. When I was there last fall with Groom and the kids, we had a great time at Legoland Windsor, but London proper was rain-soaked, full of buses that broke down and left us sopping on the corner after dark as we waited and waited. Unfortunately, that means His Nibs' lasting impression of London is of spending a fair amount of effort getting to Westminster Abbey only to discover it had just closed…and then spending several hours getting back to our hotel, slogging our way through sheets of rain, holding paper bags that distinegrated until we were left holding our shopping cradled in our slickered arms.
Had he been in London this past week, his opinion of the place would have undergone drastic revision. Not only did the weather cooperate, but the company and sights and activities were A Million Joys. Although I bopped over and back in the space of four days, the scope of happiness I felt every single minute made the time seem brilliantly eternal.
To review:
On Sunday, my travel day to London, I awoke with the 5:15 a.m. Call to Prayer and stayed awake–too revved up to fall back asleep. At 7 a.m., I hopped on a shuttle from Ortahisar to Kayseri; an hour later, I checked in at the Kayseri airport and bided my time by counting how many plastic bags of pumpkin seeds women in headscarves were attempting to load onto the security conveyor belt. Only once did I attempt to board a flight for Izmir instead of Istanbul which, in Jocelyn terms, is what we call a good morning.
Eventually, I got on the right flight and ended up in Istanbul, whereupon I raced around to the bookstores that sell materials in English, managing to score Paco a new National Geographic Kids magazine. As I texted this wondrous information to the family back in Ortahisar, I speed walked down to the Starbucks (only in Turkey would I aim for it as an intended goal) and calmed my dripping armpits by drinking the venti-ist frappucino this side of The Bosphorous.
Shortly after lunchtime, I boarded my flight to London, which took around four hours.  To put to rest your pounding curiosity:  I had the chicken.  Once in Heathrow, I grabbed my bag and started hunting for an ATM, so as to load up with pounds sterling (a nod to Ye Olde Beer Habit).  Imagine my state of shock and awe when every available cash point in the airport was owned by the same company–a company that refused my card. 
After no luck with four machines, I realized my only option was to suck up the fees and use an exchange bureau, one run by the same company as the ATMs.  Fortunately, the lady at the counter was more than happy to gauge me out of 100 Turkish lira in exchange for enough pounds to take The Tube into central London and buy myself a Diet Coke.  Even more fortunately, the twenty-three stops between Heathrow and King's Cross station allowed me ample time to think through my monetary options, should all cash machines snub my card.  In short order, I realized my best strategy would be one called Don Thigh-High boots and Avoid Jack the Ripper.
It was with a slow exhale (of regret or glee?) that I successfully extracted money from a bank machine just outside King's Cross.  Looked like I'd have to wait until my 15th wedding anniversary to get those thigh-highs.
Money in hand, nearly-empty-but-soon-to-be-filled-with-goodies-toted-from-the-States-by-friend-Kirsten duffle bag rolling behind me, I tripped across Euston Road and towards my cheap hotel (mayhap I could justify them thigh-highs after all…).  As it turned out, the hotel was one where the fam and I had stayed last fall; I'm nothing, if not consistently low rent. 
Depositing my luggage and self into my welcoming 10-foot x 4-foot room, I scrounged around for my deodorant and hairbrush and tossed a few pressies into my purse before heading out for The Main Event:  crashing my beloved Virginia's birthday dinner at The Hotel Russel.
As I navigated my way to the hotel, marveling at the sensical street plan, I mused inwardly, "Crikey.  Did I just compose ten paragraphs about how I got here–all before I even get down to the action of Being in London?  How in the Queen Mum do I think any of my fifteen faithful readers will hold on until the end of this torturous tale, if I insist on detailing every bite of poultry and thoughts of Hookerdom?  Time to cut out the meandering and kick this rundown into gear."
In short order, therefore, and over the course of the next three days, I:
Slunk into The Hotel Russell restaurant and surprised the cancer right out of dear Virginia.  We wept; we shook; we ate; we laughed until our cheeks hurt.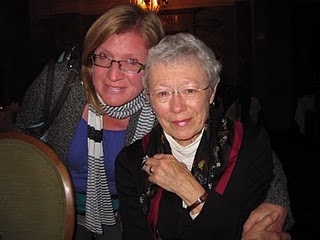 Then we got to dessert. And ordered Spotted Dick.
I ask you, who amongst us is adult enough not to crack the easy jokes? WHO?
Virginia brought the house down when her lesbian self took its first bite and noted out loud, "Well now. Spotted Dick tastes like hot muffin."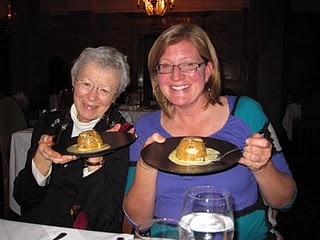 Virginia's 74th was spent at a table with former colleagues, new friends, A Great Love, and A Wannabe Streetwalker:
Monday was spent on a bus tour with folks from the college where Kirsten teaches (and where Virginia used to). We went first to Oxford, then to Shakespeare's birthplace–what a rush to put my feet on the stones where he trod and to find an Aveda salon where I could stock up on shampoos!. Outside of the house where Shakespeare grew up, student actors often loiter, apt to break into verse and startle those exiting the museum. Charmingly, Virginia proved exactly the right audience for one such actor; she disappeared into his soliloquy and gave him a One Person Ovation at his bow.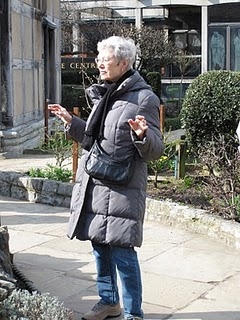 We grabbed sandwiches from a shop on the main street before hopping back on the bus to listen to Guide Maria glow orally about the treasure that is Warwick Castle. She only interrupted her own sentences three times to read incoming texts off her phone.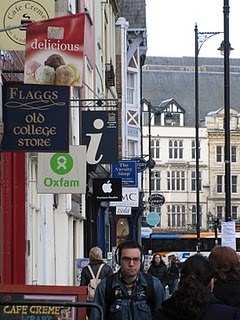 The best part of the afternoon was spent trolling the grounds of Warwick Castle (think: Hogwarts in the Harry Potter movies) and enjoying each others' commentaries about the wax dummies staged in various rooms. If only there'd been a Nicole Kidman mannequin on site, we could have remarked, "It looks so life-like!"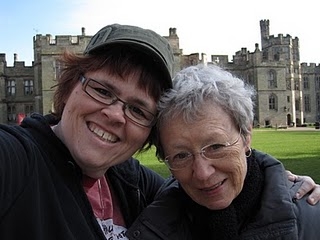 Where's Hermione?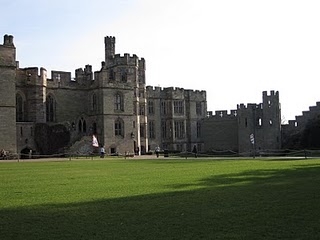 Ron? Draco?
The lovely thing about travel is that it gives me license to exercise my predilections for Cheeseball and Dork:
All apologies to Potter, but my favorite part of the castle was the peacock area. I do so love a strutting male.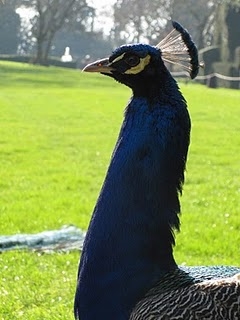 Satisfied, loving the peacocks and the day, we headed back to the bus…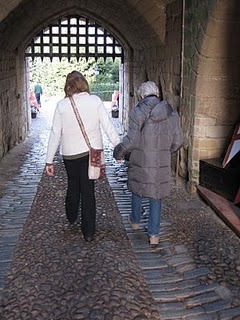 After the day tour, Kirsten and I went to WE WILL ROCK YOU, a musical featuring the songs of Queen. After the show, I admitted that I am generally more a fan of a narrative with character development but that I also really just wanted to go crank some Freddy Mercury and bask in his strutting maleness.
Tuesday morning, Virginia, Kirsten, and I met up and headed to the Tate Modern, a place I'd longed to visit. It was probably for the best that the first gallery we visited featured Everything I Hate About Modern Art. In one room, a film was projected onto the wall–the film was of the artist, a woman, romping naked on the banks of a river, pouring buckets of blood onto herself, and then rolling around on a blanket of feathers. Can we agree that this concept had the potential to go very, very right or, more predictably, to go very, very wrong?
Following the film was a display of two wooden school chairs stacked upon each other. Through a slot at their front, a pair balls dangled on a string. The accompanying placard explained that one chair was "enslaving" the other, which I suppose is a tribute to the Dom/Sub relationship elementary school janitors have long had with empty third grade classrooms.
Luckily, that first galler of empty, pretense-laden art was followed by works that actually entailed talent or, in the absence of that, that carried a kind power. In a room featuring Gerhard Reichter's paintings, we finally sat down and shut up before taking out the camera and hollering "Smile like you love Germans!"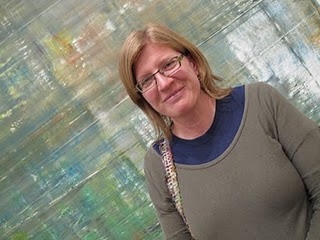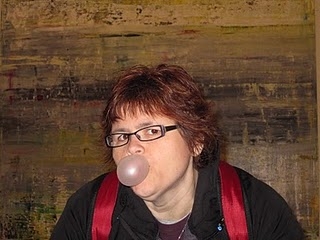 A room past Reichter was hung with Cy Twombly's "Bacchus," paintings that inspire the looker to think she could do the same, just as well, yet somehow they pack a wallop that moves the round swirls of red into the realm of "art."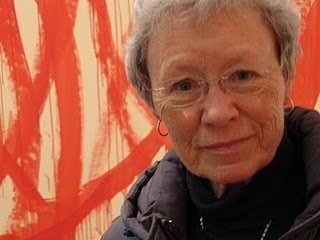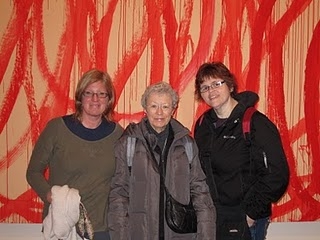 No matter where we went, Virginia had boundless energy and enthusiasm, not the least of which was spent upon the "living statues" that spend their days collecting tips on the street.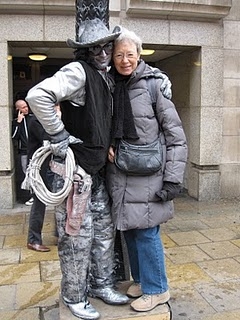 And then, after a few hours of shopping in Covent Garden, there was PRISCILLA, QUEEN OF THE DESERT. For me, I was happy to go because it was on Virginia's list; I'd seen the move when it came out and thought it was fine, but seeing the musical wouldn't have been something I'd have done otherwise.
Holy Strapped Penises, but I would have missed out. It was the best time I've ever had in a theater. Well, except that one
never mind.
The show was polished and fun and a wild ride through disco and costume design and heartache. More! More! More! clapped the Jocelyn.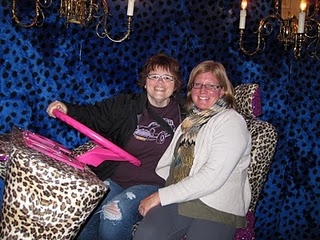 On Wednesday, my last full day in London, Virginia and I spent the morning wandering through The British Museum. I do like me a big ole head from Easter Island, so it was good fun. Then we met Kirsten and friend Jerry for lunch at an Indian place (sidenote: one of the things I miss the most in Turkey is diversity–I'm so used to living in a place that offers a variety of cuisines, for example, that I'm still always surprised to go into a Turkish restaurant and see the same 10 things on the menu as are offered in every other Turkish restaurant). The food was amazing, as photos prove: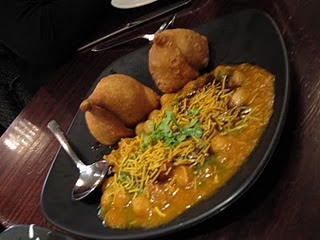 Following lunch was a matinee of THE CHILDREN'S HOUR, starring Keira Knightley, Elizabeth Moss, Carol Kane, and Ellyn Burstyn. Guess what? It sucked big strapped penises.
As awful as the play was (when the lights went up at intermission, the man behind us leaned over to his friends and hissed, "Hideous!" and on the way out, a woman in the aisle ahead of me shrilled, "I guess I'm just used to nuance in the theater…"), I actually enjoyed being reminded, through a poor example, of what good theater is–and it certainly doesn't require big names.
Salvaging the afternoon were both the ice cream at intermission and the cake after the show.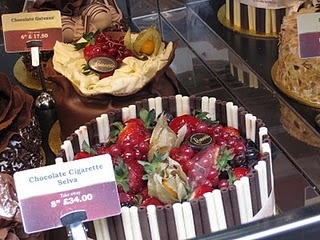 Well fed, well played, well loved, I realized
it was time to hop back on The Tube and use the time afforded by twenty-three stops back out to Heathrow, an overnight flight to Istanbul, a three-hour layover, an hour flight to Kayseri, and an hour shuttle ride to Ortahisar (where my visiting aunt and uncle awaited)
to replay so much of life that the world, and London, had shown.
Comments
comments