I recently had an email exchange with a college friend who reads this blog. The exchange started when she messaged to josh me, semi-accusingly, about the point in my previous post where I mentioned road tripping to The Alamo in Texas–yet I had not called or visited her (she lives in Austin, TX), and how dare I not have contacted her if I'd been in her area???
In quick order, I was able to remind her that I had visited her during that swoop around the country, pointing out that I'd stayed with her in Austin for a few days, giving her some details about her main hobby at the time (martial arts), the music we'd gone to see (Martin Zellar), and her address (a 1/2 street number, as in 507 1/2 South Elm Street).
Oops, she replied. It seems this isn't the first, nor will it likely be the last, time her memory has failed her. She rather worries that there might be a problem, in fact, as she's spaced out other events and interactions of fair significance, such as when she asked her sister why she hadn't been invited to her niece's christening, a lack of invitation that seemed particularly odd considering my college friend was this niece's godmother. College Friend's sister replied, "Honey, GODMOTHER, you were there."
Yes, I suppose my college pal could have a problem, and if she decides to undergo testing for it, I'm sure it will be relatively painless, as she'll only recall the CAT scan for an hour after the procedure.
More likely, though, my college friend is, well, human. I don't have any deep knowledge about the nature of memory–why bother reading up on it, when I'd forget what I'd learned by the time I set the book on the nightstand?–but I don't think she's alone in forgetfulness. Rather, I think it's more that the vast, multi-hued, multi-faceted, multi-layered thing called Life presents us with more than we can rightly retain. Plus, we get older, and age adds in more and more information to track just as our brains are gunking up with plaque. Quite naturally, data gets lost in the mud.
This phenomenon was highlighted for me yesterday when a former student stopped by the house (you can read more about her here, and trust me, she's worth a read); she is now an echocardiography nurse and about to start medical school to become a heart surgeon. As we all sat in the kitchen, catching up on her love life and impending move out of the state, she tried to explain the new software she'll be learning when she switches jobs. Easily, unthinkingly, she looked at Byron and said, "Well, you'd understand this because you've had an EKG…"
WAZZAT, NOW?
Jocelyn's Brain: "Wait. WHAT? Byron had an EKG? I should know this, right? Did he have a heart problem as a child, and I've forgotten? [frantically scans Swiss cheese memory for tales of tragic health in husband's youth] No, I'm pretty sure he didn't have a problem as a kid. Maybe before I knew him? [frantically scans stories related during months of wooing, all of which are lit with magic in memory] So, whaaa? This means he's had an EKG since we've been together???"
Wisely, lest my student loose the smidgeon of respect for me that still remained after I asked, regarding her new girlfriend: "At what point did she first stick her tongue down your throat?", I remained mum in the moment and simply nodded and asked questions.
But seriously: what kind of life partner can't remember her husband had a heart issue serious enough to merit an EKG while he was in his 30s?
You get one guess, and if you answer "Jocelyn," you win an all-expenses-paid tour through the empty chambers of my skull. Bring a headlamp.
As soon as Former Student departed, I looked at Byron and asked, incredulously, "You had an EKG? Is this what you do while I'm working all day? I mean, when you're not watching Dr. Oz and eating bon-bons on the couch?"
Much to my relief, he responded, "I'd actually kind of forgotten about it, too. I was sitting there, listening to Former Student, thinking, 'Now, why did I have that EKG again?'"
As ever, the ignorance of others serves as a solace to me.
With a little brainstorming, we dredged up something about a faint arrythmia that presented during a standard physical, supplemented by something about white blood cell counts being high. And that right there? That's all we got. So long as he can go out and run for hours and swim a few miles when he hops in the pool, we're going to call it good and move on. Apparently, he had an EKG, and now he's fine.
What's troubling, though, is that this wasn't the first case of me having forgotten something significant about Byron's relatively-recent health. A few days ago, when I was making molasses cookies, Paco was hanging about the edges of the process, waiting to be called in as Resident Egg Cracker.
To pass the minutes, he was reading aloud from the margins of the molasses cookie recipe (I record the date and a little something about our lives each time I use a recipe; thanks for that legacy, Mom!). Stumbling over my poor handwriting, the kid read: "Byron had hernia surgery…"
WAZZAT, NOW?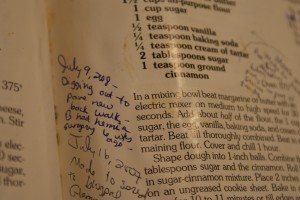 Jocelyn's Brain: "WAIT. What? Byron had hernia surgery? [frantically scans Swiss cheese memory for images of fascia or organs poking through husband's groin. Quickly realizes this scan is going very blue, very fast, and therefore aborts it. We are in the presence of a child after all] So when did Byron have a hernia? How did it happen? Did I lift heavy things for him in the month after his surgery? DID I LIFT THE COUCH BECAUSE HE THOUGHT IT WOULD LOOK BETTER ON THE OTHER SIDE OF THE ROOM?"
Both of these health issues have occurred in relatively-recent years. I mean, I guess. For all I know. Both are lodged so faintly in my mind that it was only when Byron re-enacted the doctor's appointment in which his hernia was discovered that I had any whiff of a recollection at all. He's awfully cute when he mimes being felt up by a doctor, incidentally.
Part of me wants to blame my lack of specific recall on Byron coming from a family that is preternaturally healthy at the same time that its members are consistently plagued by off-the-wall health issues. Who can keep track of all that? Another part of me wants to blame it on baby brain and say, "Did these events occur between 2000 and 2006? If so, I must have been without sleep and nursing around the clock." Yet it appears Paco was four when the hernia surgery happened. At that point, he'd been weaned and sleeping through the night for, like, a full three months. Finally, yet another part of (the clearly fractured) me wants to blame my lack of recall on some sort of peri-menopausal shift that has my hormones eating my twelve remaining brain cells and burping up their detritus for dessert.
But. Well. If I can remember:
the pair of white clogs I bought in Denmark when I was seventeen,
and I can remember the Britney Spears song playing the radio in the taxi of a Turkish man named Kadir,
and I can remember dancing around the room with a guy named Scott to The Pretenders as "Back on the Chain Gang" spun on the turntable,
and I can remember pulling a Tom Sawyer-like coup in elementary school when I convinced the neighbor girl that mowing our lawn was really fun,
and I can remember the hard candy lemon drops in my grandma's candy jar,
and I can remember the time I took too much niacin and underwent a full-body, prickly heat rush as a result,
and I can remember when I locked my office door and cried next to my filing cabinet because I was so scared of a student,
and I can remember driving a Chevy van across a mountain pass into New Mexico at 3 a.m., marveling at how the huge steering wheel vibrated all feeling right out of my arms,
then doesn't it seem a bit troubling that I had virtually no memory of my husband having a hernia or an arrhythmic heart?
Does anyone else suffer from Forgetting Crap That's Major-entia? And wouldn't you think that, in a winter where my city has just experienced an additional 13.3″ of snow in the last two days (that's 33.8 centimeters for readers who are smart enough to live in metric-based countries), which put us at a grand total of 98″ (metric smarties, read this as: 249 centimeters) so far–and I am legitimately typing "so far" because there are two more snow events predicted for this upcoming week, including another 6″ tomorrow–well, wouldn't you think I'd have nothing more to do between November and April than contemplate my past, play memory-strengthening games, and grow my own ginko baloba?
But NOOOO.
It would appear I'm too occupied with gnawing off my own hand to recall that a few times my husband
ummm
had some bad things happen in his feeling places.
In brighter news, I do recall THIS bit of Byron-based-drama vividly, and not just because our bathroom floor was coated with blood by the time it was over.
Seriously, chums: if I didn't have a blog, I fear I wouldn't know my own name. Bless the archives!
Comments
comments