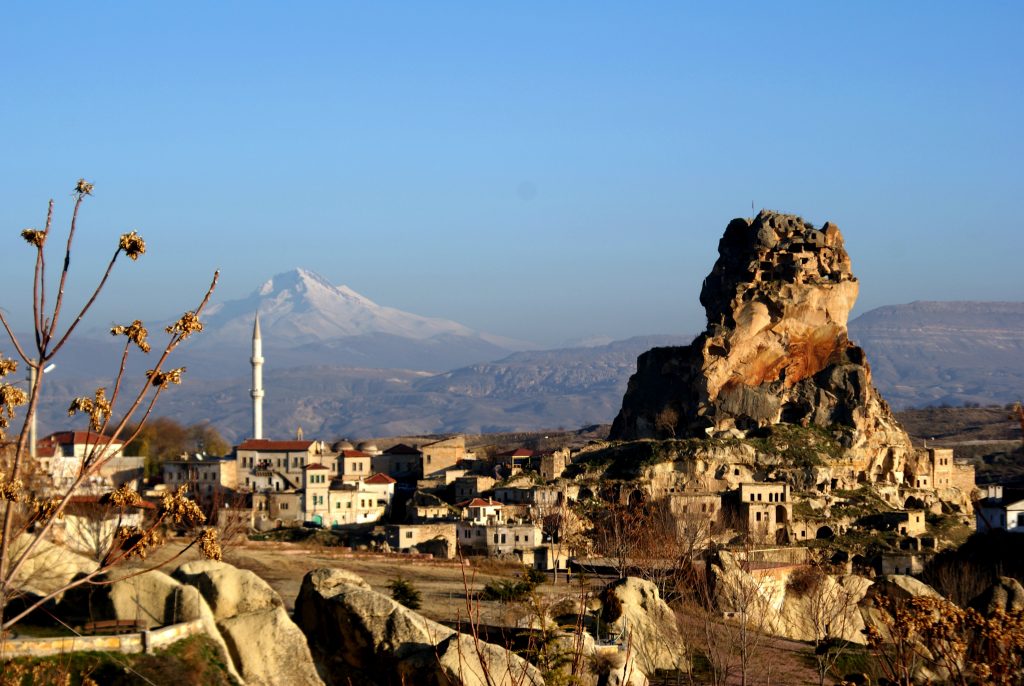 This post is the second in a series of four guest essays written by my friend Diane, whom I met during our family's year in Turkey:
First, a bit about me. I was born in Boston and spent my teenage years wrestling with an urge to escape from the suburbs and get out into the world. For almost 20 years, I've taught linguistics at the University of Leeds in England. In 2004, I took a career break to go backpacking and met a Turkish man. We got married, had two children, and then the marriage came to an end. Along the way I learned to speak basic Turkish and met a collection of friends, both Turkish and foreign, who are still an important part of my life. I love Turkey and go there once or twice a year so that the children can spend time with their father and his family in their village. Some of my friends there are now involved in the efforts to help the Syrian refugees living in Turkey. There are an estimated 3 million Syrians in Turkey (probably more, since many are still undocumented). Only about 10% live in the UN-funded refugee camps near the Syrian border. The rest are distributed throughout Turkey. They're not entitled to any housing or financial support directly from the Turkish government but can get support from charities and NGOs working in the country. Most Syrian adults speak little or no Turkish, and a lot of their children aren't enrolled in schools. This year I spent my Christmas vacation talking to people who are running projects to help the refugees. I wanted to tell their stories, the stories about what happens after the newspaper headlines die down, the stories about lives passed in years of limbo, waiting to go home or to feel at home in a place that is not home.
———————————-
Ahmet now lives in a small village in central Turkey, where he is running a project linked with Open Arms in Kayseri (OAK) to help other Syrian refugees. He was born in Raqqa, one of 8 brothers. His father owned several factories, and he grew up in privilege, playing football, driving around, buying clothes, clubbing, and chasing girls with his friends. He moved to Aleppo at 17, studied law in Beirut for a year, and then at the start of the revolution in 2011 went back to Aleppo to continue law school. That year his brother Brahim started organizing anti-Assad protests and later formed a cell of the Free Syrian Army. Because of his brother, Ahmet's name was on Assad's list as an insurgent, so he was forced to leave college. Ahmet moved back to Raqqa.
Brahim's life was in danger, so his father sent him to Saudi Arabia to protect him from Assad's police. Then he went off the radar for 4 months. The first news of Brahim came when a family friend called to say that he had been badly wounded in a battle nearby with Assad's forces. He had come back into Syria quietly, via Turkey, to lead his Free Syrian Army unit. The family waited until 11 p.m. when the coast was clear to pick him up off the battlefield. Brahim had been shot twice in the stomach and once in the hip. Raqqa was too dangerous, so the family took him across the border to Turkey. Ahmet spent the next 6 months living in a hospital with his brother in the city of Urfa, changing his dressings, feeding, and bathing him. (In Turkey, as in many countries, hospitals are short-staffed, so family members are expected to do most of the nursing care.) His brother had had a colostomy and needed more surgery, but the doctors said he needed to wait another two months for the next operation, so the family brought him back to back to Raqqa for the holy month of Ramadan. Raqqa felt like a safe place at the time because Assad's forces had failed to take control of the city.
As soon as the family returned home, ISIS launched itself in Syria with Raqqa as its base and started to take over the city. (ISIS originated in Iraq but draws its aim of creating an Islamic state from a section of the Koran which forsees the final war between Muslims and unbelievers as taking place in Sham, an ancient kingdom in what is now Syria.) Ahmet says he had a lot of conversations with guys in ISIS, who started in Syria as a small group of around only 70 people. Most of them were from outside Syria, from Egypt, Tunisia, Iraq, and the Gulf, and had spent 3 months in intense indoctrination. Many ISIS members were intelligent and creative, but they spoke with brainwashed certainty about their mission and had absolutely no concern for the lives of the Syrians. It was also clear that even though some may have had their doubts about the killing and torture that had become their everyday lives, they were locked into the organization. ISIS fighters didn't fear death, and that made them very frightening opponents.
Most of Ahmet's cousins and brothers were fighting in the Free Syrian Army against both Assad and ISIS. At one point, the FSA captured 3 tanks from Assad's army and then managed to capture the local ISIS leader. A street fight started for possession of the tanks. After 20 days of fighting, ISIS detonated a car bomb in the train station that served as the FSA base. Three of Ahmet's cousins were blown to pieces, including the unit leader. Ahmet, who had stayed out of the fighting, got a text message from his brother inside the train station saying that he and others were trapped inside, surrounded by ISIS. Ahmet dithered. He didn't have a gun or other weapon and wasn't sure what to do. He went to tell his family the news, then left to see another brother at a friend's house. In shock, Ahmet made the decision to save his brother. Somehow – he doesn't remember how – he managed to slip past the ISIS watchmen and get into the train station.
The building was still on fire, with bodies littering the ground. He found his brothers hiding inside, safe because when the car bomb went off they were somewhere else eating their evening meal to break the Ramadan fast. Later an ambulance managed to reach them, so Ahmet helped load the burned bodies and body parts of his cousins into it. Ahmet found a rifle and called his brother to find out what to do. ISIS still surrounded the building. His brother told him wait for a while. At 1 a.m. the order came from the main FSA base telling all of them to leave Raqqa. Their leader, Ahmet's cousin, was dead, and they needed to rest and regroup outside the city. Ahmet watched as 65 men loaded up their weapons and started to leave, but he didn't want to abandon his family. At 2 a.m. the remaining FSA in the train station fired huge anti-aircraft guns into the air to create a diversion so that they could escape. Ahmet and two of his brothers and two cousins didn't follow; they took their guns and 150 bullets each and ran off behind the train station to the Kurdish FSA base where they asked for protection until morning.
Ahmet stayed awake all night keeping watch while the others slept, not knowing how far to trust his Kurdish protectors, but they were kind to him. At 5 a.m. he looked across at the empty train station and saw ISIS fighters streaming in. They put up flags and shouted "Allahu akbar!" over and over. At 7 a.m. Ahmet and his group left their guns with the Kurds and took a taxi to a friend's house. The taxi driver was a Kurdish friend of his brother's, and he brought his children in the taxi as a cover for Ahmet's group. They laid low for a while.
Ahmet had another brother, Tarek, who lived in Saudi and had no involvement in the war. He had come back to Raqqa for his wedding and lived with his new wife in a different neighborhood, away from the fighting. One day he was coming home with some test results from his mother's doctor. ISIS kidnapped him. The family searched everywhere, fearing the worst. 10 days later, a friend who worked at a local hospital called Ahmet to say that an unidentified body had come in. In accordance with Muslim tradition he had been buried the next day, but hospital staff had made a video of the body so that it could be identified. Ahmet watched the video and recognized his dead brother, horrifically tortured. Ahmet took the video home to show his family. He broke the news to Tarek's wife and to his father. Everyone was crying and screaming. Tarek had lived a peaceful life, and he and Ahmet had been very close. Ahmet spent the next few days consoling his distraught family. It's God's will, he told them. You have to accept this. He struggled to be strong for everyone else when he felt destroyed by grief.
Ahmet took his injured brother back across the border to Urfa and left him in the care of friends. He went to Mersin, also in Turkey, with his friend to search for a job and to start a new life. His parents left Raqqa five months later and settled in Mersin. After 20 days in Mersin, he got a Facebook message from another Syrian he had met in the hospital in Urfa while he was looking after his brother. Yusuf was in Istanbul, paralyzed by a sniper bullet. His brother had been taking care of him but left him after they had an argument. Ahmet went to Istanbul and nursed Yusuf for 6 months, taking him to the hospital for physiotherapy every week. Eventually Yusuf was well enough to travel, so Ahmet traveled with him back to the Syrian border, where his family collected him. (A few months later, Yusuf died in Syria, emaciated and neglected.)
Ahmet again got ready to join his parents in Mersin, but was approached by a man who was involved in setting up the interim Syrian government in Turkey. Political opposition groups (bankrolled by Qatar) were optimistic that they would defeat Assad, and the man said they needed trustworthy people to work for them as bodyguards. Ahmet worked for two years in the Turkish city of Gaziantep. Eventually, plans for the interim Syrian government fizzled. Ahmet tried to figure out what to do. He had a passport and could have gone to Europe, but he wanted to stay in Turkey to help other refugees.
In Gaziantep, Ahmet's friend Memo was going out with a young woman named Juju, who worked for an NGO. The three became good friends. Juju invited Ahmet home to central Turkey, where he met Juju's mother and her friends and learned that there were several hundred Syrians in the village who were struggling to survive. Ahmet, Juju and Memo wrote a proposal with help from a friend and worked out a budget for a project to help the Syrians in the village. Ahmet moved there in the spring of 2016. He lives a modest life and hates the label "refugee" because he feels it puts him in a box and limits what he can do.
While living in Istanbul, Ahmet says he felt destroyed inside but didn't talk about his loss anyone. One event changed his perspective completely. He was in Istanbul taking care of his paralyzed friend Yusuf. One day Yusuf told him that his barber, Abu Mohammed, would arrive soon to give him a shave. Ahmet put him in his chair in the lounge and got him ready. A few minutes later the barber arrived with a young boy standing next to him, so Ahmet went back to his room. Then Yusuf called him into the tv room, asking for towels. The barber's son was sitting on the floor with his legs straight out in front of him, the towel behind his back. "Ammu," he asked the boy, "can you please sit on the sofa so that I can get the towel?" The boy just stared at him helplessly.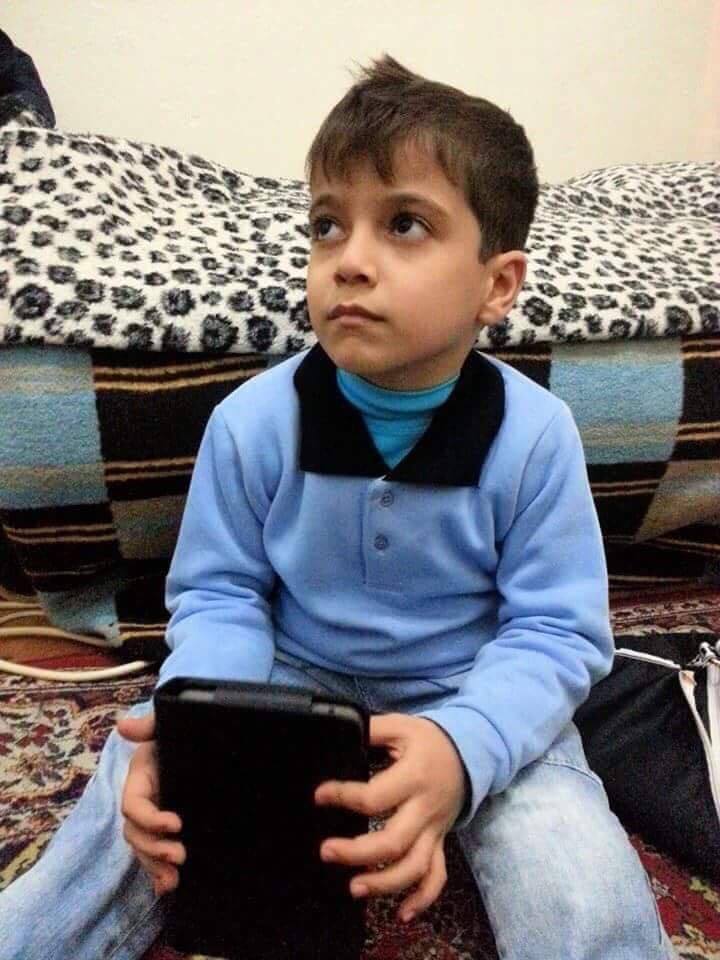 From the next room, Abu Mohammed said in a loud voice, "You put him on the couch." Ahmet bent down to pick up Mohammed. He put one hand behind his back, and as he went to put his hand under the boy's thigh, he was shocked to feel not warm flesh but something felt cold and hard – both legs were made of plastic. He put the boy on the couch, gave the towel to Yusuf, and then went back to the tv room, sitting next to the boy and wondering how bad the story was. He asked his friend what had happened.
The family were from Aleppo. Abu Mohammed, the father, went out to work one morning and then heard an explosion. He ran back to find his house bombed. There was no trace of his wife, his mother, or his two other children. Five-year-old Mohammed was on floor, his legs mutilated. Ahmet says was haunted by this story for a month afterwards. He came to understand that the father survived because his child survived. For Abu Mohammed, there was hope: taking care of his disabled child was a reason to continue with his life. If his entire family had died, Abu Mohammed would have allowed himself to die, too. After that day, Ahmet says, he "stopped feeling like shit." He had lost a brother and three cousins, but he realized that he had lost nothing compared to others in this war. "This is the thing about the Syrian situation", he says. "It doesn't make you feel good, but it makes you feel stronger. If you lost a brother, someone else lost two brothers. If you lost two brothers, someone else lost their entire family. This is what makes us continue with our lives. I am so thankful and grateful that I still have something, when so many other people have nothing."
Ahmet is now 29; if the war hadn't happened, he would probably be practicing law in Syria. When he was growing up, he says, Syria felt completely stable. War seemed unimaginable. Everything unraveled so quickly. He feels that the war has made him stronger, and working to help other Syrians is a catharsis, the only thing that makes him feel happy. "The hardest thing in life," he says, "is not breaking up with your girlfriend or losing your money. It's seeing someone that you love get suddenly taken from in front of you when they're young, before it's their time, and you can't do anything to save them." Ahmet has keep his sense of humor, though he says his jokes have turned from "white" to "black." He desperately misses city life and playing football.
And he is kept awake by terrible nightmares.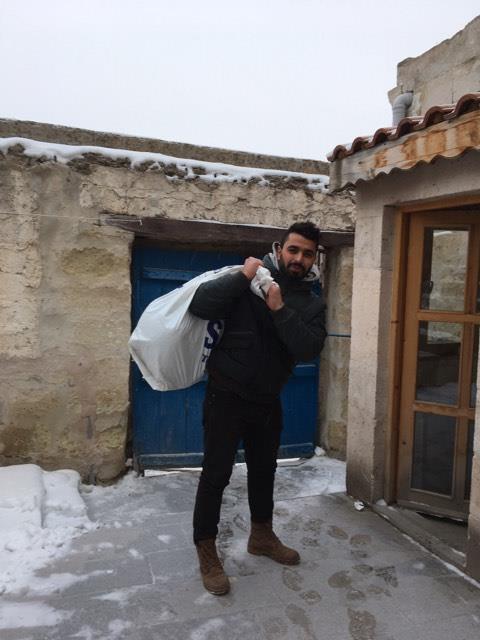 ————————–
You can follow OAK on Facebook and make a donation at:
https://www.paypal.me/OpenArmsinKayseri
https://openarmsinkayseri.charitycheckout.co.uk/
https://www.facebook.com/pg/OpenArmsinKayseri/
————————
Comments
comments