I need a dictation machine attached to my jaw as I run.
That way, I could just pant-talk my blog posts; I do a great deal of blogging in my head when I'm out for a run, but then I get home, and there's laundry to fold, the kitchen floor to sweep, plants to jam into the ground, Snow on the Mountain (cursed opportunist!) to weed, classes to prepare, and kid pick-ups to do. By the time I sit down, it's 9 p.m., and we're just about to have dinner and watch a show–
so I really do need that jaw-anchored dictation machine if I'm ever going to blog out as much stuff as I have swirling around in my noggin.
With Byron working steadily at the green house down the road during this busy gardening season, I'm "on" more than usual at home. Every night, I have a moment of, "Seriously? I'm making dinner again? Is this going to happen again tomorrow? Because I might need to start preparing mentally if this whole make-dinner-every-night thing is going to circle around again on me in 24 hours."
Then, once the dinner is done, there are all those dishes needing washing up.
Were I a singleton, I'd just toss a potato in the microwave and eat it directly out of the skin (Nature's plate). Every now and then, I'd cook, but it surely wouldn't be careful meals pre-planned on a daily basis. I'd live my personal credo of A Careful Dinner Cooked Twice a Month Is Once Too Often.
The truth is, in many ways I don't excel at being an adult. The tasks of daily life are like weights tied to the wings of the little happy fairies who flutter around inside my torso.
On the other hand, even though in my home life my 12-year-old has to tell me, with semi-tempered exasperation, "It's time to leave, or we'll be late," I'm a pretty consistently good adult when it comes to teaching. I mean, somebody's got to be the grown-up in the room, right? Especially when it's so often peppered with students fresh out of rehab? The sense of obligation to my students and the material has had me, in recent weeks, getting ready for summer session–starts today–and looking ahead to the SEVEN online sections I'll be teaching Fall semester. In particular, I'm fretting about the creation of a new class that I proposed and shepherded through the curriculum process this last year: Writing for Social Media. It was approved at all the various levels of approval, which means it's on the books and now on the schedule to be taught for the first time this upcoming Fall. The thing about a class like this is that it's focused around ever-changing, ever-emerging technologies, many of which I can presume my students will be more savvy with than I, the teacher. If I can't out-technology the students, I'll have to focus on the academic component of creating messages for Facebook, Twitter, and blogs–as in, we'll be doing some Aristotelian rhetorical analysis of people's updates. Usually, when it comes to structuring 17 weeks of study, an instructor can rely upon published textbooks as resources. However, with the case of social media, there really aren't textbooks that focus on how to craft effective messages in 140 characters or fewer or how to leave a comment that's not insultingly ridiculous pap. So far, my syllabus consists of the words "No LOL usages allowed, even if you have actually just LOL-ed, which I highly doubt you have, as so little on Facebook is actually amusing in an uncontrollable gut-bellowing fashion. If, in fact, your body is barking out a laugh, just do the damn laugh; don't type it."
Generally speaking, I find swearing in my syllabus to be an effective technique for establishing my credibility.
Anyhow, every time I have started to plan out the Writing for Social Media class, sans textbook, I quickly get so overwhelmed with the 900 bits I need to pull together and the googolplex of possible activities we might complete that my brain frantically scratches out a "Gone Fishin'" sign and tacks it onto the door of its hut.
Fortunately, after I had a few beers the other night, at about midnight, my brain decided it was time to yank down the sign and get back to work. In a happy explosion of My Inhibitions Are Lowered, So I Can Start to Peg Out a Semester Calendar, I began to build the scaffolding of the class…which now means I kind of have a plan, and kind of having that plan means I'm now tumbling through the domino effect of documents to write and links to embed. In short, I now have only about 887 bits that I need to pull together.
Which is, you know, why I need that running-jaw-dictaphone dealie. I also could use a stop-scrambling-your-metaphors sorter; for the low cost of only $19.99, I could get one of those and halt my nonsensical mixing of fishing and scaffolding and dominoes into the same paragraph.
In the absence of such helpful devices (good news, though: I phoned Melinda Gates, and she's going to ease into the running-talk machine idea with Bill over pot roast next Sunday and then work on him regarding the metaphor-unscrambler when they hit Fiji in July; he's more positive and responsive when his mouth is full of beef or his face is full of sun), consistently thoughtful blog posts may be a long time coming. But I do have a few quick updates that might be of interest:
1) For those who read these posts: "The Smell of Success…or Perhaps an Abundance of Broccoli" and "Drop the Damn Fork!"
As of yesterday, I'm 1.4 pounds away from "goal" with my "program" at Weight Watchers. Honestly, I haven't been following "program" at all–after the first few weeks, the drudgery of recording every bite and calculating the corresponding points proved too taxing for my non-adult self, and so I adopted a more straightforward policy of "Whatever you're eating, eat less of it than you want. Always be hungry. Then go get weighed in public by a stranger." It's worked well enough, even though I'm doing a good job of being unmotivated and sabotaging my better choices the closer I get to "goal." This "goal" is according to Weight Watchers' health guidelines for my height, and hitting it will mean I'll be within medically-dictated parameters for the first time since I was about 13. Interestingly, even though I've now lost almost 38 pounds, I don't feel different or thin (trust me, I'm not, as I'll be hitting the very highest number within the prescribed guidelines, so I still tote around a fair bit of heft); I still have all my lumps and bulges–now with a few new bits of sag here and there to break up the landscape, and I'm still just the me I've been all along. So there's a lesson: we are distinct from the sum of our pounds.
2) For those who read this post: "Of Tesbih and Testes: Then It Got Personal"
My beloved friend, Jessica, a woman who sustained our family during the year in Turkey, has had a big life change. After some more financial irregularities and uncountable debts and lying and fighting, her third Turkish husband, Kerem, ended up begging her to take out yet another loan to save his hide. At this point, he had closed his rent-a-car shop and had been unemployed for months. Jessica was teaching full time, giving private English lessons to multiple clients, and doing some translating for a company needing movie reviews–not to mention handling all of the household chores, raising the kids, and paying the bills from her income.
Suddenly, although it had been brewing for ages, the marriage was over. Jessica was fed up–done–and pushed Kerem into a corner where he had to accept divorce. She managed to get him to the court house and to agree to allowing her full-custody of their son (this, after several years of his threatening her with, "You'll come home one day, and the boy and I will be gone. You'll never find us"). The divorce took place with record-setting rapidity. For a little over a month now, Jessica has been free of the weight of that marriage; she's taken a job in Istanbul starting next year, so her income will be significantly higher, and she'll be closer to Kerem and his family (he has moved to Istanbul and lives with them), so they can see the boy child frequently. Jessica and I have Skyped and Facebooked, and I can tell you she's pretty blissed out right now. Also: she read my post about her marriages, and she read everyone's comments, and while she said that seeing everyone's opinions and judgments was very difficult, it was an eye-opening pain.
3) If you read this post: "If These Old Walls Could Speak"
The neighbors who have three relatively-untended children are
having a fourth.
Me am screamy on this issue but am trying to be kind to the existing children since it's not the kids I'm mad at. If you read the mom's blog, you'd think this pregnancy and her life were sponsored and packaged by Martha Stewart. However, as with Martha Stewart, there's an uneasy disconnect between the smartly-shot, soft-edged photos and an intuitive sense that this purveyor of lifestyle is not as fabulous a person as her flower arrangements imply.
Plus, as I noted in my original post, every story needs a villain, so I'm going to be quite willful in hanging onto her as a Black Hat.
4) For those of you who read this post: "That Solid Inward Comfort of Mind"
Our Girl has used the power of romanticizing memory to turn her experience with Discovery Girls into the highlight of her life, and I think that's great. The people were excellent, and the whole thing makes her feel special, even glamorous. I could have used some of that when I was 12. So she's glossed over her heart-wrenching disappointment from the first day–Ah, Glorious Memory!–and now texts and plays Words with Friends regularly with a few of the other Minnesota girls. They're planning a release party when their issue hits the stands in July. As a pre-July teaser, though, one of her "article" photos is being used in the current issue of the magazine (the one featuring the girls of Wisconsin). She's the non-glasses-wearing girl in the BFF photo below: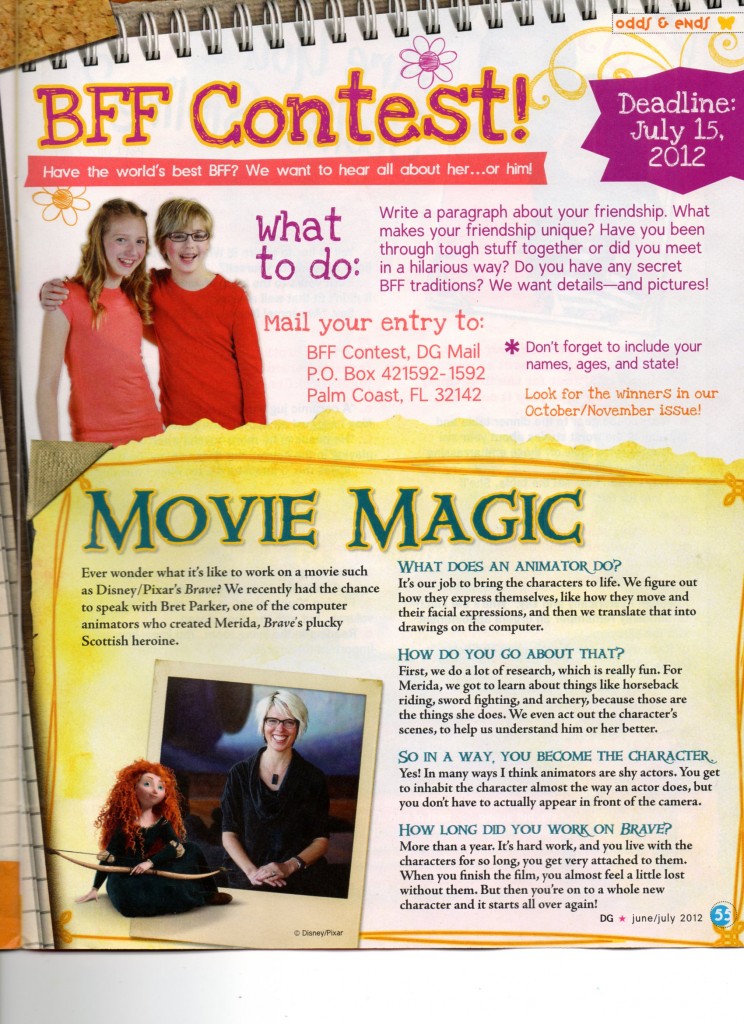 5) For those who read this post: "Gulp"
The hand-shaking "I read your blog" interview candidate got the job.
My groundbreaking series of "personify the body part" vagina posts will be put on hold for the foreseeable future.
6) Not only am I becoming a Very Big Girl by actually starting to use an RSS reader for the first time, I'm trying to get up to speed with a few other "time savers" that actually aid in eating up my hours. Thus, in my attempts to stay on top of at least a few of the newer, bigger apps and Internet technologies, I'm trying out Spotify today. Hell, if Bieber invested in it, it's got to be good. I live my life by asking myself, before every decision, "What would Bieber do?" Alternately, if the decision involves earrings, I ask myself, "What would Beyonce do?"
Anyhow, Spotify easily embeds music into blogs. The song embedded here features speed-metal-fiddle and is a ragingly-kickass song by the local Duluth music group known as Trampled by Turtles. It's on my running playlist (try to imagine foot strikes keeping up with the increasing beat). Byron has standing orders that if the YMCA ever calls to tell him they've got his unconscious wife there on a stretcher, the first words out of his mouth should be, "Look at her iPod. Is the song 'Wait So Long' by Trampled by Turtles playing? If so, that's the cause of her blackout. She was trying to keep up with the fiddler. I'll be right down, and I'll be bringing her a revitalizing Shamrock Shake, so worry not."
Wouldn't it be awesome if Spotify had a Dicate-While-You run app?
Comments
comments