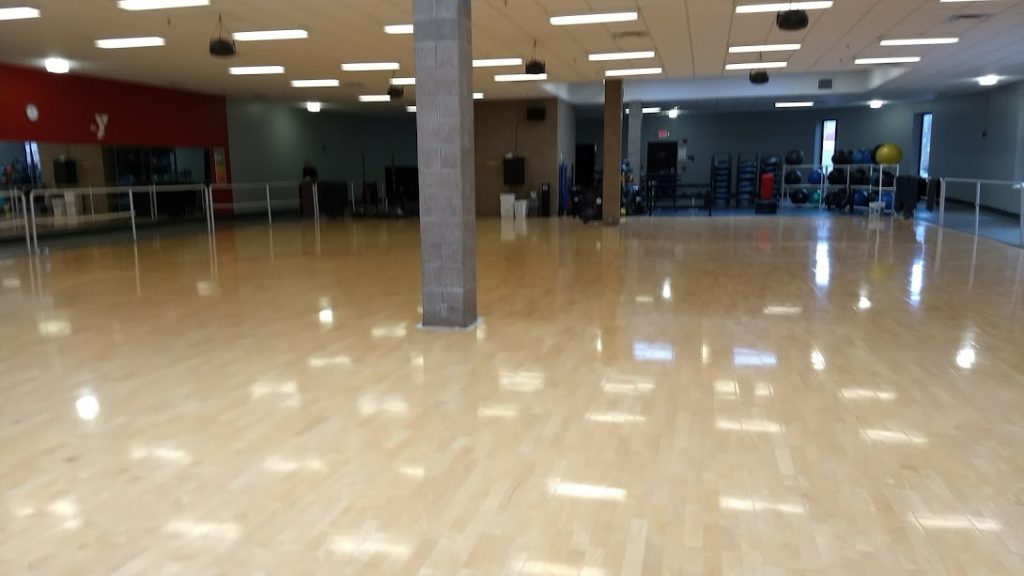 On the day Allegra and I eyeballed the various exercise stations filling the usually open expanse of the third floor of the Y, it had been months since I'd last attended the Boot Camp class.
Some of the stations looked familiar. Yup, I'd held the ends of the big ropes in my hands before and pounded them for the timed two minutes. Sure, I knew how to do walking lunges with a body bar on my back. Pushing weights across the floor while doing walking plank? Got it. Hate it, but got it.
However, as we reviewed the rest of challenges that had been set up to help us get sweaty, there were a few spots that were new to me, definitely new to Allegra. Looked like we'd be flipping a huge tire, doing some abs somehow related to the Core Pole, possibly carrying heavy weights around the track during a Farmer Walk. Before we had time to figure out the final new station — a line of blue Bosus — the teacher cranked the music and called everyone out onto the track for a skipping, jumping warm-up before we started tackling the stations.
Shrugging at each other, Allegra and I knew we'd figure out those Bosus when the time came; all we had to do was not start at that station and then watch the first few rounds of Bosu people to see what they did.
Except, well, each person did something different on the Bosus. Some jumped from Bosu to Bosu; others pulled out fancy footwork, a dizzying flurry of pounding and whacking. By the time we'd worked through a few stations and landed at the Bosus, we still had no idea how we should pass our two minutes of (hypothetical) high-intensity activity. Fortunately, the teacher was nearby, so I called out, "What are we supposed to be doing here exactly?"
Over her shoulder, as she went to adjust the music, she answered, "Hop up on a Bosu and run in place while you do Heinies!"
Heinies?
All right, then. As we each stepped onto a Bosu, I counseled Allegra, "This must be a glutes exercise; I think we're trying to work our quads as we whack our 'heinies' with our feet — or get as close as we can, anyhow."
For two minutes, we focused on balancing while doing Heinies, trying our best to kick our rear ends, all to the thumpthumpthump of the music.
Eventually, we'd worked through almost all the stations twice. It was only when I was balancing my feet on a big blue ball, pulling my legs in to do a move called a "jacknife," that I glanced over at the line of Bosus again. As I watched a sweaty guy working himself hard on top of the bouncy surface, I took stock of his movements. He wasn't very good at Heinies; he wasn't getting his feet anywhere near his derriere.
In fact, he was doing the whole move wrong, lifting his legs to ninety degrees in front of his body as he jumped. Yeah, he totally didn't get Heinies. Poor dude wasn't going to reap the benefits of his efforts with that kind of form!
All he was doing — silly sod — was running on the Bosu with
high knees.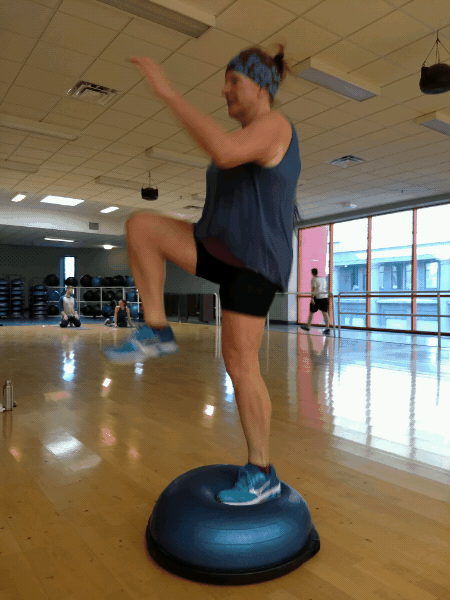 ---
Typing: 6 minutes + a big break to go take pictures of pack ice at the beach + 3 minutes + a break to make a pot of mint green tea + 12 minutes
Editing: As long as it took me to add more honey to the tea. Kinda bitter. Byron tells me it's because I steeped for ten minutes (too long for green tea) and used boiling water (no-no for green tea). Then he assured me he still liked it, but in my head I was wishing he'd go do a bunch of Heinies.
Comments
comments