Ridiculous, irrational frettings that keep me awake from 4:00-7:30 a.m. even after I went to bed at 2:00 a.m.:
1. The PR lady at the college thinks my name is Joyce, and I hate the name Joyce, and so maybe I should email her and tell her. Except I'm so overwrought due to lack of sleep that I shouldn't email anyone about anything because I'll be awful. But maybe I should email her. No. I should not. Except maybe —
2. The slow-motion slide of a scared rodent — mouse? mole? shrew? — down an icy hill at a ski meet loops endlessly on the screen of my close-eyed cinema. Kids had been skiing on that hill all day, so the snow was tamped hard and frozen. Byron and I were talking to a neighbor when someone called out "Oh, no. Look!" We turned to see a dark, furry form gliding our direction, hundreds of skis creating a maze of danger around it. Immediately, Byron grabbed my shoulders and rotated me to face the chalet, saying, "Don't look. Just don't look." It was heading towards us, and I hated it, but it must have been so scared, and was it going to get killed by some oblivious teen zipping through on slick wax? All I wanted was for it never to have existed in the first place; I didn't want it to get squished. Was it still coming towards us? Byron was watching. He would move me, if need be. The other mom and I uncomfortably continued our conversation, but the image of a heap of dark fur gliding slowly our direction was searing into my psyche, and at 4 a.m. I know if the mouse or rat or gopher ever reaches me, if the cinematic loop in my head ever extends by another ten frames, that terrified critter will hit my feet, scramble up my body, and crawl into my mouth, down my throat — oh, fuck, there it goes again in my mental cinema, the loop starting over, and here it comes, its uncontrolled slide the stuff of waking nightmares, and again it goes, and again and —
3. I have to get up in three hours and braid Allegra's hair before a cross-country meet, and will she have two hairbands ready if she wants two braids? Are we using her hairbrush or mine? Are we doing it in the bathroom or the kitchen? Will the braids bring her luck? How long now 'til the alarm goes —
4. I need to get overalls. Is Carhartt the best brand for overalls? How can I pack heavy work boots when I was hoping to travel light? I'm going to have to wear work boots through security in the airport because they are too clunky to pack, and I hate wearing time- and labor-intensive lace-up boots through TSA. Could I maybe just pack my Wellingtons and not take work boots? I mean, they said mud in the field is an issue, and Wellies are good for mud. But rubber boots take up a lot of space in a bag, too. Can I pack most of my clothes inside a pair of Wellingtons? 5:00 a.m. thought: CAN I FIT A HOODIE INSIDE A RUBBER BOOT? The farm where I'm doing a writer's residency sent a list of guidelines expected of residents; they include feeding goats, cleaning the chicken coop, siphoning the duck pond, and turning off the electric fence before cleaning up any detritus because the shock is strong, especially when water is present, and I had no idea I was paying hundreds of dollars for a plane ticket, a rental car, etc. so that I could assist with work projects requiring a chainsaw — because I didn't have to apply for this thing, and the info was linked through the application form. So how can I sleep now when I'm responsible for gathering eggs in a month? And why am I always so tra-la-la that I fail to look for the fine print? On the plus side, I now know the name of my autobiography will be a phrase lifted from the guidelines: Checking the Trough for Mildew. Even better, there's a donkey whose braying apparently works like a rooster's crow come dawn, so at least it'll feel like I'm living in Turkey again. But farm work. This all probably means there will be mice, right? Are the cats going to leave mouse carcasses everywhere? Why am I even doing this thing? It's going to be awesome, a real boondoggle, especially if I can fit a hoodie inside a Wellington. Can I add "baking goat treats" as a special skill on my CV? Why am I doing this so lucky I get to do this —
5.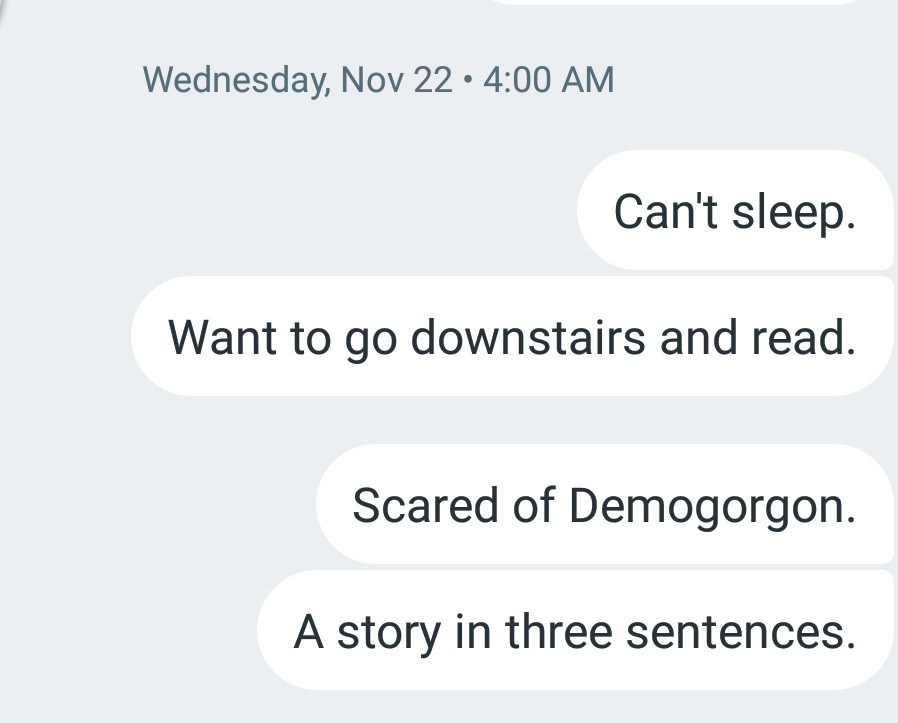 ---
Typing: took some time
Editing: negligible
Comments
comments