Woodworking. Jewelry making. Embroidery. Felting. Pottery. Knitting. Gardening.
I am fascinated by handiwork, as art, as personal pursuit, and as cultural artifact. Just as much, I am fascinated by the psychological benefits of creating something with the hands. Certainly, there's pride that comes from making something beautiful. There's learning that comes from the challenge. Science even tells us that
making things with our hands can help counter depression
. Indeed, as the article "DIY Therapy: How Handiwork Can Treat Depression" reports:
… multigenerational surveys have shown that people born later in the 20th century, after the dawn of modern conveniences, suffer more bouts of depression than those born before World War II. Studies have also found low rates of depression among members of Old Order Amish communities — one-fifth to one-tenth those of the general population … the Amish, who sew their own clothes, tap their own syrup, and drive handheld plows through dry furrows, could be getting a serious neurobiological lift from all of their effort.
I can corroborate this theory anecdotally. When I started teaching college students 24 years ago, the biggest problems they brought to class were hard-won hangovers. Nowadays, though, in these times of tablets, smartphones, and online socializing, at least a third of every class suffers from anxiety, depression, or both. Tied in to these issues is often a resulting problem with addiction. Again massively anecdotally, I'd say less than three percent of my students make things with their hands. Even those who are into Pinterest are more about looking at the pictures than completing the crafts.
Mind you, I'm not drawing a clean line between lack of handiwork and troubled mental state. Of course, of course, of course, depression and anxiety have myriad causes. It is, however, interesting to contemplate the therapeutic benefits of creating with one's hands. Just ask the next occupational therapist you run into.
Personally, I don't necessarily have a handicraft-based hobby outside of baking and gardening (and including these might push the strictest definition of handiwork). In previous decades, I would make some of my own clothes–badly and inexpertly–and I also went through a few spates of cross-stitching. What I find therapeutic are writing, hacking away at the piano, reading, and jigsaw puzzling. Perhaps each of these, in its own way, is a kind of handiwork.
So I'm in a mulling kind of mood, when it comes to the activities we pick up for three minutes here, a half hour there. My mulling comes partially from living in a house with a guy who occupies his spare minutes like this: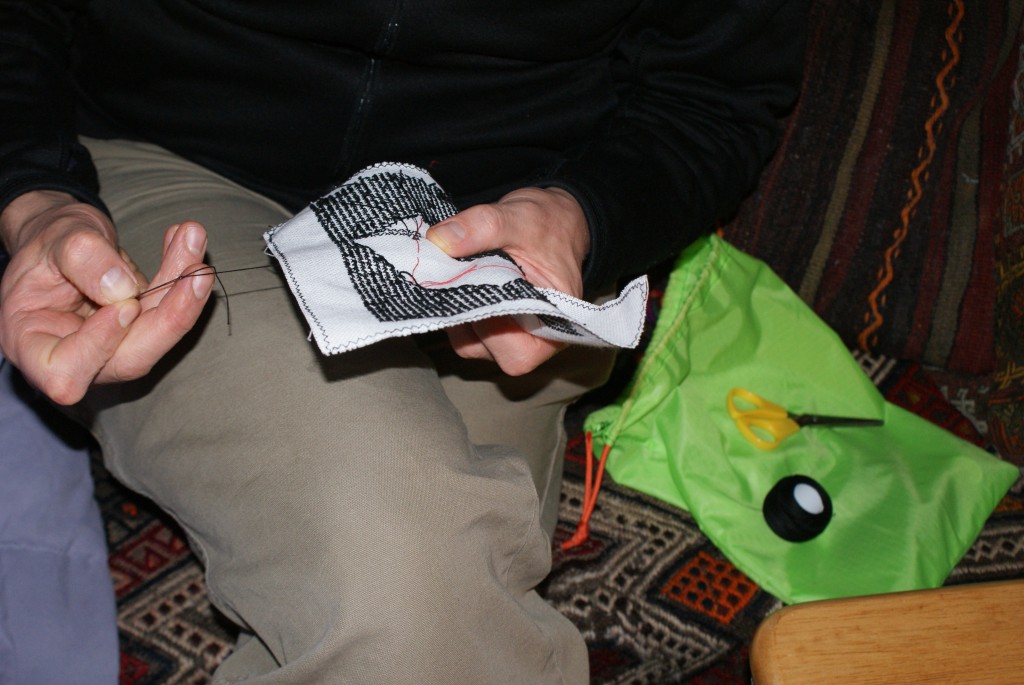 Figuring out embroidery as an extension of his drawing has absorbed Byron's attention these past few months. When he draws, he is all about black ink on white paper–and lines.
Now he's seeing how he can translate black and white lines to a textile, and he's having ever so much fun with it, particularly because he can stitch in the car, in front of the tv, while hanging out on the bed–places where an open bottle of ink and super-fine-motor control aren't always possible. You can check out some of his blackwork embroidery on his blog, Laying Fallow, by clicking on this: Lake Superior Blackwork Series.
Part of my mulling, when it comes to what this handiwork is doing for Byron, focuses on the intersection of gender and hobby. Traditionally, when males work with their hands, tools like saws, hammers, and blowtorches are involved. The kind of handiwork Byron's engaged in has generally been the purview of women.
Relatedly, I've always said Byron's the closest thing to a woman But With Male Private Bits that I could find. Had I frequented more transgender night clubs, though, I could've ended up with a version of Byron who brought dresses to the marriage, and what a bonus that would have been. Maybe next time.
I like watching a man embroider, the same way I like watching a woman (not me) open the hood of a car with an eye towards fiddling with the carburetor. In essence, I like it when people find what they like to do and then do it.
Underlying my musings about gender and making things with our hands are thoughts of those who came before me and how their handiwork is a powerful legacy. Because I am a woman, I tend to look back at the women in my family and consider what they made and why they made it. My brain tries to weave my greats- and grandmothers and aunts and mother into the larger fabric of women throughout history who moved from making purely functional things into making functional things of beauty…and then into making non-functional things of beauty. My brain conjures up images of straight-backed wooden chairs, fire light, and tiny silver needles flashing up and down. My brain floats to contemporary times, and I recall my aunt Geri, an accomplished seamstress, teaching my children how to sew themselves pairs of denim shorts. I think about how Geri knits mittens for the poor every year; how she blows young girls' minds with the gorgeous dresses she makes for their Barbies; how she sewed the wool vest that Byron wore when we married; how she has sewed, knitted, crocheted, cross-stitched, embroidered, tatted, quilted and amassed huge stashes of material all throughout her life.
And then I think about Geri's sister, my mother, and how she, too, has provided me with an example of what a seamstress, knitter, crocheter, cross-stitcher, embroiderer, tatter, quilter, and fabric collector looks like.
When I think of these women who came before me, who practice their arts still, I am not only full of admiration; I am also full of wonder. I wonder at the energy, the hours, the thought that go into every piece. I wonder, awe-struck, at how they continue to grow as artists because they try one thing–nope, didn't work–so the next time they try a different thing, thus refining their talents over decades.
I wonder if their handmade creations have provided therapy during the tough times. I wonder if their projects are, in some ways, their most steady friends. I wonder if my mother knows how much I love the quilts she's made. She can read and hear a "thank you." But I wonder if those words can convey how much I treasure her stitches.
Perhaps the words in my next blog post will deepen the thank you–because next I want to write about a couple of her quilts. Stay tuned, chums.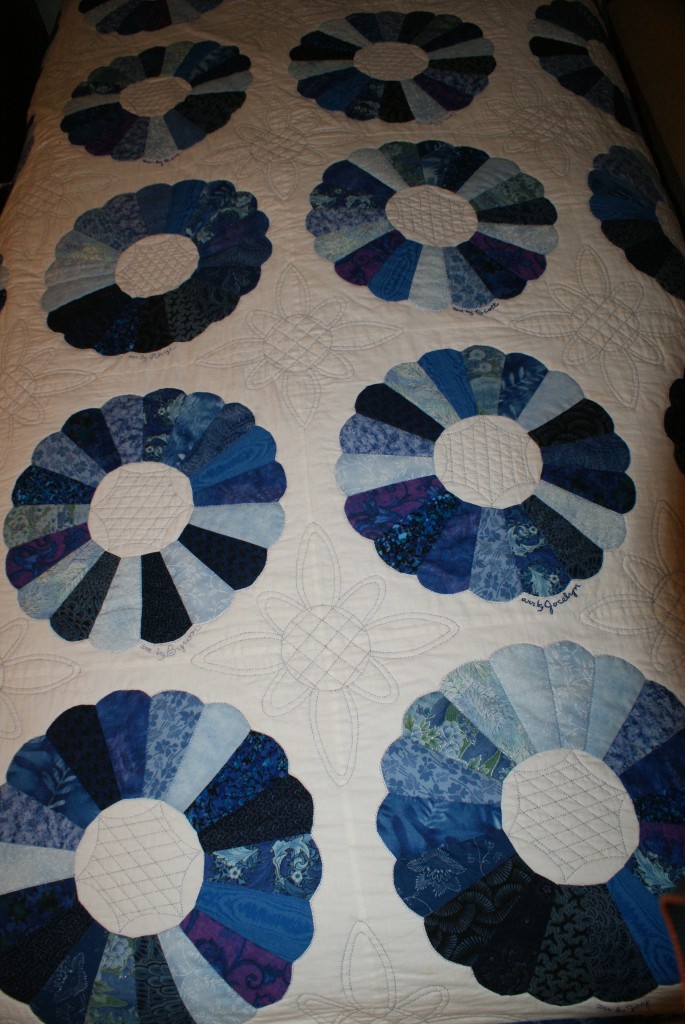 Comments
comments