This Little Red Hen has spent a great deal of the past year with her beak tipped to the clouds, anxiously clucking "The sky is falling!"
I could detail the challenges of 2016, but we all know what happened. For some people, it actually wasn't that tough of a year. Their presidential candidate won the electoral vote; their pretty lives still feel pretty; their heroes didn't die. They watch their shows on cable, eat some take-out, shoot some cans off a fence post.
However, for the people whose voices fill my ears most frequently, 2016 was devastating. Gutting. Wrenching. A betrayal of fundamentals. For us, the candidate who won the electoral vote is a horrifying example of everything except narcissism and late-night Twitter insanity. At those, he excels. My head nodded hard when I read the words of Thessaly La Force, editor-in-chief at Garage, when she noted of Donald Trump: "Given how he's stacked the administration with men whose careers have never reflected the kind of world I want to live in nor the one that I want for the generations who will follow me — I don't have much hope at the moment." This is not a liberal snowflake's whining complaint. Progressives weren't thrilled with Reagan or the Bushes, either, but the reservations there were purely political; with Trump, it's different. With Trump, the objections are moral, mental, social, ethical. With Trump, there is a sense of foreboding. With Trump, we will have a petulant toddler — his dyed melon peeping over the top of the wheel — steering the ship.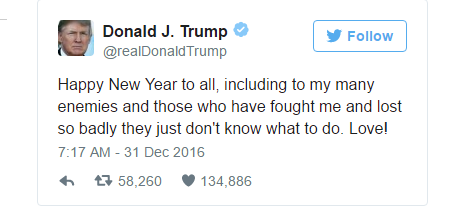 For us, many of whom also enjoy pretty lives and a greasy box of take-out lo mein, the continuing disparity between our random luck and others' lack of it is crushing. We see the news about Syria and think not, "It's their business; keep it over there" but, rather, "Those poor people, being strangled by the tentacles of an epic tragedy. Can anything be done? What can be done?"
For many of us, indeed, 2016 felt like a series of punches to the ribs — with the deaths of Bowie, Prince, Alan Rickman, Dan Haggerty (Grizzly Adams, anyone?), Phife Dawg, Pat Harrington (Schneider!), Garry Shandling, Patty Duke, Muhammad Ali, Elie Wiesel, Garry Marshall, Gene Wilder, Janet Reno, Leonard Cohen, Gwen Ifill, Sharon Jones, Florence Henderson, Fidel Castro, Ron Glass, Zsa Zsa Gabor, George Michael, Ricky Harris, Richard Adams, George Michael, Carrie Fisher and Debbie Reynolds. As the hilarious and zesty Elizabeth Hamilton-Argyropoulos summed up:

It's a wonder this Little Red Hen didn't drown in the rain, so frequently was her beak turned upwards, her mournful cluck echoing through the birches.
But I didn't drown this year, and the sky is still affixed above my head — for, as much as it taxed, 2016 also rewarded. Always, always, always, there is good. In the small moments, away from the news and the clamor of online distress, I found joy and escape; I found intelligence and laughter; I connected, expanded, learned, and played. Here, then, are a few highlights and recommendations:
Books: Goodreads tells me I read something like 60 books in 2016, and when I consider that I also read the work of 12 sections of writing-based classes (25-35 students in each section, usually writing 6 papers each, most of which can be revised and resubmitted, along with daily and weekly smaller assignments) and that my bifocals, no matter how much the doc ups my prescription, always leave the words blurry and my eyes squinty, I am impressed with myself. In a few days, I will be having LASIK eye surgery (I'M SO SCARED, BUT THEY SAY THEY WILL GIVE ME A HAPPY PILL, AND I'VE NEVER TAKEN A HAPPY PILL BEFORE, SO MAYBE IT WILL HIT ME HARD, AND I'LL CHUCKLE QUIETLY AS THE LASER CUTS MY EYEBALL OPEN); to be honest, I love the accessory of glasses frames, and I don't particularly love my looks without them, but, as my pal Ellen has been known to say, "Sometimes my face gets tired of glasses." And sometimes — lots of times — I'd like to be able to see when I wake up, see when it's cold or rainy and I'm outside, see clearly and not through smudges and scratches. Since I'll need cheaters for reading, and since I read about half of the hours of my life, I'll just enjoy frames on my face that way. Anyhow, as I was saying, I read some books this year. Some of them were overrated (Sweetbitter and The Girls, I'm lookin' at you), some were not worth the time (The Mountain Story made me shouty), some were intriguing but uneven (We Love You, Charlie Freeman), but many of them were glory.
Loitering: New & Collected Essays by Charles D'Ambrosio — I do appreciate a writer who uses all the words available to him, and D'Ambrosio's vocabulary is rich. But that's not why I love his writing. Dude is smart and honest and teaches at the Iowa Writer's Workshop for a reason. There is no easy slapping of words on the page with him. He's a craftsman. Here's an interview with him from The New Yorker: "Instead of Sobbing, You Write Sentences."
Paradise Lodge by Nina Stibbe — This charming novel works as a stand-alone, but it is the sequel to Stibbe's earlier Man at the Helm (equally charming). In her latest, Stibbe continues the story of 15-year-old Lizzie as she takes a job at a home for senior citizens. I do enjoy a wild cast of characters, their appeal hinging on their myriad flaws.
A Gentleman in Moscow by Amor Towles — This was probably my most-satisfying read of the year. Due to the strife in public discourse, I have been leaning more easily into writing that is "sweet," and there's something perfectly, not sappily, sweet about this story of a Bolshevik-era Russian count sentenced to live out his days inside a hotel. From first to last pages, this novel provided everything I wanted.
Homegoing by Yaa Gyasi — Many people still don't understand what's being discussed when the word "racism" is used. The discussion is not about you, the individual, avowing you take each person as he/she comes, no matter the skin color. Rather, the discussion is about deeply ingrained systems that make success in life easier for people if they are white. Go to any institution in the United States — yeah, we have the portraits of presidents to gaze upon, but also look back at the faces of all the presidents of the college you attended, the heads of the bank you put your money into, the CEOs of the major corporations you patronize. Take a minute to scan the photos of their faces. 97% of those faces will be white and male. That's racism; that's privilege; that's the heart of the discussion: what needs to change so that everyone has an equal shake at success? To get our heads around racism, it's necessary to look beyond current realities and consider how they came into being. Okay, so black men kill each other at incredibly high rates. Violence in many communities of color decimates the lives of inhabitants. WHY IS THAT? Read Homegoing, an easy-to-absorb generational tracking of two African women (one of whom is sold into slavery and one of whom is not) and their descendants. Connect the dots. The injustices of the past have lasting resonance.
Trouble Boys: The True Story of The Replacements by Bob Mehr — Too often, rock journalism seems promising, but then, not halfway through, I lose interest. This empathetic dissection of one of my favorite groups, in particular the dark difficulty of lead singer Paul Westerberg, kept me invested 'til the end.
The Folded Clock by Heidi Julavits — This book is a series of diary entries written by a woman in her forties, most dealing with kids and aging and relationships. Even better is that the entries aren't presented in chronological order, a conceit which creates more depth and sense of a real life than strictly arranged daily entries, one after another, would. More than anything, I loved Julavits' voice.
The Habit of Being: Letters of Flannery O'Connor — I respond well to intelligence and an original point of view. Even better if a person has a passion for peahens.
Grief is the Thing with Feathers by Max Porter — This is an uncommon book. I would love to have been in the room, or in conversation with, author Max Porter as he came up with his ideas. Whoa.
***
Podcasts: If I could keep only one form of media in my life, it would be podcasts. They unearth overlooked individuals, create new methods of storytelling, and provide superior company. While I listen to quite a few different podcasts, I vigorously recommend the one that made my (and Byron's) year. Please, if you aren't one to take pride in the refinement of your tastes (and if you are, sit up straight; you're slumping), consider listening to both seasons of My Dad Wrote a Porno. The title tells you what it is. No surprises. In each episode, the son reads aloud the erotic novels his father has written, and he and two delightfully witty friends react in real time. It helps that they're British because clever. While listening to the episodes of this podcast, Byron and I both startled strangers with our guffaws. I almost broke the toes on my left foot when I dropped a 20-pound weight at the gym, due to an unexpected hoot. Broken toes would have been worth it. This podcast is everything.
For those who aren't enthusiastic about listening to ridiculous porn as its idiocies are laid open, I would recommend Gimlet Media's Heavyweight. In each episode, quirky host Jonathan Goldstein helps people redress moments in their personal histories that remain unresolved. In the first episode, Goldstein reconnects his 80-year-old father with his long-estranged 85-year-old uncle; in another story, Goldstein helps his half-jerk of a friend, Gregor, come to peace with the loss of a set of CDs he loaned to musician Moby a few decades ago. I quite like whimsy and difficult characters and uncomfortable moments, so this podcast is a huge find.
***
Lipsticks: He was about thirty, his beard admirably filled out. The name tag on his smock read "Nathaniel." My credit card had gone through, he was waiting for my receipt to print, and I could tell he was fighting an impulse. Two times, he opened his mouth, only to close it through an act of will. Finally, he gave over. "Um, I don't mean to sound weird or anything, but I want to tell you" — gesturing in a big circle around my face and torso — "what you're doing with color is awesome. I mean, the lipstick is just great, but then there's your coat and your purse, and it's all so fun. I really like all the color."
Unfortunately, workers in the drugstore aren't allowed to accept tips. All I could do in return was thank him, tell him that I was on a blew-in-on-a-hot-wind lipstick kick, and, yes, as far as my coat and bag were concerned, I always had been a fan of saturated jewel tones and the color chartreuse.
"Well, I wasn't sure if I should say anything because I didn't want to be weird, but then I realized if I didn't say anything, then how would you know?" he summarized, sliding the bag with my purchases across the counter.
My lipstick was purple that day, a bold color that catches some folks off guard, delights others, and makes me feel like I'm skipping down the sidewalk holding hands with a special friend. In recent weeks, I've upped my number of friends from the Liquid Suede line of lipsticks put out by Nyx cosmetics, and every day of late, my smile has stretched ear to ear as I play with bright, wild, unusual, goofy colors.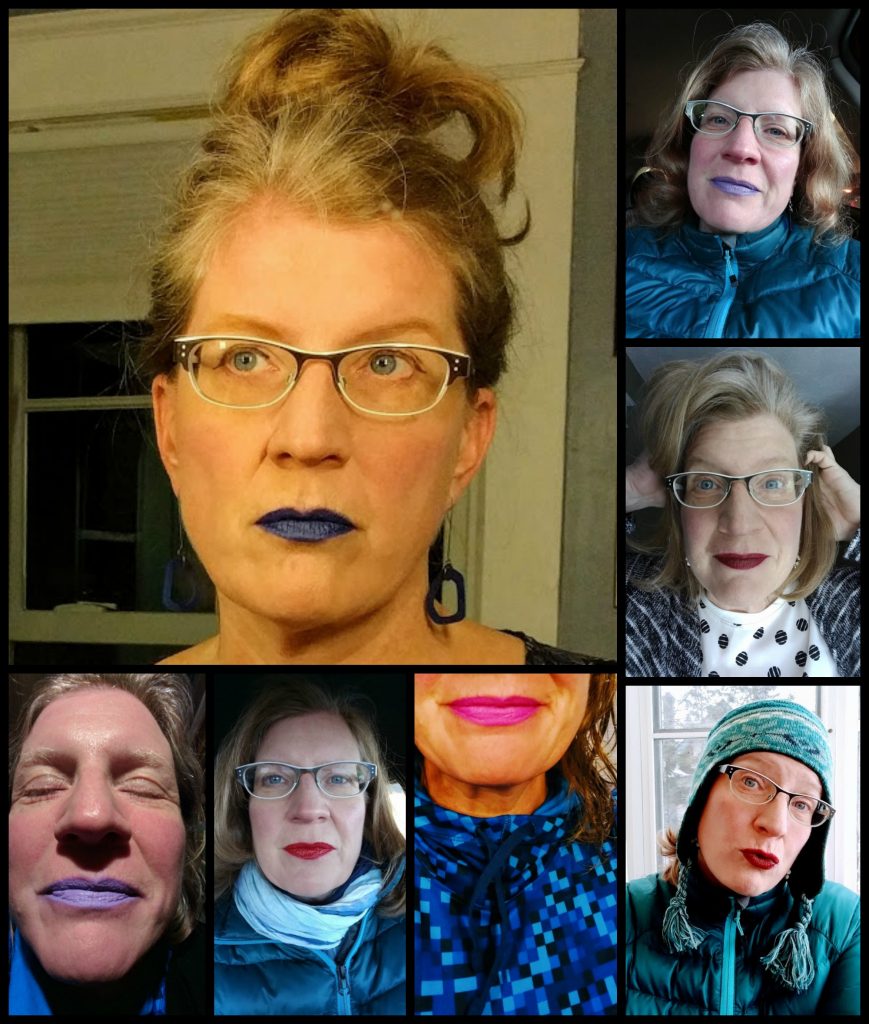 ***
Television and Movies: I group these together because the best movies being made these days are television series. Certainly, I went to some movies this past year, but most of them were major franchise movies that I saw because I love my boy and (sub-plot) I love a huge, refillable vat of popcorn. So in terms of movies, I can say this:
I am enamored of Dr. Strange's cloak and can't believe how epically online shopping options, including Etsy, failed me in my quest to buy a decent one for myselfIMEANMYSON, for under, ummm, $250;
Kubo and the Two Strings was gorgeously rendered;
It took me by surprise, the way my eyes filled with tears and my heart did a slow rrrrrrrrriiiiiipppp during the last moment of Rogue One;
Oh, and although Paco didn't watch it with me, I found a perfect kind of joy in Sing Street, for its rich callback to the '80s, its hero whose interest didn't come from a crisis of confidence, and its purely upbeat vibe of hope.
More frequent in my life is the watching of tv series on Netflix, Hulu, and Amazon. ALL HAIL THE ERA OF STREAMING. I was wowed by a lot of shows this past year — from Jessica Jones to Daredevil to Bojack Horseman to The Unbreakable Kimmy Schmidt to Making a Murderer. Particular stand-outs were:
Catastrophe: This British comedy following a couple figuring themselves out after a surprise pregnancy makes my every hair curl in the swirl and whirl of a happy girl.
Fleabag: Can a show be perfection? This one was for me. Six episodes and only six episodes, adapted from an award-winning play, this show is raunchy and honest and flays the heart.
Chewing Gum: When a 24-year-old whose family is strongly evangelical decides it's time to lose her virginity, that quest is worth watching. The star, Michaela Coel, is a gifted comedienne, reminding me of a couple other women with an ability to win an audience through bumbling earnestness: Lucy and Carol Burnett.
The Crown: Because Byron and I watch shows together, yet he gets tired at night while I do not, sometimes I look for a program that I know will appeal to me more than to him. This show's lush, detailed, intimate depiction of England's royal family is currently my most-delicious late-night snack.
Crazy Ex-Girlfriend: This show is even better than its summary promises — it's so much more than the story of a sad woman who uproots herself from a successful career in NYC and moves to the random suburb of West Covina, California, in the hopes of winning back her teenage summer camp boyfriend. Despite that premise, the women in this show avoid most of the common tropes (Yay! They talk to each other; they are smart; they like each other — as creator Rachel Bloom explains, "I wanted to invite women in"). Even better, the show is a musical: every episode features songs that leave me snorting. For example, the song about protagonist's big breasts made me limp. Listen to the lyrics, guys:
***
Music: There were some great albums released in 2016, some of which will remain on permanent rotation in my playlists.
A Tribe Called Quest's We Got It from Here . . . ; Thank You for Your Service

Solange's A Seat at the Table

Childish Gambino's Awaken, My Love!

***
Thinking: Yes, yes, yes to this: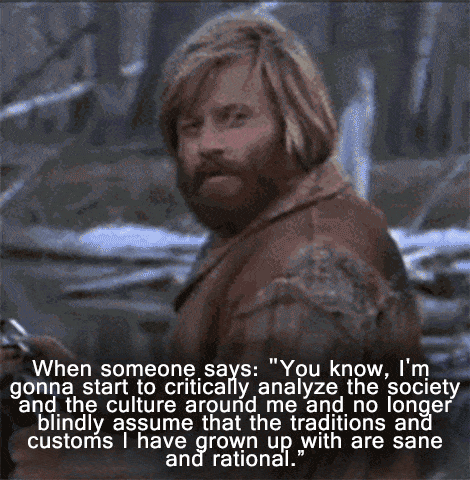 Example: if you strongly feel that the protesters at Standing Rock are noble and just in taking a stand . . . and that Native Americans' rights have been trampled for hundreds of years . . . how can you celebrate Thanksgiving — that artfully crafted tribute to Native American and white colonialist collaboration — with truth in your heart?
It's okay for us to question what we do and have always done. Inspection often proves we creatures of ritual don't make much sense. Analyzing the disconnects between what we're doing and why we're doing it is an excellent critical thinking exercise. It could, just could, lead to change.
Wow. That blowhardy last paragraph is a clear indication I'm revving up for another semester of teaching. Anyhow, my dudes: thinking. It's recommended.
***
Shoes: I have a decades-long emotional relationship with hoof covers, but each passing year has confirmed we get what we pay for with shoes. Whereas, when I was a teen, there was nothing more exciting than a cheap pair of flats bought for $9.99 at Payless, I've discovered in the subsequent decades that quality is worth the price.
In fact, let's file that as the true lesson of this final sub-heading. Say it out loud. Internalize it. It's a tough lesson, particularly because there are exceptions, but I would ask you all now to jot down in your journals of Jocelyn Wisdoms these words: "Quality is worth the price." This is true with shoes, foundation garments, food, and life partners (Byron cost me a cool seven trillion).
Recently, I got a new pair of spendy shoes, thanks to two of my best friends, Virginia and Kirsten. Virginia has been writing a book about one of her former pets, Lurch — a hunchbacked, club-footed cockatiel — and she asked for my help with editing and revisions. As payment for my time, she offered me money or shoes.
DUH.
Shoes.
So one weekend, Kirsten took me to the Fluevog store in Minneapolis while Virginia remained in our hotel room, writing a new chapter of the book. Even weeks later, I am giddy that a new pair of clompers came home with me. There is no rational reason for the joy I get from these shoes, the same way getting excited about lipstick is frivolous and, oh yes, shallow. Trust me: I can see a frantic energy behind my devotion to fripperies; I can see it's a way of deflecting feelings of worry and fear; I can admit a certain amount of my excitement about platform boots named Gear is actually a desperate counter-reaction to the grimness of the public landscape — dancing as fast as I can and all.
Then again.
When I stomp around in my new boots, I think of Virginia. I think of Kirsten. I think of friends and love. Hell, I put those things on, and I actually smile while doing housework.
They make me feel powerful.
They make me feel
— like I can kick 2017's ass.
---
Comments
comments