This post is the first in a series of four guest essays written by my friend Diane, whom I met during our year in Turkey:
First, a bit about me. I was born in Boston and spent my teenage years wrestling with an urge to escape from the suburbs and get out into the world. For almost 20 years, I've taught linguistics at the University of Leeds in England. In 2004, I took a career break to go backpacking and met a Turkish man. We got married, had two children, and then the marriage came to an end. Along the way I learned to speak basic Turkish and met a collection of friends, both Turkish and foreign, who are still an important part of my life. I love Turkey and go there once or twice a year so that the children can spend time with their father and his family in their village. Some of my friends there are now involved in the efforts to help the Syrian refugees living in Turkey. There are an estimated 3 million Syrians in Turkey (probably more, since many are still undocumented). Only about 10% live in the UN-funded refugee camps near the Syrian border. The rest are distributed throughout Turkey. They're not entitled to any housing or financial support directly from the Turkish government but can get support from charities and NGOs working in the country. Most Syrian adults speak little or no Turkish, and a lot of their children aren't enrolled in schools. This year I spent my Christmas vacation talking to people who are running projects to help the refugees. I wanted to tell their stories, the stories about what happens after the newspaper headlines die down, the stories about lives passed in years of limbo, waiting to go home or to feel at home in a place that is not home.
________________
While visiting Turkey April 2016, I heard about a grassroots charity called Open Arms in Kayseri (OAK) set up to work with refugees. A sprawling, industrial city a few hours' drive roughly due north of the Syrian border, Kayseri has been a magnet for Syrian families for several years. Some friends and I arranged to visit OAK's new premises in the Danisment neighborhood, where a community of Syrians has sprung up. We filled a van with food and household provisions and set off for the center.
OAK's director, Narjice Basaran, greeted us at the door. I have never met anyone quite like Narjice. A British-Iraqi consultant from North London who married a Turk, Narjice is a whirlwind of energy in her fashionable headscarf, talking a mile a minute, zig-zagging around Kayseri while taking calls in English and Arabic. She started food deliveries to around 10 Christian and Muslim families in Kayseri in 2012 after meeting Iraqi and Syrian refugees who had settled there. As the war intensified and more and more Syrian families turned up in the city with no housing, food or medical care, Narjice dedicated more of her time to OAK. She joined forces with Nilgun, a soft-spoken Canadian accountant who gave up a lucrative salary to work with her. OAK now has about 150 families on its register, and more arrive every week.
After a huge bureaucratic struggle, OAK was able to legally acquire a 3-story house and was registered as a charity in May 2016. The center is a distribution point for food and clothes, and children's groups staffed by volunteers meet there for play, crafts and language classes. Narjice showed us the basement full of racks of donated clothes, the ground floor level with children's activity rooms and a kitchen, and the upper floor, set aside for women. The center is bright, warm, and welcoming. The aim, Narjice explained, is not charity but social enterprise: OAK provides a safe space where women can learn knitting, crochet and beadwork and then use their skills to generate an income for their families. OAK wants to help Syrian families become self-sufficient, to help themselves instead of taking handouts.
Schooling, specifically integrating Syrian kids into Turkish schools, is a big priority. OAK volunteers provide Turkish language classes to prepare them for entry, and school attendance is a requirement for registration at the center. All of the children from all 150 OAK families go to school. As is the case in a lot of towns in Turkey where Syrians have settled, the local schools in Kayseri have come up with creative ways to handle the influx of extra children: from second grade to high school, the school splits into two sessions, running classes for Turks in the mornings and Syrians in the afternoon. OAK also invites local Turkish children to the center to help with the integration process.
Listening to Narjice, I was in awe of her passion and dynamism, and she and Nilgun quickly became personal heroes of mine. They're not people who read about the refugee crisis in the newspaper while wringing their hands and wishing they could do more to help, like I do most of the time. Narjice and Nilgun simply put in the work to do what is needed, often at the expense of sleep and time with their families, and by all accounts, OAK is a huge success. But the obstacles are huge, and both women are starting to feel exhausted. While dozens of "humanitarian" NGOs in Turkey are creaming off aid money to pad salaries and find ever more creative ways of embezzling funds, Narjice and Nilgun don't get a salary or even enough money cover their expenses; they work very long hours for free, and their money and energy are starting to run out. They need more full-time staff to help them cope with the expanding scale of the project. Last year Narjice worked for OAK full time for nine months without taking any paid work, so she recently went back to London to recoup her losses and continue to fundraise for the families. The center has a grant from Concern Worldwide to pay for the Turkish classes, but the red tape is overwhelming.
Most irksome for Narjice and Nilgun is the bureaucracy and administration they face. Despite being a licensed charity, as Narjice explains it, the Turkish system has no room for an organization which is neither charity nor business, but social enterprise helping generate an income for the families through their own work. Having grown up in vibrant, multicultural London and being British Iraqi, she sees the roots of the problem in Turkish attitudes toward outsiders. Turkey's century-long suspicion of foreign powers and intense focus on ethnic, linguistic and religious national "unity" seems to have damaged its ability to deal with diversity and this massive influx within its borders. The three million Syrians in the country are now suffering from this legacy, and it can be a struggle to help them integrate.
On the day we visited OAK, two of our group stayed in the center to do a movie project with a group of children. Léonie, a French art therapist who works with children with special needs and trauma, worked with Ahmet, a Syrian, to help them write a screenplay, make play-doh animals and create sets for their movie. She uses art to try to give the kids a voice, and give them a chance to tell their story.They were soon completely engrossed in the project.
While the children were making their film, the rest of us went to distribute food and clothes in the van. Narjice had heard about a family of recent arrivals living in a run-down neighborhood in another part of the city, so we joined her while she did her assessment of needs. The family lived in a tiny concrete house with a small dirt yard. About a dozen children flocked around us as we got out of the van. They ranged in age from about 3 to 8, and it wasn't clear how they were related to each other. Some were barefoot, and they eagerly snapped up the lollipops we brought for them.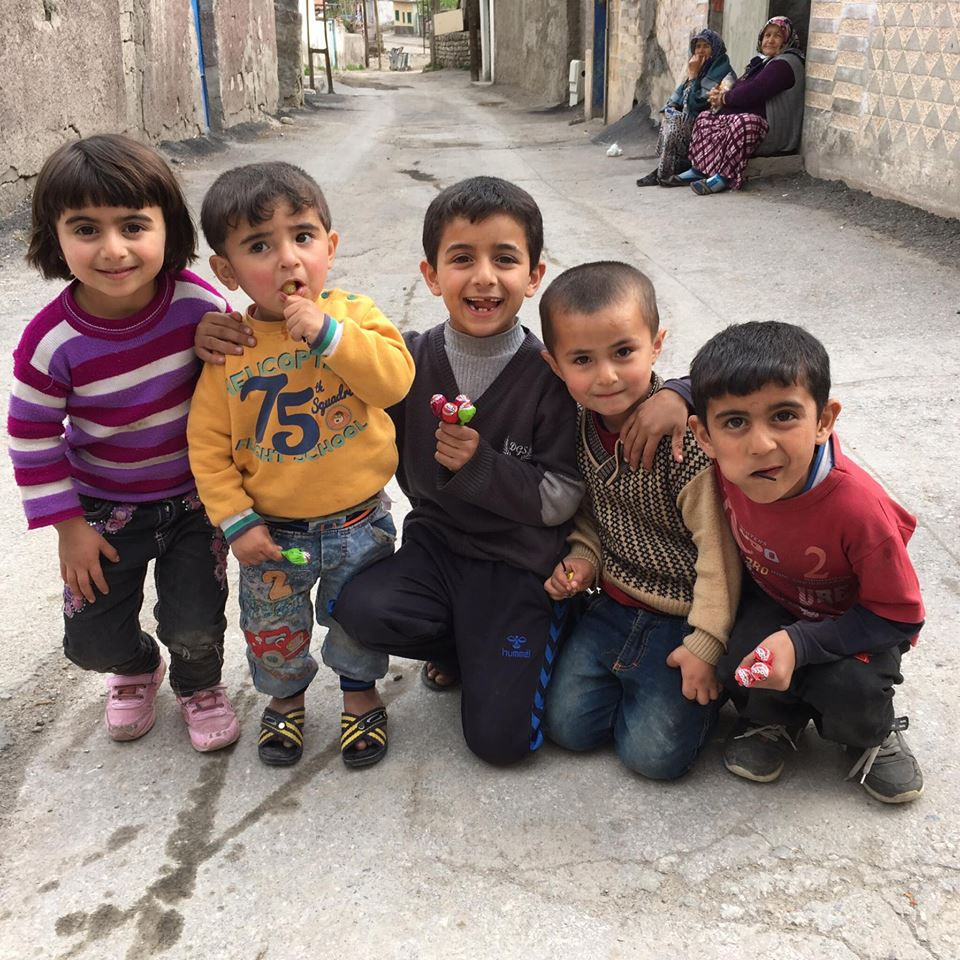 Inside the house, six or seven men and women wearing drab clothes sat on foam cushions on the floor. One of the women was severely disabled and lay on the floor on a filthy mattress. As I looked around the house, I wondered how the family had managed to get her this far out of Syria. Another bare room was a makeshift bedroom with half dozen foam mats on the floor. The kitchen of the house was grim, bare concrete, with a sink and a single cooking hob but no other furniture. A few dishes were stacked on the floor, but I couldn't see any food.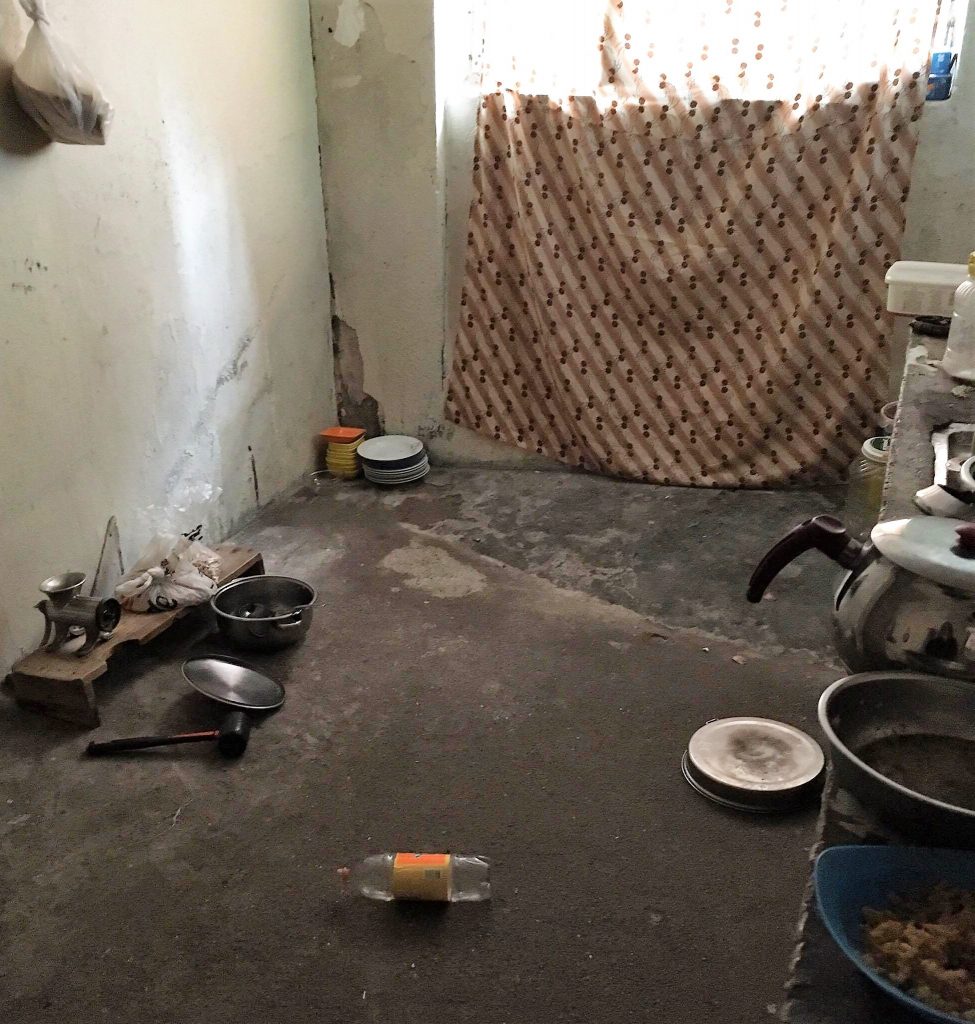 Narjice spoke to them in Arabic, gathering as much information as she could about their circumstances. A man arrived waving a piece of paper, and the room erupted. He had just come back from the hospital with test results confirming that he and his wife both had Hepatitis B and would need treatment. The rest of the household, including all the children, would have to be tested too. We went back out to the van and handed out second-hand clothes from a huge bag, trying to be discreet to avoid stoking tensions with the Turkish residents of the slum neighborhood. More kids emerged from the surrounding houses, pulling faces for photos and asking for more candy. They had no toys and only the streets to play in, so the arrival of foreigners with lollipops was the most exciting thing to happen to them in a long time. Narjice went back later to help with medical care and deliver food, housewares and other supplies.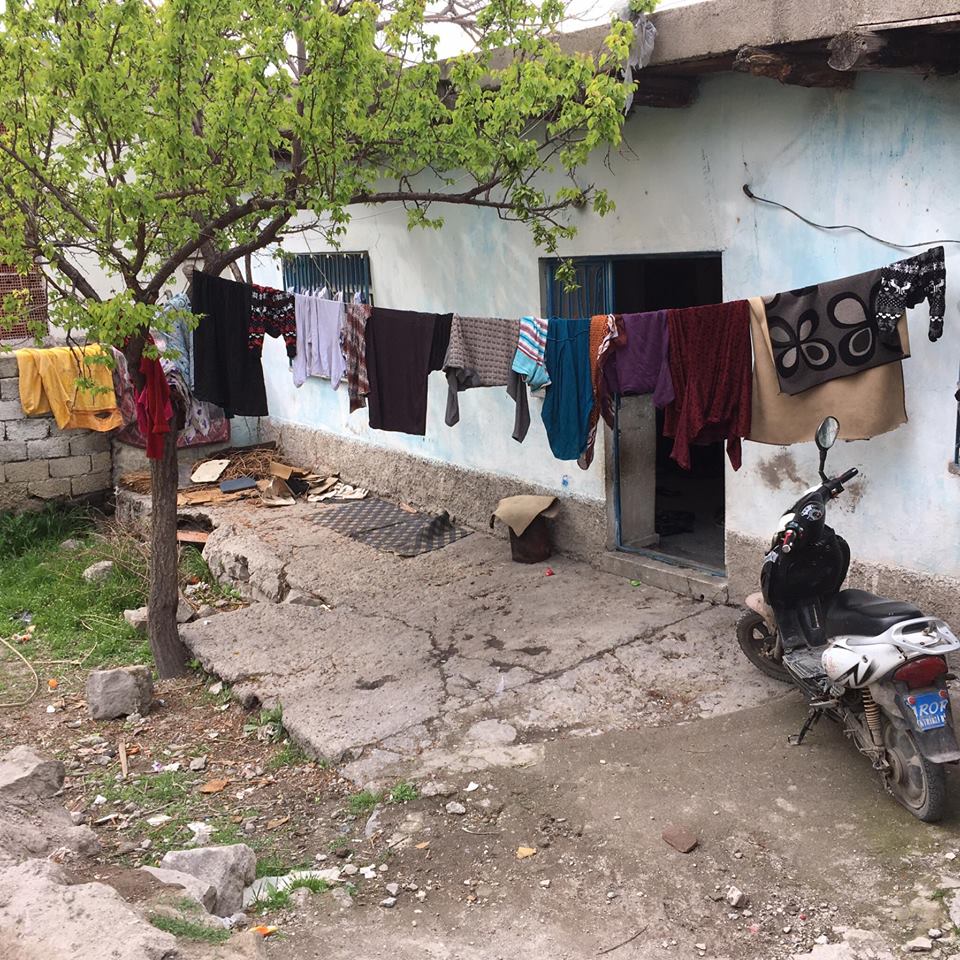 In the car she told us about some of the other refugees on OAK's register. There were a few Romani Gypsy families who lived in the same squalid conditions they had lived in in Syria. Then there was the was blind family, whose story was, as Narjice put it, "like something out of a horror movie." All five members of the family are blind because of an inherited condition. Narjice first encountered them along with their extended family – 32 people were stuffed into two rooms, in some of the worst conditions she had ever seen – living in filth with no shower and wet from the snow leaking in through cracks in the windows and doors. They had paid traffickers to get them out of Syria in small groups when ISIS took over their village and had endured unimaginable hardship and danger on the way. Narjice organized housing, food, and clothes for the entire extended family. She tried to arrange cornea transplants for the blind children, but Turkey has a law that donated corneas can only be used for Turkish citizens, so their vision may never be restored. More pockets of the family continue to escape to Turkey, but only some have made it, others having been shot at the border.
On our way back to the OAK center we stopped off at a small house in another suburb of Kayseri. Narjice asked us to wait while she took a shopping bag of food and went to speak to the woman inside. She came out a few minutes later, rolling her eyes. "She told me she's pregnant again!" she said, waving her hands in exasperation. "I told her, what the f**k are you doing? You have six kids already; you're like one of those cats on the street!" I asked Narjice why people so destitute would want to have more children when they couldn't feed the ones they had. "Arabs like big families," she said. "And they want to build up their country again. But I really lose my patience with them sometimes."
We returned to OAK to see the children finishing up their film project. Their faces were glowing with pride as they showed us their drawings, their play-doh animals, and the set they had created. The story was about a lion and giraffe walking by a lake. In the story, the animals are tired and bored, so they decide to have a picnic. Then a bus arrives and takes them to that glittering destination for Syrian refugee children: Istanbul.
We walked into the kitchen, where volunteers were sorting the food we had brought into plastic shopping bags. Some of the Syrian mothers helped too. One woman looked thin, pale, and exhausted. Not knowing any Arabic, I tried to catch her eye over the piles of food to smile at her, anxious to convey that I cared, that the world cared and was trying to do something to help. Her eyes stayed glued to the floor. The surge of self-congratulatory pleasure in me ebbed away. She is too tired and traumatized to share in this happy moment, I told myself. Only later did I understand that her response came out of deep shame. Syrians are proud people, and their instinctive response to visiting strangers is to spoil them with Arab hospitality and feed them delicious things until their bellies explode. She had nothing to give. For her, taking charity was the ultimate humiliation. She accepted it to keep her children alive, but she hated having to take it at all. And so we stood in that kitchen in a deadlock, on one side the American with a burning liberal do-gooder's urge to help and to have that help acknowledged because it would make me feel good, and on the other side a Syrian mother, unable to meet my eye because it would mean a loss of her pride, her face, her honor.
This crisis is not about me. It's about her, and millions of others like her, who don't want to be where they are.
———————————–
You can follow OAK on Facebook and make a donation at:
https://www.paypal.me/OpenArmsinKayseri
https://openarmsinkayseri.charitycheckout.co.uk/
https://www.facebook.com/pg/OpenArmsinKayseri/
————————————–
Comments
comments