I've gone to the top of the Empire State Building and climbed all the many stairs inside the Statue of Liberty.
I've toured Jefferson's Monticello and Washington's Mount Vernon.
I've pressed my nose against the glass to peer into Julia Child's kitchen. I've seen the top hat Lincoln was wearing when he was shot. I've seen the original Kermit the Frog.
I've had astonishing hot chocolate at Sahagun in Portland, Oregon.
I've driven through a redwood tree in California.
I've stood on top of a 14,000-foot mountain.
I've seen long expanses of White Sands at that national monument in New Mexico.
I've driven down Going to the Sun highway in Glacier Park. I've seen mudpots, geysers, and up-close bison in Yellowstone.
I've gazed upon enormous faces of presidents at Mount Rushmore.
I've gaped at the purple striations of earth enlivening the landscape of North Dakota in Teddy Roosevelt National Park.
I've smelled Spam being made.
I've gaped at the Columbia River Gorge.
I've gone to circuses of note in Baraboo, Wisconsin, and in St. Louis, Missouri.
I've romped in the Pacific and Atlantic.
I've meandered around the Freedom Trail in Boston.
I've had my car break down near Lake Coeur d'Alene.
I've seen the Dodgers play the Orioles.
I've been propositioned in Reno, Nevada. I was twelve.
I've shuffled through dark caves, bravely ignoring bats, so I could stare at stalactites and stalacmites and, in the case of the Mark Twain Cave in Missouri, so I could picture where Tom Sawyer and Becky Thatcher had adventures.
I've seen lots and lots of "tits" in New Orleans. I've worn heaps of beaded necklaces around my neck as I've ogled the bacchanalia that is Mardi Gras. I've stood quietly, still half drunk, at 6 a.m. and watched an African-American seventy-year-old man push a broom outside a bar, cleaning up the previous evening's carnage.
I've driven east to west through Texas and thought, "Well, I surely am glad I have this book on tape to listen to."
I've pushed my baby on a swing in the Grand Tetons.
I've stared at the rushing waters of Niagra Falls and contemplated the mindset of someone going over the flow in a barrel.
I've been to Disneyland, Sea World, Legoland, Six Flags, Valley Fair, Reptile Gardens, Ripley's Believe it or Not.
I've driven down San Francisco's crooked Lombard Street.
I've been taken on a personal tour of the Universal Studios lot in L.A. I've seen Norman Bates carrying a corpse to a car.
I've seen sea lions sunning themselves.
I've laid on a blanket at dusk at Wolf Trap and listened to a soprano get her high C on.
I've seen the Rockettes kick up their heels at Radio City Music Hall.
I could go on. And on.
I have been very, very lucky to see myriad beauties and sights across these United States. Do not mistake me: I am deeply aware of how fortunate my life has been, and I am continually grateful. What I want you to understand is the larger context of my next statement:
The Great Sand Dunes in Colorado are one of my favorite sights I've experienced in the U.S. The place is incredible.
The Great Sand dunes are the tallest dunes in the United States, and the combination of sand and water (a creek flows during certain months of the year, providing a place for waterplay, too) against the backdrop of the Sangre de Cristo mountains makes the place unique.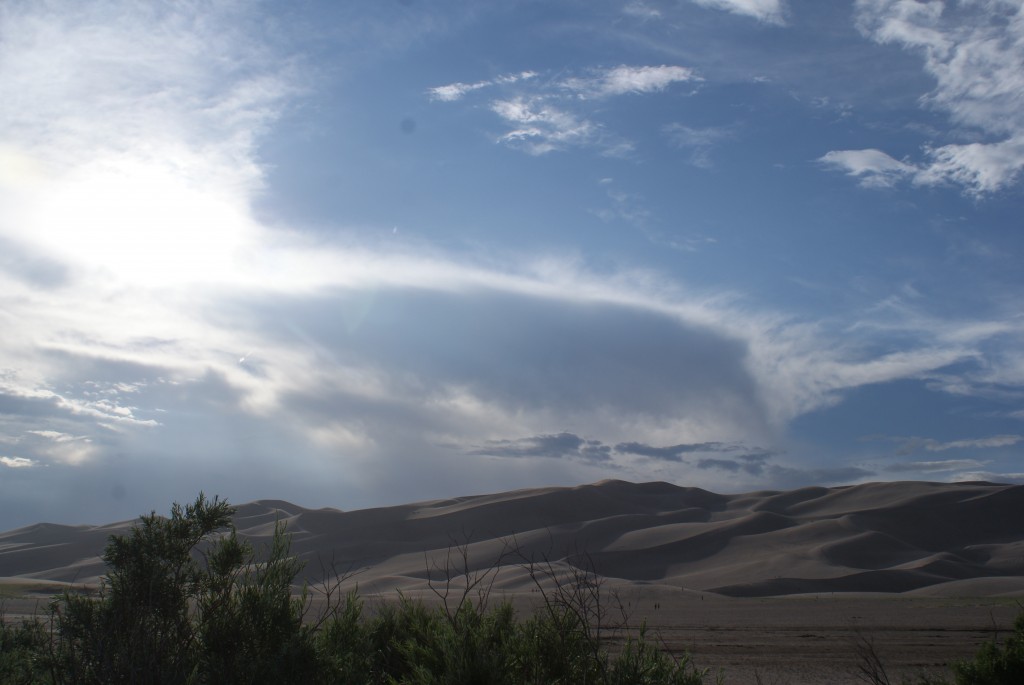 I will concede that a big part of our enjoyment of the dunes came from a perfect alignment of everything.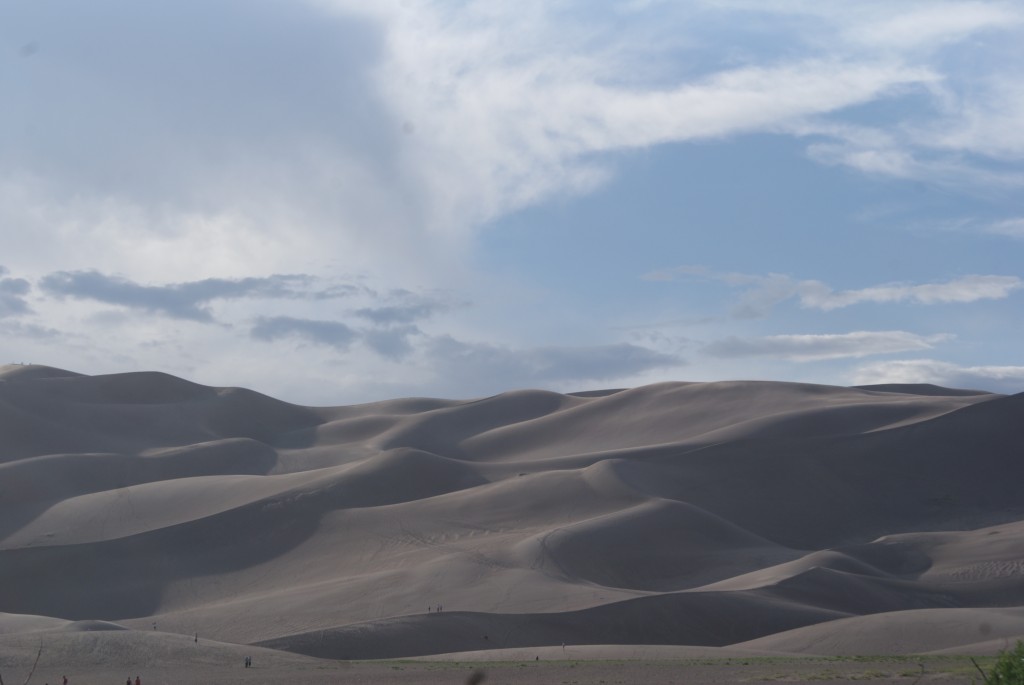 On the day we visited, it wasn't too hot.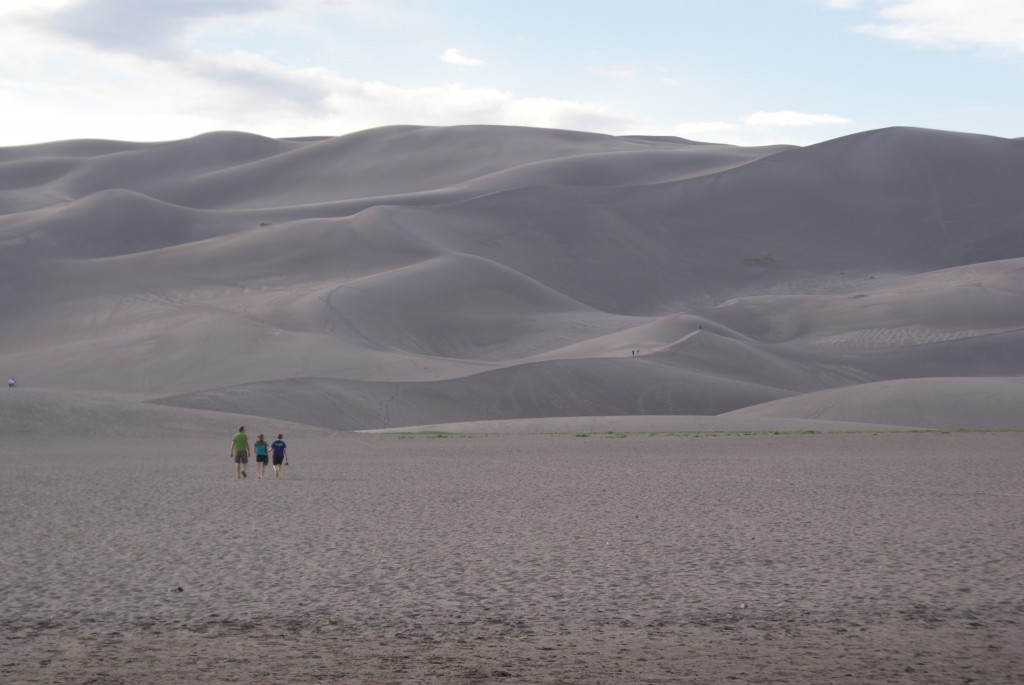 It wasn't too cold.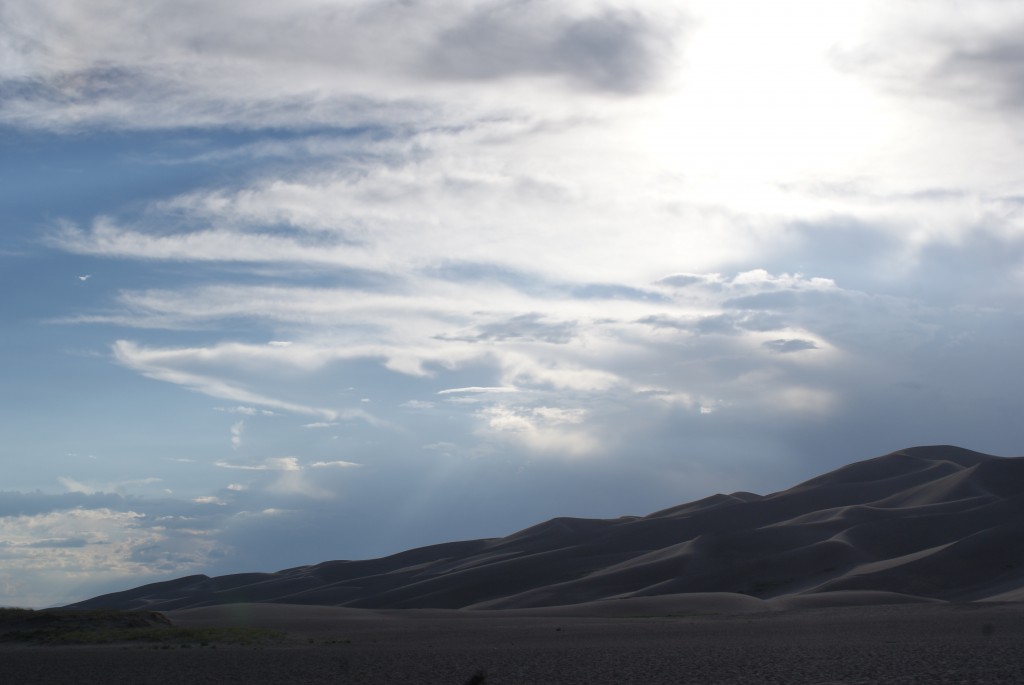 We went late in the afternoon, when the light is softening and illuminating.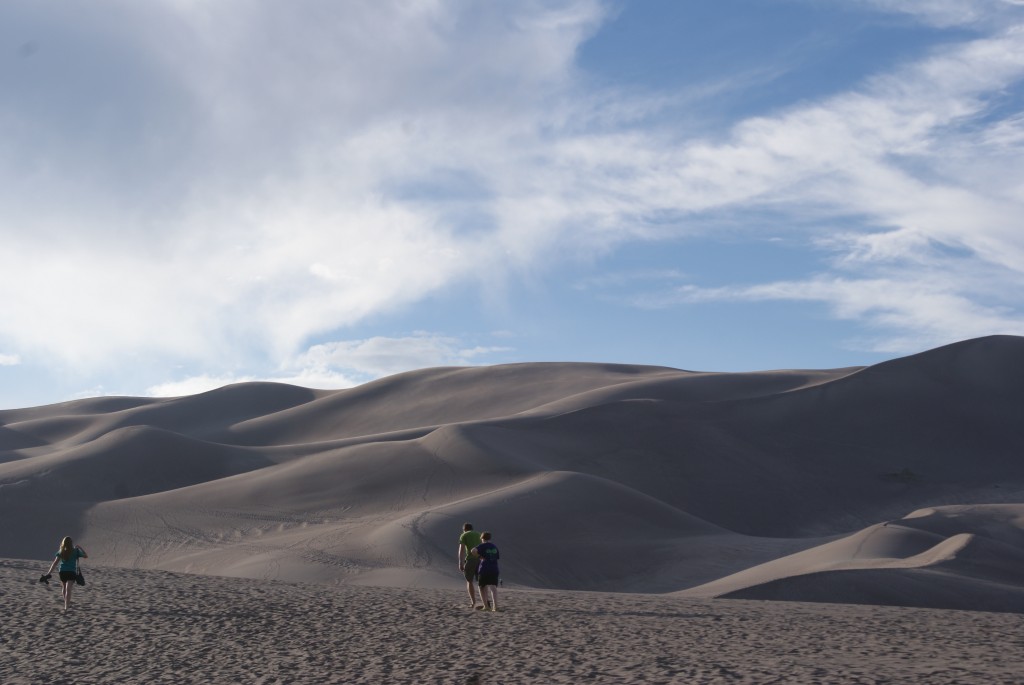 Each member of the family was in the right mood.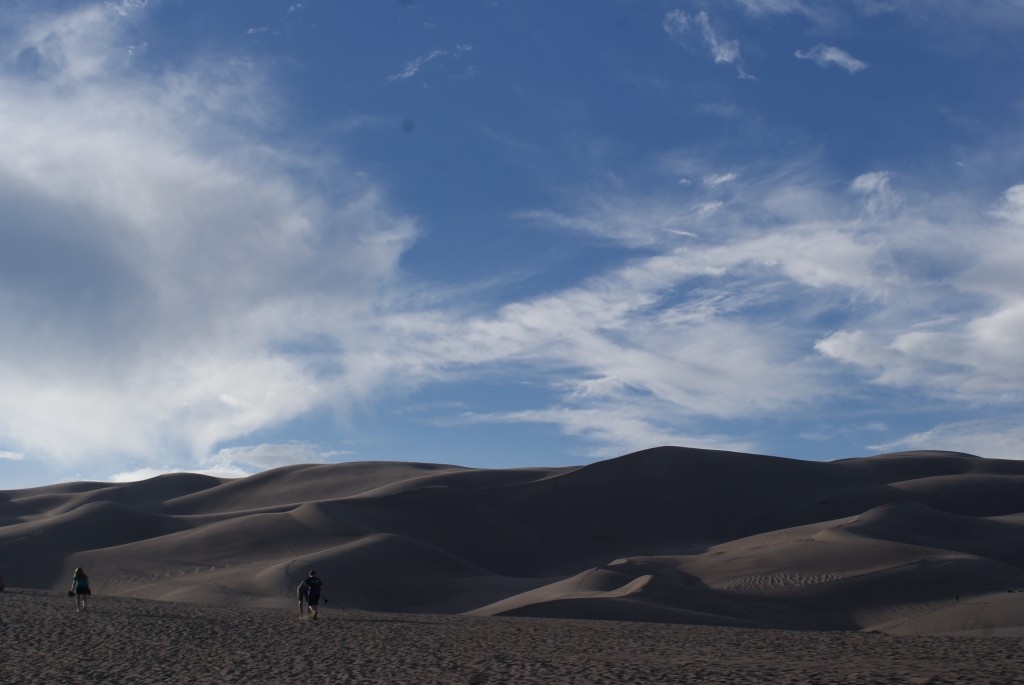 No one was scared.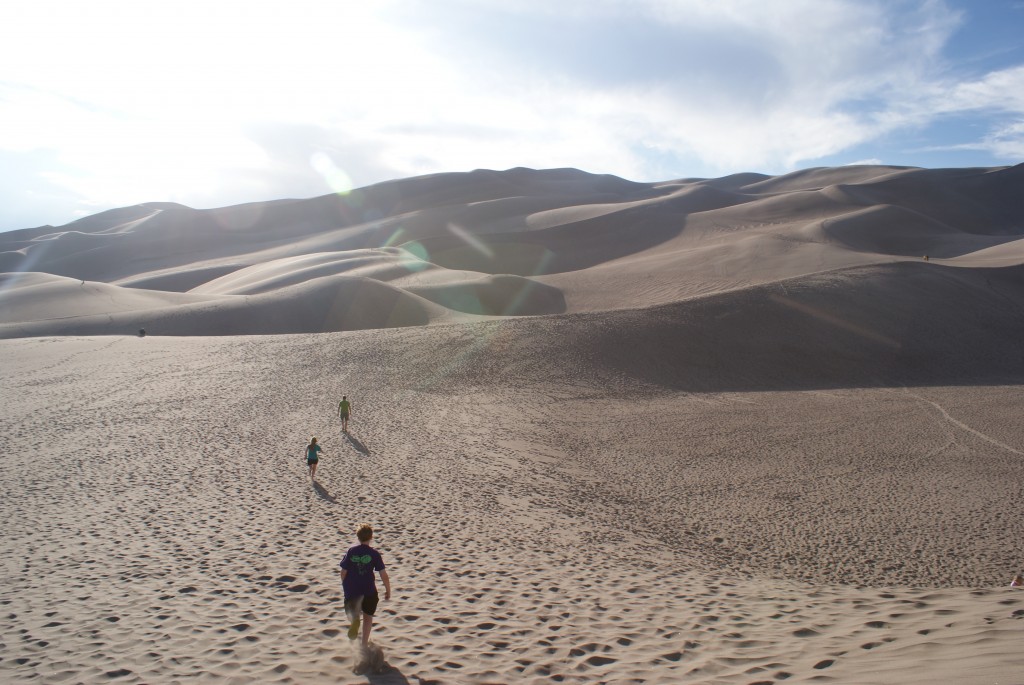 No one opted to sit in the car.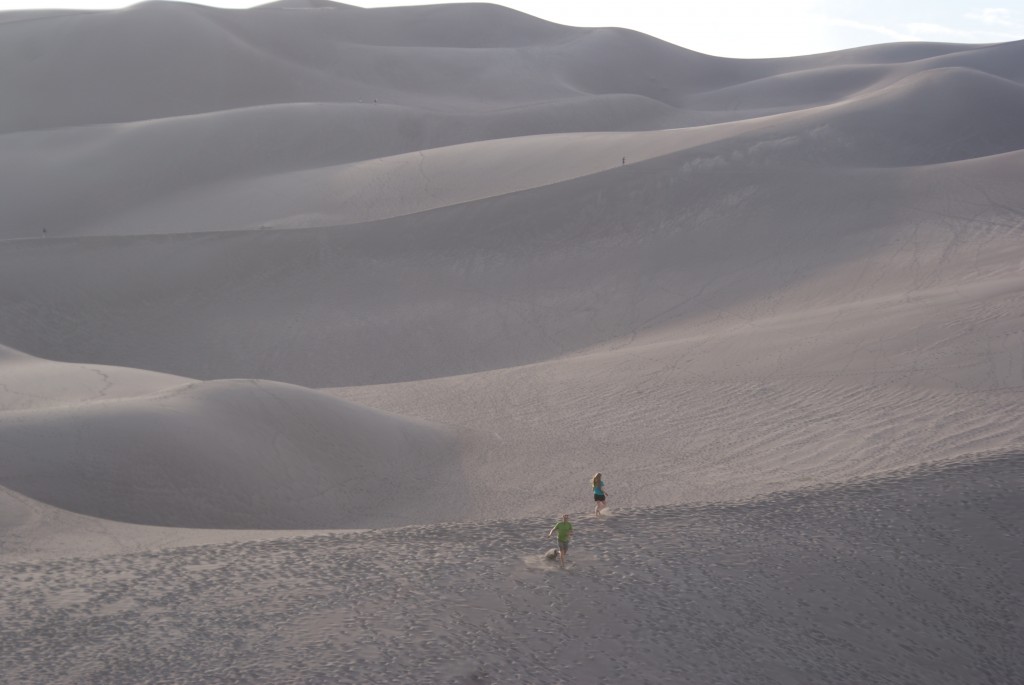 No one said, "This is boring."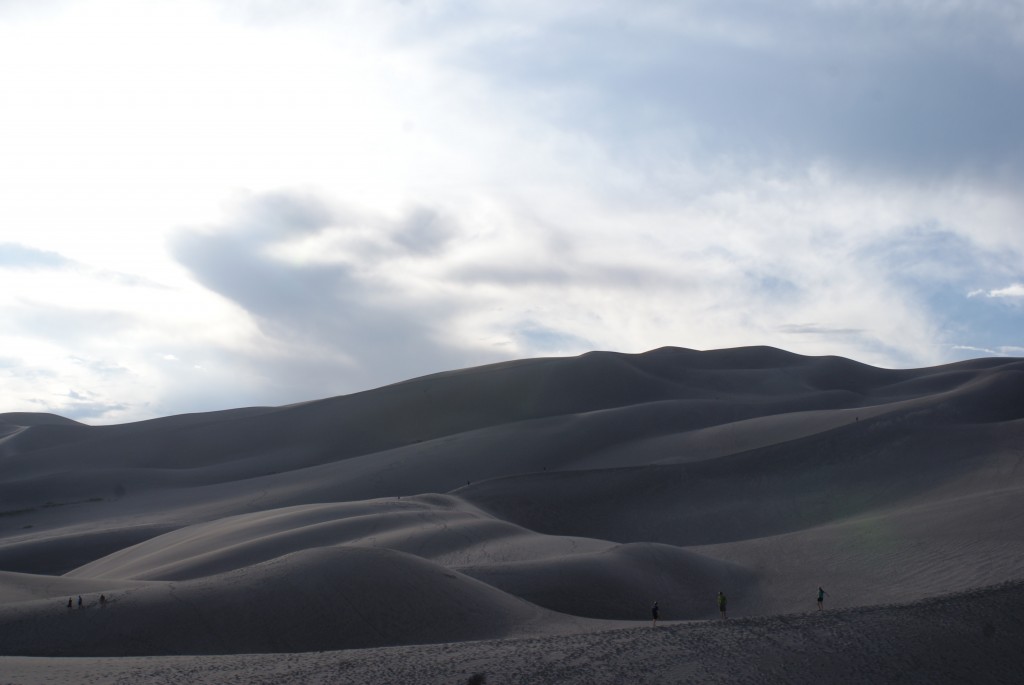 Rather–
we took off our shoes,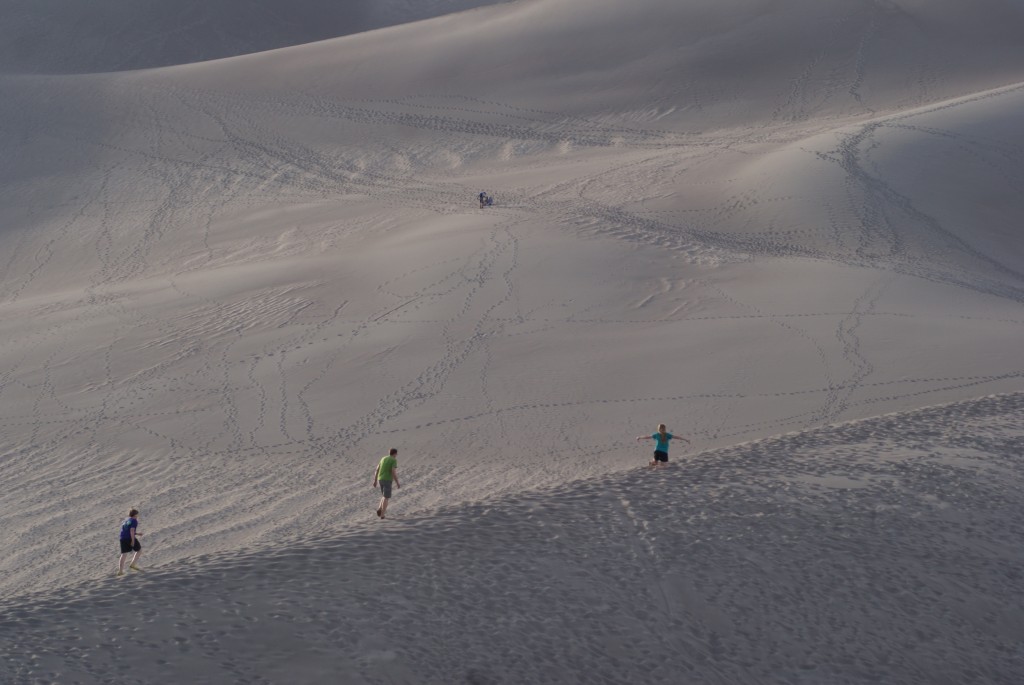 and climbed,
and slid,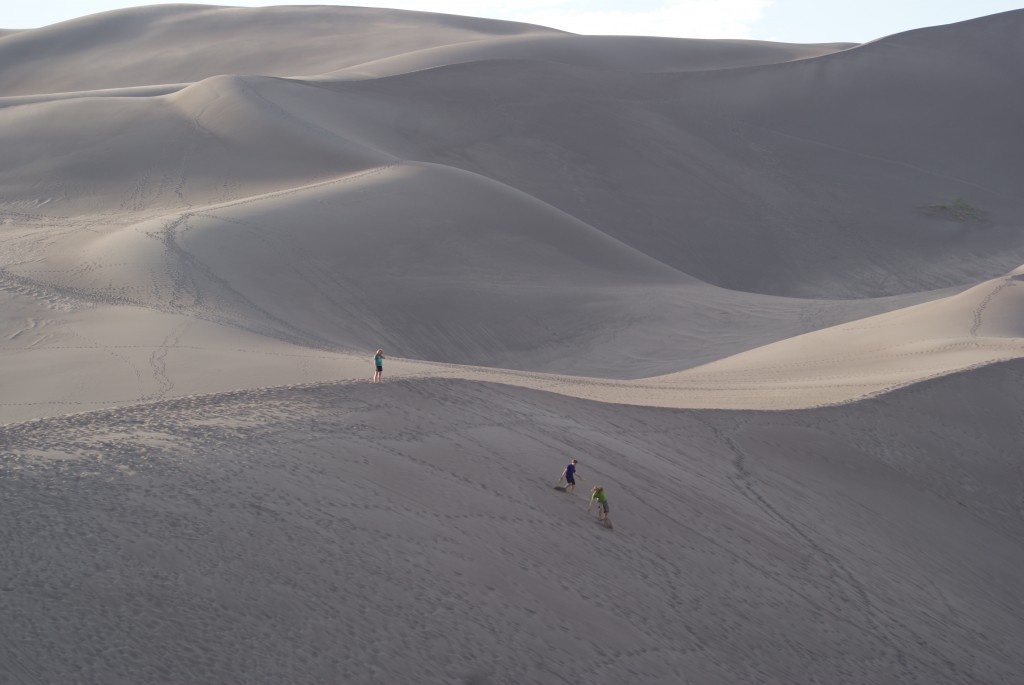 and ran,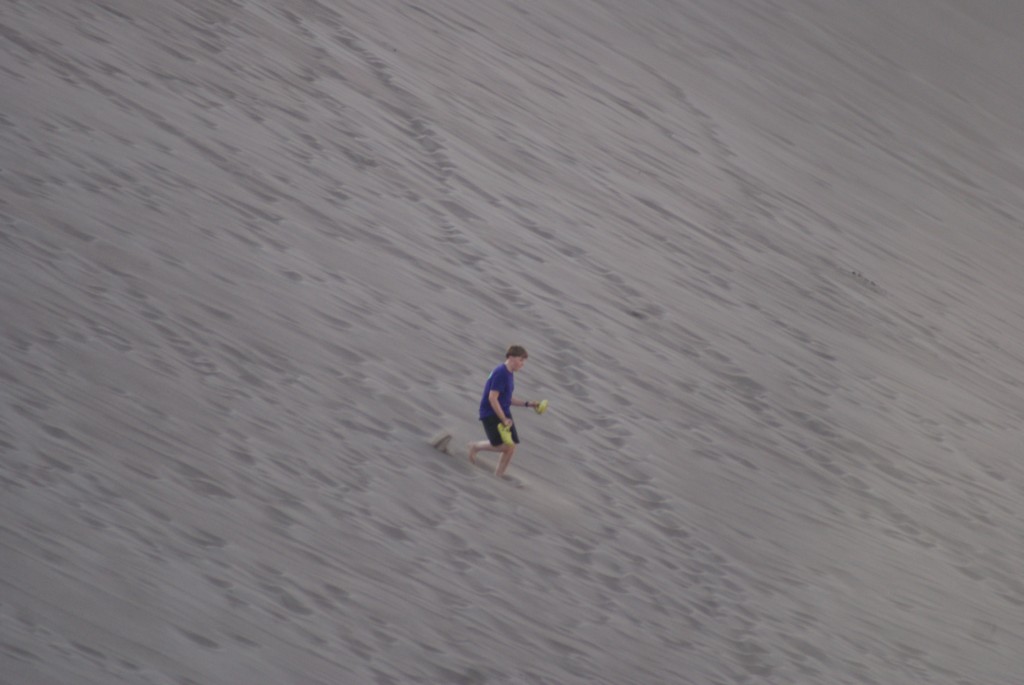 and shouted "Hey, try this; it's so cool!"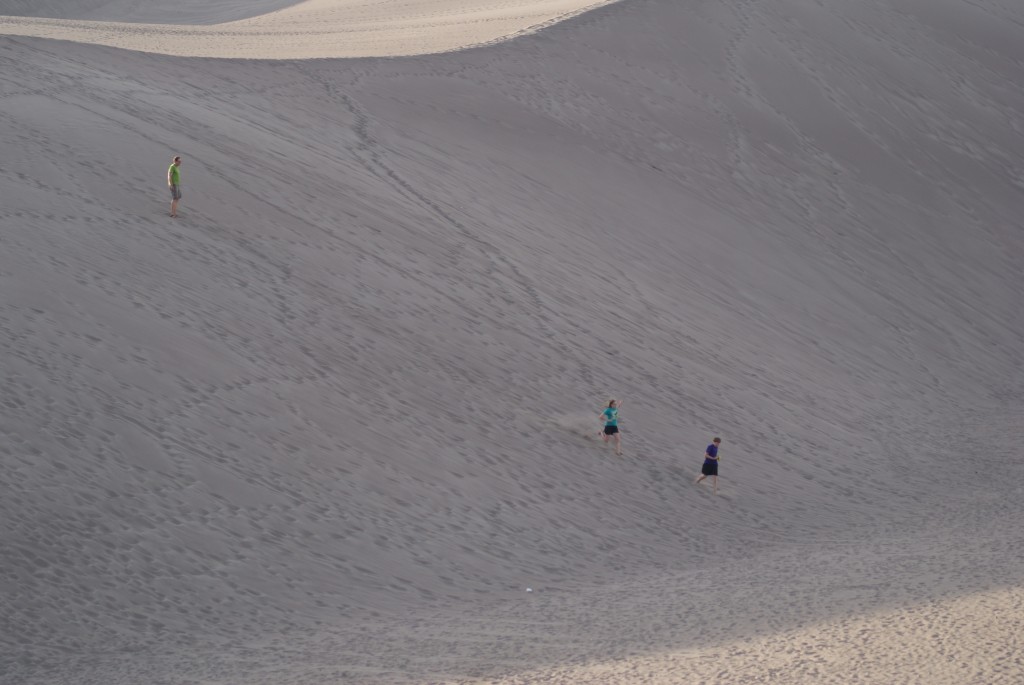 And every two minutes, the whole place looked different again.
The landscape was therapeutic,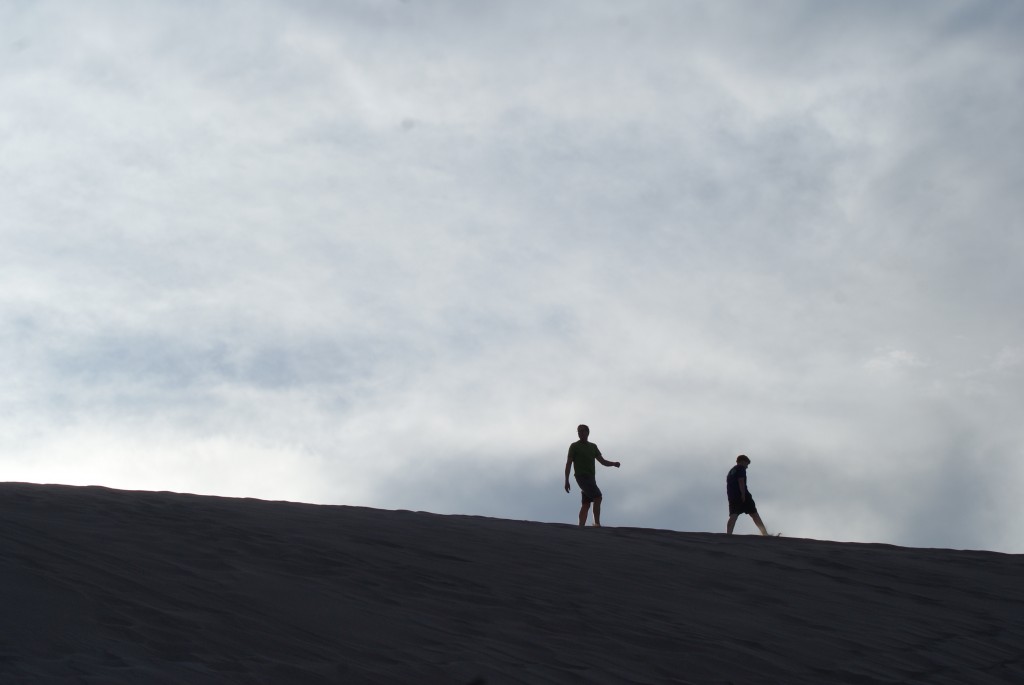 perfectly suiting everyone's mood,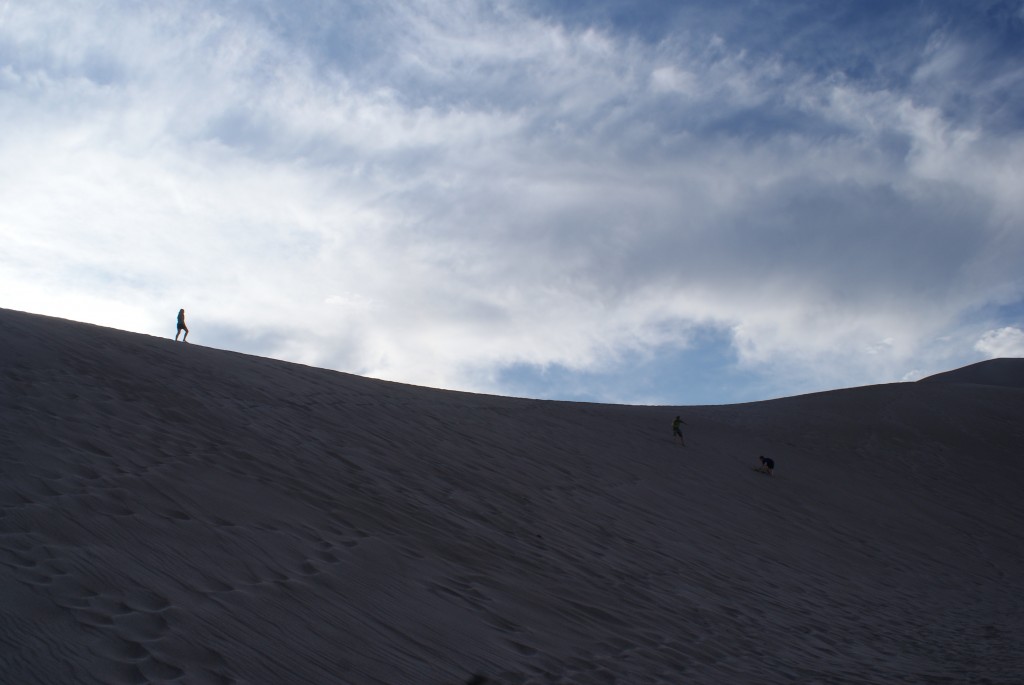 offering up something like a balm after days in the car.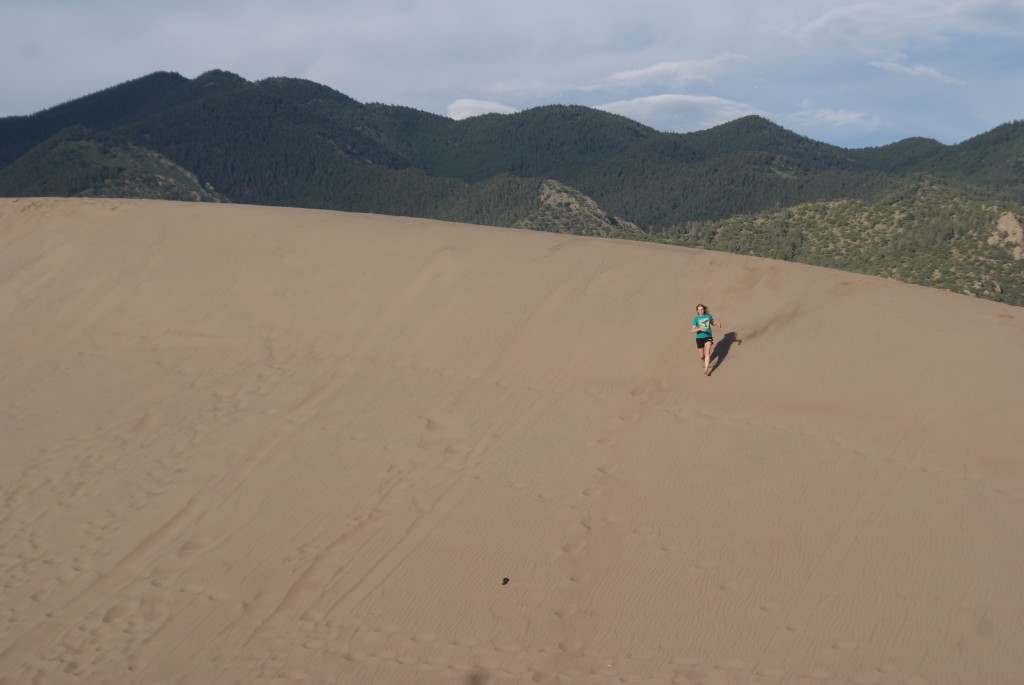 The sand blows towards the mountains but can't get enough lift to get OVER. So it rests.
And as we dug,
and followed meandering trails of footsteps,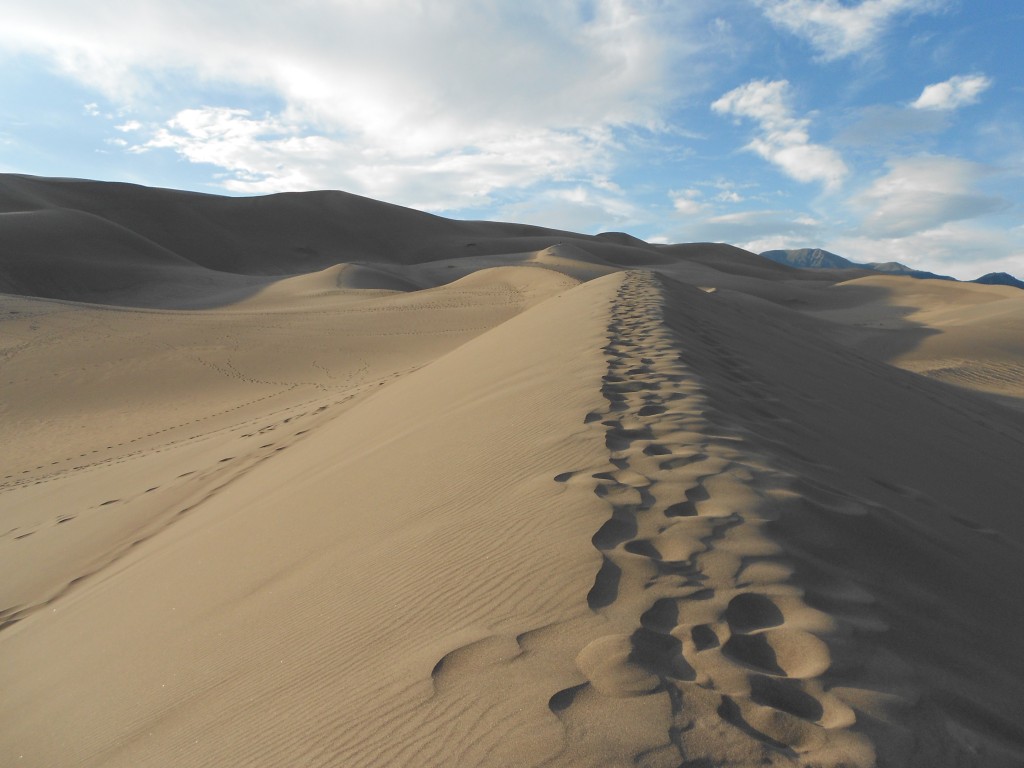 and pretended we were Bedouins in Morocco,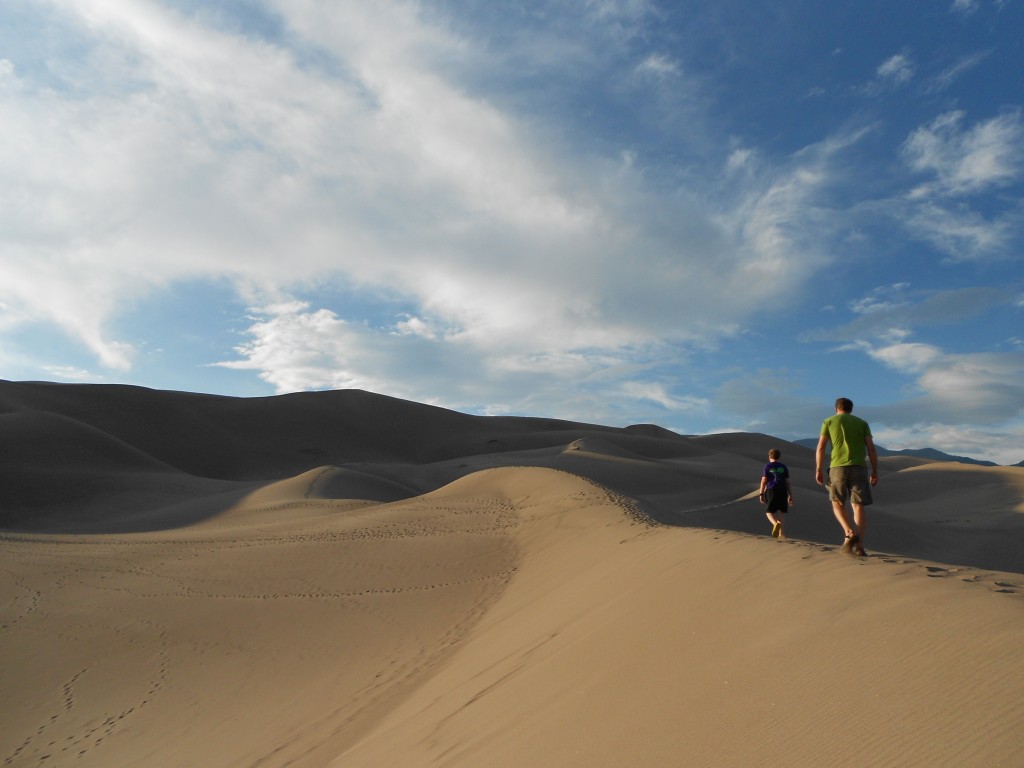 and marveled at the softness of the sand between our toes,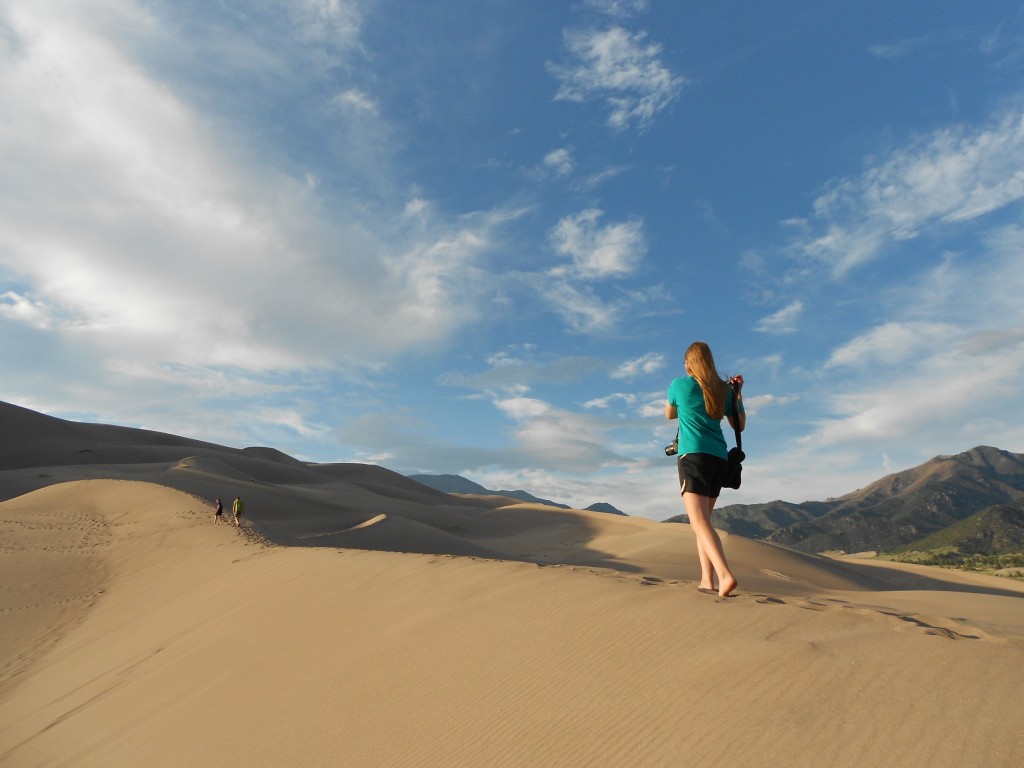 and considered distance and perspective,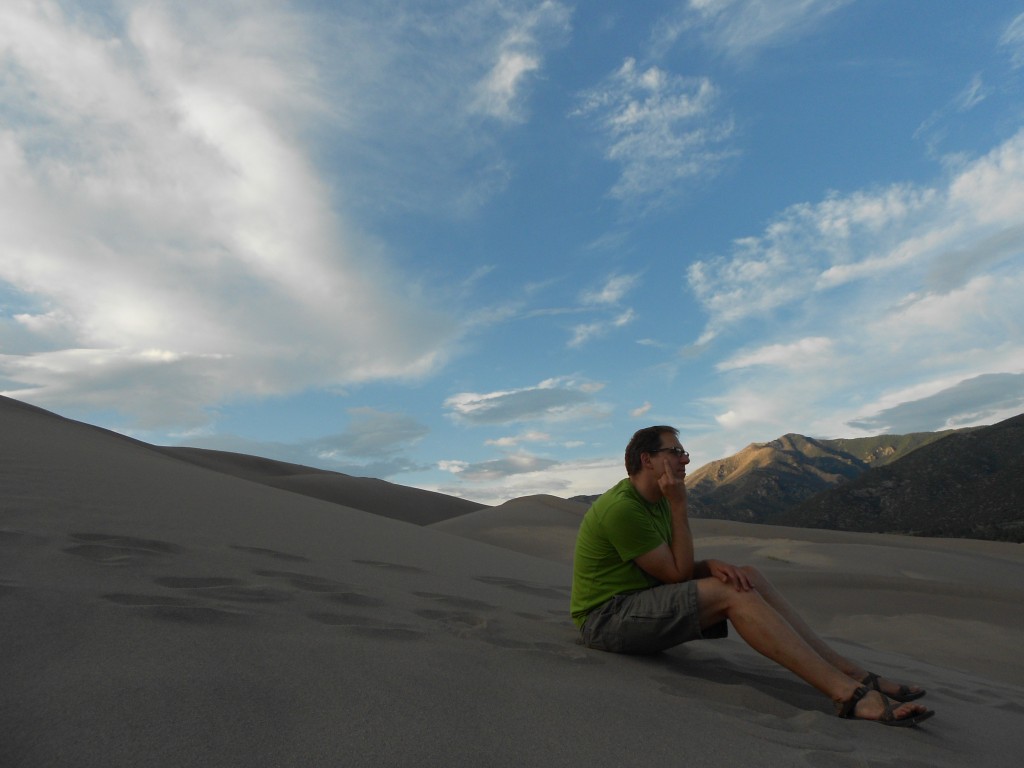 and agreed to stage a few mock senior photos,
and photo bombed each other,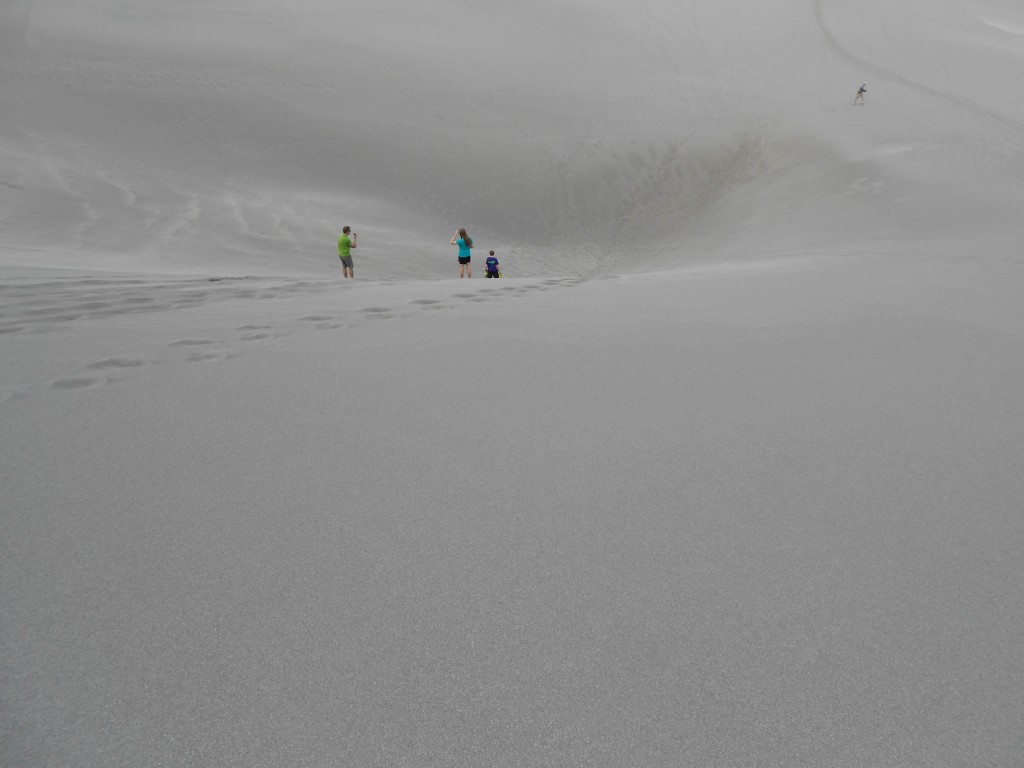 we had the purest kind of fun.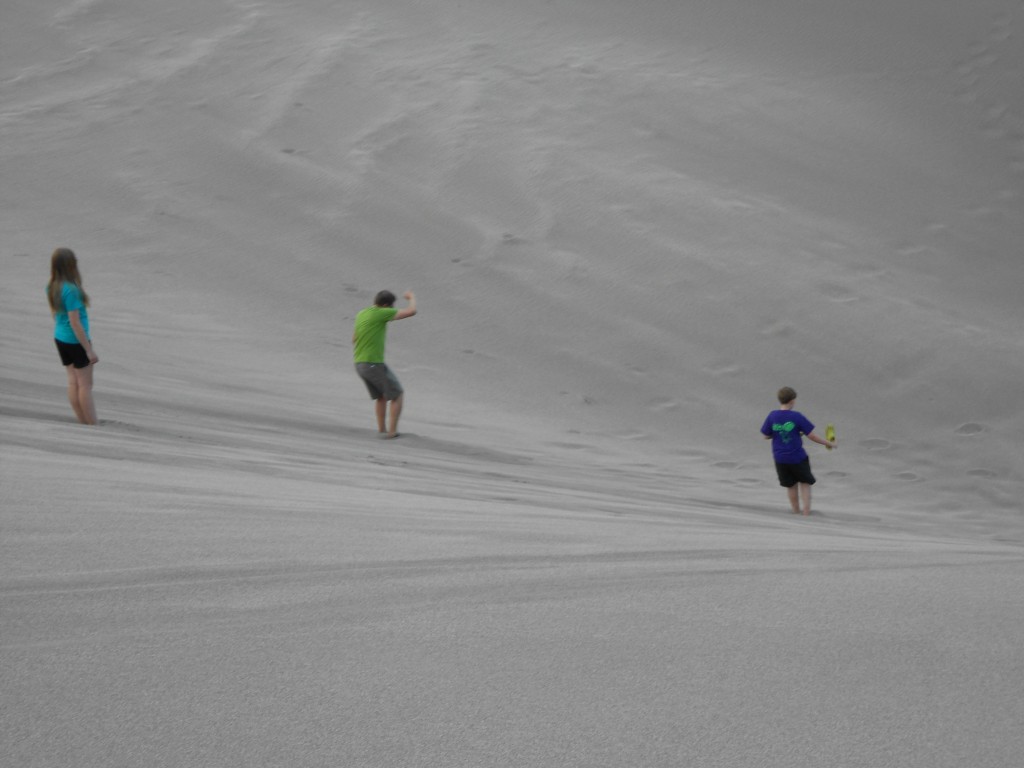 In the story of my family's life together,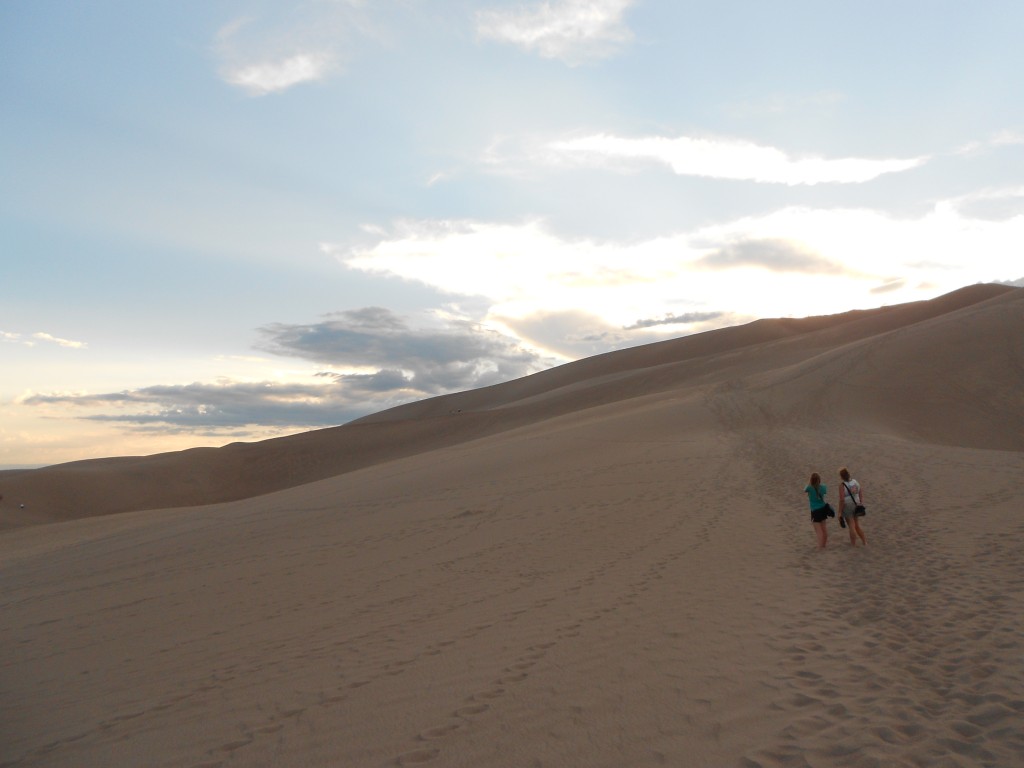 this is a chapter of perfect joy.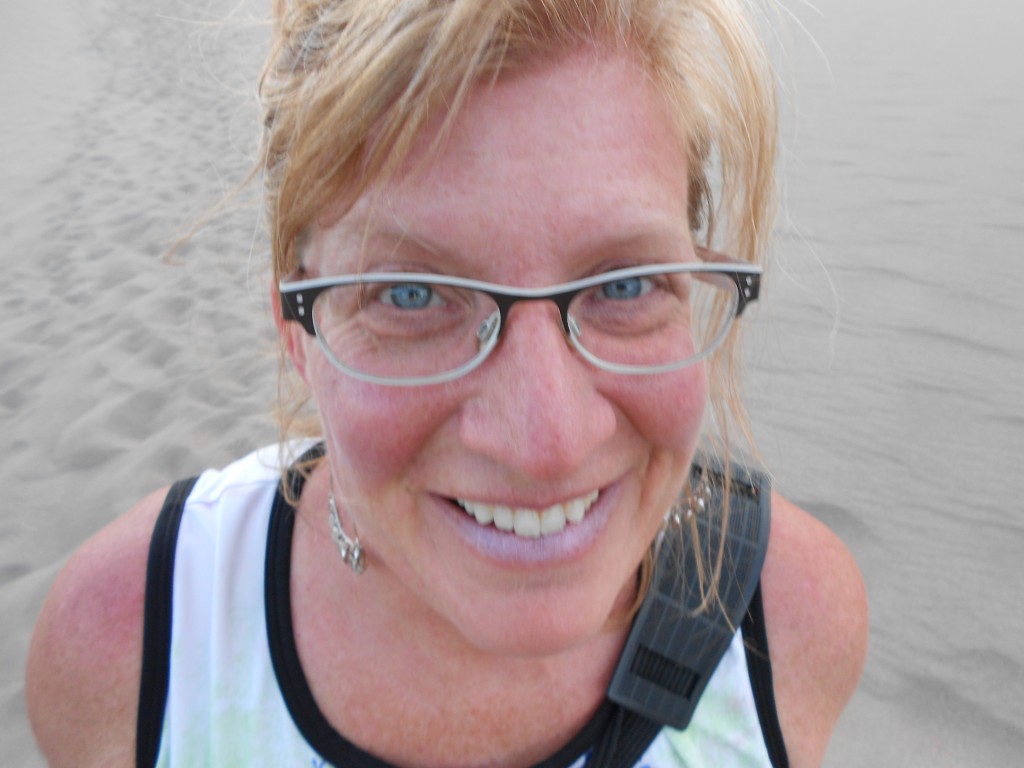 While the sun got lower, and our feet got sandier,
the daddy got to romp with his growing-up children again,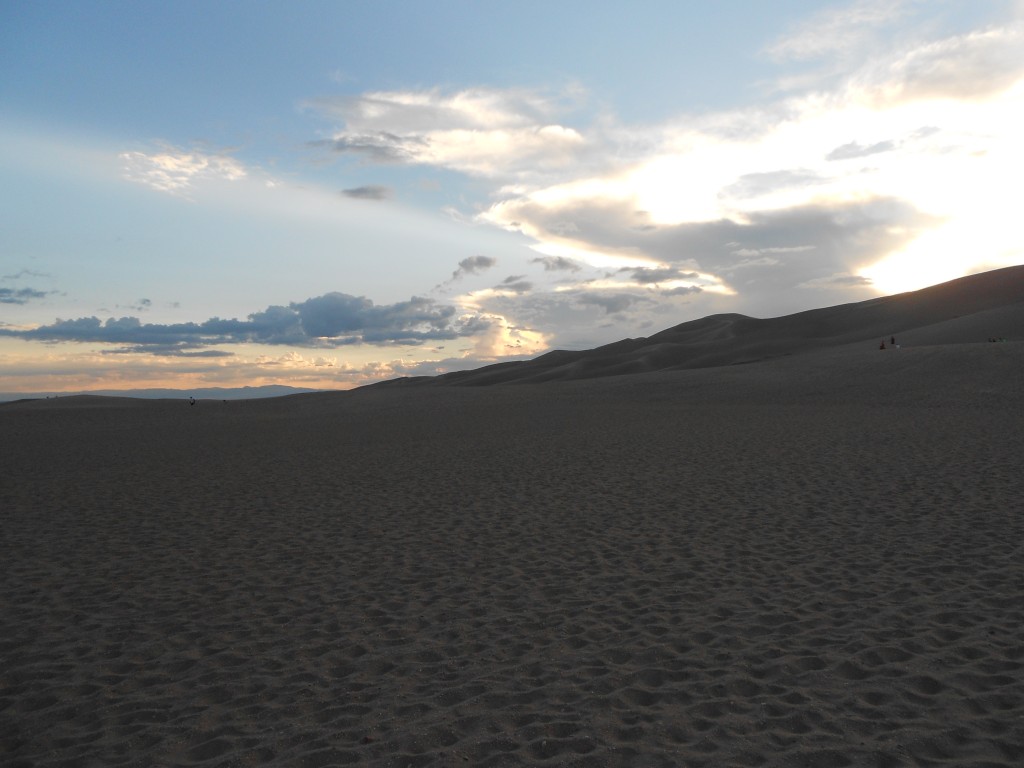 the mommy, who is married to amazement, got a full dose of glory,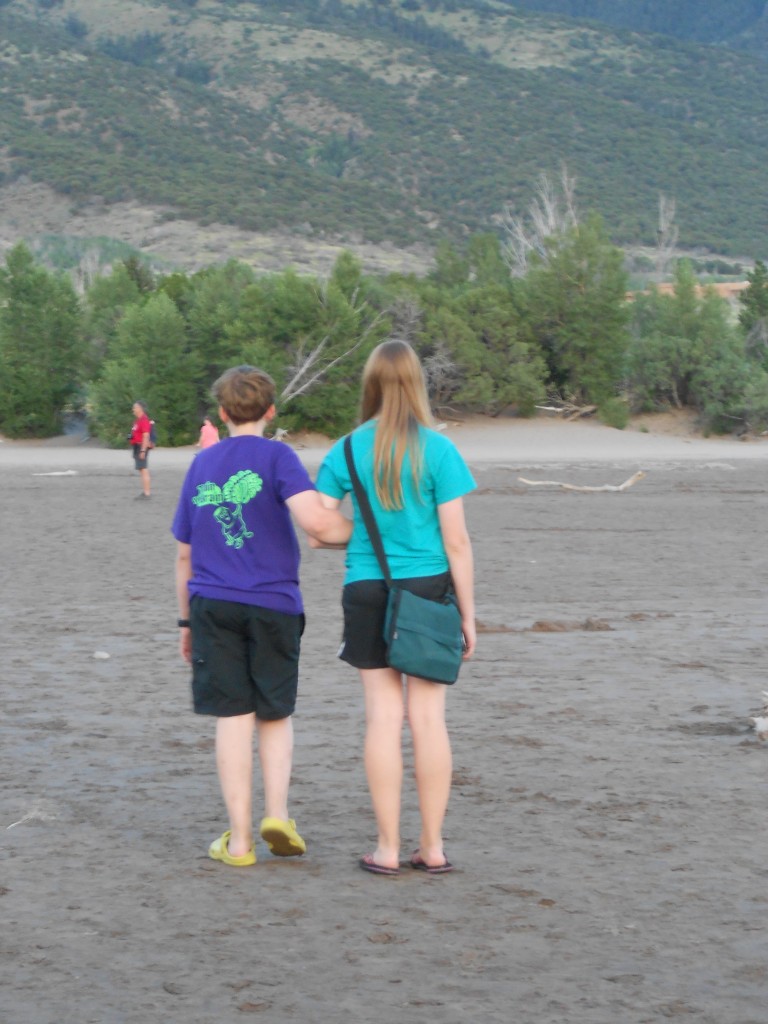 and the eleven-year-old felt perfectly safe,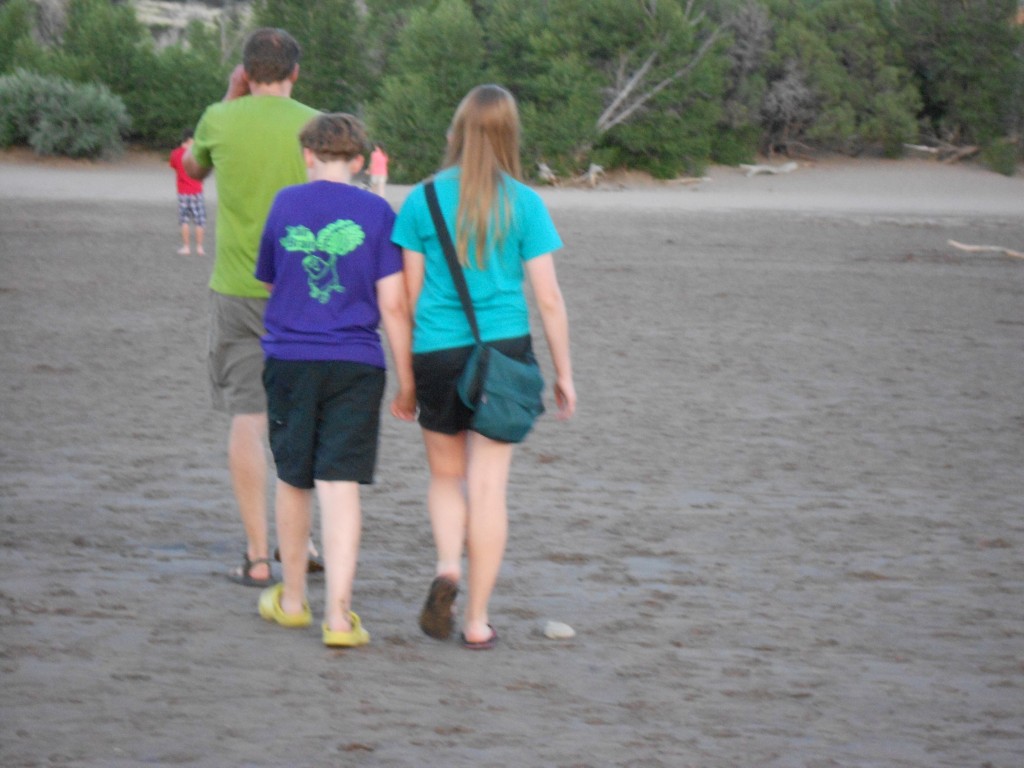 and the teenager dropped her guard,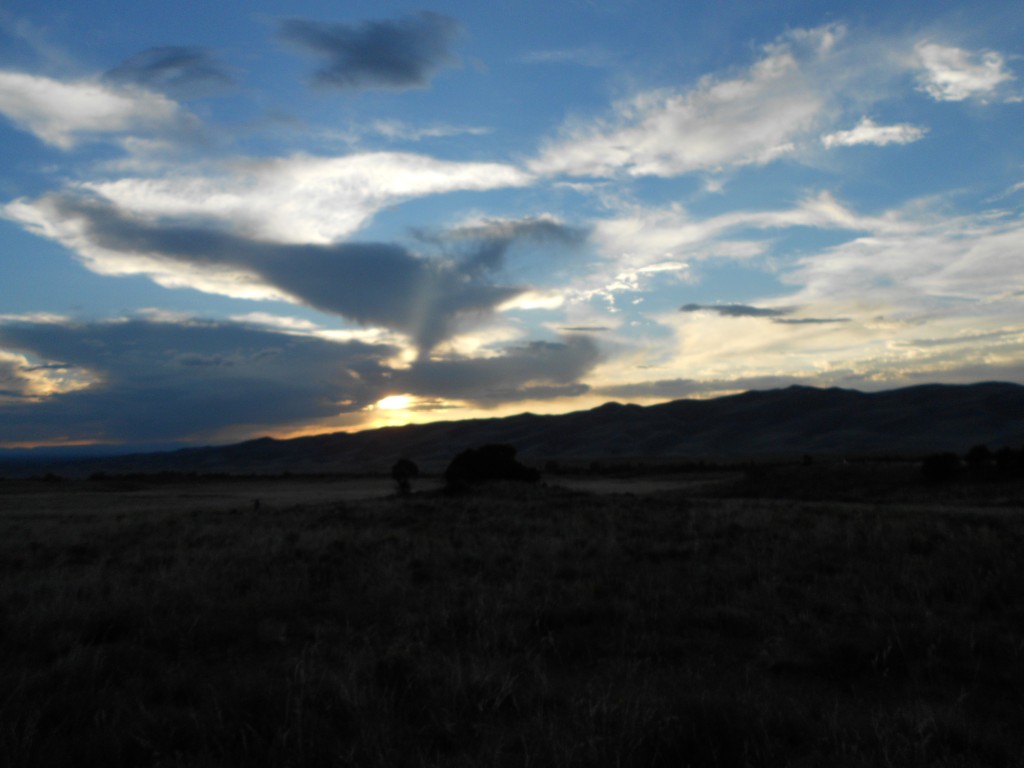 long enough to hold her brother's hand on the walk back to the car.
Comments
comments