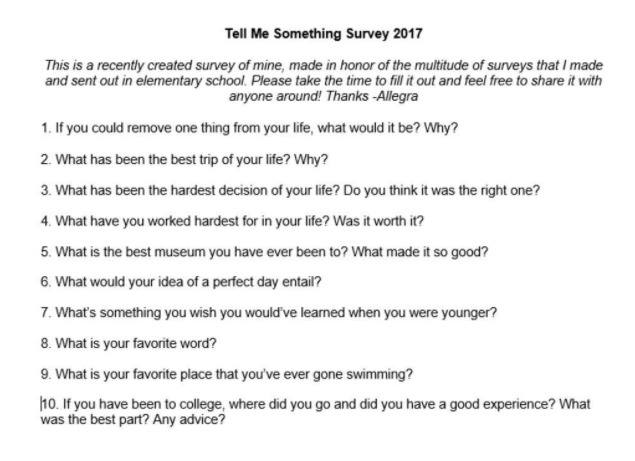 A college pal, John, responded to Allegra's survey questions thusly:
I would remove my wife's student loan debt. It is a lot, and it hangs over us.
I went to New York City with the woman who later became my wife. It was great because it was the first time I ever traveled with someone with whom I was in love. Plus, it was New York, so we had great food and went to fun places.
Eh, I suppose the decision to go to graduate school in philosophy was the hardest. It should have been, since that takes many years to complete and the job market in philosophy was poor and I didn't know if I was good enough to succeed. But it turned out to be correct because I am now a philosophy professor and I love my job.
Maybe I worked the hardest to publish some papers in the last couple years before I went up for tenure at my professor job. It worked, as I was more productive than usual and I got tenure (hired for life, instead of fired).
It is hard to top the Metropolitan Museum in NY, but for a single visit it has too much, and the Rijksmuseum in Amsterdam might be better. It has the best collection of the old Dutch masters.
I'd be on vacation with my wife in an exotic location with historical significance, like Rome or a Greek isle. The weather would be nice, and we'd be staying in a hotel within walking distance of cool stuff. We'd walk to a place we can eat outdoors, for each meal, take a ride in some kind of boat (the sea, a canal, a river – doesn't matter), and tour a museum. Fancy whiskey in the evening.
I wish I'd known in high school and college how to study better.
My favorite word is apocalocyntosis, which means "pumpkinification", like what happened to Cinderella's carriage. When Emperor Claudius suggested he deserved apotheosis (to be made into a God), the playwright and philosopher Seneca said that apocalocyntosis was more apt. Emperor Nero, who he advised, later forced him to commit suicide.
I'm sure there are many better places to swim, such as in the Mediterranean, but my favorite of the places I have swum is Leo Carrillo Beach, near Los Angeles. Big waves knocked me over in my first time at the ocean.
I went to Carleton College, then the University of California at Santa Barbara for grad school. Both were great experiences. The best part, for both, might be the lifelong friends I made. But the subtle and gradual effect the professors (and fellow students) had on my intellect was extremely important too. I've made commencement remarks to small groups of philosophy graduates and I have never been able to think of good advice to give them, so I just try to make the speeches short and funny. So my advice to you is that if you have to give such a speech, make it short and funny.
——————————————-
Here are the responses of my beloved friend, Elly (check her out at her blog Buggin' Word):
1 – The word "should." It's a dangerous word. When I think of everything I "should" do, I feel overwhelmed. What a subjective word, too. I'm trying to think more about what I "could" do instead.
2 – My brothers, their partners, and my parents travelled to an all-inclusive resort in Mexico when I was in my early 20s. There was some horrible mistake on the part of the resort so they bumped us up to the luxury side of the resort – everything was gorgeous and clean. )I was living in a horrible apartment in Hell's Kitchen at the time and often found used crack vials on my fire escape.) No one was responsible for cooking. No one was responsible for planning. No one was responsible for exploding plumbing. Everyone – even my parents – were still young and healthy. We climbed ruins and shot tequila and rode giant inflatable bananas and chased lizards…together. I don't think I've ever felt closer to my family.
3 – Deciding to become a mother. Was it the right one? Maybe. Probably. I mean, if given the option I wouldn't go back and undo it. But I also know I would have had an interesting and fulfilling life had I not become one, too.
4 – Recovering from the treatment for cancer. Not the treatment itself. Though that sucked, too. Learning how to live again despite the fear. And letting go of what might have been.
5 – There was a tiny historical museum in the town where I grew up – Greensboro, NC. It smelled right. And you could walk from building to building – small farm type buildings. But yet there was an art museum attached, too.
6 – Waking rested. A cup of coffee on a screened-in porch with my ukulele and an open agenda. A walk. Somewhere beautiful – woods, a beach, a park. A warm meal. A cold drink. Laughing so hard and suddenly that it makes my throat raw. The sound of cicadas. A breeze cool enough to sleep with the windows open.
7 – My own resilience.
8 – Texture.
9 – Smith Mountain Lake, VA.
10 – Guilford College, NC. Yes. Amazing. And horrible. At least initially. I didn't adjust well. But eventually I found my way. It's where I found my love of the music industry, my activism legs, and my writing ability.
—————————————————-
And our "second-mama"-level friend, Elaine/Ileyn, she who made our year in Turkey so much easier and who now lives in Istanbul with her husband and two amazing kids, told Allegra:
1) If I could remove one thing from my life, it would be the feeling of never having enough time in a day. That feeling in and of itself causes me unnecessary stress.
2) The best trip of my life was the one that I took when I was in college with my then boyfriend at the time (Selin's Dad). We went to the Bahamas and it was magical and fun.
3) The hardest decision of my life was deciding to remain in Turkey after I got divorced when I was 26 years old. I think it was the right one as Selin was able to see her dad and his family. I also enjoy living and working in Turkey.
4) I have worked hardest in life to keep positive and logical even when everything else was chaos around me.
5) The best museum that I have ever been to is the Children's Museum in Pittsburgh. They have wonderful and very creative exhibits for all ages.
6) My perfect day would entail waking up at 9:00am and having a ready made picnic basket of all my favorite foods waiting for me in the kitchen. All of my family and friends would go to the beach and have a wonderful day swimming and having fun.
7) I wish that I would have learned how to speak fluent Italian when I was younger.
8) My favorite word is booty as in baby booty. I like the way is feels as it passes over my lips.
9) My favorite place that I have ever gone swimming is the Bahamas.
10) I went to Edinboro University of Pennsylvania and got my B.S. in Elementary Education. I had a great experience and my favorite part was the friends that I made there. My advice is to pick a school that suits your needs and concentrates on the major that you want to be in. I think paying in-state tuition is a great idea for undergraduate education. Out-of-state is not only usually more expensive, but the logistics of going home and bringing things back are harder.
——————————————————————
Comments
comments