My friend Susanna, in England, writes:
1 If you could remove one thing from your life, what would it be? Greed. Why? Because I truly believe it underlies all the other atrocities in life such as cruelty, lust for power, lack of compassion, injustice etc etc.
2 What has been the best trip of your life? Cannot choose. Why? Because each trip has introduced me to wonderful places, cultures, people and wildlife, all different, all equally special.
3 What has been the hardest decision of your life? To refuse to help my mother to end her life. Do you think it was the right one? Yes, I could not have survived doing that, and shortly afterwards her family doctor intervened and helped resolve the situation.
4 What have you worked hardest for in your life? Health and strength. Was it worth it? I have not achieved it yet but have learned so much along the way, been able to help so many others, and by constantly struggling and braving difficulties have been able to do and see so much. It has made me a strong, brave person who loves every minute of every day and is forever grateful for everything I am able to do.
5 What is the best museum you have ever been to? Metropolitan in New York. What made it so good? I had a whistle stop tour by a guide who knew the place inside out and made the trip the most thrilling and inspiring I have ever had in any museum in the world. She linked everything she showed us together in an awesome way and took us round literally running between exhibits. Her level of knowledge and enthusiasm was out of this world.
6 What would your idea of a perfect day entail? Feeling well, being with friends and family yet apart in my own space, and being on a hillside in the country surrounded by fresh air, wind, a huge blue sky, and wildlife.
7 What's something you wish you would've learned when you were younger? (not answered)
8 What is your favorite word? Discombobulate.
9 What is your favorite place that you've ever gone swimming? The sea off Beachy Head in the UK.
10 If you have been to college, where did you go and did you have a good experience? I went to Sheffield University in the North of England. What was the best part? The quality of the tutors who made absolutely anything and everything thrilling and expanded my consciousness. Any advice? Never pre-judge what is interesting. Everything is fascinating if we only examine it with an open mind and are prepared to dig into it.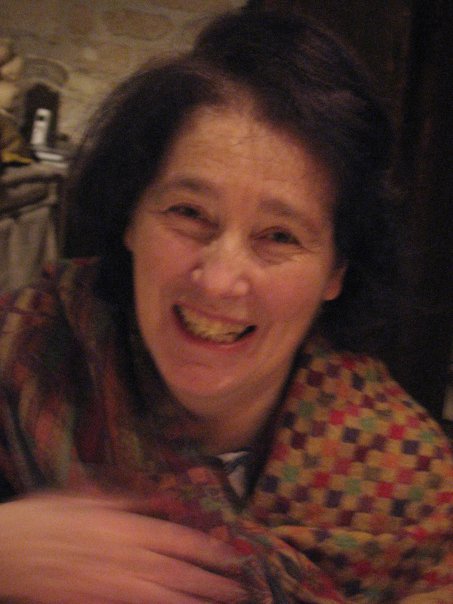 ---
And the most lovely college friend, Angie, writes:
1. If you could remove one thing from your life, what would it be?
I want to say disease – Alzheimer's, cancer – those beasts that ravage the people I love most.
That seems like an easy one, and yet something about it doesn't sit right. All of the cliches
about what we learn from adversity may be cliches because they hold some seed of truth. So
maybe what I would remove is my desire to remove things from my life. I'm working on learning
how to live with a sense of peace in the middle of all of those things I truly cannot change.
2. What has been the best trip of your life? Why?
When my son Nelson was 17, the summer before his final year of high school, we spent a week
in Spain walking the final 113k of the Camino de Santiago. It was the perfect combination of
place, time, person, and plan. We'd wake up and walk through oak forests and rolling hills,
stone walls and bougainvillia, side by side, listening to the rhythm of our hiking boots and each
other as we meandered through our own and each other's thoughts. We ate perfect bread and
salty ham and the most tender Pulpo a la Gallega on the planet. We sat under canopies of
green and played cards and drank wine (in moderation. it's Europe – it's ok that he was only 17).
We carried our belongings and didn't take photos or check our phones or read the news, and
we fell in love with a country and walking and each other at the cusp of his launching into the
world. It was a good trip.
3. What has been the hardest decision in your life? Do you think it was the right one?
Leaving my marriage was absolutely the hardest and most important (best) decision in my life.
It was hard because I knew that it would be the hardest thing for my kids and their dad, and I
hate hurting people. We were all giving up all of the dreams and ideas about what our life and
my family was going to be. The other hard part was that now I had to create a new life with
intention – instead of just letting things happen and assuming that was how it was "supposed" to
be. That's work, and it's hard, and it's the rightest thing I've ever done. Turns out it was right
for my kids and their dad, too, in a million ways. Whew.
4. What have you worked for hardest in your life? Was it worth it?
I think the common thread that sews together my professional life and my personal life into
something that feels coherent and authentic is my work to help people realize what they're
capable of in this world. It can be really hard. It breaks my heart – shatters it, sometimes. But I
look at 28 years of students, two children, and countless deep friendships and know that it's the
only worthwhile thing I want to do.
5. What is the best museum you've ever been to? What made it so good?
I've been lucky enough to spend time in some of the world's great museums, and there is
beautiful art and architecture in all of them that I love. But one that really struck me is the St.
Mungo Museum of Religious Life and Art in Glasgow. It's a museum that tries to bring together
the parts of each major religion that shape how people live, and to celebrate the beauty that
religion brings to the world – it's a physical manifestation of the city of Glasgow's commitment to
build a community that brings people of all backgrounds, cultures, beliefs and traditions together
into one thriving community. I was moved by it, I learned a lot, and it inspired me. I wish there
was a museum like it in every city.
6. What would your idea of a perfect day entail?
Coffee, pancakes and bacon around the wobbly oak dining room table with the people I love
most in the world. Time by the water with a good book. Time on the water in my kayak. A long
hike with Honeycrisp apples and enough cold water. A big meal assembled in companionable
laughter while Frank Sinatra croons in the background. Twinkly lights after a long pink sunset.
Wine, chocolate, cards or Balderdash and a lot more laughing. A rumbly thunderstorm as I fall
asleep. Perfect.
7. What is something you wish you'd learned when you were younger?
I wish I'd been explicitly taught to trust my gut. I always felt like I needed to wait until I had an
airtight logical reason for any decision I made – especially one that wasn't popular with the
people around me. Dating relationships, of course, but also jobs, moving decisions…the whole
lot of it. I got stuck on who am I to refuse/break up/turn down this thing being offered. It took far
too long to realize that no decision I ever entered because I wondered who am I to turn this
down turned out well for me. My gut knew. My gut also knew when I found the right thing, the
right person, the right place. I have been luckier in that I trusted that instinct more. I try to be
one of the voices in my kids' heads saying "you don't need an excuse or a reason. If it feels
wrong, trust it." I needed that voice long before I found it in me.
8. What is your favorite word?
Serenity. It's deceptively simple (even cliched), but for me, it captures all of it. All the hardest,
stickiest, most destructive stuff life can throw at me can be answered with this.
9. What is your favorite place you've ever gone swimming?
I've done some amazing swimming off of different islands in the Caribbean – all blue and colorful
fish and white sand and sky – and I loved that. But there are two places that stand out, maybe
because I wasn't expecting to be so enchanted by them. One is Cave Point County Park in
Door County, Wisconsin – limestone cliffs and underwater caves and blue-green water. In a
county park. In Wisconsin. I couldn't tear myself away, and the memory of floating in that water
still brings me a deep sense of peace. The other was Zuma Beach in Malibu, California. I know
– I grew up with Malibu Barbie and I should have expected it to be lovely, but maybe because I
grew up with Malibu Barbie, I expected to hate it. But I stood in the surf and felt the water drop
two feet as it got sucked into the coming breaker, and I watched the wave rise over my head
and peered through the bluegreen glass of the breaking wave, and then I would leap into the
energy of that wave and ride it into shore, and it felt like I had stepped through some barrier into
a different kind of world. Unforgettable.
10. If you have been to college where did you go and did you have a good experience? What
was the best part? Any advice?
Like your mother, I went to Carleton. It was perfect for me, in that I grew up in a very nice, very
small world. Carleton opened up my brain and taught me how to think and learn. I had
marvelous professors who worked in tiny Northfield, Minnesota because they loved to teach.
Period. Every single term, I had at least one class meet in a professor's home. I could join the
dance ensemble, the diving team, play ultimate frisbee, sing in the chorus of the student
musical, watch Hitchcock movies in the chemistry lecture hall, eat far too much chocolate
peanut butter ice cream, join in social justice movements, and discover the people who still feel
like home to me. I didn't have to be the best at any of those things – I just had to be willing to
say I wanted to try.
My own children chose different college paths – my daughter is at a large private university
studying film production – something she couldn't have done at a school like Carleton. There
are things she's missing that make my heart ache – the intense(ly interesting) academics, the
ability to join sports teams (without being an elite athlete), being in a community made up of the
kind of people who choose a school like Carleton. But she has been able to spend more than a
year in Los Angeles working on independent films, two of which made it into the Sundance Film
Festival. She's got real experience as a producer, and she's already making it in an industry that
has been her dream and her goal since she was twelve. She's more than ok with the trade off.
My son almost chose Carleton, but in the end, decided to head to Glasgow, Scotland for his four
years. He had to select his degree program when he applied (a joint degree in Religion and
Public Policy), but he felt ready to do that, and he chose well. He loves his professors and his
courses, he's fascinated by what he's learning, and he truly loves living in Scotland's largest city
with other students from all over the world. He joined the ultimate frisbee team and has been
able to travel all over the UK, he's hopped many trains, spent a week in Prague, and has plans
for much more travel over the next three years. A bonus is the university was founded in the
15th Century and his classrooms look like Hogwarts.
I guess my advice is not to limit yourself in how you think about college/university. I know I
didn't realize when I was 17 how many different options there were, and both how big and how
small the world really is. Wherever you go, don't be afraid to try a little bit of everything. Keep
asking a lot of questions.
Comments
comments