We've been back from Turkey for about two months now, and, to my surprise, I haven't slammed into any really hard reverse-culture shock moments.
Well, wait.  Actually. There was this one weekend in early August when, on our way to Wisconsin to meet up with the families of some of my college pals for a couple days of camping and grassroots revival music, we pulled over to get dinner at a Culver's (a regional restaurant known for "ButterBurgers®," cheese curds, soft-serve frozen custard, and carting patrons out on stretchers).  As I stood near the easy-refill soda machine, waiting for my curds to finish deep frying and for our burgers to be wrapped in significantly more paper and bags than were technically necessary, I had a moment.
Leaning against the ketchup counter, sipping absentmindedly on my Diet Coke, completely part of the problem, I surveyed the clientele at the Culver's and recoiled.  The dining room was packed, but as I scanned the room of Wisconsinite burger shovelers, I was smacked by how boring, how uninteresting, how unhealthy, how pallid a scene was playing out.  Everywhere I looked were white people topped by white hair wearing white t-shirts uncomfortably tugged over hefty guts.
As I say, I was part of the problem–although, to my credit, my t-shirt was blue, my skin florid, my hair autumnal.
So I stood there, sipping and tugging down my own t-shirt uncomfortably, thinking to myself, "ICK. I don't ever need to talk to a single one of these boring-looking Midwesterners.  I am so–yawn–bored by their very appearance that I–snore–never need to engage with them in any fashion, ever, never, nowhere. What a grim-looking bunch of Wheel of Fortune watchers. Where is the color? Where is the vibrancy? Where is the texture? The tone? Where are the ubiquitous silky scarves covering the heads of the females with vivid hues? Where are the bright red peppers; the sounds of too many cats wailing as they look to poach their next meal; the murmurs of men chatting as they wash their feet before prayers; the smell of the lemon caves; the tap-tapping of the coppersmith decorating a ewer; the visual splendor of towers of handmade soaps–mint, daphne, cinnamon, olive oil, pomegranate?  Where, in the midst of this beige dining room dotted with white bodies, is the allure, the charm, the enchantment?"
A year of cantering the crossroad–the Silk Road, to be exact–of history and cultures in the near Middle East had forged me into one tough Culver's customer.
My reverse culture shock that day continued beyond watching the pasty pallids suck down the custard Flavor of the Day (Crazy for Cookie Dough!).  An hour later, discreetly burping curds, we pulled in to the Hayward KOA, and my eyes got even bigger.
Certainly, I know that KOA campgrounds don't exactly bring "nature" or "escape" to the camping experience, what with their swimming pools, hot showers, convenience stores, and well-lit sites.  But there are times of life and circumstance that make them a good choice for people who fancy the idea of Being Outdoors So Long as The Bathroom Is Tiled. In this case, we had five tents of families and kids and thought the kids might actually give the adults a chance to chat if they were distracted by Marco-Poloing around the pool.
As it turned out, trying to triangulate the location of the lost Polo was the least of their options at the Hayward KOA.  In fact, dunking in the pool was the consolation activity in a place that had a whiteboard propped outside the registration office that listed the weekend's schedule.  When we'd booked our sites, we'd known the place had a water slide, but we'd been unaware of the looming Chocolate Weekend–featuring a chocolate pudding eating contest; a chocolate fountain by the pool during Adult Hour; a chocolate slip-'n-slide, candy bar bingo, chocolate pancakes at the cafe–and we'd been unaware that, Chocolate Weekend aside, this KOA consistently offered daily movies, a huge jumping pillow, wagon rides, cosmic mini-golf, dances, crafts, tubing on the river, and s'mores at the fire ring.
All of this before the karaoke and dancing.
As I stood there in front of the registration office, gawking at the schedule of events on the whiteboard, the kerfuffle in my brain was only muffled by the creaking sound of John Audubon rolling over in his grave.
Wow. Karaoke. Under the pines. With a chocolate fountain gurgling in the background.
It kind of made our year in Turkey–of living in a crumbling stone house and chopping kindling every day to create enough heat to warm a single room
feel like
camping.
Reaching out my soft ButterBurgered® hand to clasp Audubon's skeletal digits through the dirt covering his grave a thousand miles away, I gave him a good yank, and we made our way to the KOA tent site, where no one blinked at the fact that I was dragging the remains of John Audubon next to me, discoursing animatedly about the long odds of spying a gyrfalcon circling over the slip-'n-slide…but how, if we did, then I'd shoot it down with Paco's slingshot, and John could then pose and paint it…using chocolate from the pudding eating contest as his medium! Our enthusiasm was quashed, however, when we realized John's painting had declined substantially since his death and that he hadn't been able to hold the brush with any semblance of skill ever since three of his fingers snapped off thirty years after his interment. Sadly, we realized the Hayward KOA was no place at all for a legendary explorer of the natural world, so I sent him back to his grave in Manhattan with a quick plink of magical thinking and a care package of chocolate pancakes.
Back to its original numbers, our crew of college friends and progeny drew upon its well-honed ability to relax into situations of public idiocy (these are people who have survived the mosh pit at Black Flag concerts) and settled into the vibe of the KOA.  We were doing quite well at being happy campers, too, and accepting that some people's idea of connecting with nature involves a can of Red Bull and a t-shirt that reads "Celebrating 100 Years of RV-ing,"
but then.
The next morning.
We emerged from our tents, glanced over towards the cooking gazebo (replete with stoves, sinks, electrical outlets) and spied not a gyrfalcon but, rather,
a Flat Screen.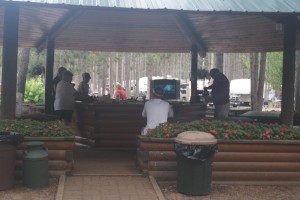 This family proceeded to watch programs on their Flat Screen for three hours.  In honor of the shock I felt, I could work up a wacky tangent here about Phineas and Ferb wrestling their way out of the television and going for a swim in the kitchen sinks and getting up to naughty hijinks with the vegetable sprayers, but, frankly,
I'm still just too stunned to play silly on this one.  A Flat Screen? At the campground? And you go camping why?
So there you have it:  my culture shock–which didn't truly grow out of anything "reverse" at all.  Even if I'd never left the States, never had my skin exfoliated by dust dropping off the frescoes of early Christian churches in Cappadocia, I daresay Flat Screen While Camping still would have sucked the breath from my lungs and made me feel alien in my native home.
In fact, as I stood, gaping at the 32 inches of pixels under the pines,
I rather wanted to head back to Turkey–
where men wear suitcoats in the fields
where lingerie is sold in yarn stores
where corn is the preferred topping on pizza
where Sex in the City is in regular rotation on the viewing schedule, but all instances of cigarette smoking in all programs are blurred
where Old Schoolers haven't yet adjusted to the new monetary system and are apt to tell you the cost for a bag of pistachios is "five million lira"
where you can be sure the granny in shalvars next to you on the bus is as naked as a mole rat in her nethers
where grilled sheep's intestines, leading with the flavor of dirt, are a nostalgic delicacy–
if only so I could be in a place where things weren't so damn weird.
Comments
comments