With so many opportunities for gift-giving in our fortunate lives, nearly everyone has a story of receiving a terrible, terrible gift. An informal survey of friends recently yielded stories of some real corkers. Settle in with a cup of rose hip tea that your husband's cousin gave you, even though she knows you spend your days mainlining coffee, and enjoy this list of:
The Worst Gifts
1. One year, a friend received a red polyester turtleneck dickie as a gift and was not able to formulate a gracious response because she honestly had no idea what the hell it was. She thought it was a dog sweater. Since then, the friend's family is able to compliment all other gifts by noting: "At least it's not a dickie."

2. Another friend recalls the "worst I ever got was a mesh crop t-shirt my gram thought was super trendy"; significantly, it cost only $2 on sale at Lord and Taylor. Thanks to Grandma's thrift, that mesh crop top went from adorning the clearance rack to barely covering her grandaughter's.
3. Yet another friend, a retired teacher who taught writing for 30 years, reports that this year her mother is bestowing upon her a Groupon so she can take a $19.99 writing course. Although my friend has two degrees in writing, her mom apparently thinks it's time she learned the craft. One idea: this friend could use her time in the writing class to crank out stories about her mother.
4. Then there's the friend who never could quite figure out what to do when presented with ancient, dusty book bags emblazoned with logos from computing conferences held in the Eighties. Perhaps she could cut them up and use them as wrapping paper for a stack of 5 1/4″ floppy discs–a fitting present for the original gifter of the dusty book bags.
5. When one of my friends was in college–18 or 19 years old–her mom bought her a green-and-black lace bra with matching thong. There's nothing that says "I love you, sweetie" more effectively than a gift that smacks of washed-up stripper. Even worse, the bra looked like something my friend's mom would have bought for herself.
6. One of my students was given half a roll of cheap toilet paper (the other half had been used). In this case, the giver decided that she simply didn't like the tissue yet didn't want it to go to waste. Personally, I'd have been tempted to string that half roll of paper on a prominent tree in the front yard of the gifter's house.
7. This one's from the "When the State of the Marriage Is Reflected in the Gift" files: a friend reports,"The first year I was married, my husband got me an umbrella and a Lord of the Rings calendar." When she burst into tears, he was befuddled: "WHAT? I thought you liked Lord of the Rings!"
8. Sometimes, the gifter is punting, as in this story: "My husband's aunt gave a new member of the family a jar of green olives for Christmas. She just couldn't find anything else around the house on short notice and didn't want him to feel left out of the gift exchange." Here's how the situation could truly have been salvaged: the aunt could also have handed him a bottle of gin and a martini shaker.
9. One friend, a retired mail carrier, recalls the year she received a "normal" gift from a customer (cash, candy, cookies), and as she accepted it, a grumpy old man noticed, with alarm, and realized he should offer her something, too. The next day he handed her a half a can of clams.
10. This year, one lucky 13-year-old in Massachusetts will be getting a pair of leather pants from Grandma for Christmas. When the mother of the 13-year-old heard of this plan and protested, Grandmother explained, "But they're beautiful. I would wear them myself." "Exactly," said the teenager's mother. The best part is that the teen's mother is choosing not to warn her Superintendent of Schools husband–because she wants to see the look on his face when their daughter opens them.
11. One friend often visits her sister in Canada over the holidays; they get together with her sister's in-laws as part of the celebration. One year, unsure of what to give Friend, the in-laws presented her with a pair of house slippers dripping with strands of fur. Canadians. They think everyone wants feet that look like a yeti's.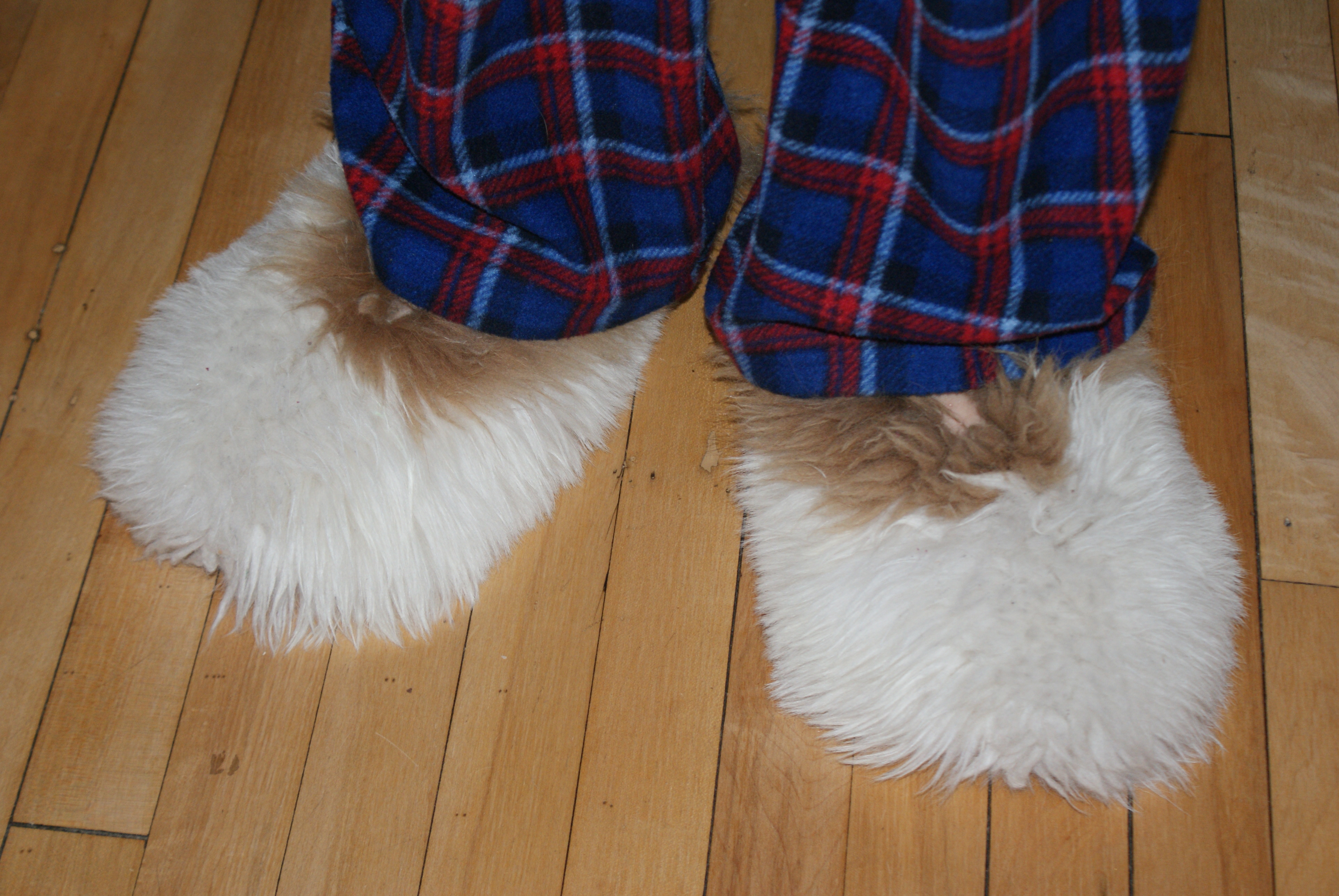 12. Actually, it's sometimes hard to tell the difference between Canadians and Texans, especially when it comes to loving creatures of the wild. A friend in Texas reports: "My cousin is an avid hunter…and one year I got a deer hoof; bone showing, freshly cut. He thought I might want to make a key chain out of it."
Certainly, some of these gifts are breath-taking in their lack of thought, challenging the recipients as they attempt to gurgle out a "thank you."
However, I daresay this gift, reported on the website Why Did You Buy Me That, wins Chanukah, Christmas, Easter, and Birthdays: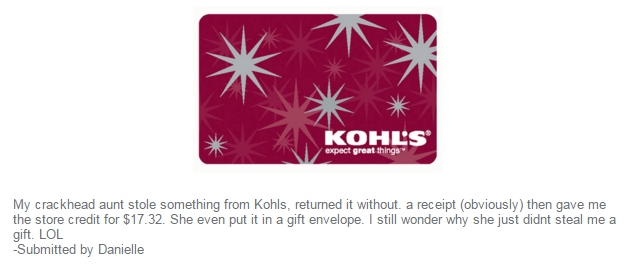 Comments
comments