Travel can be intense, which is why it can be so vivid and memorable. It also, in the worst case scenario, can be why traveling companions begin to chafe as the days tick by. Not so here.
I still like her: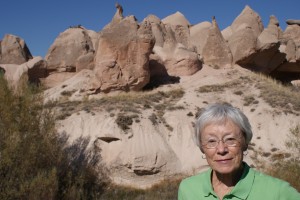 I still like her, too: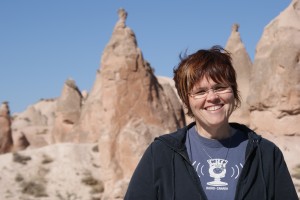 And, lawsy, does I still likes him:
In the best news of recent days, I slept for ten hours last night. Not only has jet lag been an issue, trying to stay on top of grading and keeping up with my classes have cut into a couple hours' sleep time each night. Of the six classes I'm teaching right now, four are ending this next week, as they are accelerated 8-week courses (I get to read research papers as we drive north, towards the Black Sea region, thus fulfilling what was never a life-long dream), so there's not only the usual weekly work, but there's also end-of-term work, like final exams that are about to come in. Fortunately–knock wool and lokum–I've had good Internet access so far, so getting online hasn't been an issue.
The perfect way to follow-up a good night's sleep (I recommend cave sleeping incidentally: cool and silent, unless a band of young Turks is setting off fireworks in the canyon at midnight) is with a laid-back morning. Once I rubbed the sand–both from Mr. Sand Man and the cave ceiling's shedding–out of my eyes, I graded the work that had been turned in over night and then meandered up to the terrace, where one and all, plus our former neighbor, Balloon Pilot David, sat eating breakfast. As I ate a piece of cornbread made with cornmeal we'd left behind when we returned to the States, we basked in the sun and the backdrop of the valley below.
Then, taking Laura and Nurettin's Golden Retriever, Karamel, with me, I headed up to my favorite country road for a run. Poor Karamel had already been out for a long walk earlier, and so she was dragging and panting the whole time. I just about had to carry her the last few miles home. Luckily, there are "ablutin' fountains" (which some families also use for washing their laundry) out on some roads, so I was able to stop and give her a drink as we headed back into the village. Even more reviving were the grapes I fed her; the man who remembers me as The Woman Who Runs had seen me heading out and, as he was in his garden plot, gathering grapes, he promised to leave me a cluster on his fence post, for picking up after my run.
It's amazing how much can be communicated without language.
Upon my return, we were feeling ready to face an afternoon of showing Virginia some great Cappadocian sights.
First, we stopped at Devrent Valley, also known as "Imagination Valley," for every rock can be imagined into some figure…a camel…a mother holding a baby…a Viking ship. Because we lack imagination, that was a quick stop, allowing only minimal time for vamping.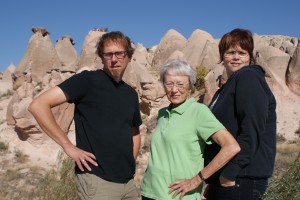 Done with Devrent, we zipped to Zelve. Zelve is the town, made up of three canyons of cave homes, that was inhabited until 1960, at which time the government noticed the tendency of carved out rock to cave in. The citizens of the town were mandatorily relocated to a few apartment buildings down the road. Apparently, though, the danger to Turkish citizens outweighed the danger to German men in embroidered jean shorts, for the place remains open to tourists.
I just love it. Before today, I'd been there in April and July, but October is the best. It's less hot, and the light is gorgeous. Even in the mere 14 months since we were here, much has changed in Turkey as a whole: the bathrooms are, by and large, better; the airports have been updated; and Zelve has new paved paths that make it accessible (and less dangerous) for all sorts of people.
We four people were in need of some energy-boosting gozleme (potatoes, cheese, or spinach inside a folded-up piece of yufka, which is like a large, thin soft tortilla).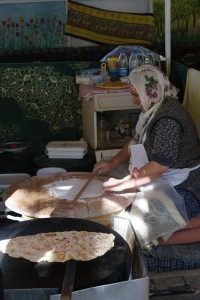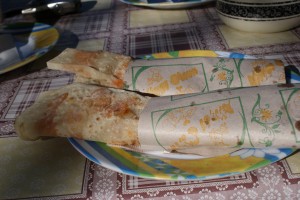 Well fortified, we headed out to peek through holes and try out the new paths.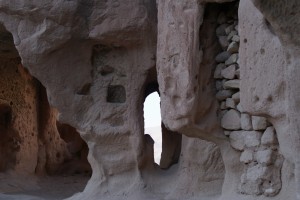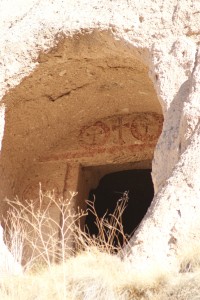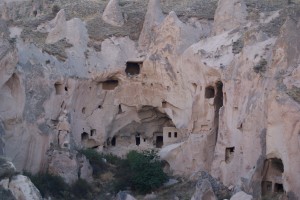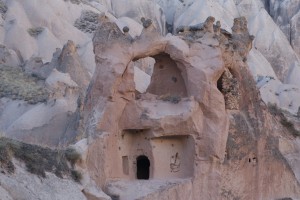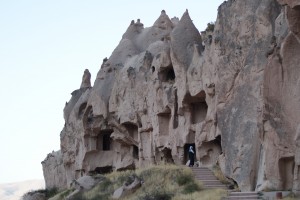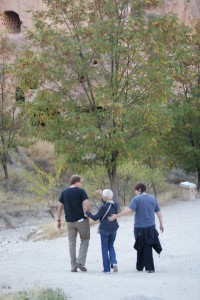 While it's been great fun to share with Virginia some highlights from "our" Cappadocia, Byron and I are particularly enjoying the moments when we see something new, something we haven't seen before. This evening, just before sunset, we went to the new sculpture park, a place created by Australian sculptor Andrew Rogers. Ideally, the  park is viewed by car, as the sculptures are spaced out from each other a fair ways; however, our cruddy rental car couldn't make it up the steep, rocky road. We parked halfway up the road and walked the rest of the way. Not having a car also meant that we stuck to the closest "geoglyph." As the sun set, I jogged up the road to the next glyph, as well. Other photos can be seen here.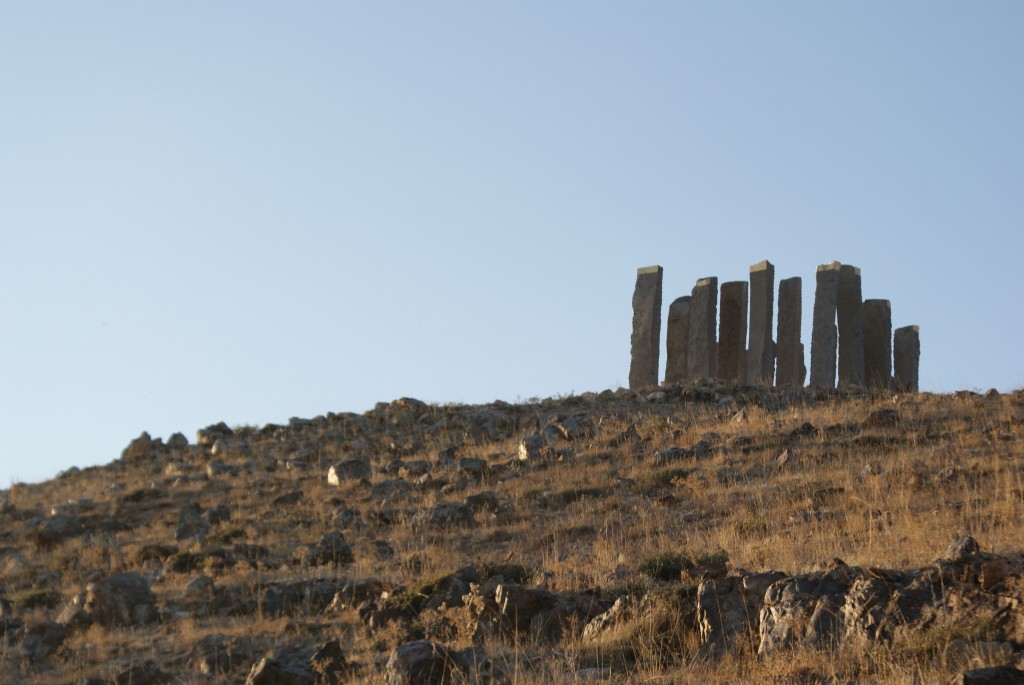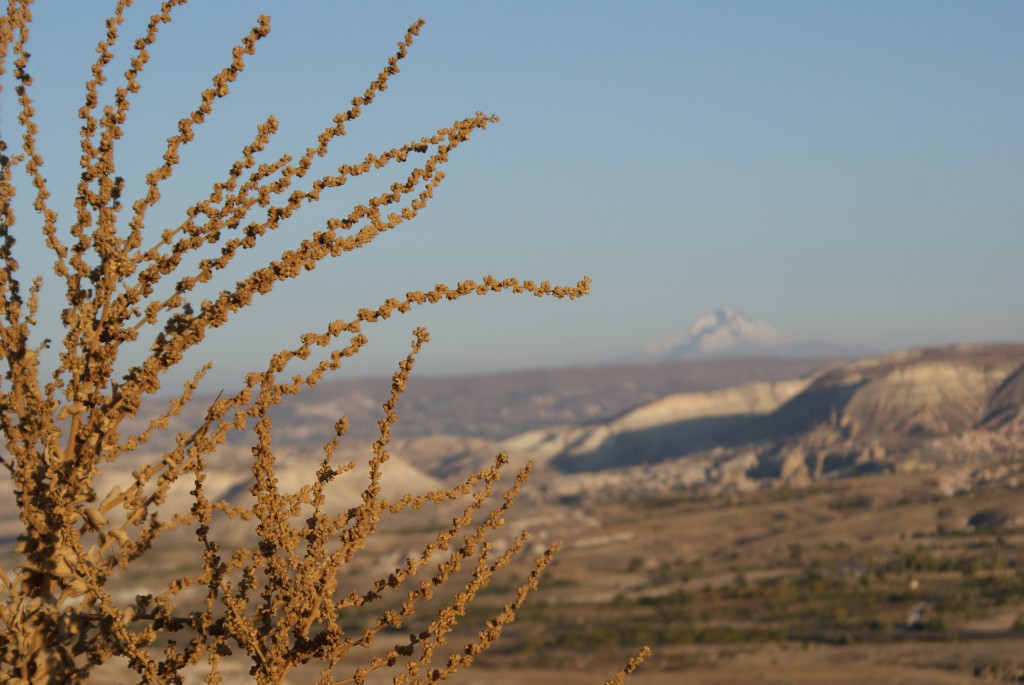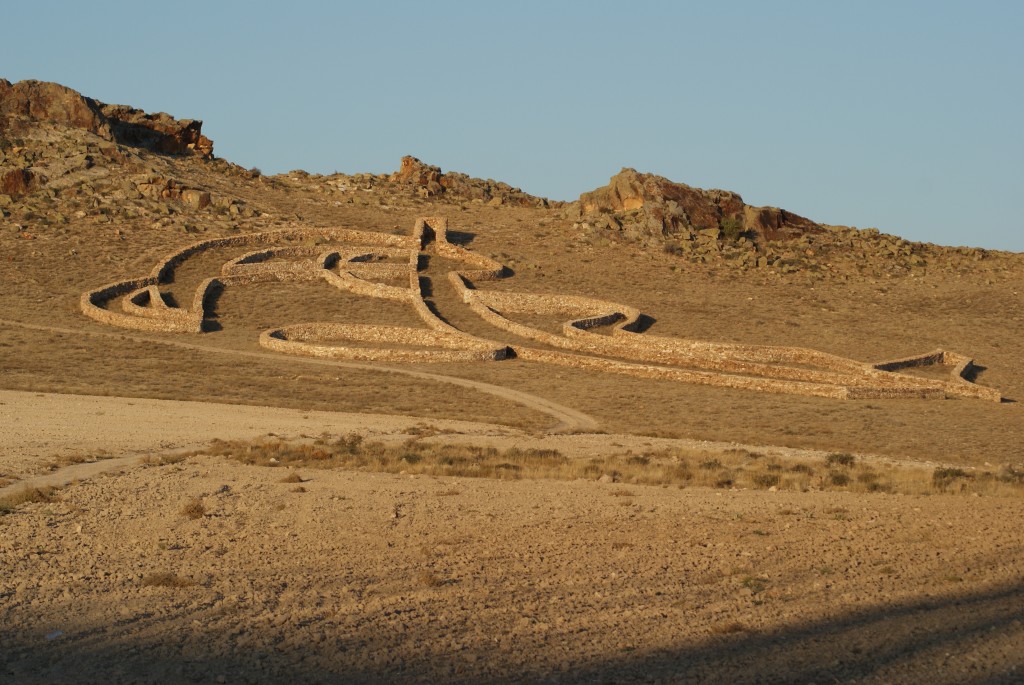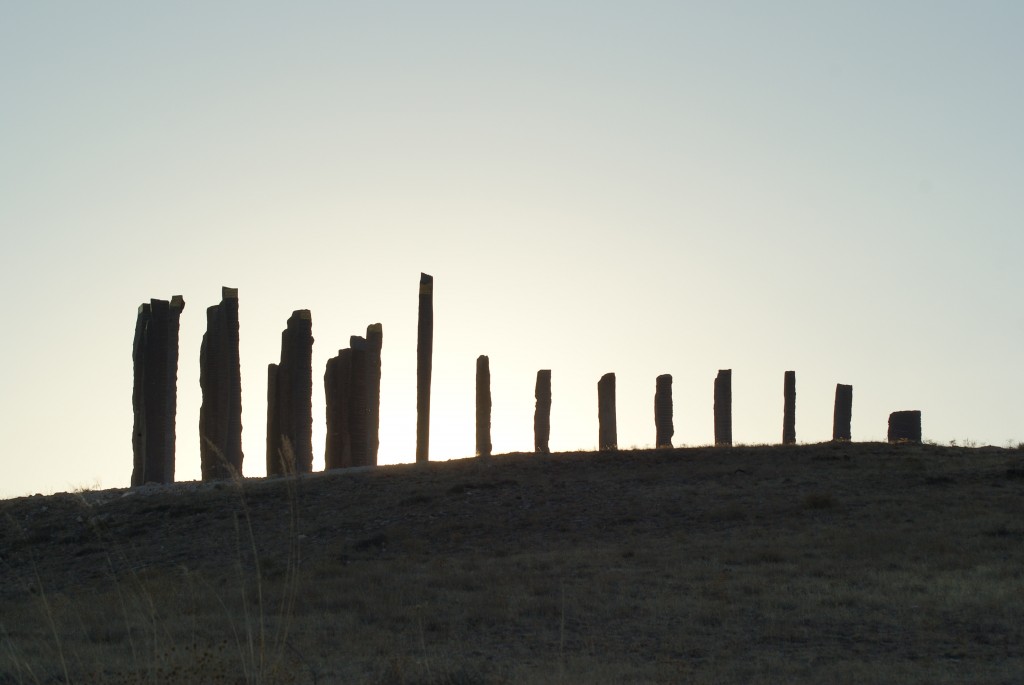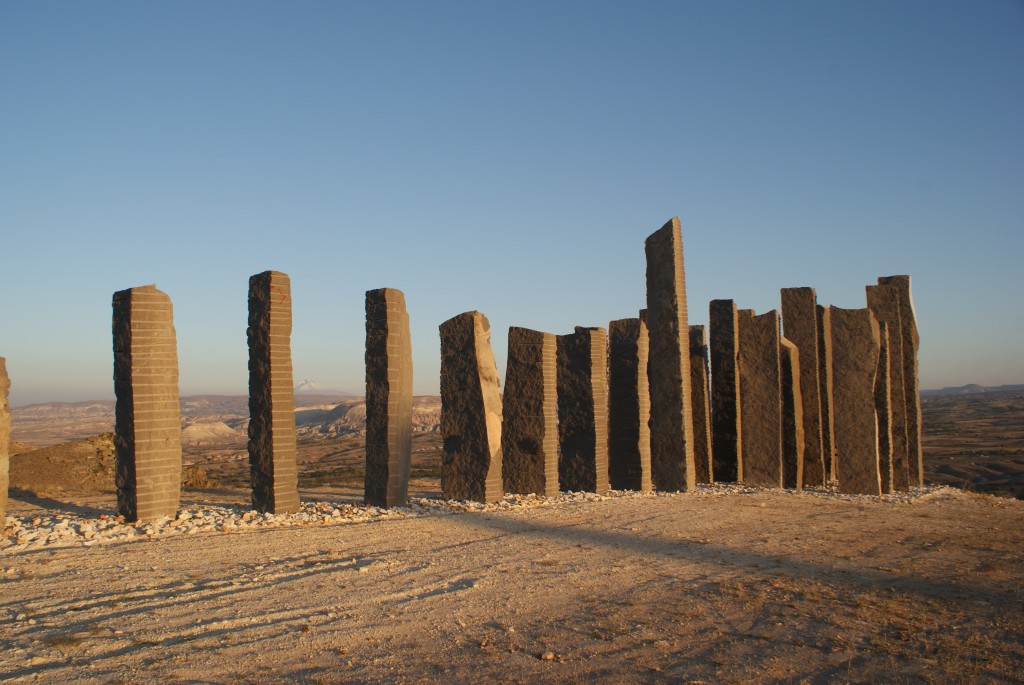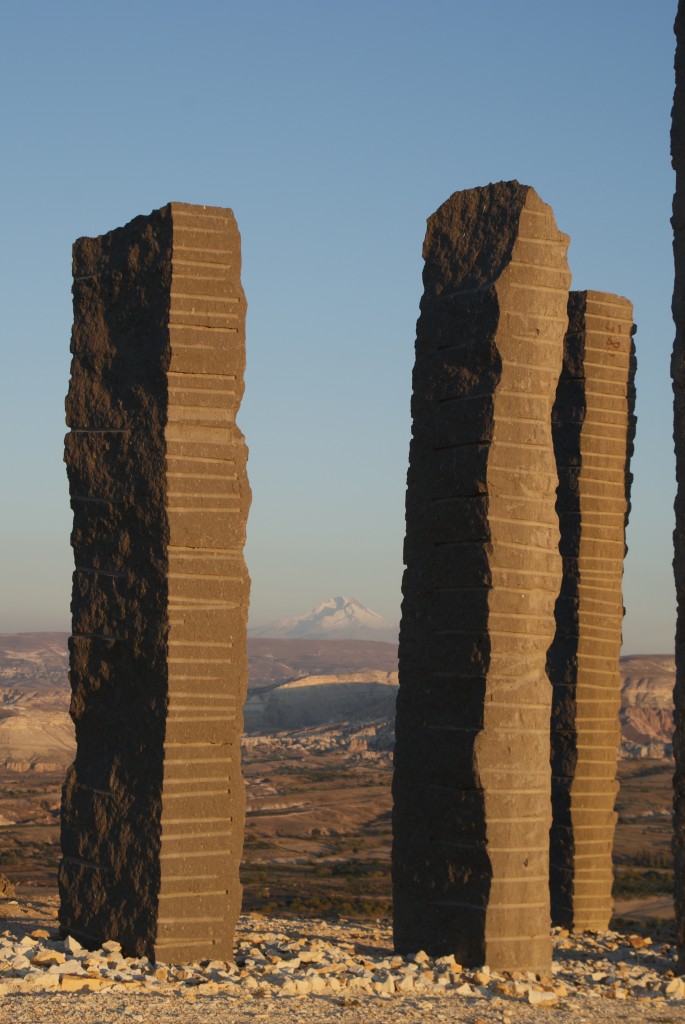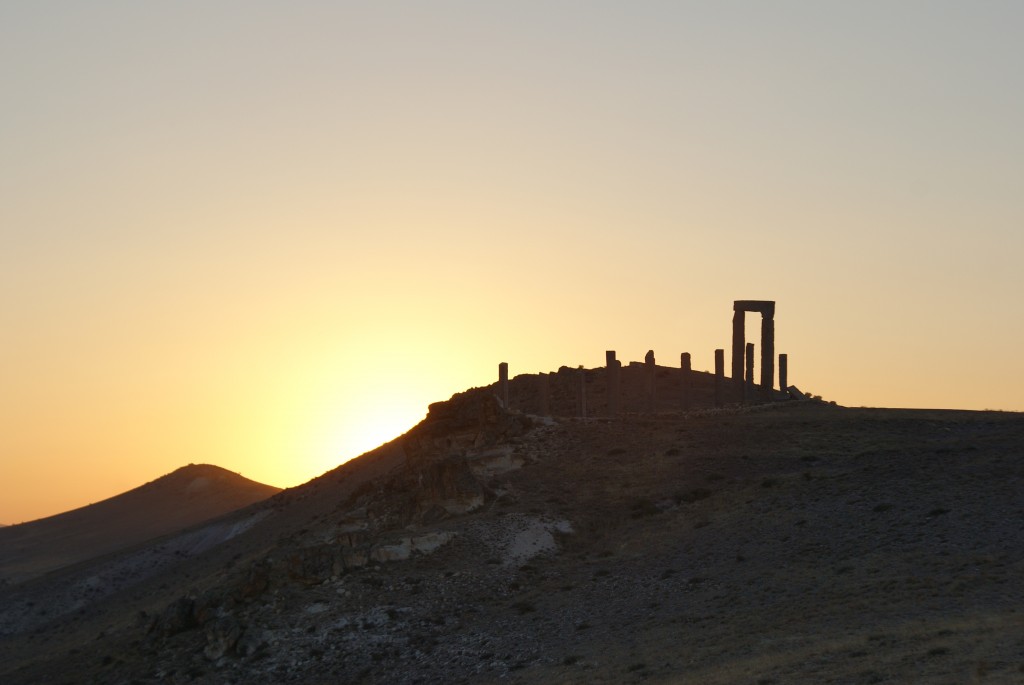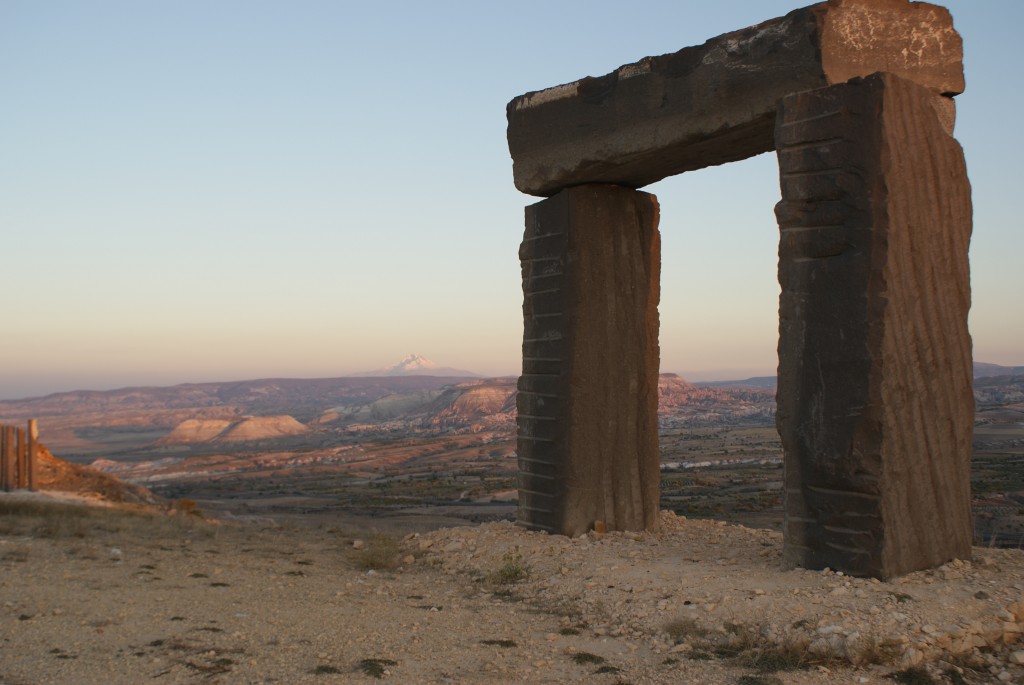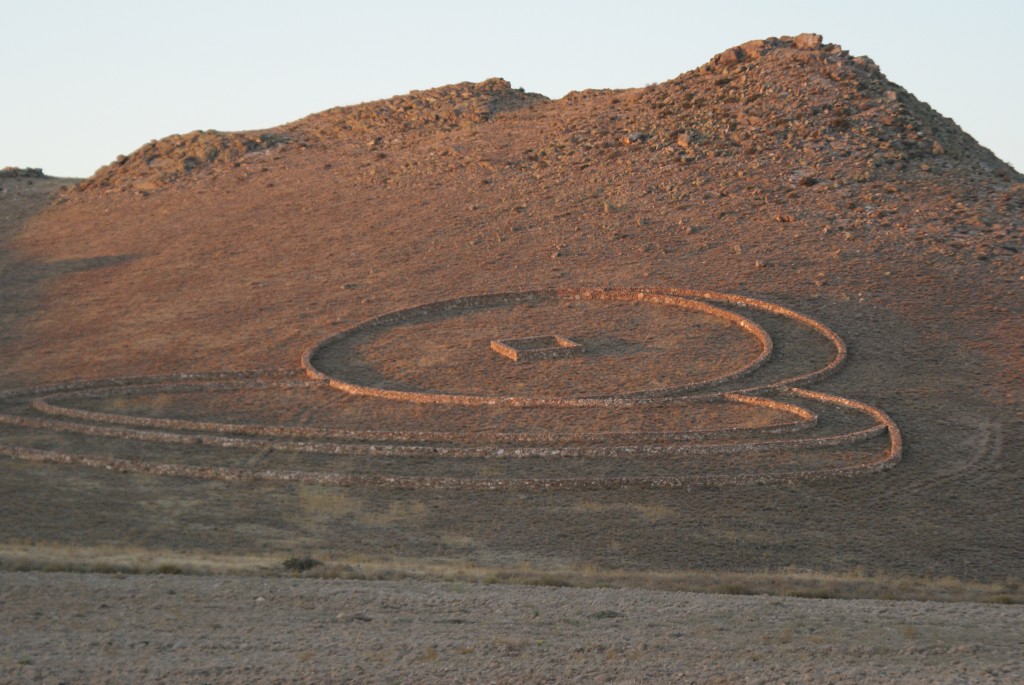 Hey, Paco? If you're looking at these pictures with Allegra and Oma and Jay, you should know Daddy spent a long time looking for a chunk of obsidian for you. He ended up finding only a small piece–but a small piece is better than nothing. I wanted us to bring home one of these sculptures for you, but old Party Pooper Pa said no.
———————
With the sky dark, we zoomed into Goreme to stop by our friend Ruth's carpet shop. Ruth has a deep and specialized knowledge in tribal rugs; fortunately, asking her one question opens the door, and the education begins. We sat for a half hour, transfixed by her explanation of old versus new, good versus bad, valuable versus crap. (I didn't have my camera in the shop, but when Kirsten shares her pictures with me, I'll post a few!)
By the time we staggered, happily, into the night and drove back to Laura's, we were late for dinner, which earned us a stern reprimand. We groveled, and all was forgiven, which then allowed us all to sit down with two of Laura's British friends who live in Ortahisar. One is a recently-retired airline pilot, and the other is an artist/writer/Egyptologist type who was able to fill us in a bit on the Hittites–since we'll be visiting their ancient capital in a few days. They were completely lovely, so much so that we all fought off our yawns until a reasonable hour.
Now I'm back to grading; Byron's back to sleeping; and in a few hours, Virginia and Kirsten will wake up very early so as to
stuff Virginia into the basket of a hot air balloon.
She's never been in one before. She's 75. It's time.
Comments
comments