I can get into the part of travel that involves standing in a museum and looking at pottery shards. I'm also pretty adept at reading plaques.
I can really get into the part of travel that involves interacting with people–both old friends and new natives. We had the best time at our hotel this afternoon drinking tea and attempting to chat with our hostess and her 14-year-old daughter. Between our limited Turkish and the daughter's limited English, we managed to learn not only that her father is dead but also that her brother is doing his mandatory three-year military service in the city of Mardin (which has been #1 on my To Visit wish list since we lived here). Mardin hugs the border with Syria, so the brother is undergoing some tough times–"many problem"–these days. This mother and daughter running a hotel in the Black Sea region drove home for me the headlines that are dominating headlines across the planet.
Just as much, I can deeply get into the part of travel that lets me explore places on foot. This morning, I followed breakfast with a gorgeous run from our hotel, down the road, up the road, up the road, up the road, up some more, up a bit further, up until I couldn't breathe, and then blissfully down and down. I did this on the road that snakes around the ruins at Hattusa, the capital of the ancient Hittite civilization. Because I set out from the hotel while the others packed up, I was able to buy my ticket using sweaty lira that had been tucked into my bra and then run and run until I found my crew at the first stop within the circle of pullovers. To have a place to run that's free of crowds and cars was heavenly. To travel by foot is my favorite approach of all.
A few shots from today, starting with Virginia at the Hattusa Lion's Gate: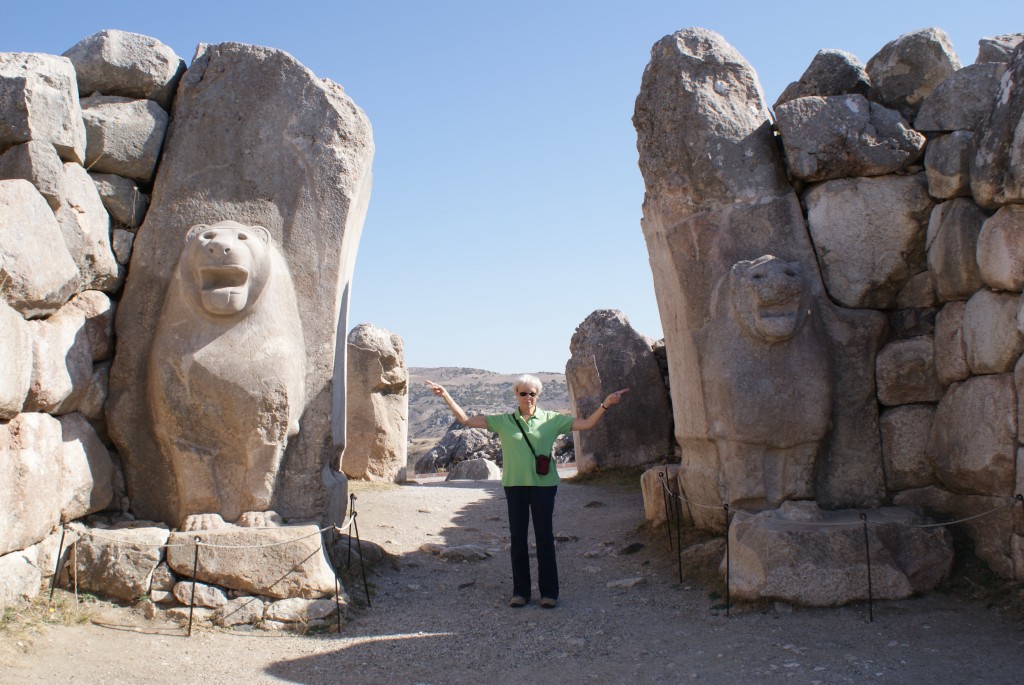 I'm very taken with pyramids, and the outer walls of Hattusa form one. I've typed it before, but I'll type it again: pretty much the history of the world revolves around people picking up rocks and stacking them.
End of informative academic lecture.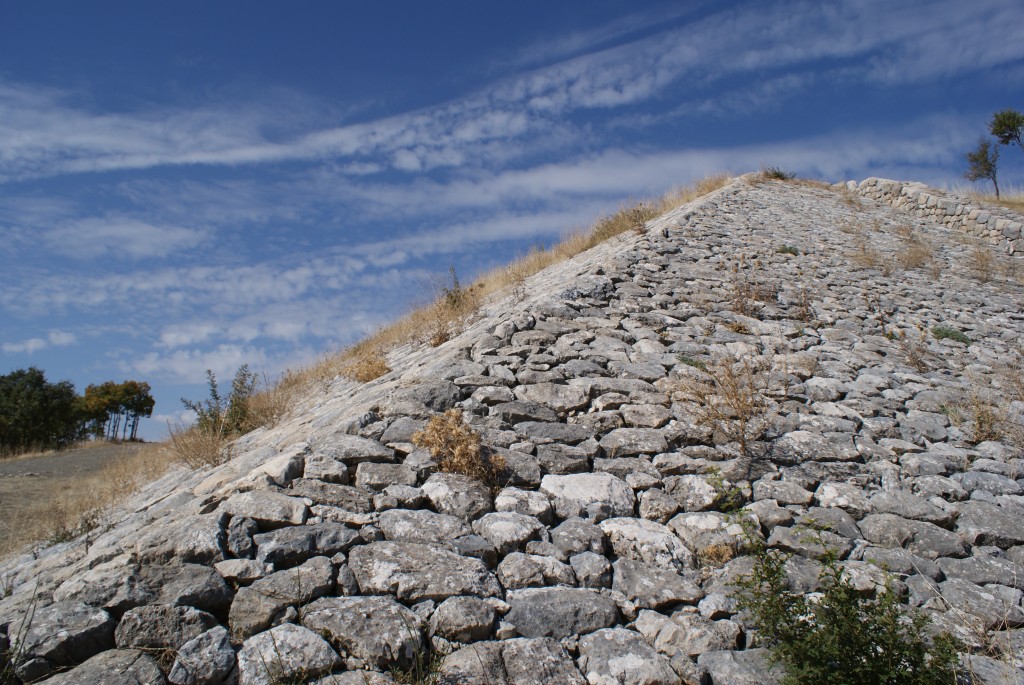 Kirsten rocked the rocks by plowing up a formidable staircase. At the top, she jumped for joy. I would've, too, but I was too busy lying on the ground, panting.
Further evidence that I'm the world's cheapest date: I find the wings of a sphinx to be glorious. That's all it takes to make me happy. Sphinx wings. Is that so hard?
I also like to imagine what kind of jewels or rocks might have originally been in the eyeball sockets of this face. Then I like to imagine it's my piggy bank and that I'm shoveling nickels into the eyeballs. After that, I start to confuse the word "eyeball" with "gumball," and then I wish that gumballs would come flying out of the eye sockets.
Then I start to wonder when I last had a drink of water and if I mightn't be just the slightest bit dehydrated.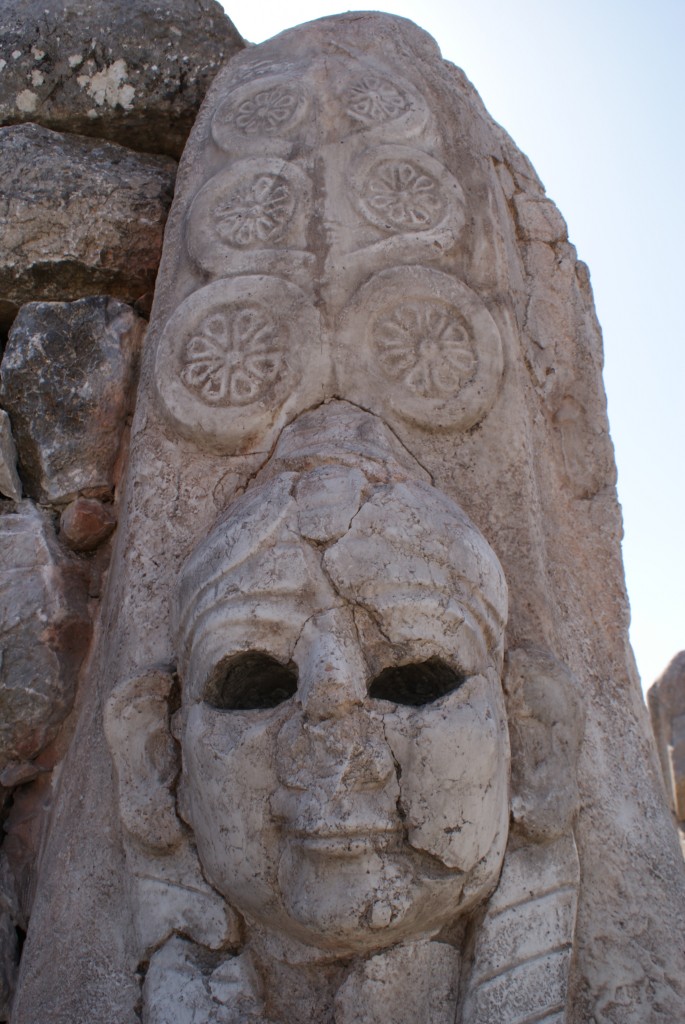 In case someone takes all the nickels from my piggy bank's eyes, I'm practicing my Hittite Relief Sculpture poses so that I can answer ads in the classifieds for art class models who specialize in just that.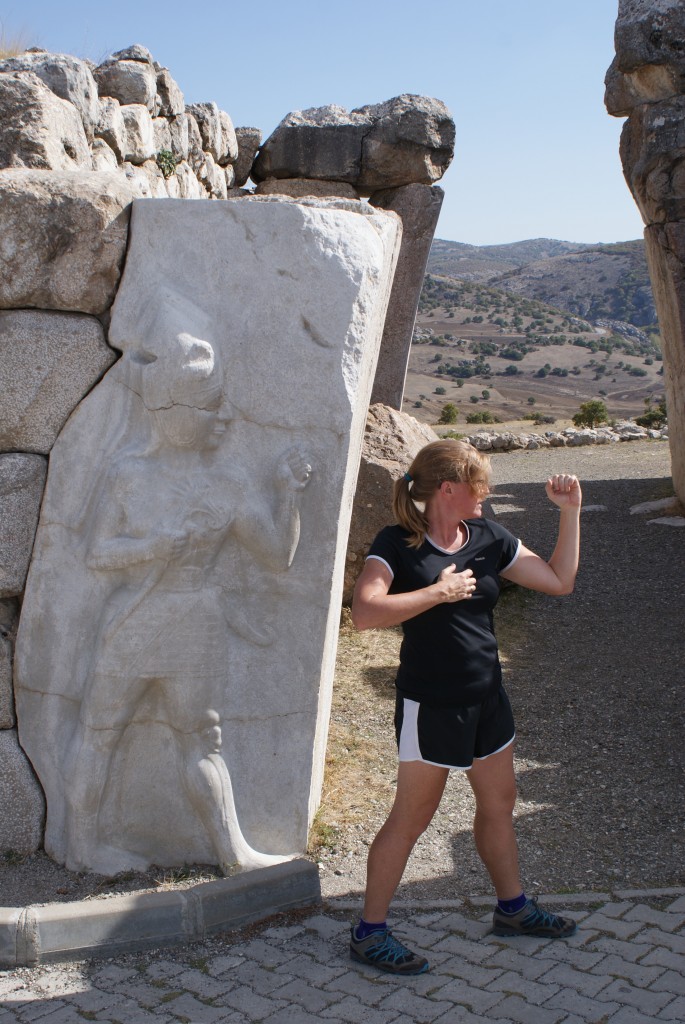 The thing about driving a looped road around an ancient capital is that eventually you finish the loop and feel ready to stop driving in circles. We drove to another Hittite site, Alacahoyuk, and contemplated buying this place as we drove through the village: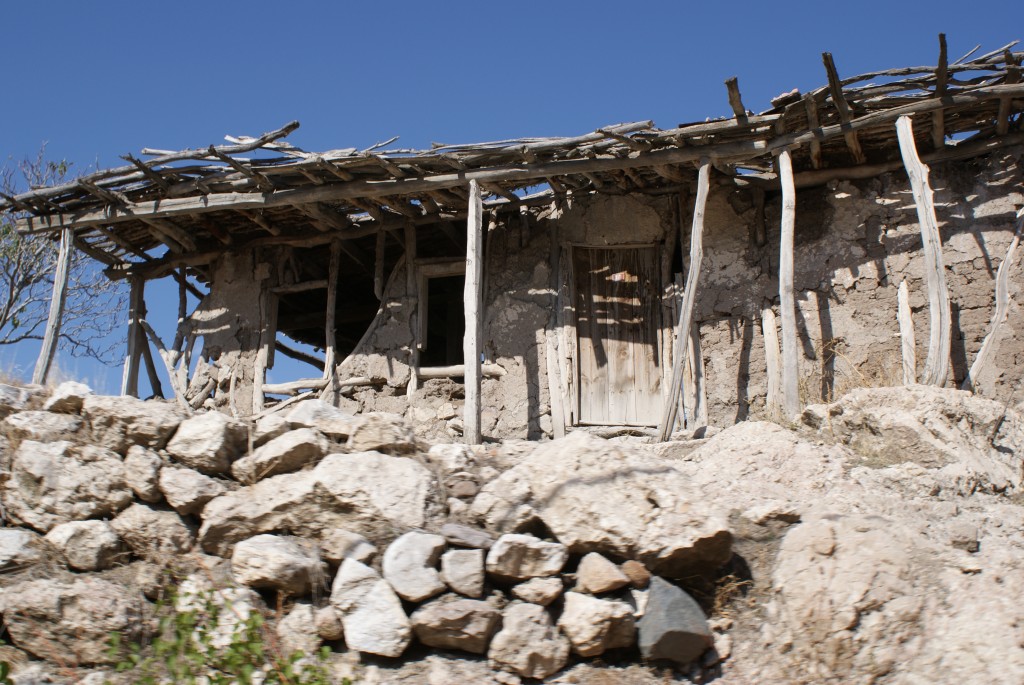 I decided that my life is already too full, so I went ahead and bought it for you. You move in next month. I daresay the Home & Garden network would like to create a reality show around your efforts to salvage such a fixer-upper and flip it before next Ramazan.
At Alacahoyuk, there are more relief carvings. One of these poses was really hard to practice without a ladder. I used Byron instead.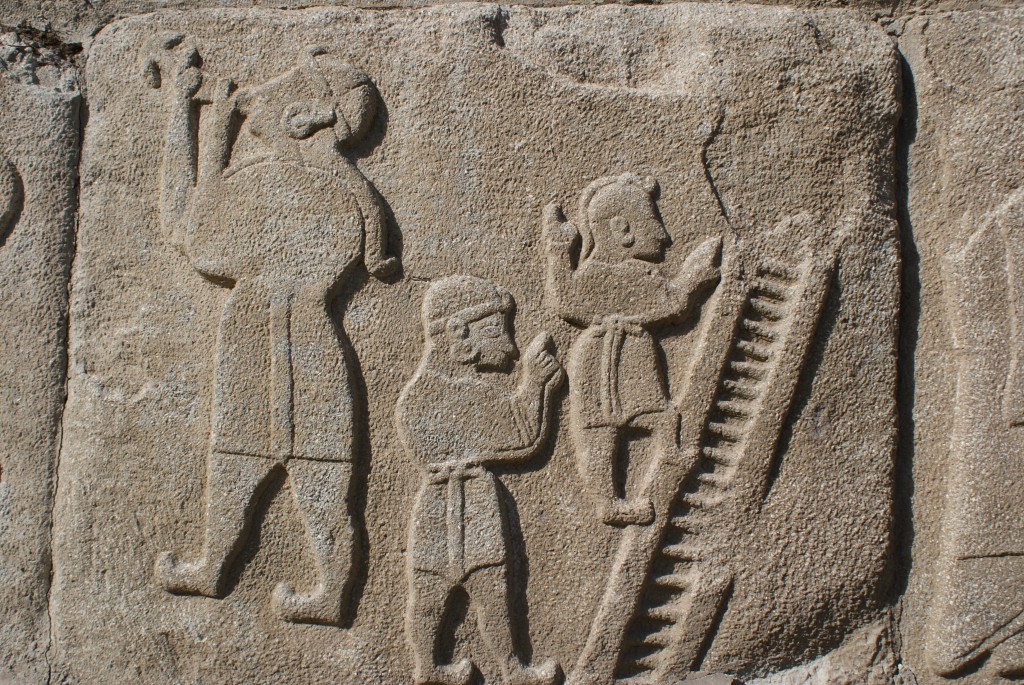 Well done with Alacahoyuk, we piled into the car and drove for a couple hours, north to a city that's new to all of us, Amasya.
Friends, I love this city. Looming mountain of stone? Check. River? Check. Bustling sense of commerce without heaving crowds? Check. Classic wooden Ottoman houses? Check.  ROCK TOMBS IN THE CLIFFS? Check.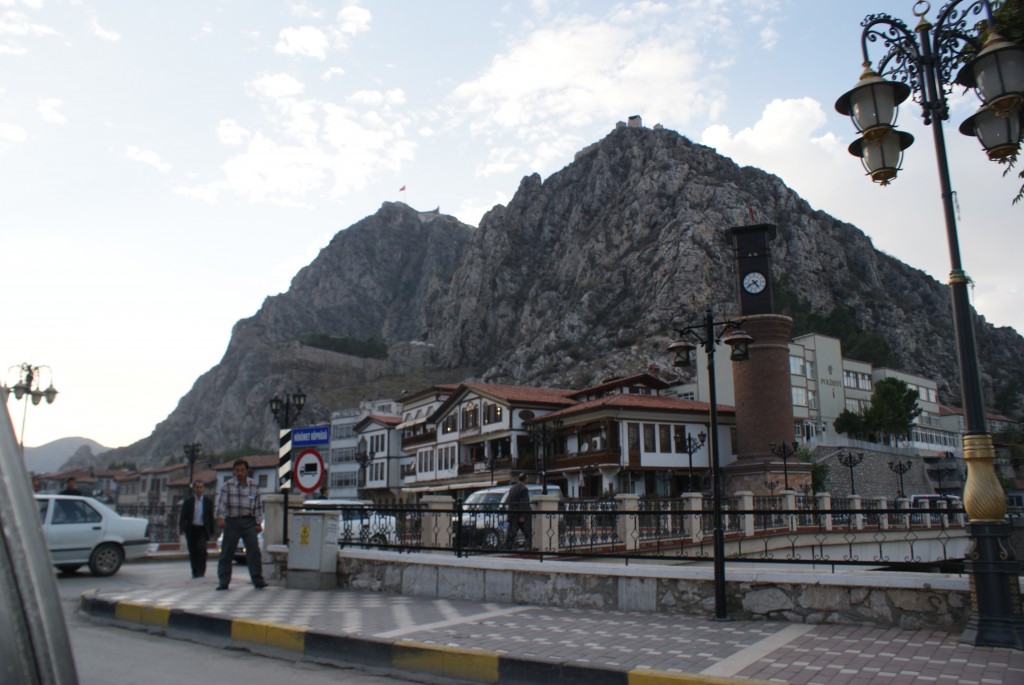 I only snapped the tombs from the outside today, as we were getting into town near sunset. Tomorrow, we pay admission and enter. I am aquiver.
When I'm not dreaming of ROCK TOMBS CARVED INTO THE CLIFFS, I'm staying in a room like this.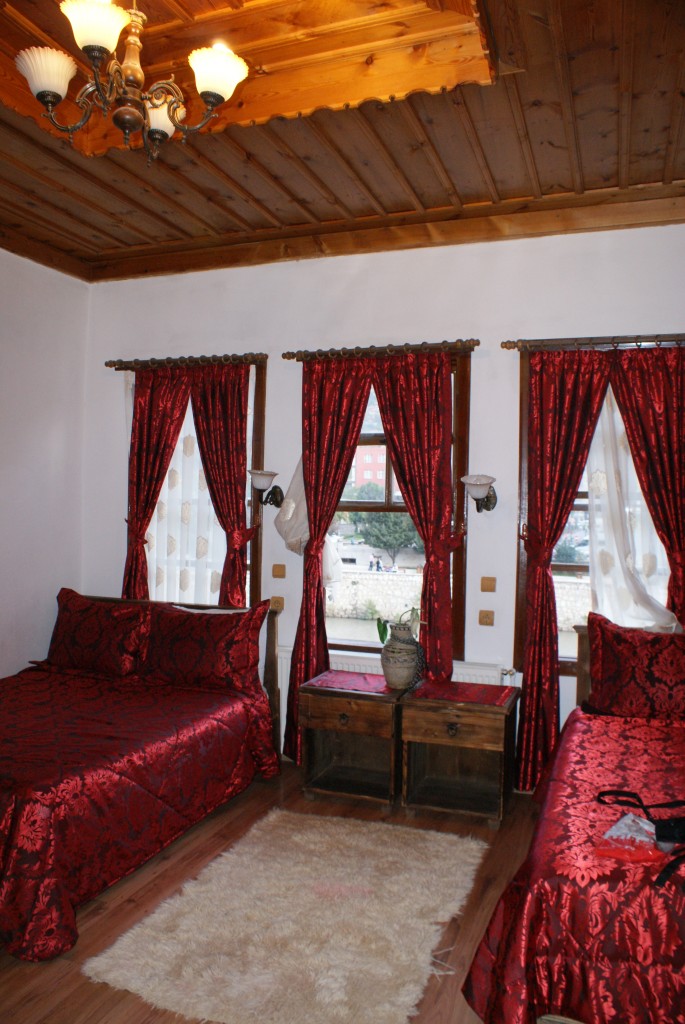 From Virginia and Kirsten's room, we can peek out the window and see this: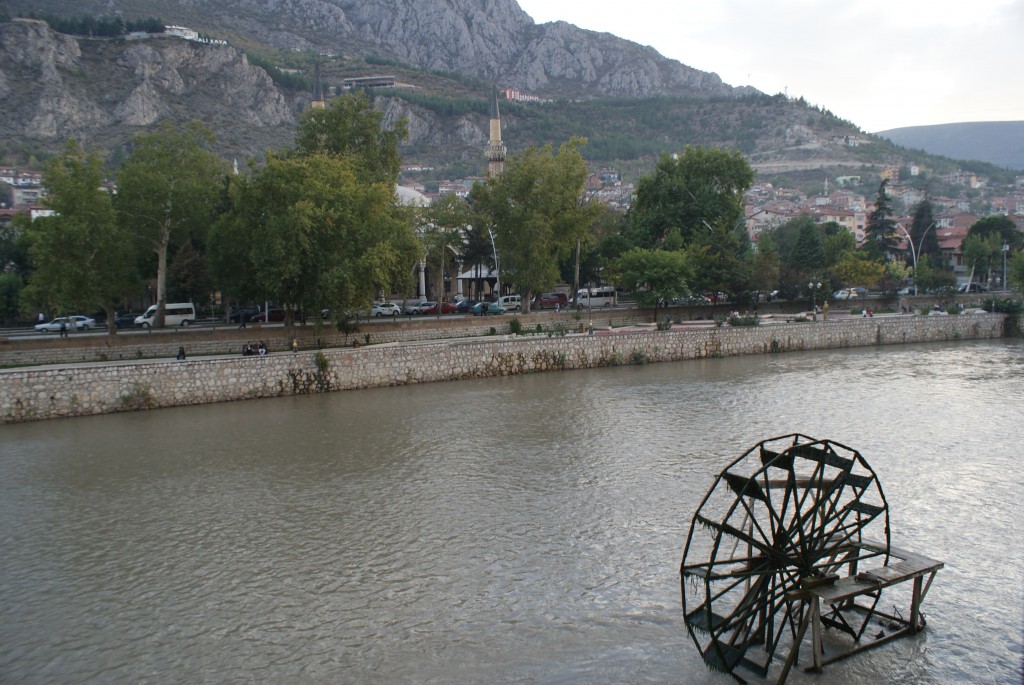 At night, Amasya looks like this: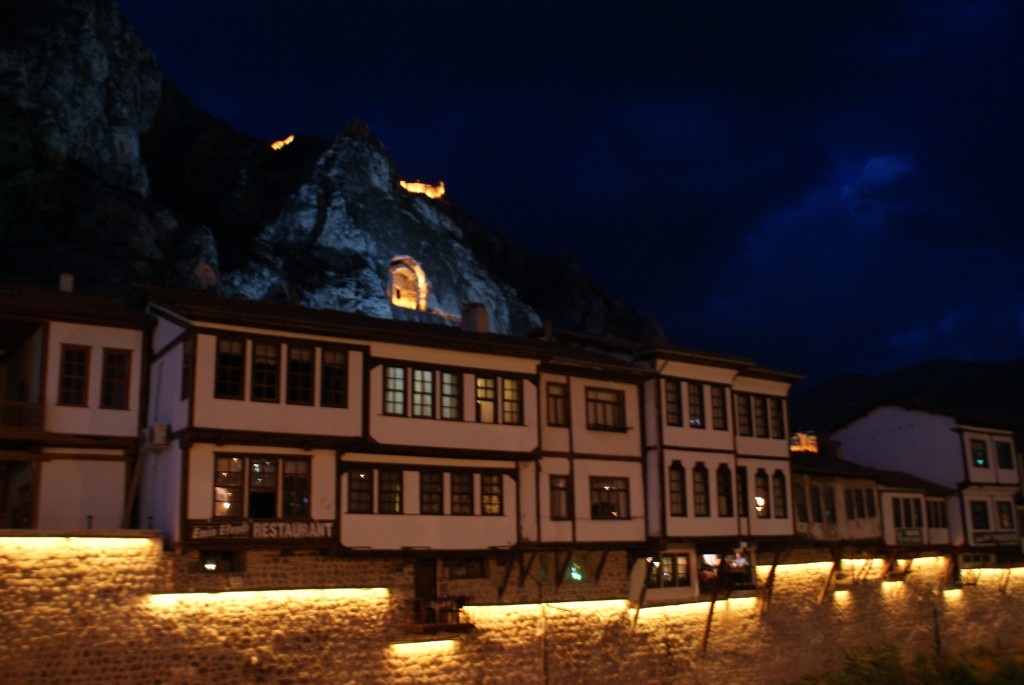 Isn't it awesome that ROCK TOMBS CARVED INTO CLIFFS can be lit up so fantastically?
And here you thought I got excited about sphinx's wings.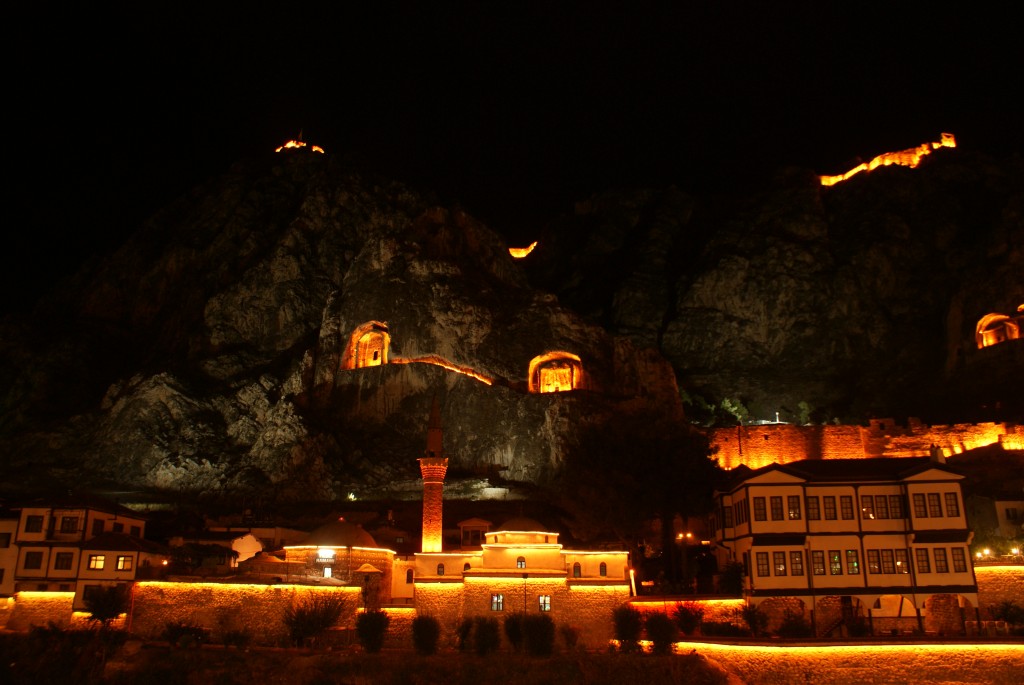 Tomorrow's plan is to head into the tombs and then search out the ethnographic museum.
I've raved so much about the sphinx wings and the rock tombs that my shrieks of happy anticipation about the crazy mannequins in Turkey's ethnographic museums may fall on hardened ears, so I'll try to contain myself.
Allow me this one tiny yelp of anticipatory excitement, though: according to one brochure, some of the mannequins are even wearing turbans.
I shan't sleep a wink.
Comments
comments