It's 55 degrees in Duluth today, fallen leaves are starting to cover the ground, the kids and I have been back to school for two weeks now, and we've started to close the windows at night.
So maybe it's time to wrap up the recounting of my summer vacation?
When last I left you, we were Smithsonian- and museum-izing our way across the capital, remarking that it might be August in D.C., but it pretty much felt only a tidge more hot and muggy than Duluth's anomalous summer had. The added benefit of D.C. is that places are air-conditioned (it's the rare Duluth home that has any sort of AC), so we were able to bask in climate-controlled air even at night as we slept.
The next leg of our trip headed us out of Maryland and up to Connecticut where…gasp…gulp…we were going to stay for four nights in the home of
a fellow blogger.
Someone I'd never met before.
Someone who eased back on her blogging and commenting a few years ago, to the point that our communications have been 100% Facebook-based in recent times. And when I posted a query on FB a few months ago, asking for tips about where to stay in NYC relatively-cheaply, she commented, joking, "Well, we'll be on vacation in August, so you could come stay in our house. We're only an hour by train from the city."
A few weeks later, after I'd spent some hours looking at our options of places to stay in NYC and realizing that even two nights would be cost prohibitive for a family of four living on one teacher's salary, I messaged Joking Blogger Cum Facebook Friend and asked, "Any chance you were serious about offering up a place to stay?" As it turned out, her family would still be at home during our time frame, but she–warmly, generously, astonishingly–invited us to come stay anyhow. Noting that things might be a bit cramped with our family of four plus her family of four, she wrote with her typical easy attitude, "We'll just put you in the living room. No problem."
In all our subsequent messages, her kindness and helpful spirit confirmed for me that this community of blog writers and readers comprises a host of amazing human beings, the kind who reaffirm all sorts of things that occasionally need reaffirming. Like, you know, that people can knock the breath out of you by being terrific.
It was a full day's driving to get from Maryland up to Generous Blogger's home outside New Haven. Her entire family greeted us with natural warmth and charm, which is saying something, as her kids are teenagers. But every last one of them is good natured and upbeat and happy to chat. Better yet, they all really like each other. It was, therefore, great fun to head out to New Haven with them that night to partake of the famed New Haven pizza that Byron remembered having 15 years ago and had never gotten over.
The next day, we took the train from CT into Grand Central Station. Having spent so much time in museums in D.C., the plan for New York was to stay away from museums and just hit the place as full-on stare-at-the-place tourists. Allegra's had a dream of visiting NYC for about half her vast twelve years, and she wanted to see the streets that so many of the characters in her books moved through, to pick up the vibe of the city that appears in movies and tv shows, to take a gander at the buildings that have housed so many luminaries throughout history.
Paco just wanted to go to FAO Schwarz and see the big piano (which, in reality, he found to be a big old "blah").
Our first stop as tourists was to head to Times Square, a place I hadn't been since I was 17. As is true of everywhere in the city, it sure looks better than it did a few decades ago. Quite pleasantly, Times Square wasn't actually all that crowded, and it was much less dingy and menacing-feeling than it had been in the '80s when I rubbernecked there as a teenager.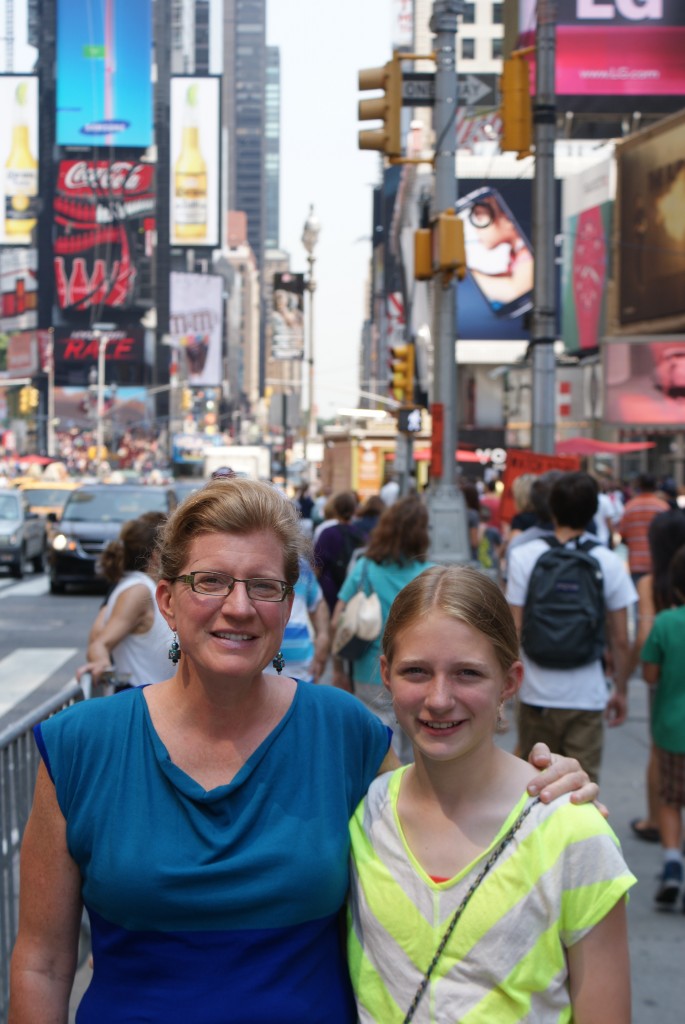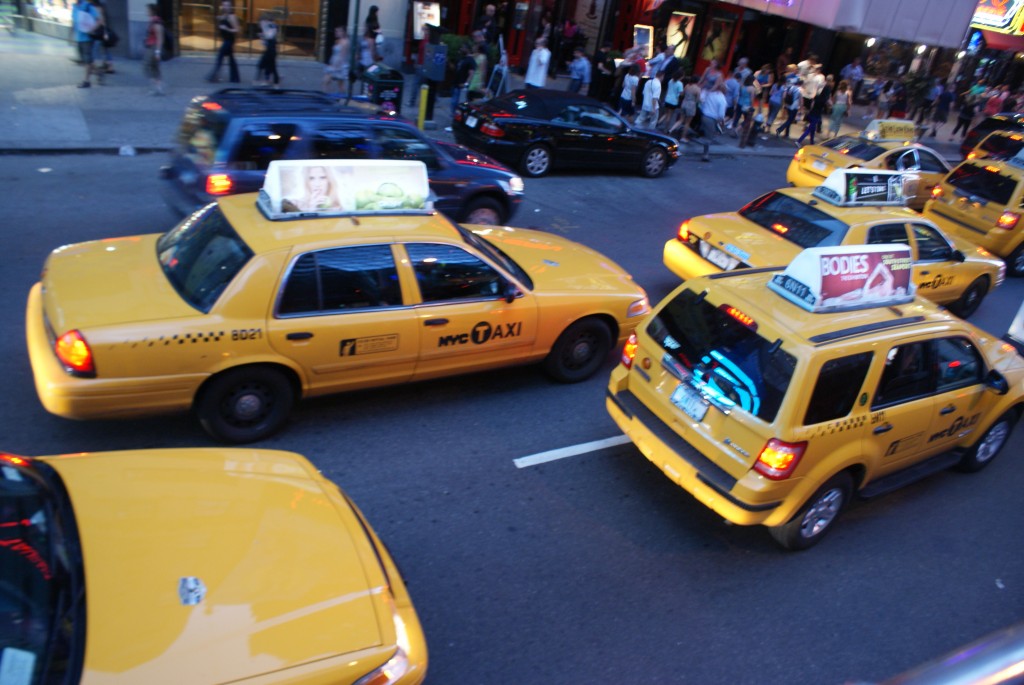 After a fair bit of walking around, we got two-day tickets to ride the double-decker on-and-off buses that tote tourists around the city. For us, at the point we were at in our trip overall, it was bliss to sit and listen to well-informed explanations of the neighborhoods, boroughs, and architecture. Truly, I had never gotten an overview of the city in such a way before, and it was revelatory.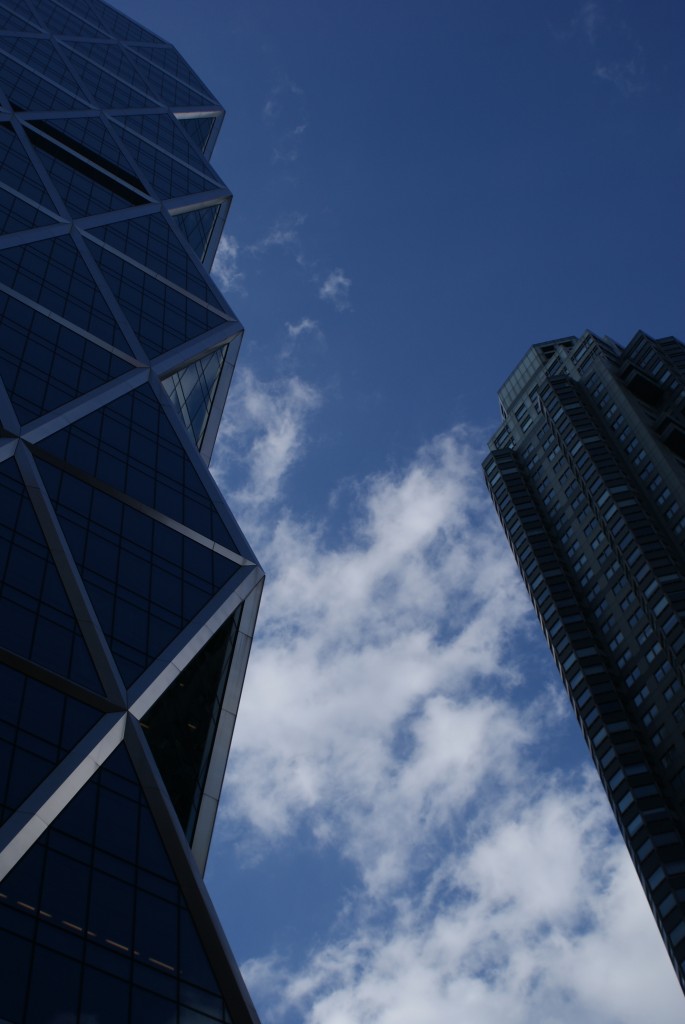 At one point, the bus sat idling next to The Dakota building, and the guide pointed out where John Lennon had been shot. As was the case throughout the entire journey, Allegra took in the information and then turned to ask, "Wait. What? Wasn't he one of the Beatles? And he was shot?"
Yup. We explained that bit of tragedy, and then Allegra noted, "Goll. This whole trip is like an Assassination Tour. Lincoln, JFK, Robert Kennedy, the attempt on Reagan, Martin Luther King Junior…and now John Lennon? Who else has been assassinated?"
Unable to remember Presidents Garfield and McKinley without Wikipedia nearby, I only responded, "Well, there was an archduke named Ferdinand who was killed. But let's not talk about that now. Can we just look at the park instead?"
Satisfied temporarily, Allegra kicked back until we neared Battery Park and reached the moment of deciding if we'd take the free Staten Island Ferry out to look at the Statue of Liberty or if we'd pay a bunch of money and go to Ellis Island.
Insider Parenting Advice: when your middle schooler gets strongly excited to visit Ellis Island because "I'm a social studies girl! I love immigrant stories!", well, you cough up the money and go stand where millions of pre-Americans did before you.
On the ferry, I had a moment of seeing post-9/11 New York in fairly stark fashion: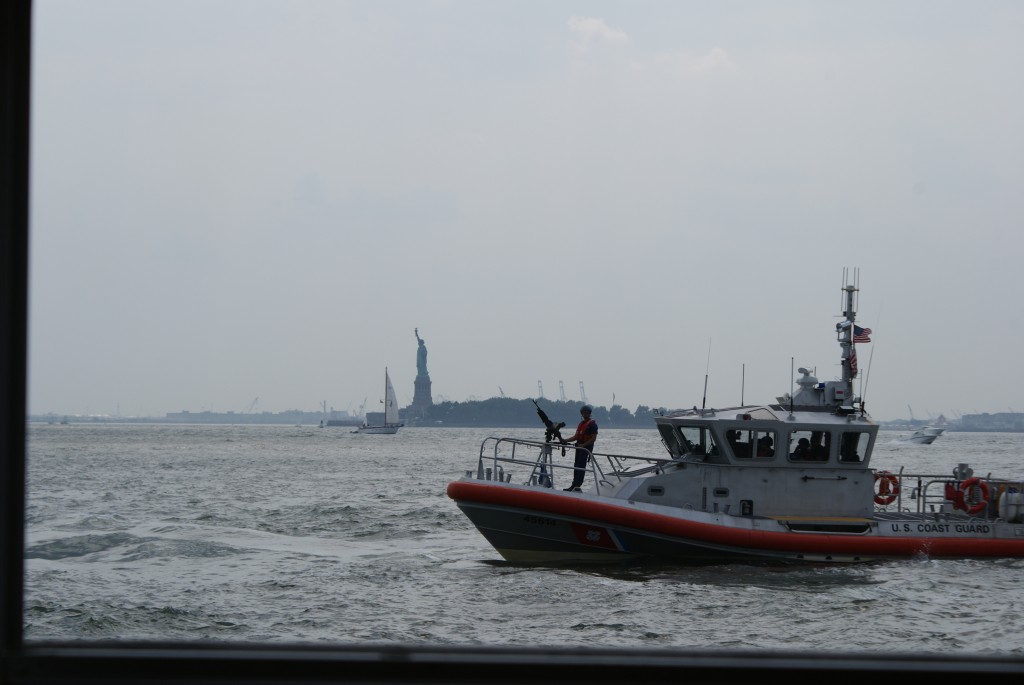 At the museum on Ellis Island, we listened to the audio tour about all the tests hopeful immigrants were put through upon arrival, from eye to literacy exams. Staring at the room where so many tired people carrying children and bags stood, waiting and wondering if they'd ever step onto the fabled "streets of gold," was–as I recalled from my childhood visit when I was about my kids' ages–very affecting.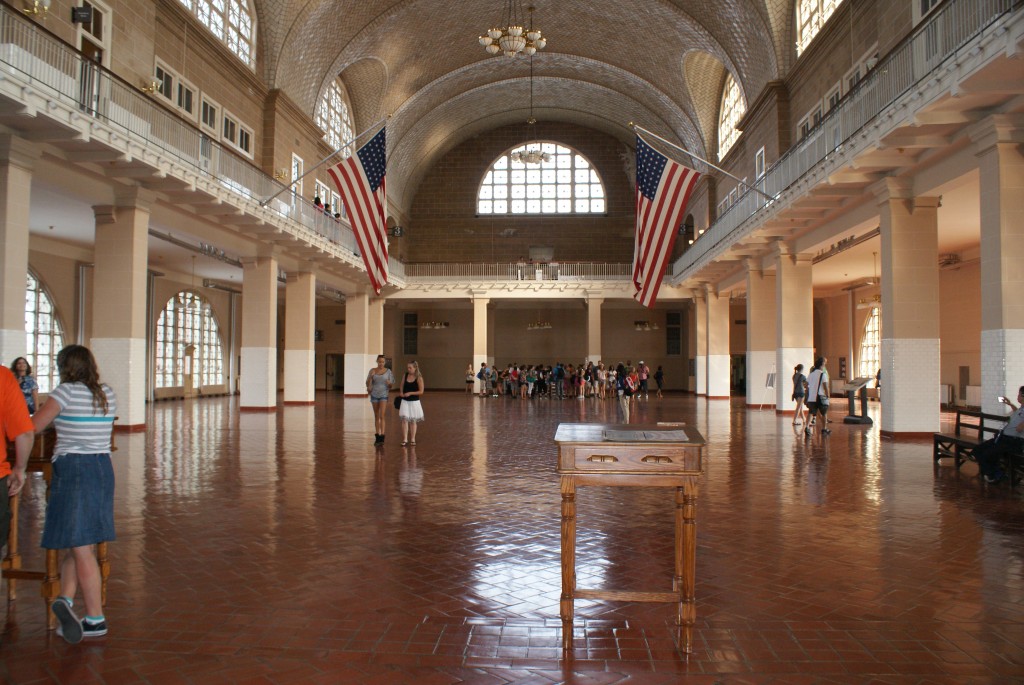 As we boarded the return ferry, I held forth about the beauty that is Betty Smith's A Tree Grows in Brooklyn. Between that book and The Diary of Anne Frank, Allegra's got her first couple book report selections lined up for 7th grade.
She spent the ride back to the city reading through the Ellis Island brochure.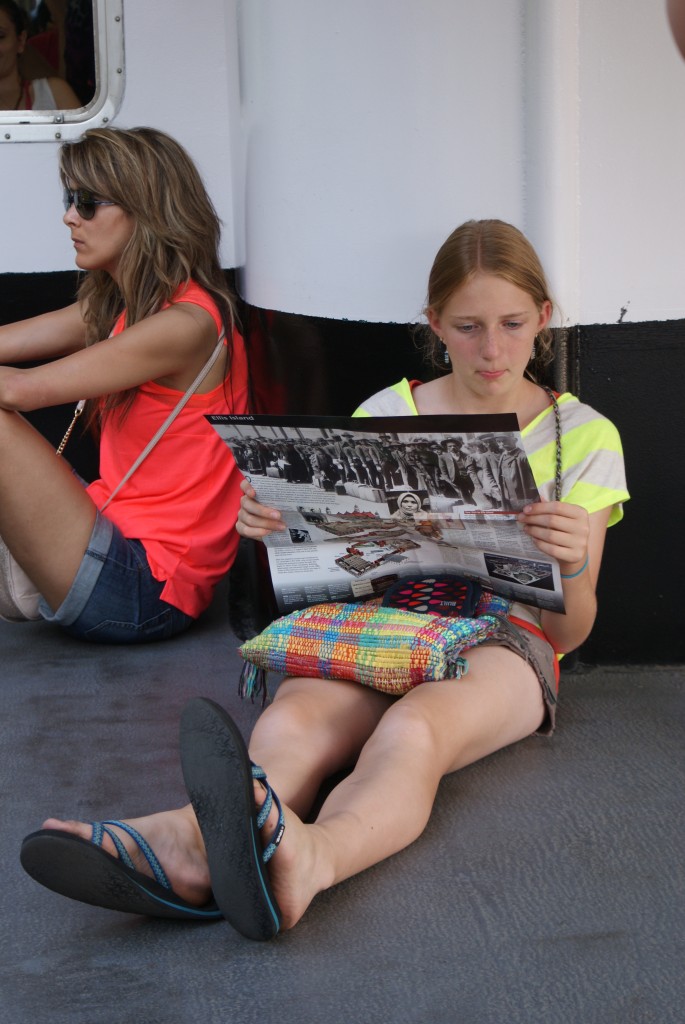 After our first day in the city, it was a blessed relief to get back to Generous Blogger's house in Connecticut and have her ask,  "Any chance you want a nightcap?"
Scotch it was.
The next day would be our second and last day of heading in to NYC, so we started off by eating fluffy bagels as big as our faces. Then we went to the Top of the Rock (30 Rockefeller Center) and gazed out at the Empire State Building and the entire city skyline.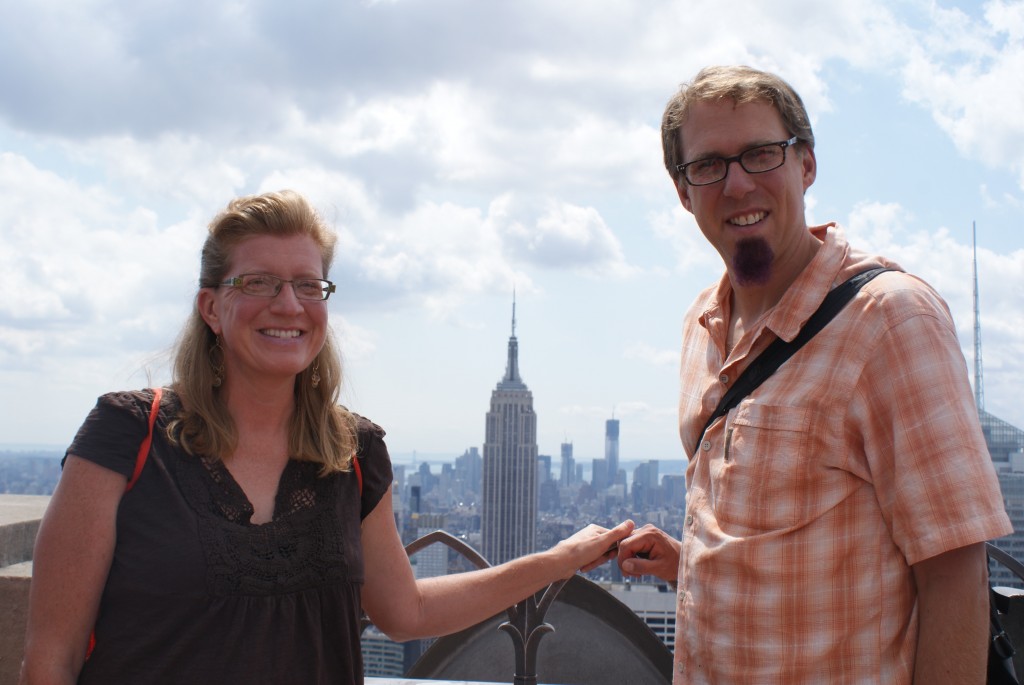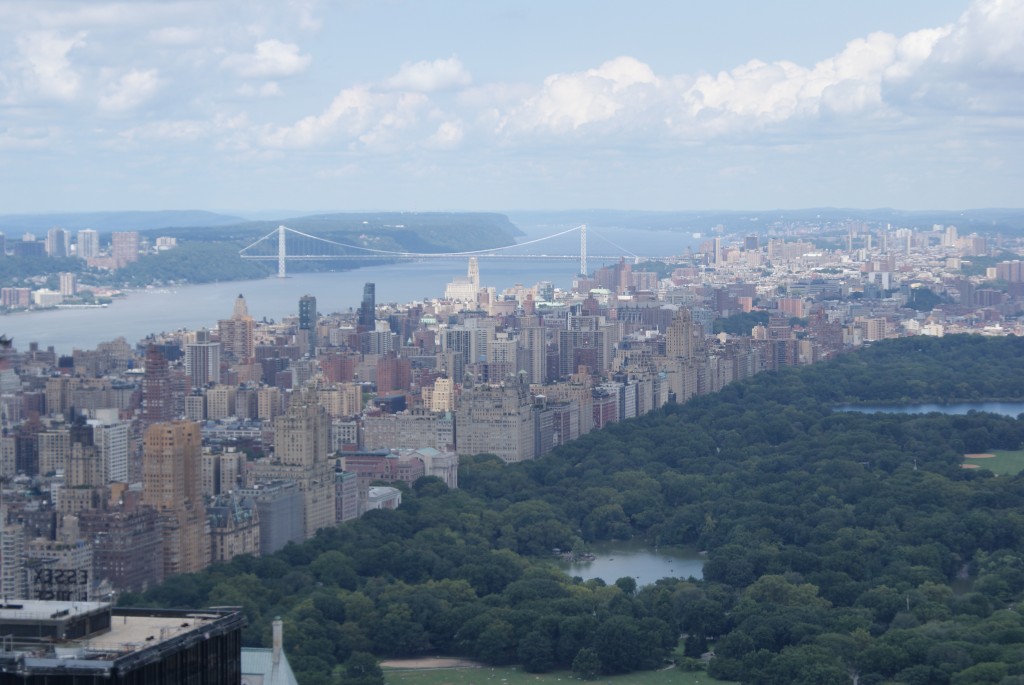 Our afternoon was devoted to riding the on-and-off bus around the Uptown Loop, so we saw Harlem and brownstones and the facades of famous museums before hopping off at the end of the day and walking through a corner of Central Park. I was blown away. I know I've been in the park before (when I was 2, we lived for a summer in Manhattan), but I hadn't experienced it as an adult. Lawsy Moses, but that place is gorgeous. Paco was particularly taken with the plein air painter: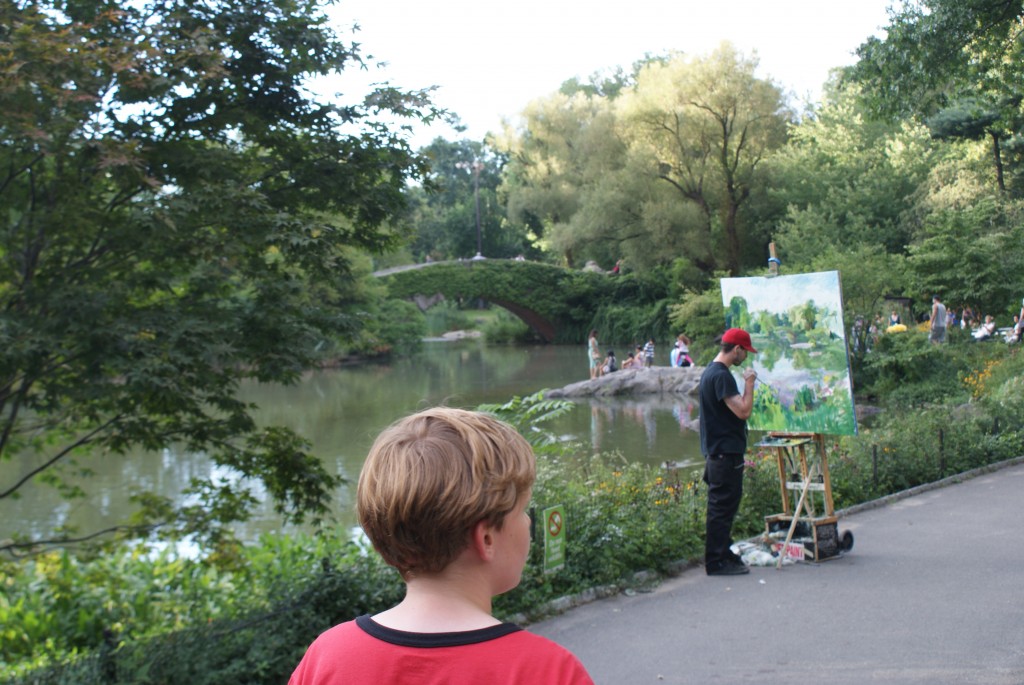 To the last one of us, we were all particularly taken with all the everything that is New York City.
Rounding out that big day in the city was a gift, awaiting us on our bed in the living room of the Connecticut house: a bottle of scotch.
The next day, our last day before turning the nose of the car westward, would be low-key, with us driving along the Connecticut shore and dipping into Rhode Island (so's to add another state to the kids' Life Lists of States).
We went to Mystic, CT, for lunch, and ate at a place recommended by Jane and Michael Stern in their Road Food series.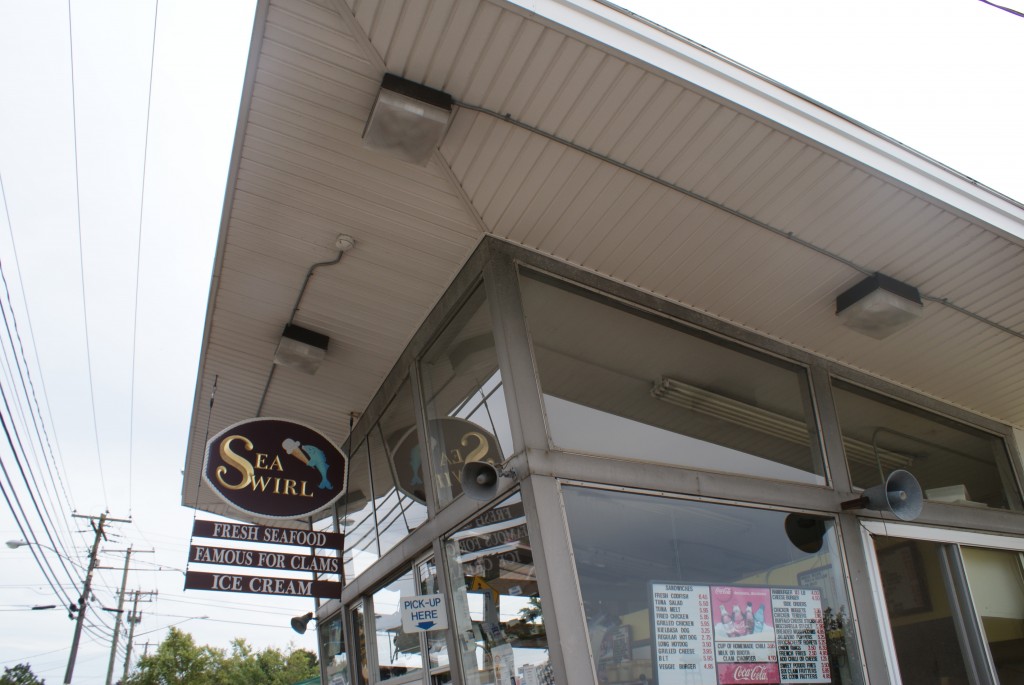 Paco discovered his like of a corn fritter dipped in maple syrup: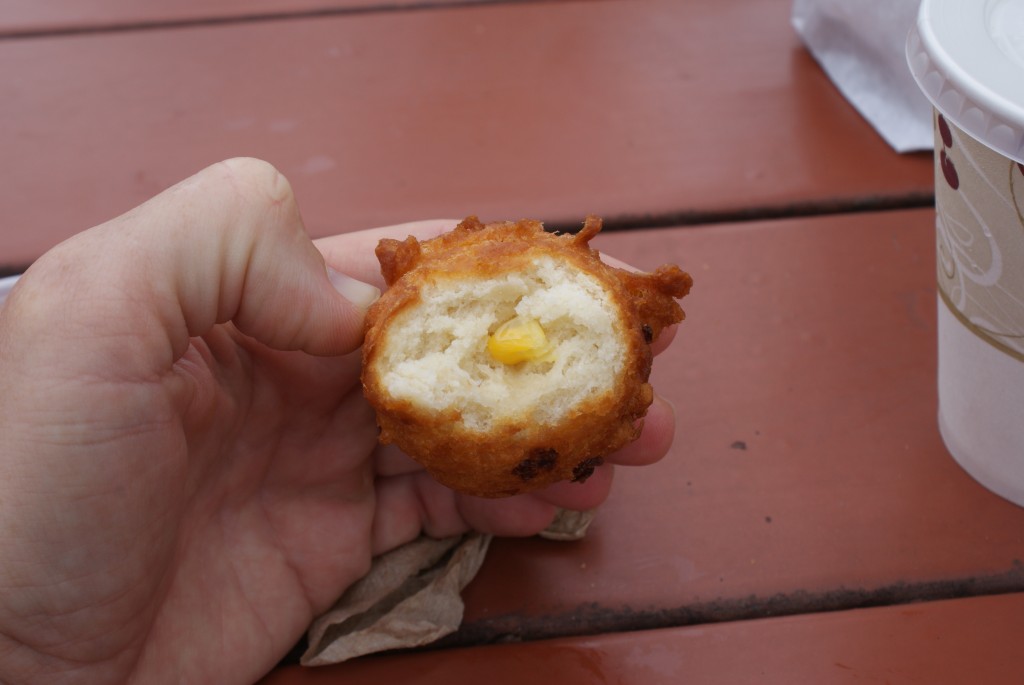 We discovered the state border, going and coming: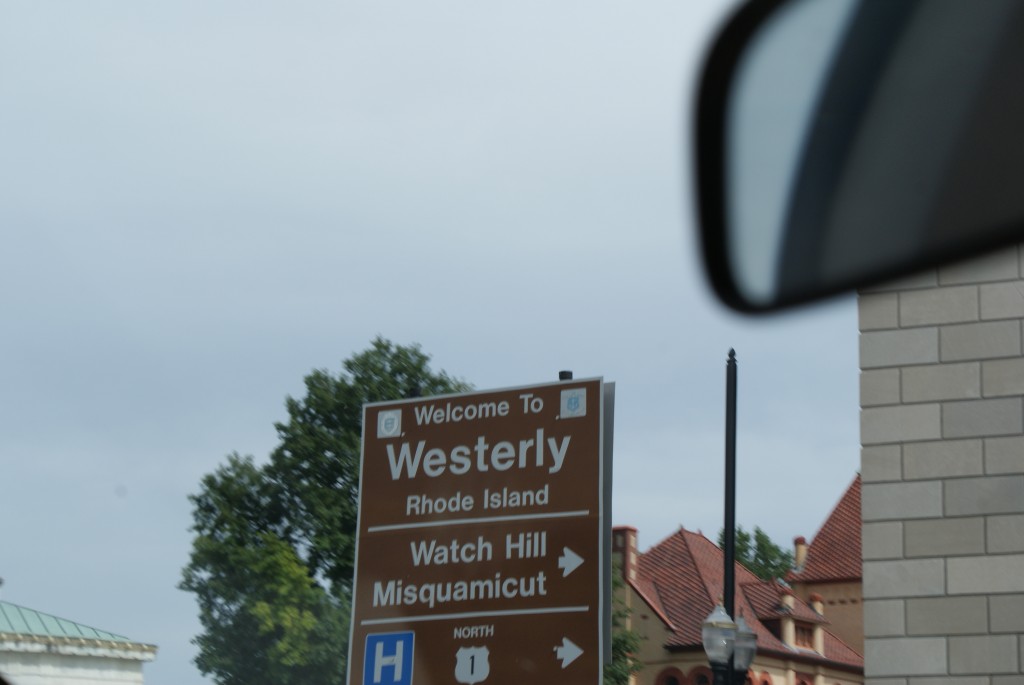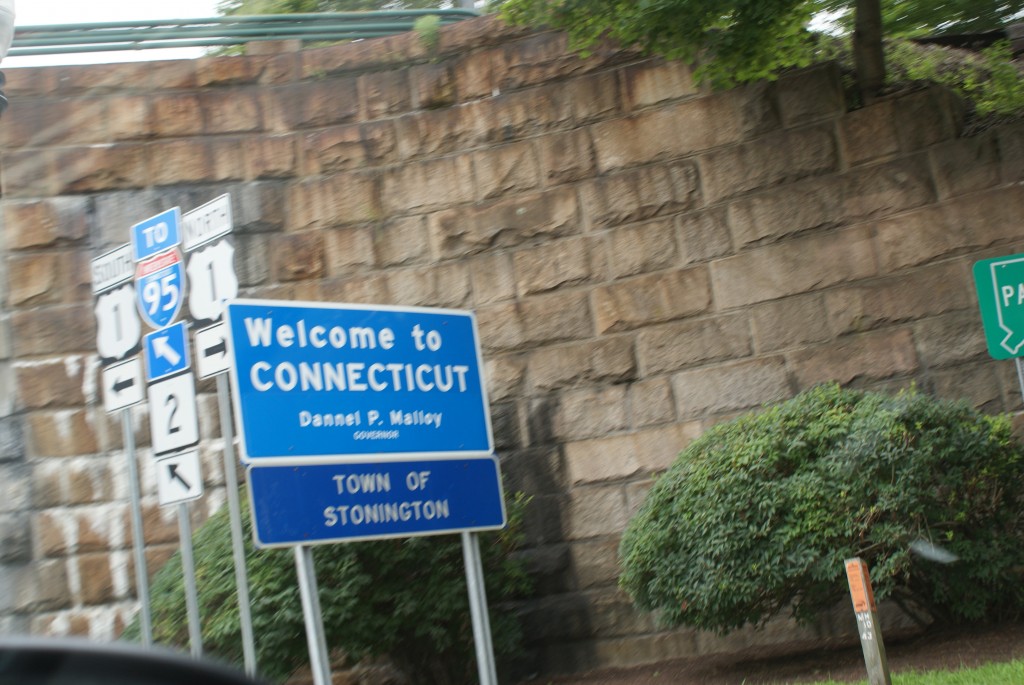 We got out of the car and blinked our eyes at the Atlantic: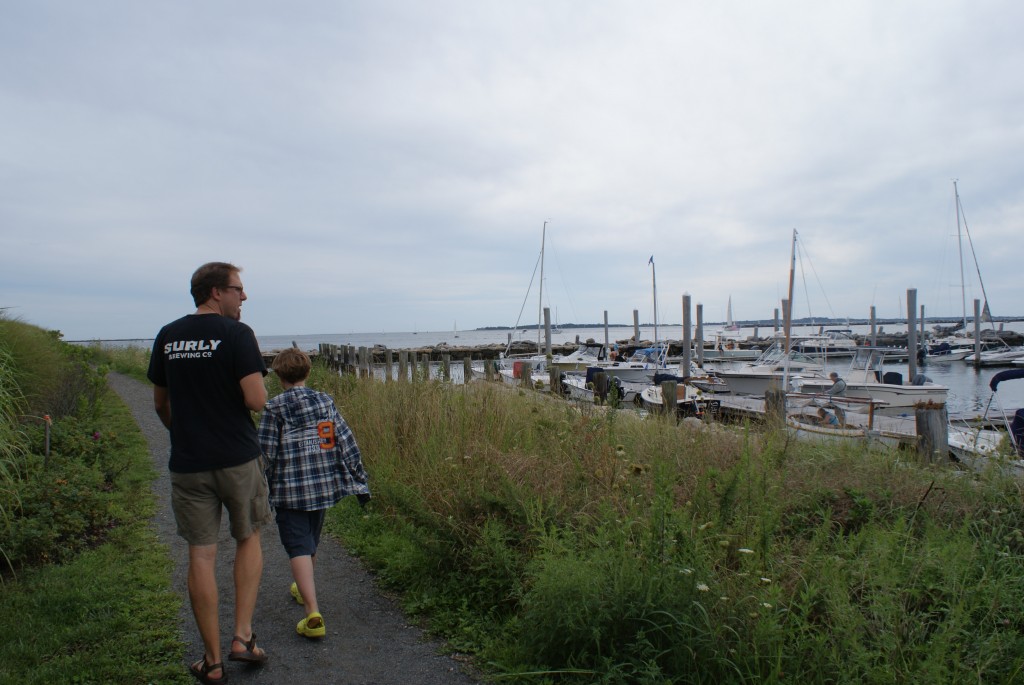 We did a double take at and a drive through of the gorgeousness of the cemetery in Stonington, CT: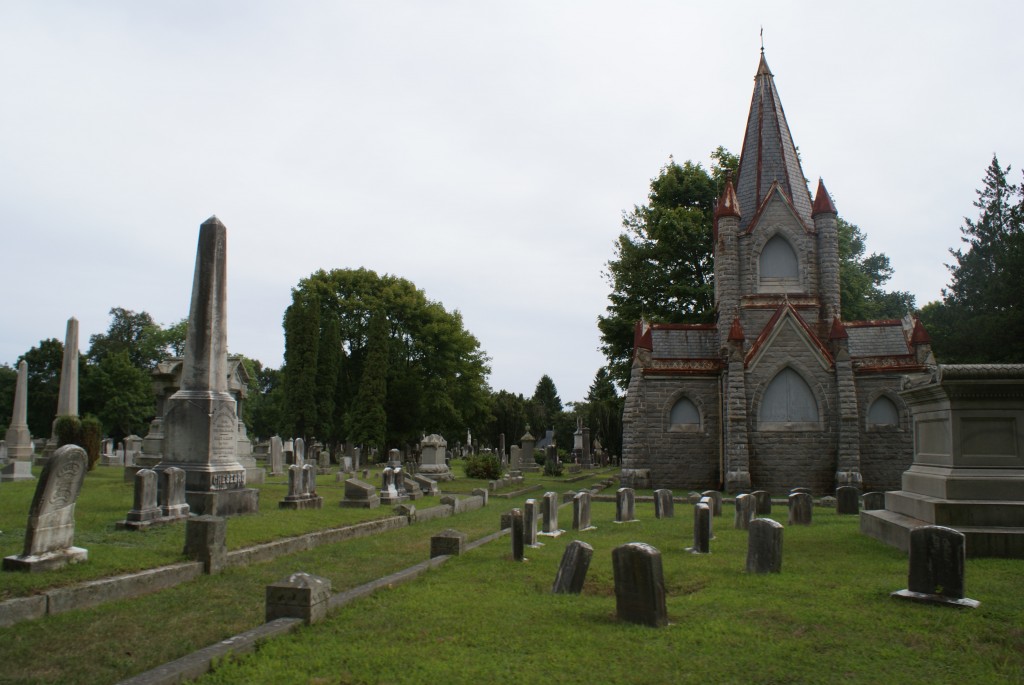 Then we were done. Ready to call it Go Home time. It took us four days of driving to get back to Minnesota. After seeing so much and staring at so much over the course of the previous weeks, it was a welcome break to stop and spend a night in Ohio with our friends Gil, Claudia, and Leo. Gil and Byron worked together at a couple environmental education centers back in the '90s. Now Gil works at his family's cheese factory; Claudia, his Austrian wife, is a horse trainer. Leo, age two, works full time as an examiner of wheeled things.
Not only were easy conversation, good food, and the joy of being together a boon, so was the swimming pool–just what we needed after weeks of asphalt and glass cases: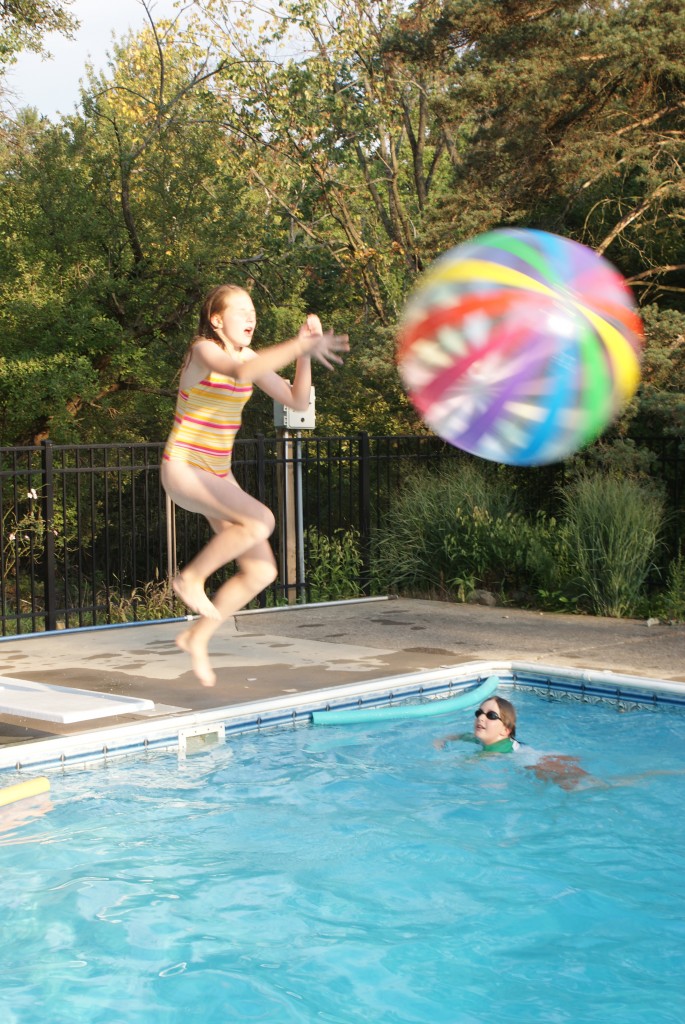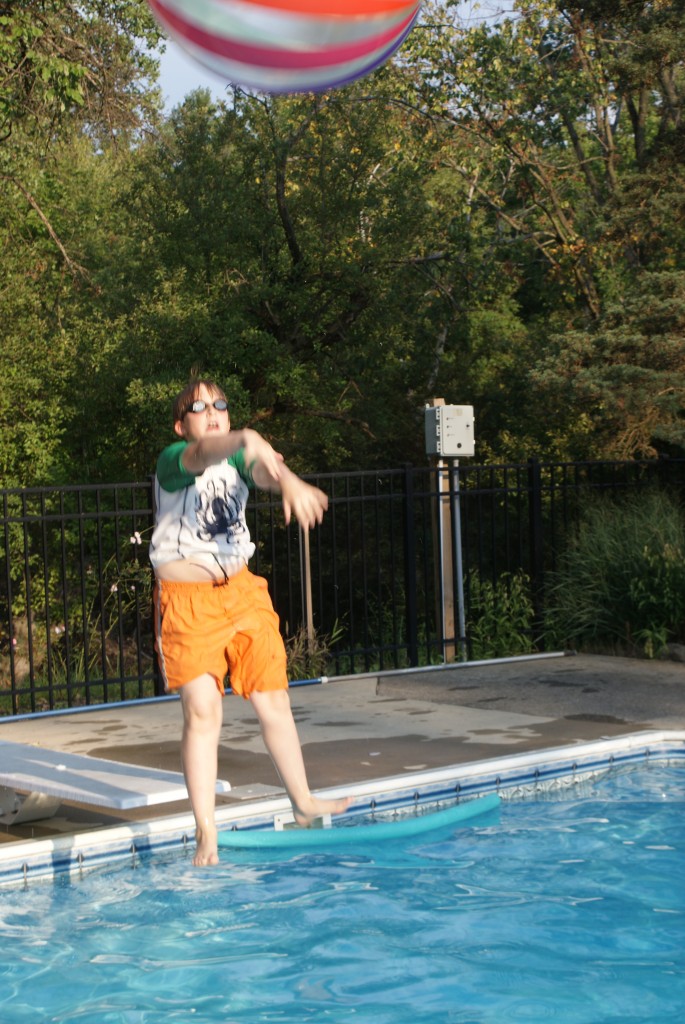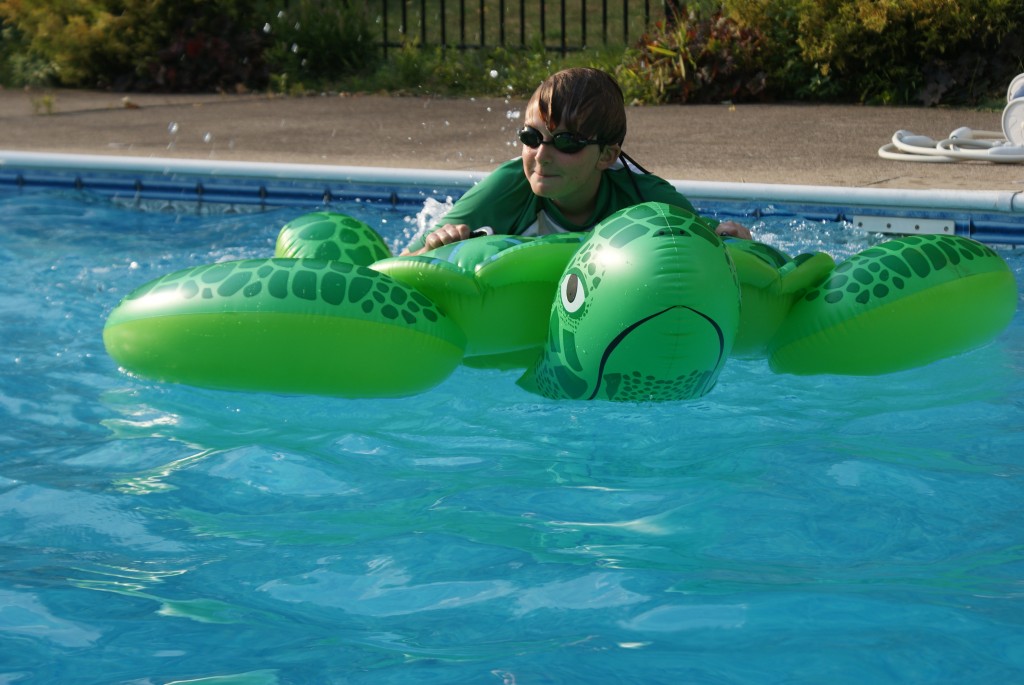 Before leaving Ohio the next day, we went into Cleveland to tour Gil's family's cheese factory. Not only did we rock the look–it was fascinating to see the internal workings of how to make mozzarella, string cheese, ricotta…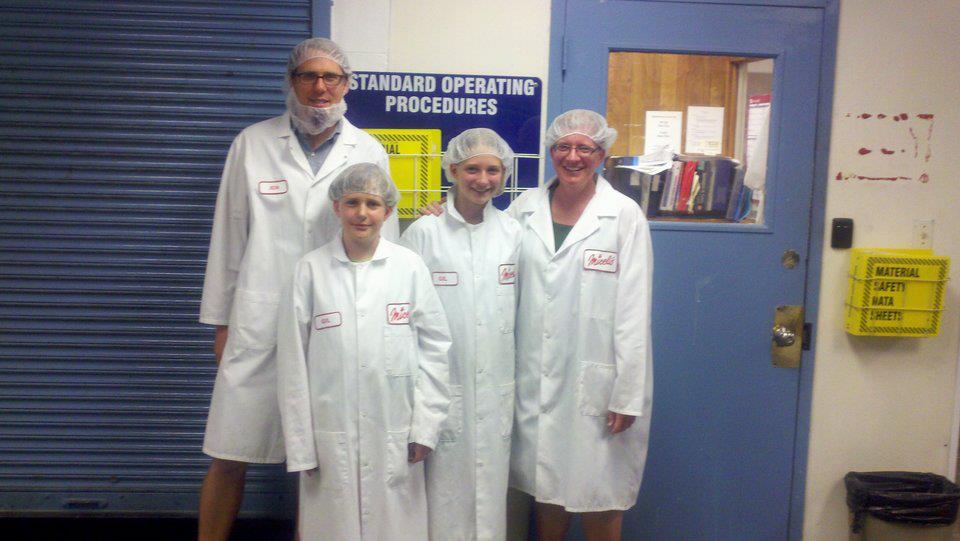 Finally, twenty days after we left home, we pulled up and parked the car next to our garage. Immediately, I started dead-heading flowers and pulling weeds; we spent the night yanking out dirty clothes and running loads of laundry; we took stock of our food supplies; we did all the reorienting that is part of transitioning back into regular life.
Under all the bustle, though,
we felt a thrumming of gratitude
for all that we'd seen and done and absorbed
together.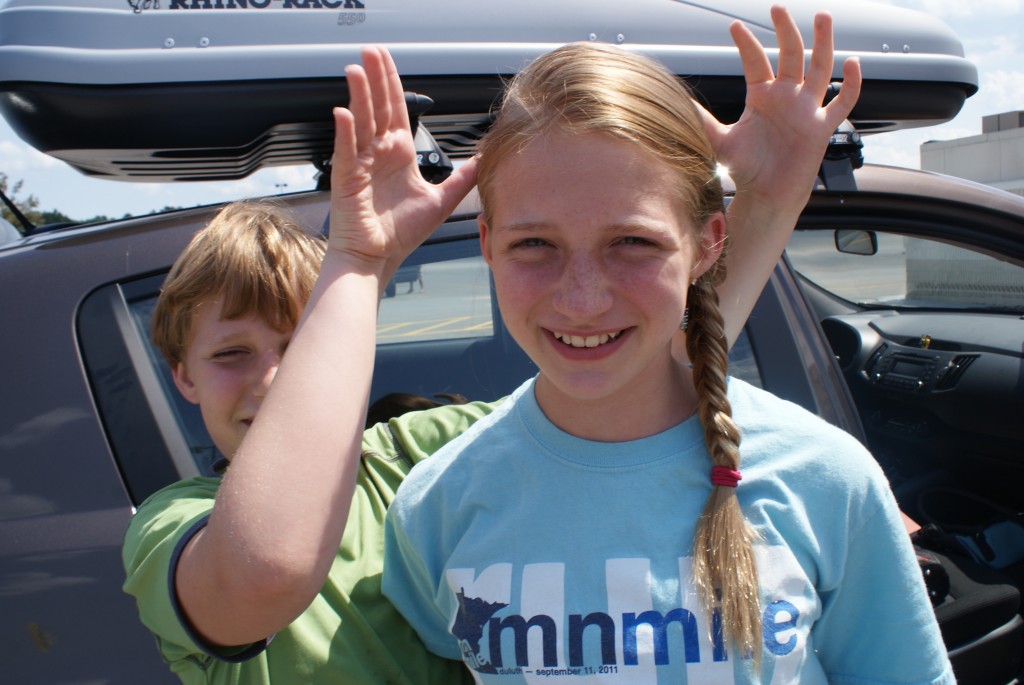 Comments
comments