By the time I finished my first decade of life, I had learned to walk, run, ride a bike; play piano and flute; jeté like a big-boned ballerina possessed; babysit; and play Boggle. Also, I had boobies and was on the cusp of menstruation.
By the time I finished my second decade of life, I had held a driver's license for five years; been trained in oratory; lived with a family in Denmark for a summer; dropped out of high school to travel Europe with my dad's college choir; stolen street signs from around my hometown; climbed a water tower; hidden sloe gin under a yucca plant; declared a major.
By the time I finished my third decade of life, I had studied for a semester in Dublin; worked as a nanny and a reader of romance manuscripts; had a date with a Mexican DJ; taken a bucket shower in Belize; visited Graceland and accumulated beads at Mardi Gras; lived with a wolf; drunk my first cup of coffee; used a Nordic Track daily and managed to gain weight with every workout; finished college and graduate school; returned to Ireland with a beau; scraped my heart up off the floor.
By the time I finished my fourth decade of life, the floor had been mopped with my heart. As well, I had returned to Ireland two more times; traveled to Moldova, Eastern Europe, Iceland; laced my own snowshoes; snagged my One-And-Bestest; birthed two children, lost a third; broken into pieces as my family of origin redrew its lines; bid my father the saddest of farewells; adjusted to my family of origin's new shapes; tightened my boundaries; discovered trails as a source of joy; applied myself to baking.
Now, only half way through my fifth decade, it's too soon to summarize, but one thing I know for certain is that all future descriptions of these years will include the words Turkey, trampoline, and tunnel bun.
I'm thinking about the accomplishments of decades because one of my favorite people is just completing his first decade of life, and I find myself marveling at all that he has done, all that he is, with a mere ten years behind him.
Yup, Paco has just turned ten. He does not have boobies, nor does menstruation seem imminent.
Whew.
What he does have–and I very much want to document this moment in time, as so much will be changing in the next ten years–are innocence, creativity, focus, appreciation, intuition.
Don't get me wrong: he's also occasionally moody, sullen, bullheaded. It's not like I think he was slingshot to Earth from the firmament by a unicorn horn draped in angel wings and rubbed with fairy juice. The kid is often a Cranky Little Bastard.
I don't condemn him for possessing common human frailties. All I have to do is swing my head from the left to the right during any family gathering, and as I scan the interesting, accomplished, quirky, complex individuals digging into their plates of pie, I can point in any direction and aim my digit at "moody" or "creative" or "stubborn" or "observant."
My lad is just part of the mix.
What distinguishes him is the way the inherited and learned traits mesh within him specifically. More than anything, they add up to sensitivity. When he understands something that hasn't been voiced, it's because he feels the unspoken with his entire being. When he refuses to try a bite of a new food, it's because he knows some tastes are just too much. When he expresses one of his heartfelt, mannerly "thank you"s, it's because he genuinely moved to have been considered. When he patently refuses to crack the cover of a book that we know he will love, it's because he–a sleepwalker still–perceives something within the story that will lodge too deeply in his heart and mind. When, pencil and paper in hand, he disappears into a drawing he's making, it's because there are entire worlds, often populated by orcs, dancing through his mind. When he denies opportunities to try new things, it's because he's preemptively guarding against the possibility of feeling awkward or on the spot.
Moodiness and creativity are two sides of the same temperament, really–because it's stressful to have so very much inside.
Mostly, he is this:
sweet and soft as a cream puff.
Also, he is this:
whipsmart–his test scores prove This Child Was Not Left Behind–and funny, funny, funny.
More than anything, he is one of my truest boon companions. Few things make me happier than the way he hums all the time, all day, every day. From some, this could be annoying, but somehow it works from the Wee Chumly. His favorite tune to hum is Beethoven's "Ode to Joy." We hear it when he's in the shower; we hear it when he's riffling through his backpack, looking for his planner to check the assignment for the math homework is (all homework is done the second he gets off the bus, often before his coat is removed); we hear it as he puts together his saxophone, sucking on the reed; we hear it when he's in his closet, picking out the next day's school uniform (it ceases only when he holds up a grimy belt to ask, "Should we maybe wash this thing?"); we hear it as he carefully arranges his long bangs to obscure his eyes, a hint of the imminent adolescent.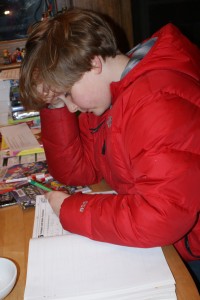 The other piece of him worth remarking is how very respectful he is, deep down. The honor he accords to boundaries and expectations makes him both a teacher's ideal and a playmate's choice. His peers know they are safe with him and that he will, even in his strongest moment, merely mock slay them. A couple years back, a girl in his first grade class told her mother, "I only like three boys in life: Daddy, Jesus, and Paco."
And now he's ten, and soon all these bits of him will ripen into manhood, and it will be a joy of my life to see his promise reach fruition.
Of course, in the meanwhile, we live in the day to day. That means we spend many hours playing his new favorite game: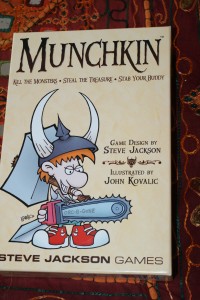 Munchkin is a satire of Dungeons and Dragons; there's a bit of a learning curve the first time through, but it's worth hanging in there simply because the cards and challenges are so perfectly oriented towards young boys: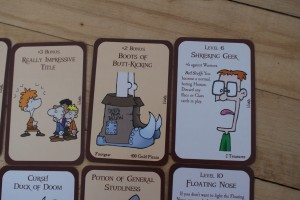 I want to file away a mental note that, at age ten, Paco loves his friends and spinning his Beyblades into battle.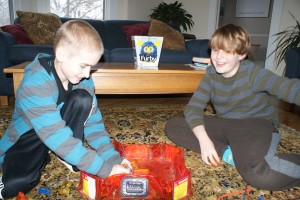 He also loves teaching his Furby new words and sleeps with a mountain of favorite plush pals, each of whom is given a special night of cuddling according to The Chart.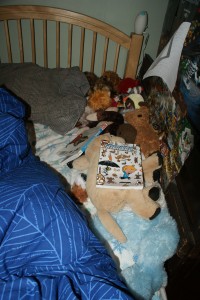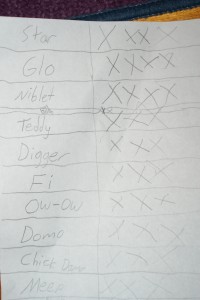 Another great hobby at the end of Paco's first decade is baking. You should hear the "Ode to Joy" filling our kitchen as he cracks eggs and measures flour–most recently when he made biscotti ("I want to do as much of this whole thing by myself as I can, so you just watch, Mom, until the hot stuff needs to come out of the oven"). Although he dislikes being in front of the camera and being told to smile, he is occasionally amenable to candids, especially if I keep the camera away from my face and just hold it out and snap randomly.
The same day as his lemon-ginger biscotti project, he also helped Byron make pretzels.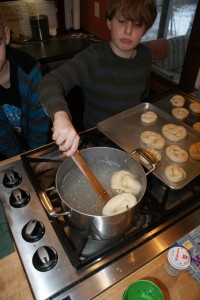 Like a good pretzel, Paco fills up my senses.
I tried to fill his tonight at bedtime when I showed him this video:
Rapt, he stood with the toothbrush in his mouth, robotically pushing it back and forth for three minutes and five second before dashing to the bathroom to spit. Hightailing it back to the computer, he returned into the trance of the performance.
When it finished, he was silent. Then, shifting his weight from one foot to the other in his too-short flannel pajama pants, he spoke. Nervously. Almost sheepishly.
"I don't play it so well like that when I play it on the piano."
Always in a rush to reassure my most self-conscious child, I promised, "Oh, Pup, when you play it on the piano, it absolutely sounds like what all those people were playing. If you showed up for that flash mob with a keyboard, you could play your 'Ode to Joy,' and it would fit in perfectly with what they were playing. To make it even richer, you could hum along as you played."
Still looking embarrassed, he continued as though I hadn't spoken. "When I play it, though, it doesn't sound like that. I don't know how to play like they do. It's not like that when I do it."
I tried again. "But all those people are playing their own instruments, in their own ways. You play your instruments, in your way. If you showed up and gave it a try, you'd find out that your notes fit with theirs."
Trying not to feel daunted, he clutched his comic book to his fleece-covered tummy and announced, "I'm ready to go to bed now."
Agreeably, we nestled him in to the snug company of his heaps of stuffed buddies, and then I pushed back the too-long bangs, kissed his cream puff skin, and pulsed–from my soul to his–a Mother's benediction:
You are my very own living, breathing Ode to Joy, Paco; you are the melody, and when you're ten, that's all you should be. You are the melody. As the years continue, you will add in all the other parts and layers of orchestration. You will explore the fugues, become polyphonic, find the harmonies.
It is enough right now, at the end of your first decade,
humming your song with ineffable purity, that
you are the most beautiful melody ever composed.
Comments
comments