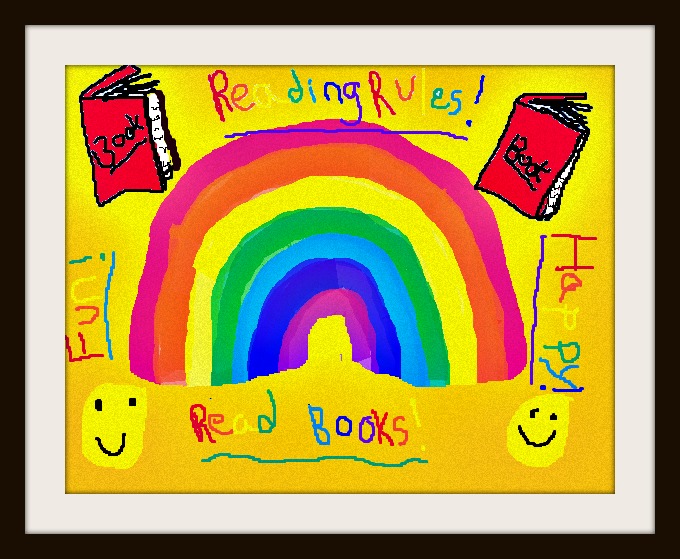 Recently, I did some crowd sourcing on Facebook, asking folks for help in coming up with a book that Paco and a couple of his friends — a group of seventh graders — could read for school as a sort of book club. Now, Paco is a persnickety reader. He wanted a book that was either sci-fi or fantasy, but nothing post-apocalyptic, and when it comes to romance, he says, "I find that very boring."
Two of the three boys are very into playing Dungeons and Dragons, but the third boy is lukewarm about that type of imagination-based gaming. In a certain way, this further restricted the book options — because one of the kids is very literal as a reader while the other two enjoy the fantastical. Anyhow, we were feeling desperate that the three of them could ever arrive at a point of agreement.
Facebook Nation did not disappoint. Within a few hours, there were more than 44 comments and suggestions. Readers do love to talk about books!
After the thread of comments died down, I was approached by a handful of participants, asking if I would ever compile a master list of the suggestions. Quite happily, I started copying and pasting all the ideas into a document. Just as I was finishing the initial copying and pasting, I received a message from a longtime blog reader and now good friend, Jan Indermill.
Pointing out that she had two capable typing hands and a willing heart, she offered to compile the list, along the way adding in further information about the series a book might be from, what kind of appeal the book might have, testimonials from readers — and she even alphabetize the entire thing!
After putting in many hours, Jan sent me the list below. I, personally, have never gravitated towards sci-fi or fantasy, but when so many of my friends and family and former students are enthusiastic about these genres, I feel like I should expand my range. Thus, we will not only be using this list for Paco in the future, we will be using it for all of us.
So, for any of you looking for new ideas of what you or your teens might enjoy reading, here is a wonderfully inspired and comprehensive list. I'll let you look it over before telling you which book Paco and his friends agreed upon.
Also, I do have this list saved both in Excel and Word, so if you would like me to email you the list as a document, just give me a shout, and I can do that.
Here we go:
Title
Series Name
Author
Other Books in Series
Possible Appeal
Hitchhiker's Guide to the Galaxy
The Hitchhiker's Guide to The Galaxy
Adams, Douglas
The Restaurant at The End of the Universe; Life, The Universe and Everything; So Long, And Thanks for All the Fish; Mostly Harmless; And Another Thing
Romance free!
Short Stories
Asimov, Isaac
 
Entanglement: The Greatest Mysteries in Physics
Axel, Amir D.
 
Short Stories
Bradbury, Ray
 
Fahrenheit 451
Bradbury, Ray
 
Sundiver
The Uplift Novels
Brin, Glen David
Startide Rising; The Uplift War
The Sword of Shannara
The Original Shannara Series
Brooks, Terry
The Elfstones of Shannara; The Wishsong of Shannara – and more. There are at least 12 books in the series.
Detailed fantasy world inhabited by elves, humans, warlocks. Set in the future, the plot (1st book?) involves a search for a magical sword needed to defeat an evil warlock.
Red Rising
Red Rising trilogy
Brown, Pierce
Golden Son; Morning Star
Set on Mars
Storm Front
The Dresden Files
Butcher, Jim
15 novels
Private investigator and wizard Harry Dresden investigates supernatural disturbances in modern-day Chicago.
The Cinder Spires: The Aeronaut's Windlass
The Cinder Spires
Butcher, Jim
9 books are planned
"Absolutely awesomesauce steampunk book that I couldn't put down."
Ender's Game
Ender saga
Card, Orson Scott
14 novels, 13 short stories, a gazillion comic books
"The author has some crap political/social opinions but his books about that universe are great reads." "He's very weird and Mormon-y but has some good books." "Bad politics; good sci-fi."
Graceling
Graceling Realm series
Cashore, Kristen
Fire; Bitterblue
Parental warning: subject matter could be advanced for some younger readers.
The Sword
The Sword, The Ring, and The Chalice
Chester, Deborah
The Ring; The Chalice
City of Bones
The Moral Instruments
Clare, Cassandra
City of Bones; City of Ashes; City of Glass; City of Fallen Angels; City of Lost Souls; City of Heavenly Fire
Paranormal romance/urban fantasy
The Children of Amarid
LonTobyn series
Coe, David B
The Outlanders; Eagle-Sage
Half Moon Investigations
Not a series, but the author has told people he plans a sequel
Colfer, Eoin
No additional books have been published yet
"My son laughed out loud while reading" From Wiki plot synopsis: Fletcher Moon (often called "Half-Moon" due to his short stature) is a natural born investigator. Knowing this, April, a girl from his school, comes to him for help in finding a lock of hair that she believes to have been stolen.
Over Sea, Under Stone
Dark Is Rising sequence
Cooper, Susan
The Dark Is Rising; Greenwitch, The Grey King; Silver On the Tree
The Spook's Apprentice
The Wardstone Chronicles
Delaney, Joseph
14 books in series
Romance free! Tom Ward, the seventh son of a seventh son, is apprenticed to John Gregory to become a Spook – a master fighter of supernatural evil.
Pawn of Prophecy
The Belgaraid series
Eddings, David
Queen of Sorcery; Magician's Gambit; Castle of Wizardry; Enchanters' End Game
The Guardians of the West
The Mallorean series
Eddings, David
King of the Murgos; Demon Lord of Karanda; Sorceress of Darshiva; The Seeress of Kell
Welcome to Night Vale
Not a series — but there's a podcast!!
Fink, Joseph and Cranor, Jeffrey
Romance free!
Time and Again
Time Series
Finney, Jack
From Time to Time
Stephen King says: "THE great time travel novel."
The Ruins of Gorlan
Ranger's Apprentice
Flanagan, John
The Burning Bridge; The Icebound Land and more.  There are at least 12 books in the series, and at least one prequel.
Old school sword & sorcery "Imagine if the Rangers from Lord of the Rings took apprentices — what kind of life would that be?" Amazon customer review by EA Solinas
The Outcasts
The Brotherband Chronicles
Flanagan, John
The Invaders; The Hunters; Slaves of Socorro; Scorpion Mountain; The Ghostfaces (publ date June 2016)
Humorous writing style – "Snarling bad guys and stout hearted good guys, what more could you ask for?" Amazon customer review by Bill
Flashman
The Flashman Papers
Fraser, George MacDonald
??18 books??
Flashman is an antihero who often runs from danger in the novels. Nevertheless, through a combination of luck and cunning, he usually ends each volume acclaimed as a hero.
Inkheart
Inkheart trilogy
Funke, Cornelia
Inkspell; Inkdeath
Romance free!
The Graveyard Book
Not a series
Gaiman, Neil
Romance free!
Stardust
Not a series
Gaiman, Neil
Romance free!
Good Omens
Gaiman, Neil and Pratchett, Terry
Parental warning: double check that this is age-appropriate.
The Weirdstone of Brisingamen: A Tale of Alderley
Not a series, but there is a sequel
Garner, Alan
The Moon of Gomrath (sequel)
My Side of the Mountain
George, Jean Craighead
Myths of the Norsemen
Not a series, but author has written many works based in other myths.
Green, Roger Lancelyn
The Magicians
Grossman, Lev
The Magician King; The Magician's Land
"13 may be a bit young for this series" High school student Quentin Coldwater attends a college of magic in NYC.
Dune
Dune series
Herbert, Frank
There are five sequels
Stormbreaker
Alex Rider
Horowitz, Anthony
Point Blanc; Skeleton Key and more. There are at least 10 books in the series.
007 style spy stories with a 13-year-old protagonist
Into The Wild
Warrior Series
Hunter, Erin
Into The Wild; Fire and Ice; Forest of Secrets; and more.  There are a gazillion books!
4 clans of wild cats
Rise of the Wolf
Wereworld series
Jobling, Curtis
Rage of Lions; Shadow of the Hawk; Nest of Serpents; Storm of Sharks; War of the Werelords
"Imagine a world ruled by Werelords–men and women who can shift at will into bears, lions, and serpents. When Drew suddenly discovers he's not only a werewolf but the long-lost heir to the murdered Wolf King's throne, he must use his wits and newfound powers to survive." Amazon blurb
The Eye of the World
Wheel of Time
Jordan, Robert
The Great Hunt; The Dragon Reborn. There are 14 books, including a prequel.
The Phantom Tollbooth
Juster, Norton (illus by Jules Feiffer)
The Stonekeeper
Amulet
Kibuishi, Kabo
There are seven books in the series
Graphic novels
Helmet for My Pillow
Leckie, Robert
Earthsea Cycle
LeGuin, Ursala
The Word of Unbinding (short story) and A Wizard of Earthsea
Earthsea
LeGuin, Ursala
The series comprises 8 short stories and 5 novels
The Lion, The Witch, and The Wardrobe
Chronicles of Narnia
Lewis, C.S
Legend
Legend series
Lu, Marie
Prodigy; Champion
dystopian?
The Merchant of Death
 The Pendragon series
MacHale, DJ
There are 10 books in the series
Bobby Pendragon, an American teenager, discovers that he must prevent the destruction of the ten "territories": distinct but interrelated space-time realities.
Dragonflight
Dragonriders of Pern
McCaffery, Anne and/or Todd
Dragonquest; The White Dragon and more. There are at least 22 books in the series.
People have empathic abilities with their dragons. And space travel!
Riddle Master trilogy
McKillip, Patricia
McKinley, Robin
anything by this author
"Kick ass female characters"
Wildwood
The Wildwood Chronicles
Meloy, Colin (of the Decembrists)
? It looks like all the Chronicles are published in one volume?
gorgeous illustrations
Elric of Melniboné
Elric of Melniboné stories
Moorcock, Michael
?17 novels??
The Night Circus
Not a series
Morgenstern, Erin
Romance free! A phantasmagorical fairy tale set near an historical Victorian London in a wandering magical circus that is open only from sunset to sunrise.
Beyonders: A World Without Heroes
Beyonders Trilogy
Mull, Brandon
Fablehaven
Fablehaven
Mull, Brandon
Fablehaven: Rise of the Evening Star; Fablehaven: Grip of the Shadow Plague; Fablehaven: Secrets of the Dragon Sanctuary; Fablehaven: Keys to the Demon Prison
Secret nature preserve for magical creatures
Midnight for Charlie Bone
Children of the Red King (sometimes called Charlie Bone series)
Nimmo, Jenny
The Time Twister; The Blue Boa; Castle of Mirrors; Charlie Bone and The Hidden King; Charlie Bone and The Wilderness Wolf; Charlie Bone and The Shadow of Badlock; Charlie Bone and The Red Knight
Romance free!
His Majesty's Dragon
Temeraire
Novik, Naomi
There are 8 books in the series; a 9th book will be published in 2016
Dragons!
Master & Commander
Aubrey-Maturin
O'Brian, Patrick
21 novels in series; the 21st novel was unfinished when O'Brian died in 2000
Eragon
The Inheritance Cycle
Paolini, Christoper
Eldest; Brisingr; Inheritance
A teenage boy and his dragon struggle to overthrow an evil king.
Trickster series especially recommended, but anything by this author is recommended
Pierce, Tamara
Pratchett, Terry
anything by Pratchett
The Golden Compass
His Dark Materials
Pullman, Phillip
The Subtle Knife; The Amber Spyglass
Miss Peregrine's Home for Peculiar Children
Riggs, Ransom
Not a series
The Lightning Thief
Percy Jackson series
Riordan, Rick
The Sea of Monsters; The Titan's Curse; The Battle of the Labyrinth; The Last Olympian
The Name of the Wind
The Kingkiller Chronicle
Rothfuss, Patrick
The Wise Man's Fear; a 3rd book is promised?
Homeland
The Legend of Drizzt
Salvatore, R.A.
Exile; Sojourn – and more. There are at least 28 books in the series.
Appealing to D&D fans?  Follows the boy-child Drizzt, a Dark Elf, to maturity as he seeks harmony in an evil (?) matriarchal society.
The Final Empire
Mistborn Trilogy
Sanderson, Brandon
The series includes two trilogies, a transitional novel between the trilogies, and, apparently, at least one book still to be published.
Anything & everything by this author… but Mistborn Trilogy is a good place to start.
Cirque du Freak
Cirque du Freak: The Saga of Darren Shan
Shan, Darren
12-part book series
The struggles of a boy who has become involved in the world of vampires
Land Loss
Demonata series
Shan, Darren
There are 10 books in the series.
Romance free!
With the Old Breed: At Peleliue and Okinawa
Sledge, Eugene
The Mysterious Benedict Society
The Mysterious Benedict Society
Stewart, Trenton Lee
The Mysterious Benedict Society and the Perilous Journey; The Mysterious Benedict Society and the Prisoner's Dilemma; The Extraodinary Education of Nicholas Benedict
Romance free! Four gifted children. Reynie Muldoon, Sticky Washington, Kate Wetherall, and Constance Contraire, are formed into the "Mysterious Benedict Society" and are sent to investigate a facility called L.I.V.E. (the Learning Institute for the Very Enlightened), run by the brilliant but evil Ledroptha Curtain.
TenNepal, Doug
anything by this author
Graphic novels
Middleworld
The Jaguar Stones series
Voelkel, J&P
End of the World Club; The River of No Return; The Lost City;
14-year-old Max must rescue his parents from Mayan underworld.
The 5th Wave
The 5th Wave Series
Yancy, Rick
The Infinite Sea; The Last Star (to be published May 2016)
Cassie finds herself in a world devastated by alien attack, desperate to save herself and find her lost brother. Cassie's mission is to stay alone and stay alive. But then she meets Evan Walker, who may be Cassie's only hope for rescuing her brother–or even saving herself. Cassie must choose: between trust and despair, between defiance and surrender, between life and death.
So which book did the boys and up selecting?
They chose the book Storm Front from the Dresden Files series written by author Jim Butcher. It was recommended by one of my former students, a man who is very much into the world of Dungeons and Dragons, weapons, good books, and living life with gusto.
From start to finish: the entire process of finding a book that would satisfy Paco and his friends was fun, energetic, and a great example of a flash community popping up around a common interest. It made me happy.
You know what else made me happy? When I told Paco I needed a feature image for this blog post — something related to books and reading — and he offered to create it. It's a damn piece of sunshine, that picture. He may be reading adult books these days, but his picture reminded me he's still a kid inside.
So, in closing, I'd just like to shout: READING RULES!
——————————————————
Comments
comments