May 12th
My right eyelid has been twitching for four days.
May 12th
Apparently Allegra's never heard of flying squirrels before? When Byron asks me which point of the latest Sawbones podcast had me snorting when we were hiking the other day, he wonders, "Was it when Justin was going off on flying squirrels?"
"FLYING SQUIRRELS?" Leggy asks incredulously.
Oh, indeed, Sis. We explain. There is kitchen enactment of the fear a gliding rodent can engender. But still: she is dubious. Several minutes of skepticism about flying squirrels – and then, inexplicably salmonella – are aired. Simultaneously, she circles her brother's space, asking questions, poking, probing, prying, as he works on a make-a-basket-out-of-rolled newspapers project for art class.
"I don't know how to please you," says a jokingly beleaguered Paco eventually.
She's come downstairs for afternoon tea, having, minutes before, been huddled under a huge duvet on her bed, complaining about how cold the house is. Her feet are freezing! Also, well, yeah, she's not wearing any socks. By the time she hits the kitchen for puer sipping and squirrel doubting, she's wearing striped socks below her shorts. From stained sweatshirt to wacky socks, she's a fully participating student in Pandemic Style 101.
May 13th
Ellen read to us during yin about various facets of fascia. I will hold Frog Pose indefinitely, if it means a get a free lecture.
May 14th
One student's final submission in the Novels class is a piece of writing in which the student, a nurse, connects a moment from The Chosen ("No one knows he is fortunate until he becomes unfortunate. That is the way the world is") both to an interaction she recently had with a patient at the chemo infusion center and to the fact that her close friend's five-year-old, who's been in a medically induced coma with no brain activity for weeks, was taken off life support – only to have brain activity found once the coma was reversed. At the bottom of her writing, the student tacked a note:
Jocelyn, words cannot express my utmost respect and genuine caring for you. It has been such a pleasure to be in your class this past two semesters. I really do hope to keep in touch. You are a phenomenal human being and have enriched my life tremendously. Xoxo
I cry at the chemo story. I cry at the child on life support. I cry at the grace of this woman.
Then I click to the next submission and cry again when I read the note Student K has included:
As I was reading The Chosen and it suddenly dawned on me that Reuven was inadvertently learning how to hear silence, I literally started sobbing. This novel has some profound and subtle themes and symbols that wrecked me. What a way to end an incredibly moving and thought-provoking semester. I will truly never read a novel the same way again. Thank you. Thank you. Thank you. <3
I've taught this Novels class off and on for 20+ years, and every time, I am left with such gratitude that this particular course, one that affects so many students in profound and lasting ways, has been part of my teaching life. I love this class beyond all others.
May 14th
This family loves tea, but with the recent order from The Tea Source arriving today, I had an honest moment with myself: the collection of varieties in our pantry might qualify as hoarding? Every afternoon as we survey the shelves of tea, the question for our brains is, "Do we want Earl Grey Lavender, Earl Grey White Tip, Chocolate Chai, Rhubarb Oolong, Raspberry Beret, Hazelnut Orange, Moroccan Mint, Evening in Missoula, Montana Gold, Masala Chai, Afghani Chai, Fireside Chai, National Parks Department, Lavenderberry, Sticky Rice, Long Life Shou Puer, Georgia Sunshine, Margaret's Soother, or…?"
Tea choice for the family is a challenge akin to giving monkeys in the zoo a rubber hose: it's an exciting break from monotony.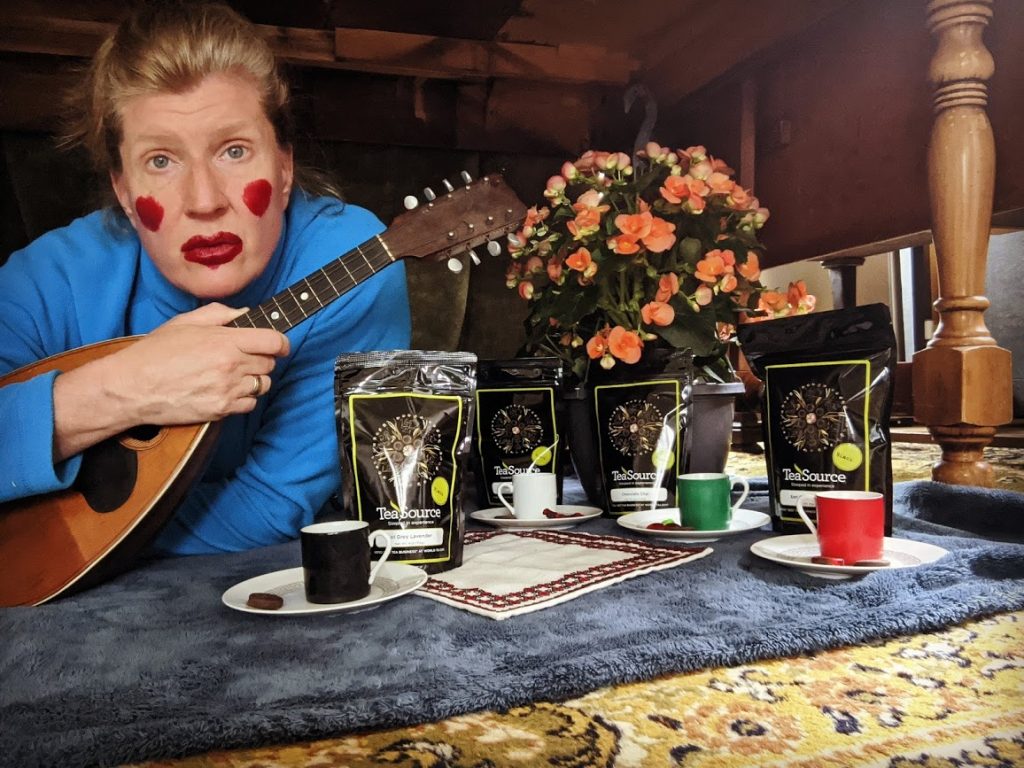 May 15th
Leggy has been stretching and doing abs on the living room floor post-run, so we've been chatting to a soundtrack of Van Morrison. As she finishes, she picks up her blue stretchy band from the floor, looks at me, and says, "I love you." For a second, I think she means me, but then I realize she was talking to her stretchy band, a piece of recuperative equipment that's been with her for months. I laugh and tell her I realize she doesn't mean me. "I mean, I love you, too," she says, "but I also love this band."
Making a case for the band's continued presence in her life, I suggest, "If you ever get married and have a traditional wedding, you should carry that band down the aisle with you as your 'something blue'."
Squinting, she asks, "What do you mean?"
"You know, how some brides want to make sure they have 'Something old/Something new/Something borrowed/Something blue'."
Shaking her head, Leggy says, "I've never heard that before" – and suddenly, I am sure of it: we have done a good job raising this kid.
May 16th
Cleaned the bathroom, started laundry, emptied the dishwasher, and swept the kitchen floor – all before my morning coffee. What am I, new here?
May 16th
At lunchtime, Leggy cracked an egg into a hot skillet. Watching the white run wildly around the pan, she chided the egg: "Hey, there's supposed to be room for two in there! You must be an only child."
May 16th
My first library e-hold finally came through the other day, The Girl with the Louding Voice by Abi Dare. At last, after two-and-a-half months, I have in my hands a book that's pulling me in, taking me away, calling me back when I set it down.
May 17th
Byron's on a Zoom call with his Wolf Ridge friends; they all were student interns together in the early 1990s, living communally an hour and a half north of Duluth as they became environmental educators. Eavesdropping on the sidelines, I laugh when Fergus in Scotland tells the group he recently read Call of the Wild and White Fang back-to-back, and it made him feel connected to that special location where they originally met, "a cold wolfy kind of place."
May 17th
As I deliberately untether from constantly checking work email and online classes – because the semester is over, and I am DONE – I am spending much of the day at the puzzle table, making huge progress on building skyscrapers. While I work, I am listening to a podcast about the Dutch fertility doctor who, unbeknownst to them, inseminated his patients with his own sperm. The program goes on to look at other cases of doctors in other countries doing the same, noting that no fertility doctor has been treated as a criminal or gone to jail for this immoral, unethical practice. If we looked at photos of these men, and there are a surprising number of them, I'd wager they're all white.
May 18th
It was leg day in the noon class, and I knew something was off with my form when my lower back started to hurt ten minutes into class. That's the hard part about exercising alone – there's no one to holler at me to stick my butt out.
Relatedly, in Sphinx Pose tonight, Ellen challenged us to strive for the most relaxed glutes in our respective time zones. While competition would be fierce in EST, due to a high number of attendees who live in Massachusetts, I felt I might have a fighting chance for the CST trophy. Alas, my rear alternated between clenched and loose; at best, the honor system only allows me to make a case for the bronze.
May 18th
Paco came down last night to give me a hot YouTube watching tip: there's someone calling themselves Saxsquatch who's playing, with some skill, a variety of tunes while wearing an ape costume. We come to easy agreement: this human being has myriad gifts.
May 18th
Paco will write two AP exams this week, one for World History and one for English. He's putting in good prep time and was already clued in when I told him what I'd seen from a mom friend on FB: the College Board, offering exams online for the first time, had used a variety of prompts and even a variety of provided sources for the same prompt when administering last week's sophomore exams. That's a good strategy for catching cheating. Reminds me of junior high biology when Mr. Leland, unbeknownst to the class, alternated two different tests when he handed them out. Boy, did Joni get busted for copying all my answers since none of them aligned with the test she'd been given.
---
Comments
comments