April 7th
Leggy had her first chemistry lab. The prof gave them the data they would have gleaned from doing a thing in the lab, and then she worked in a Zoom breakout room with her partner to make sense of it. I'm not complaining because kudos to the prof for instructional creativity, but still: this process feels like a freeze-dried lab. I'm disappointed that she's not in the basement with a blow torch.
April 7th
Byron sat down in front of me on the ottoman tonight and said, "Here was the highlight of my work day." Then he hit play on an audio file on his phone. It was a voicemail from a patron, telling the staff that she wanted them to know some things and take heart during this time of shutdown: the library has always been one of the most important places in her life, from when she moved to town to when she had her kids. B and I were SOBBING as we sat there, listening to this woman detail all the ways the library has saved her – perhaps she worries about becoming ill or dying and wants to be sure she's shared all her appreciations. As she closed, she said, "I always tell people that, other than my wedding ring, my library card is the thing I value the most." Five minutes later, I heard Byron standing at the kitchen sink, still sniffling.
April 8th
S. messaged, asking about Allegra's cancelled summer internship on the Cheyenne River Reservation, wondering how they knew to cancel it so early. For them to have canceled a July/August commitment in mid-March was definitely thinking that was wayyyy ahead of other institutions' "We'll just stay home for two weeks and then reassess" attitudes. It's almost as if Native Americans know that when the white people announce it's not so bad and will be better soon, that's exactly the time to anticipate a grinding, rasping trudge, bodies littering the path.
April 8th
When I asked Student G about including her messages in this journal and sharing them with others, she responded:
As a child, whenever I would fight with my sisters I would tattle to my father in hopes I would be consoled and my sisters would be punished. My father being the wiser would always say to me "were you a part of the problem or a part of the solution" I would get embarassed because I was an instigator and not a peace maker. To this day, I strive to be a part of the solution if I am able to help, just like in Leonard Cohen's song " I'm Your Man."
April 8th
I noodle away at the keyboard, Massenet's "Meditation" from Thais, and certain runs of notes make me teary. Then laughy. Because that song, more than anything, is Oksana Baiul at the 1994 Olympics. Who knew anyone could beat our tragic heroine, Nancy Kerrigan? Swanlike arms trumped swollen knee.
April 8th
How many pieces of toast at 11 p.m. is too many? Listen, if you get sick, the couch that is my body can either be upholstered or covered in plastic. I hereby invited you for a recuperative lie down upon Jocey Toast Longue.
April 9th
One student writes to me of her job at Walmart:
The place has simply been a zoo with all sorts of people freaking out about Corona, yet the same people are leaving their houses (with their entire families!) for hardly essential items like ice cream and flat-screen TVs.
Another writes of her job at Target:
It really is stunning how buying Care Bear adult onesies and touching everything in my department is essential.
April 9th
I've been reading A Complicated Kindness by Miriam Toews (it's got a rating of 3.66 on Goodreads, a perfectly accurate assessment). The narrator mentions chewing some pink pills to reveal cavities, and that mention spiraled me into hey-whoa-wow-I-forgot-all-about-that memory retrieval. At first, I remembered we chewed such pills at school – yet another institutionally sanctioned method of embarrassment, as potentially humiliating as the Presidential Physical Fitness Test – but then, after I turned off the light and put my head onto the high stack of three pillows aimed at keeping my shoulders from aching (I BLAME YOU, PRESIDENTIAL PHYSICAL FITNESS TEST ARM HANG), the memory got clearer: at the start of our dental visits, we'd be asked to chew the plaque-revealing pills, thus compounding the emotional stress of lying back in that chair, a tense passive receptacle of adult judgment. I still remember the chiding the dentist gave me each visit for daring to drink pop — because "that carbonation is eating the plaque off your teeth."
Anyhow, there are a lot of reasons why sleep is complicated.
April 9th
Although I don't always remember my dreams, lately I've been having warm, sweet, kind dreams, full of long-time friends – usually people I went to college with – and we are always in situations of pure joy, so glad to be together, so delighted we have things to offer one another. The other night in my dream, I had driven a long time to a lake; it was dark outside, softly summer with crickets chirping as I walked from the car toward a comfy old cottage. I knocked and knocked on a rattly screen door that felt like a guy named Hans had nailed it together in 1932, and when it opened, there was my great pal, Steve Theobald, a big smile spreading across his face. "Hey, Joce! I didn't expect you. How long can you stay? A week, I hope. Are you hungry?" Behind me, as I stood in the doorway, a silver spotlight of moon crinkled across the lake, and I fell in love with my friend all over again.
April 9th
I tried playing The Can Can on the piano today, a stilted, lurching effort hilariously at odds with the intention of the song. Every time I squinted at the music, trying to suss out the next chord, I pictured a short-tempered French minx, skirt hoisted, leg quivering in the air, smile plastered, brain screaming, "Merde, you lunkhead, play the damn note!"
April 9th
When I was chatting with C. yesterday, I circled 'round a conversational cul de sac about competitive race walking, telling her how I took a Community Ed class in it years ago and have, since then, tried to walk fast in a few races. This naturally led to a screed against a local man who enters races as a competitive walker, except – and many in the know have told him – what he does technically isn't walking; it's running that looks like walking. He's beaten me a few times, and I hope his 1st place medallions rub a festering hole into his torso, one that can't be cleaned with rubbing alcohol because hoarders have cleared the shelves. I don't know what happens when a chest hole stays infected for too long, but my guess is the flesh will turn gangrenous, ultimately exposing the blackness of his heart.
There might be a global panic occupying most people's minds, but for me, it's never the wrong time for an extended airing of a petty grievance.
April 10th
Spent a long stretch completing academic alerts and emailing students who currently have Ds and Fs. For nearly all of them, the problem is not a new one – not something that's developed since our three-week Spring Break. They're just continuing the way they were before. I heard back immediately from a couple of them, and I keep being surprised how much students appreciate the individual "tap" even when it's to say, "HEY, YOU'RE FAILING."
April 10th
Paco practiced his bass while we did yin yoga class in the living room, which allowed the unforeseen opportunity to have my knees bopping near my ears to the beat of "Come and Get Your Love." Sounds like a conception story, really.
April 11th
Leggy stands in the kitchen eating cantaloupe out of the Tupperware container. "Ahhh," she sighs. "Tastes like Carleton." She goes on to wax lyrical about breakfasts on campus being the best meal of the day because melon.
April 11th
Same as last Saturday, I walked the big Glenwood/Skyline/Seven Bridges Road loop today, about 2.5 hours total. There were lots of people out but fewer than last week. I heard somewhere the other day that historically, after periods of mass illness or economic depression, people have reacted, once the crisis has passed, with lavish hedonism. I expect the same of us – because we're nothing if not increasingly worse versions of ourselves, fainter and fainter xeroxes – but hope that the perks of this period stick with a few who might not otherwise have experienced them. I hope some of these teens still make bread when they're forty. I hope some of the people keep knitting. I hope Sharla and Bob down there keep going for walks. I hope Samantha does a puzzle. I hope I one day meet a Samantha.
April 12th
Today's another Christian holiday where many are feeling sad they can't gather. I am finding it a relief to have a reason not to have to be social. Oh, if only this period of isolation were happening over Thanksgiving and Christmas! The stress it would save.
April 12th
P. 297 of Ducks, Newburyport:
…the fact that now Ben tells me bird flu only has to mutate a few more times to cause a global pandemic like the Spanish flu and that, if that happens, civilization will grind to a halt within a year, the fact that I know it's terrible of me but I can't help hoping the guy with the scary dog will be one of the first to go,
I wish Boris Johnson had died. He's a guy with a scary dog called power.
April 12th
Folding laundry last week revealed that it had been a one-pair-of-underwear stretch of days. I wish I could remember what extravagant occasion merited donning a pair. Maybe I put on pants that weren't the ones I'd slept in? I tell this to C., and she types back about her six-year-old: C. has stopped wearing underwear too. I found that out in the woods.
April 12th
At the start of every yin yoga class, when we all sit together in silence, listen to a poem, and then sit silently for another minute, Ellen asks us to check in with ourselves: How does it feel to be you today? Every single day, a response burbles up: "REALLY GOOD." The other night, the great good fortune of that response really lodged with me. For others, it might be "Achy" or "Worried" or "Lonely." I'm so appreciative of that significant a-ha: I had never before stopped to notice that my default setting is "REALLY GOOD."
Later in class, we laid on our bellies and put our heads down on our hands in Crocodile pose, a perfect position to shed some tears. When Ellen talked about setting an intention for the meditation portion of class – and I'd be bailing when we got there, tbh, because Sunday nights are when the mass of student work crashes onto my shore like a tsunami – she gave some examples, explaining that an intention should be in the present tense, express something like a wish, and use simple language. Allowing myself the exercise, I wondered, "What would that be for me tonight?" The answer made me weep, face to the floor cushioned on my folded hands.
The intention my brain wished for was: I am sure my kids are all right.
April 13th
Went for a brisk walk, the temperature moreso than my movements, and listened to Invisibilia and Heavyweight. At the start of the most recent Heavyweight episode, Jonathan has a phone call with a ten-year-old boy named Simon who, with school not in session, is currently staying home by himself all day while his parents still go out to their jobs. He says when he gets scared, he opens the front blind, looks through the big window, and remembers outside is still there. Then he plays "When the Saints Go Marching In" for Jonathan on his recorder, and as I listened my eyes were so teary I couldn't see the sidewalk.
April 13th
I'm closing in on the end of the pumpkin Kusama puzzle, basically trying every piece in every space methodically until I get a hit. For how challenging that image is, I've quite enjoyed riddling it out. At the same time, I'm ready for the next one — even though I have shivers of anxiety about diminishing the cache of yet-to-be-done puzzles in the upstairs closet during these weeks of back orders and slow shipping.
Whenever I finish a puzzle, there is a great moment of pause between finish and start where I wipe down the table – so many toast crumbs! – and give the whole place a reset before it all starts again.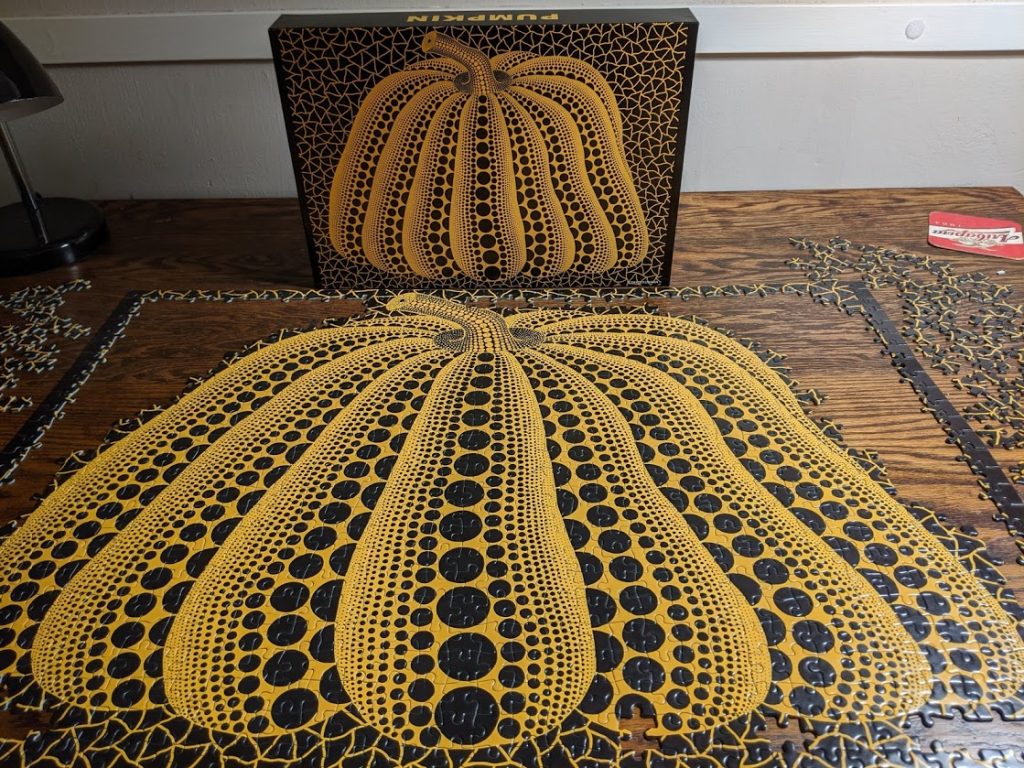 Comments
comments