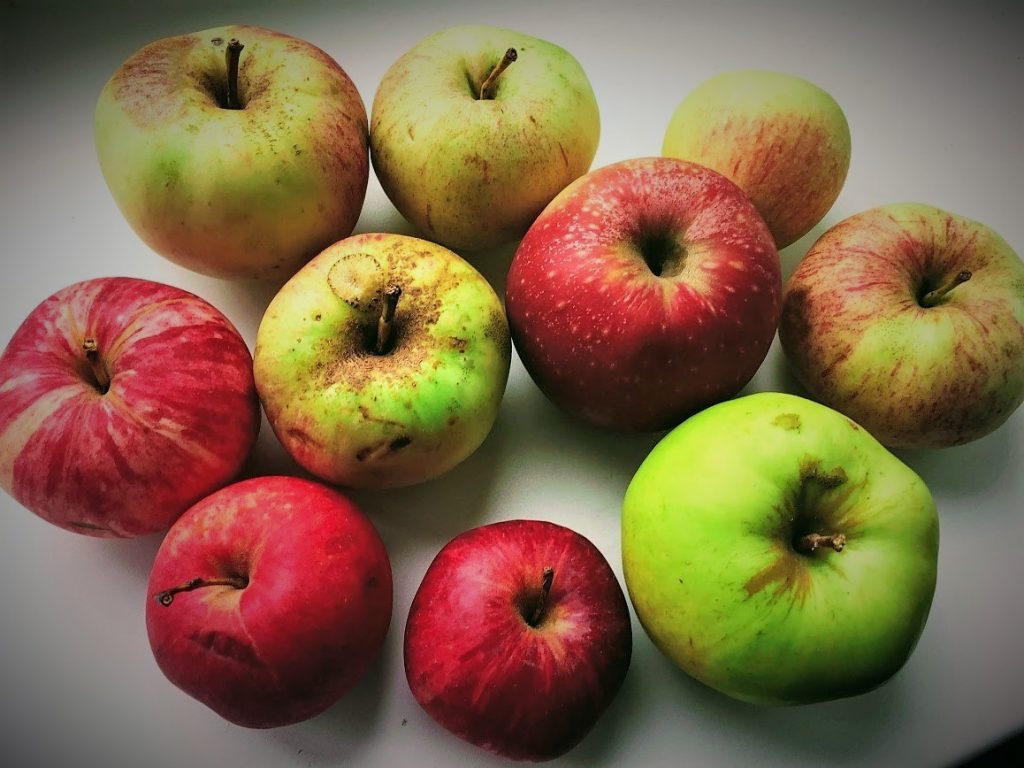 I can't keep up with the apples.
Even at my current pace of eating two a day — BACK OFF, DOC! — I can't keep up with the apples.
Nearly every time I leave my apartment, some kind person slips an apple into my hand, topples a dish full of them into a bag for me to carry home, or greets me on the street with a couple at the ready.
It's a thing here in Belarus, this business of conveying hospitality through apples.
Of course, culture seeps beyond borders; it's more accurate to generalize about "the region" than any specific country. In the late 1990s, my sister lived in Moldova for two years as a Peace Corps volunteer, and she remembers the same phenomenon: her students' families were constantly giving her bags of apples. And with every other photo I post or tidbit I comment upon now that I've been in Belarus for a few weeks, her comment is invariably "That's how it was in Edinet" or sometimes "I thought that was Romanian!"
I visited her in Moldova; we went to Romania; I've been to Poland, Hungary, what was formerly Czechoslovakia, so I had some sense of Eastern Europe. But still. The experience lodges differently when you're paying rent somewhere. Exposures are repeated, relationships gain depth, and there is a feeling that choices and behaviors have "stakes."
It all feels more real somehow, to spend an extended period of time in a place. To bring home the apples. To have a fridge to put them into. To think to myself, "I'm not usually one to put apples in the fridge, but here in my new home city of Polotsk, where my apartment has no screens on the windows, where the flies, gnats, and mosquitoes do a number on both fruit and my skin, yeah, I am someone who puts the apples in the fridge." And then I marvel that I'm in Belarus and that I'm a person in Belarus who has a fridge teeming with Belarusian apples handed to me by Belarusian friends who have sacks of apples they gather at their dachas every weekend when they go to their family homes in the country to work the gardens and fire up the grill for shashlik (kebabs).
From apples to fridges to gnats, I have been marveling at it all.
We Americans are so uninformed about this great country living mildly in the shadow of stomping Russia; the little we are fed in the news in no way reflects the reality of this place any more than a front page article about Donald Trump tells the story of your preschooler twirling until she's dizzy, just to watch her skirt flare.
The essential truths of a country aren't in the leaders. They're in the apples.
And they're in the women who message me every night to check in about my day and ask what they can do to for me.
The truths of this place can be found in the focused, respectful students who are excited and intimidated to have a native English speaker in the room with them, breathing, gesturing, joking, pronouncing words like they've never heard words pronounced before.
The truths of Belarus are in the groups of grannies on the benches outside each apartment building, their canes resting casually as they take stock of the neighborhood and catch up on aches and gossip.
The truths are in the stories of people in their mid-thirties who still live in their childhood homes with their parents because there is no way, financially, that they can move out unless they marry.
The truths can be seen in the animated conversation between two "Hey, Tatiana! It's been a coon's age! What's up?" acquaintances in front of the cheese display at the grocery store.
The truths are found in the women who walk the city streets alone after dark without fear.
The truths of this place are evident on the mini-bus marshrutkas, so much like Turkish dolmuses in the way everyone squeezes together to make room for the newbies while an assembly line of passengers hands fistfuls of change from the back rows up to the driver.
The truth of Belarus is in the excitement of a recent college graduate who has confided to an English teacher that she recently found a used copy of Uncle Tom's Cabin in Russian and is loving it more than anything she's ever read. When she is told, one reader to another, that she will inherit some books in English in a few months, there is truth in her squeal: "Never in my whole life did I think I would get to have my own books in English! I do not even know what to say except one thousand thank-yous! I almost can't breathe right now except I think I am crying first. Books in English are so expensive I could never imagine buying one, and I am so in love with English and reading that I may never sleep again because I cannot believe I will get to have English books in my hands!"
The truths of this place are in the dingy, crumbling stairwells of every building, neglected for decades because "they are no one's responsibility."
The truths of this country are seen in the ubiquitous monuments to the national-identity-defining years of The Great Patriotic War, during which 1/3 of the population was killed and 80% of the buildings and infrastructure decimated. When a young woman explains that her family's dacha was built after the war by her grandmother and the grandmother's sisters, and not a single man helped, this story is code for the truth of loss.
The truths of this place shine in the excellence of the dairy, the pride in the meat products, the repeated urgings to "try the draniki."
The truths of this country that Americans know nearly nothing about are seen in the fitness instructors who, although unable to speak a common language with a new student, nevertheless come over for quick half-translated consultations: Are you used to exercise? Have you done a class like this before? Will you please listen to your body and modify as necessary? Did you have fun?
The truth of this country is evident in a store clerk who won't sell a customer a shirt because it costs too much.
There is truth in the scooters crowding sidewalks after dinner each night, rolling small bodies along the pavement while easy-going parents meander a few steps behind.
There is truth in every person passing by another — stranger or friend, neighbor or delivery man, grandpa or teen — politely greeting the other with a "Zdravstvuyte" or wishing them farewell with a "Das vendanya!"
There is truth in the hand-knit woolen socks, the hydrating with soup instead of water at mealtimes, the crisply ironed collars, the quick sign of the cross quickly tapped onto the chest when the car flies past a cemetery.
And there is truth in those apples, dispensed so generously because there are plenty, and they come from the plot of land at the family's dacha, from the garden at that old wooden house that has passed through the generations, that spot supposedly about rest but, in reality, more about the work of growing and fixing and storing and foraging.
These old wooden houses, for me, have become my favorite Belarusian truth. While dachas are "in the country," many old wooden houses are now within the city limits and are the primary, not weekend, homes of families. Every time I go for a walk or a run, I encounter another pocket of these dacha-like homes, so charming, so whimsical, decaying yet alive.
When I asked a teacher friend about these houses, she told me the ones in the city require a significant financial commitment, not just to purchase, but also because the owners agree to abide by rules dictating the materials that can be used in renovations and improvements. In buying or continuing to own one of these wooden houses, people are agreeing that preservation merits sacrifice. While the original wooden houses, those dating back centuries, were wiped out during the war, they were rebuilt after 1945 and are now close to 80 years old; these replicas of the houses that were lost are true to the originals in design, right down to the ornate window frames and geometric patterns of the timbers. In most of Belarus, these houses adhere to the original brown and white colors, but the city of Polotsk favors bright colors on its wooden houses, splashes of exuberance next to the placid river. At their essence, though, these homes always must remain true to the traditional Belarus that existed before Fascism crashed through.
All of these houses have apple trees in their yards.
The house is a source of pride; the tree is a source of hospitality.
Together, they tell Belarus' best truth.
[ngg_images source="galleries" container_ids="5″ display_type="photocrati-nextgen_basic_slideshow" gallery_width="600″ gallery_height="400″ cycle_effect="fade" cycle_interval="3″ show_thumbnail_link="0″ thumbnail_link_text="[Show thumbnails]" order_by="sortorder" order_direction="ASC" returns="included" maximum_entity_count="500″]
Comments
comments