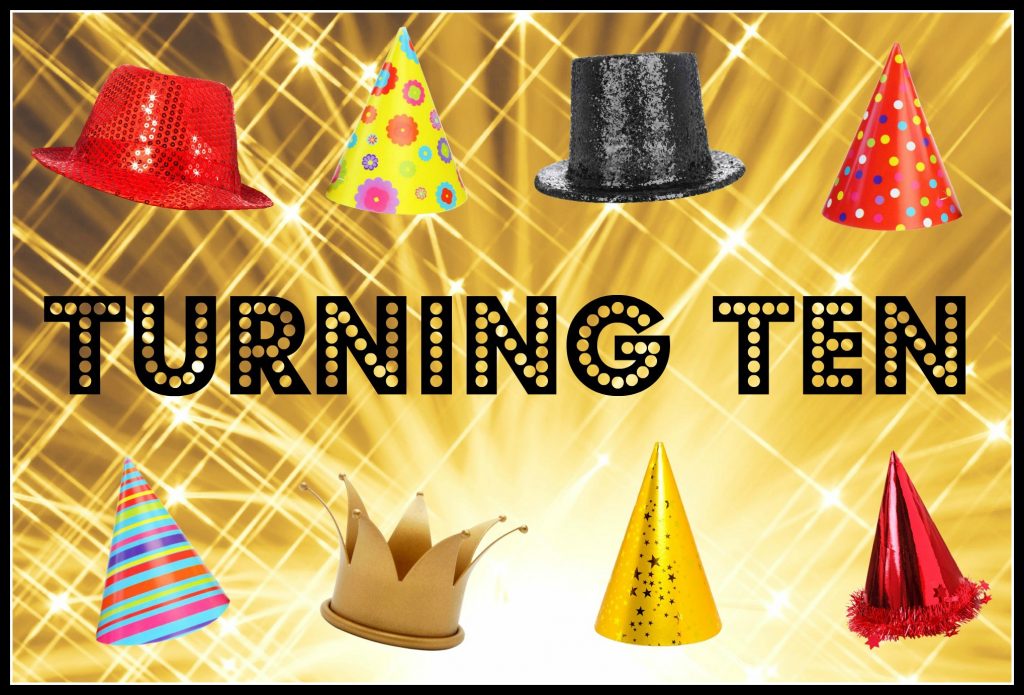 Ten years ago this week, I posted for the first time to this blog. Ten years. That's like high school plus college plus graduate school.
It was the start of a new semester, and I'd had the revolutionary idea to ask one of my composition classes to try out this new thing — "blogging" — in the hopes that writing assignments would feel more authentic when actually published where other human eyes could clap onto them.
Then the semester ended, the students roared off into their respective futures, and I kept writing little stories and snippets and nonsensicals, putting them on my blog, and feeling simultaneously motivated and lonely.
One day, a person I didn't know — a person not a student in my class — left a comment. Her name was Kristin, and she lived in Scandanavia. Then Kristin told one of her blog friends, Lilian, that she should come check out my writing; so then Lilian, in Quebec, started leaving comments on my posts. I couldn't believe such an amazing and glamorous thing was happening.
After that, I visited their blogs and left comments, and then I left comments on the blogs of people who read their blogs, and then those people visited my blog, and out of nowhere, a beautiful momentum had taken hold, and I had A New Tribe, one that felt more close and caring than many "real" people in my life.
A few years after that, a lot of bloggers started nailing CLOSED signs onto their blogs, for a variety of reasons, and the comments and interplay started tapering off. Still, though, I felt the stories and snippets and nonsensicals burbling up inside of me, and the blog still felt like the right repository, meeting my needs and purposes. At the same time, other forms of social media kicked up, and I discovered that nearly all of my favorite current and former bloggers and I could connect on Facebook.
Sometimes, people would share links to my blog on Facebook, and eventually, I got a message from someone, Alexandra, who waxed enthusiastic about my writing, who told me I should try to reach a larger audience, who showed me channels for submitting my work to sites Not My Own.
The years passed, and still I wrote on my blog, to suit myself, and I wrote other pieces — stuff that challenged me with word counts and editorial expectations and forced me to sculpt my skills — and between the two, I learned. I made connections. I realized a whole lot of things. I found my people. I pissed off people. I got sick of people. I loved people.
The key to continuing to write, to not shutting down, to posting again and again, even when no one really cares or when I know what I'm turning out isn't so good or when someone is giving me a deliberate and mean squint-eye, is simple: I like to write. Sure, it's a powerful experience to have an audience, but even if no one's looking: I like to write. With a blog, I have a place to experiment and make mistakes and throw sand in the air and be really dumb and occasionally stumble across something meaningful. Even when I make mistakes, I like to write.
At the same time I've been engaged in this surprising and transformative journey, I've made a heap of bloggy friends, meeting a few face-to-face, and we've exchanged gifts, private chats, and support in tough times. I had no idea when I started the engine in this rig back in 2006, but the blog world is a compassionate, generous-hearted community.
Now, a decade later, I'm still blogging; I still love this space. It's the start of a new semester, and although I'm not having my composition students blog, I am teaching Writing for Social Media, a class I was able to envision and propose, thanks to all I learned here. Students in the course tweet and Facebook and blog — and, as of this semester, because I'm all about pretending I'm having a new revolutionary idea, they are also each in charge of doing a "takeover" of a class Instagram account for a day.
Social media math: Blogging in 2006 = Instagram Takeover in 2016.
No matter how you splice it, I'm grateful for the connectivity of a modern technological world. It's, to be boring and cliche (after ten years of yammering, I've run out of original words), made me better.
In case you are reading this now and aren't named Kristin or Lilian — in case you haven't been here since the beginning — I'd love to direct your attention to a few of my favorite posts from the past ten years. Many times in my posts, I've been too "try hard" or have been an out-and-out idiot. Unintentionally, I've gotten things wrong. Occasionally, I've gotten things too painfully right. I acknowledge these difficulties.
At the same time, I've been someone who created a space for herself and then showed up in it, again and again, fiercely, dumbly, enthusiastically, wistfully, angrily, joyfully.
Ten years of stabbing repeatedly at a blank, white, yawning expanse, filling it with font and doubt and flourishes.
I click on "All Posts," and 733 entries pop up. Without blogging, there would be zero.
I'll take it.
And to all of you who have visited, read, left comments, and supported this space: thank you.
---
Below is a sampler of some of favorite posts from the past ten years. Each post takes me back to a specific moment where I had something I needed to get out of me. Maybe, if you have a minute, you'll click on one or two that you haven't yet read.
Here, then are posts:
About when our first kid started elementary school, and it was so damn hard: Twenty-Eight First Graders, the Lone Teacher, a Slew of Specialists, and One Shy Girl
About when I went to get a perm, and the hairdressers refused to inflict further damage on my follicles: Every Rose Has Its Thorn
About when Paco (then called Wee Niblet) made me wonder if his brain would ever be right for traditional schooling (Update: it's not, but he's doing it anyhow): Will Shortz and a Gold Lame Bikini
About when we went to Guatemala when the kids were three and six, and Allegra barfed: Stop Trying to Chop off Your Sister's Head with Your New Toy Axe while She's Vomiting onto the Floor of the Shuttle
About how I had a miscarriage: Thirteen Years Since the Blue Moon
About how I got my hair cut by someone with my same name, and she could. not. get. over. it: A Jocelyn by Any Other Name Is Someone Else
About my maternal grandfather: Neither Hero nor Saint
About the time I showed up for a job interview and apparently was supposed to have a presentation prepared: Interview My Sweaty Pits
About how I pooped in the woods right before a biker zipped past: My Funny Valentine
About the time I sucked on a contact lens all the way through a musical: I Commend My Spirit
About the time I went into labor at a Creation vs. Evolution debate: Mockingbirds and Tortoises
About how each member of our family looked on his/her first day of kindergarten: Free Launch
About how my husband's vasectomy turned into a blood bath: Four Days out, and It's Still the Size of a Whoopie Cushion
About a student I chose to call Mindy: Can I Talk to You After Class?
About how Mindy pretty much made my semester: Dear Jeebus and Pilgrims Who Are Dead: I Am Thankful for Teaching that Is Never Dull
About Mindy's boyfriend going to jail: Una Mas Mindy
About reading Philip Roth and writing a letter to my teenage self: Goodbye, Fifteen
About how I once used a Ouija board to find out the name of my future husband: No Jive Turkey
About meeting my husband: Bestill
About the time I wanted both to go for a run and to have a hamburger: Seven Miles and a Side of Ketchup
About how I loved Paco when he turned seven: A Little Song, a Little Dance, a Little Seltzer in Your Pants
About the guy I dated in my twenties: At One First Blow Did Shiver It As Glass
About how I ran out of gas in Wyoming: Heavens to Mergatroyd!
About going for a terrifying run during a lightning storm in Turkey: For My Next Selection…
About how we moved to Turkey and got cable installed: The Locals May Cover Their Arms, Legs, and Hair from Public View During the Day…
About how I thought a Turkish guy was proposing: Nice Day for a White Wedding
About the history of one of my best girlfriendships: To Feel the Sun from Both Sides
About how I'm a judgmental neighbor and a horrible person, and I stand by my right to be both: If These Old Walls Could Speak
About how I'm not a team player: I Went to Weight Watchers and Refused to Do The Wave
About how I lied to my piano teacher about how much I practiced, and Allegra was chosen to be in a national magazine, and the confluence of the two is a post that I still love way harder than I should, but it makes me cry at one specific line every single time I re-read it: That Solid Inward Comfort of Mind
About how I went to Weight Watchers, and a lady passed gas in my face: The Smell of Success…or Perhaps an Abundance of Broccoli
About when I loved my husband at the 13-year mark of our marriage: Cherish
About a love letter to my kid when HE turned ten: Ode an die Freude
About the idea that we're all weirdos in our own ways: Flushing the Queer Birds out of the Bushes
About when Allegra made me cry: Where I'm From
About making a banana split when I worked at an ice cream shop: Merry Banana-mas to All, and May Your Pants Be Skin Tight
About the day Paco was born: The Twelve-Inch Scar
About when my bra wouldn't stay closed in yoga class: If the Guy Next to Me Had Been British, He Would Have Whispered, "Put Your Baps Away, Love"
About all the beds I have slept in: A Princess, Some Peas
About not having a boyfriend: Why You Not Date Me?
About Paco getting strep: Waning
About teaching, when it feels good: Clicking Along
About leading an ESL conversation group on campus: Full Moon, Agitated Hearts
About loving my husband: Nine Volts
About seventeen minutes in a grocery store: Why I Can't Return the Sour Milk
About dress shopping with my teenager: The Fitting Room
About picking up the girl after a late-night return from a track meet: Going the Distance
About how Google Translate helps us not at all in real-life language situations: Murmurs
About the people I encounter as I exercise: The Third Floor
About going to Taco Bell with my dad: Belle of the Bell
I'm also going to say that I wrote twelve posts during the summer of 2015 about twelve days with my twelve-year-old, and I think there are some good things in those. But to link to all would be too much.
About our girl and her cousin going to see Taylor Swift, and then it was scary: Swiftly
About Allegra fundraising to go on a school trip to Europe: Get a Job
About my body no longer serving me as easily as it used to: Up, Up, and Away
About reading a book and feeling the need to shout about luck and refugees and injustice: The Maps Within Us
About an MRI and MTV: Oh no love! You're not alone
About my baby becoming a teen: 13
About a day in my work life: Salt on the Road
About our girl learning to drive: White Knuckles
About Allegra turning 16 and being the best: Baby, You're a Star
About how Prince died: A Good Neighbor
About how someone's kindness transformed a summer for me: Who's There?
About how Paco volunteered at a daycare center and got me through a terrible summer of people being awful: Tender Toddler Tending
———————–
Comments
comments